After knitting my top recently, I decided that I wanted to knit more garments. Even though it's getting warmer, having some nice pullovers and cardigans is going to be useful. I love the cosyness of a handknit piece of clothing. So I decided to knit one of the patterns that have been in my Ravelry queue for ages: the Elphaba Pullover by Mary Annarella. I had the perfect yarn in stash: some Wol met Verve basic sock yarn in beautiful teal and turquoise.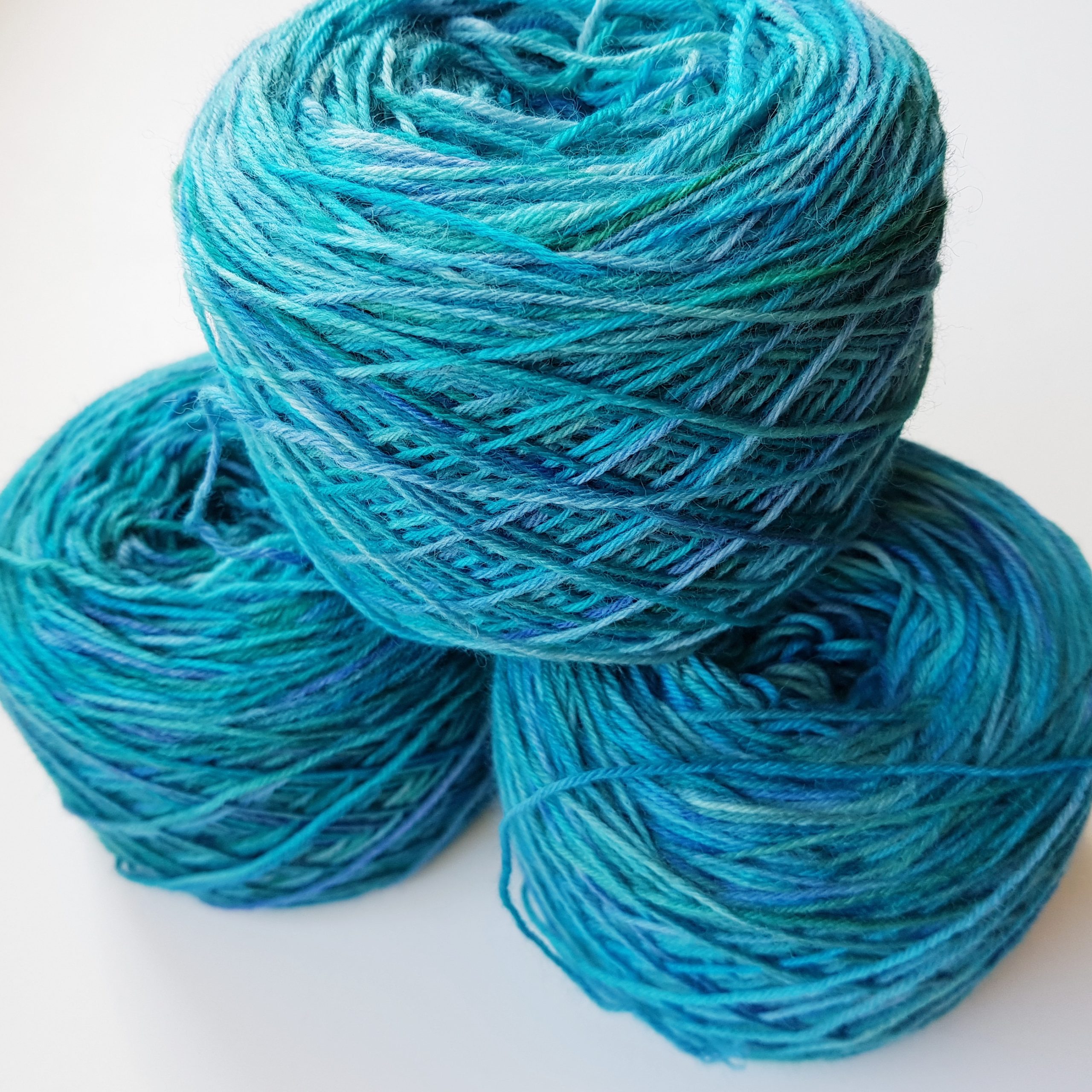 Three skeins should be plenty, since this is a fitted pullover with three-quarter-length sleeves. Very nice for chilly summer days. The skeins looked quite similar, so I didn't think that I would have to alternate skeins.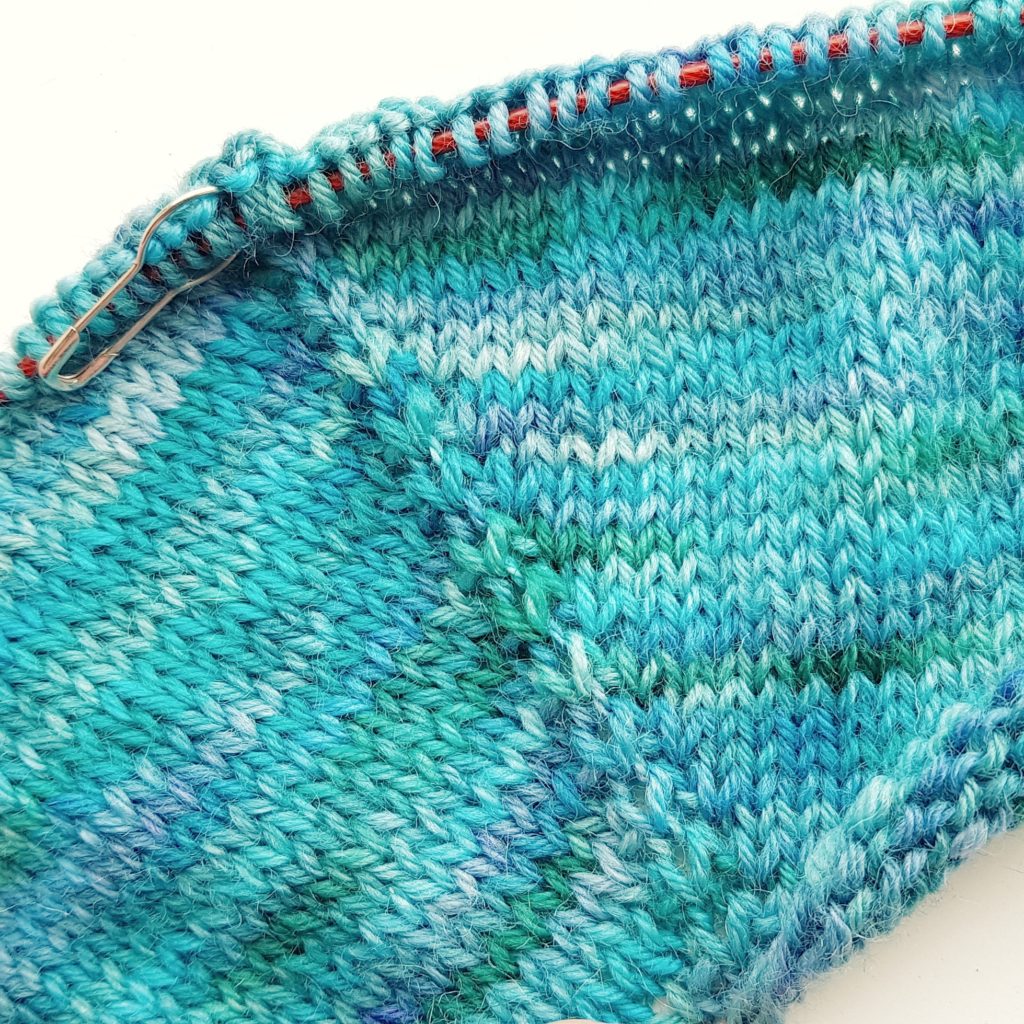 I decided to knit the 35″ size and see how it fit. I used 3mm needles to get gauge and the fabric looked tight enough not to be see-through, but not like cardboard either. The pullover is knitted from the top down, so you can try it on as you progress.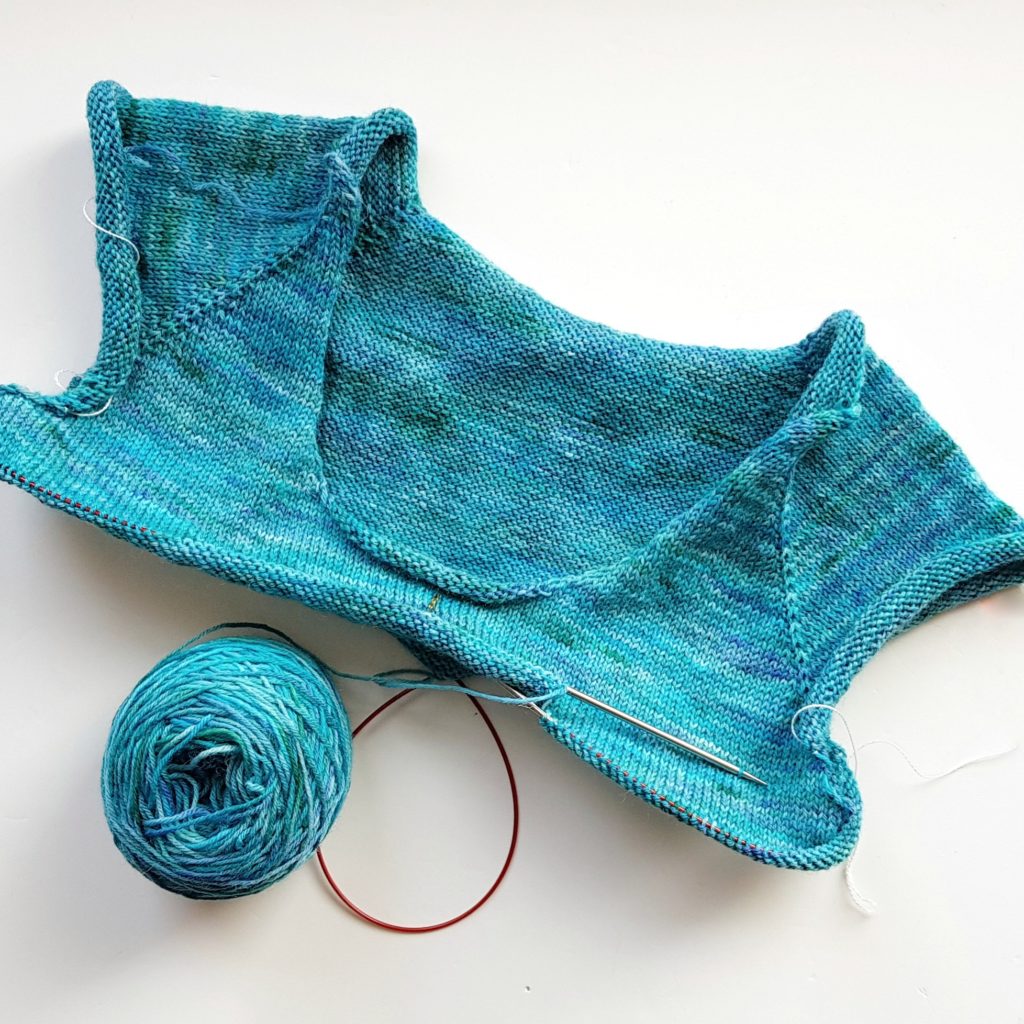 It took me a bit, but then I reached the first checkpoint: separating the armholes. I tried the pullover on to make sure that they were wide enough.
Then I continued knitting until just past the largest part of the bust. That's where I had to put in bust darts (if I wanted to). I never knitted bust darts before, so I was eager to try and see if it looked better.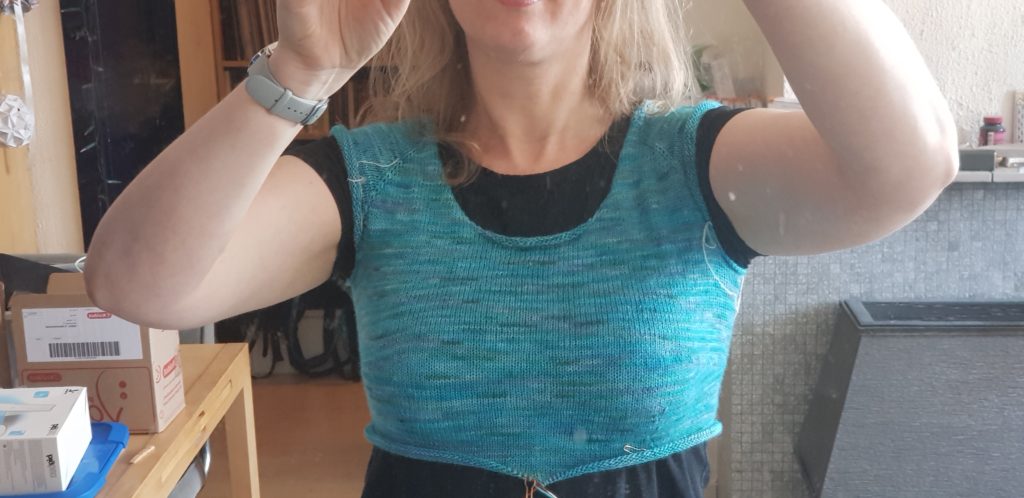 The bust darts give you a bit more room at the front for your breasts, and because of that, the front and back of the sweater will appear the same length without having to stretch the front out.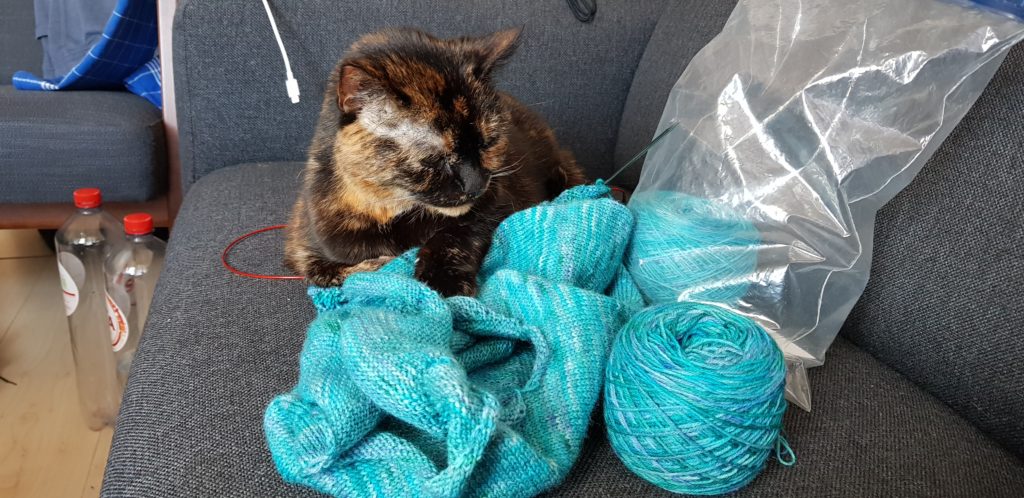 Around the waist area I was at the end of my first skein of yarn. I started knitting the second one and noticed that this one didn't have a many bits of dark green as the first. The third one had more. The second skein also started pooling weirdly when I decreased for the waist. So I decided to knit skein two and three alternating and that helped. After the hip increases I continued knitting with skein three only and that worked well.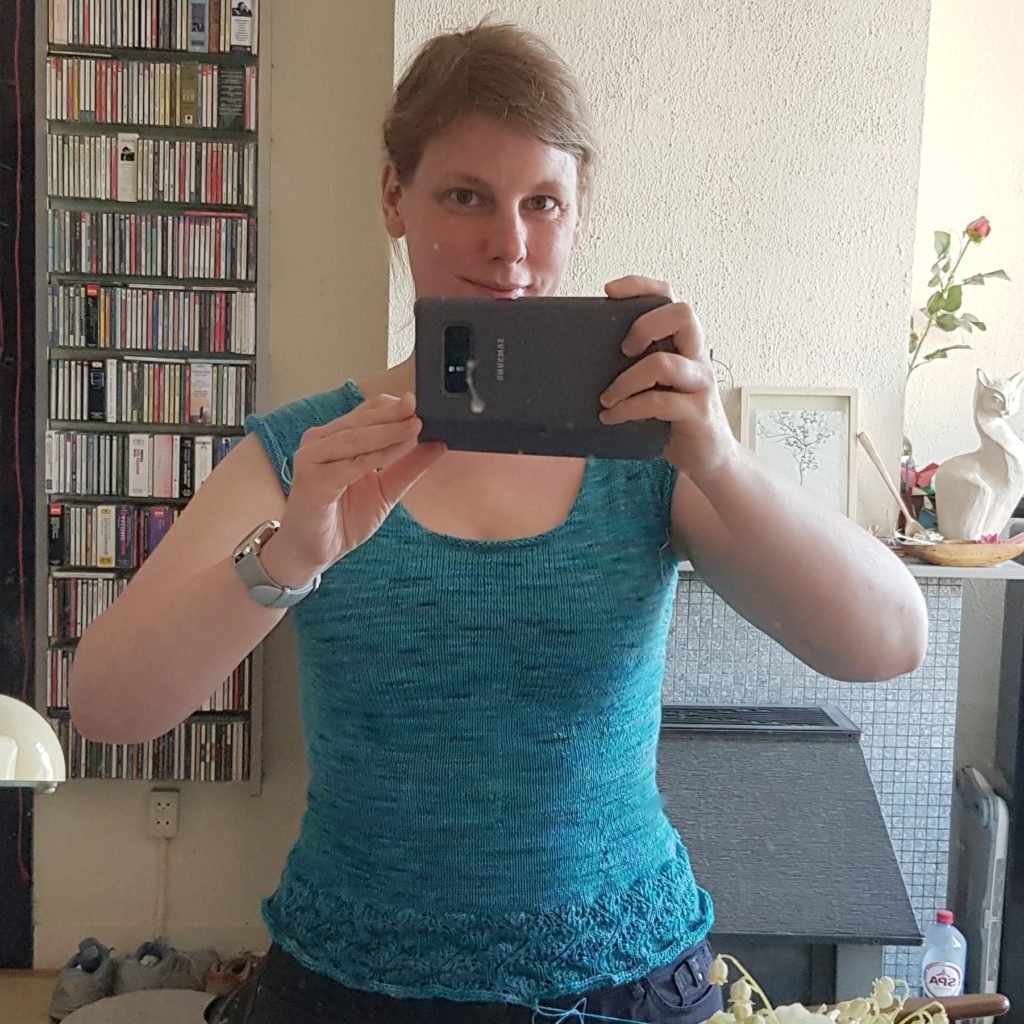 I tried on the pullover again and was quite happy with how the body turned out. Time to knit some sleeves! After the long body rows, the sleeves went relatively fast, and suddenly, the pullover was finished!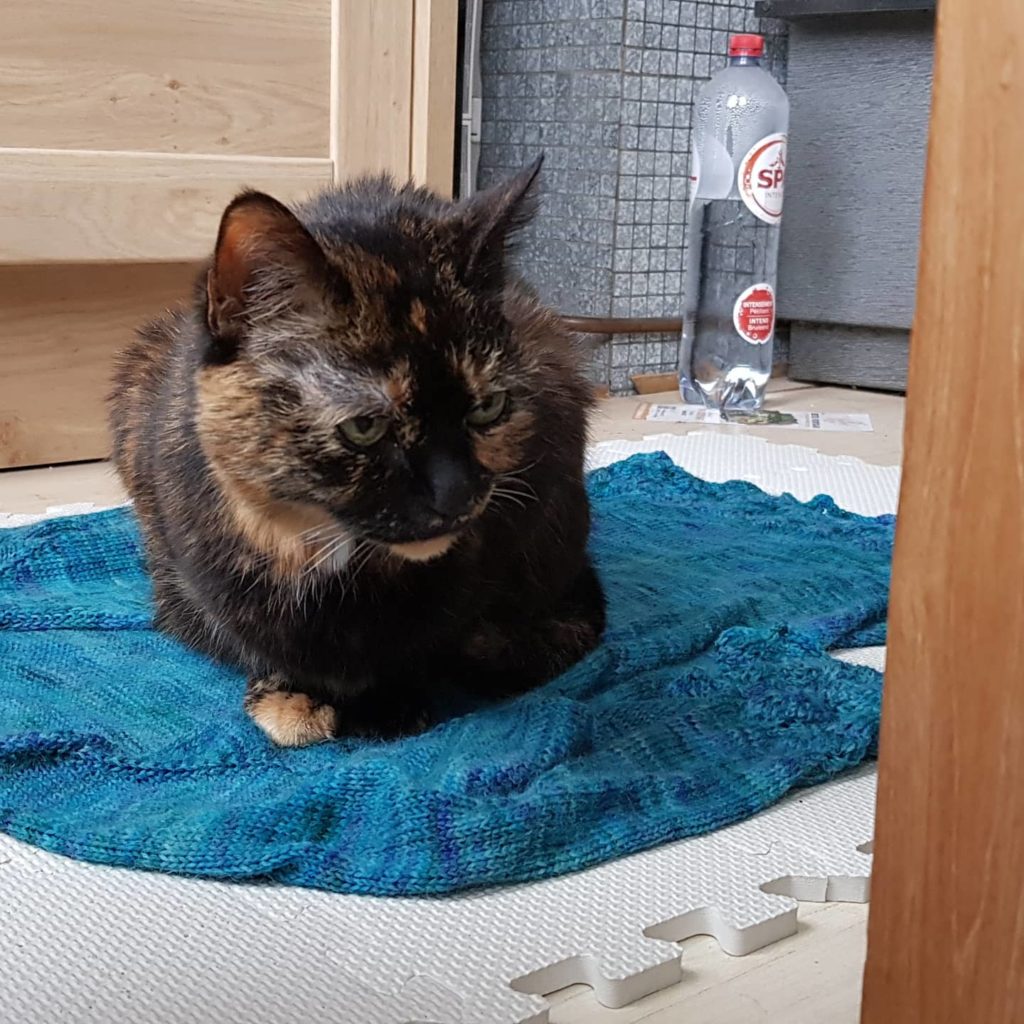 Time to give the pullover a bath and pin it down on my blocking mats. I wanted it and wanted to start blocking, but Freya claimed it even though it was soaking wet. She did not allow me to pick it up and start blocking. I had to distract her and shut her out of the room to be able to pin it down in peace. She was, of course, making very sad meows and scratching the door because if this injustice.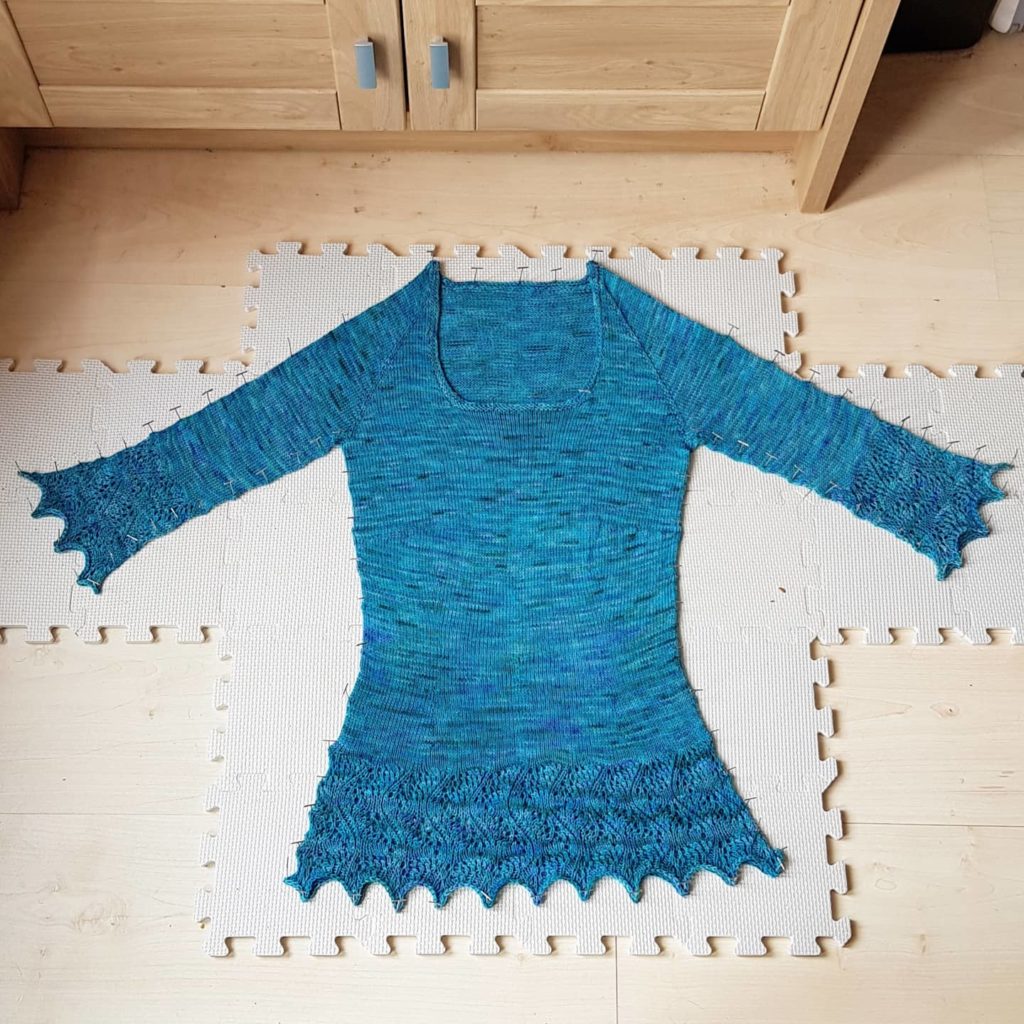 I blocked the pullover for about a day.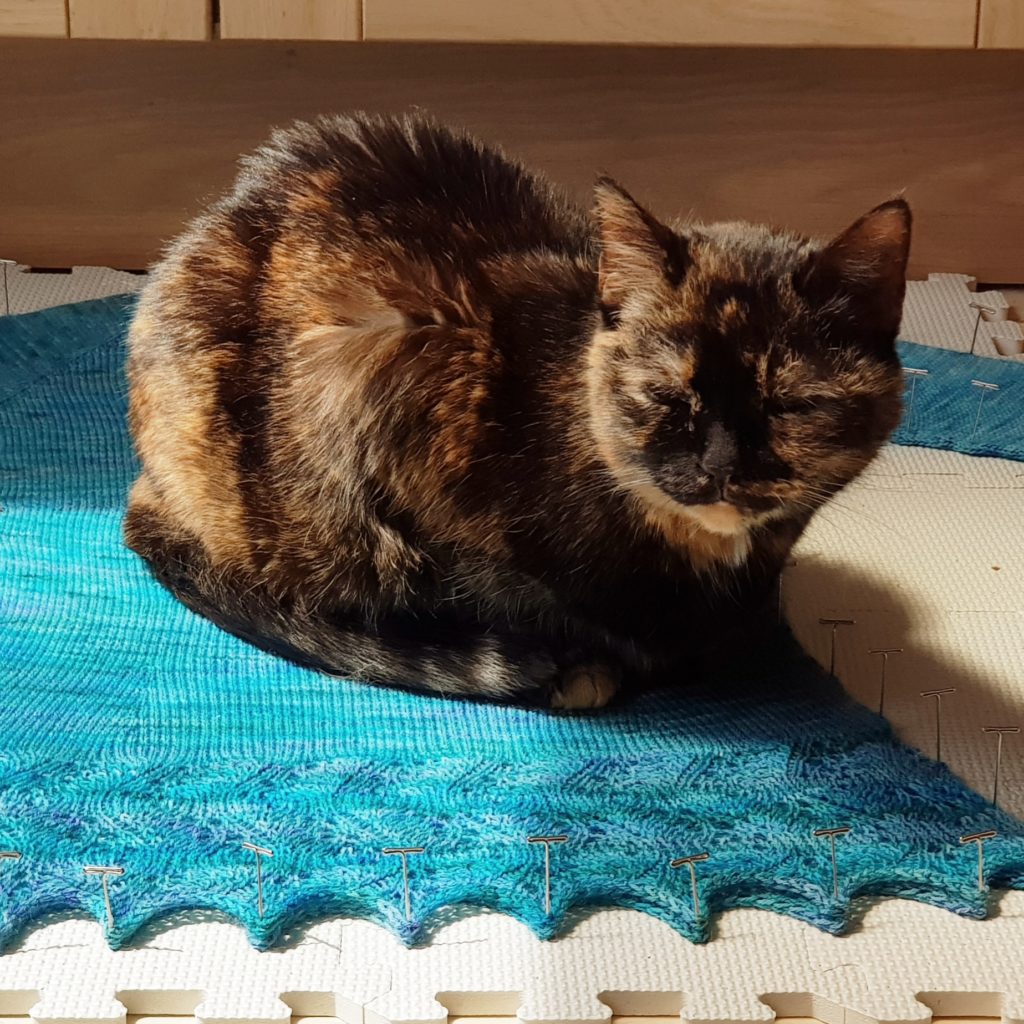 The lace bits opened up nicely.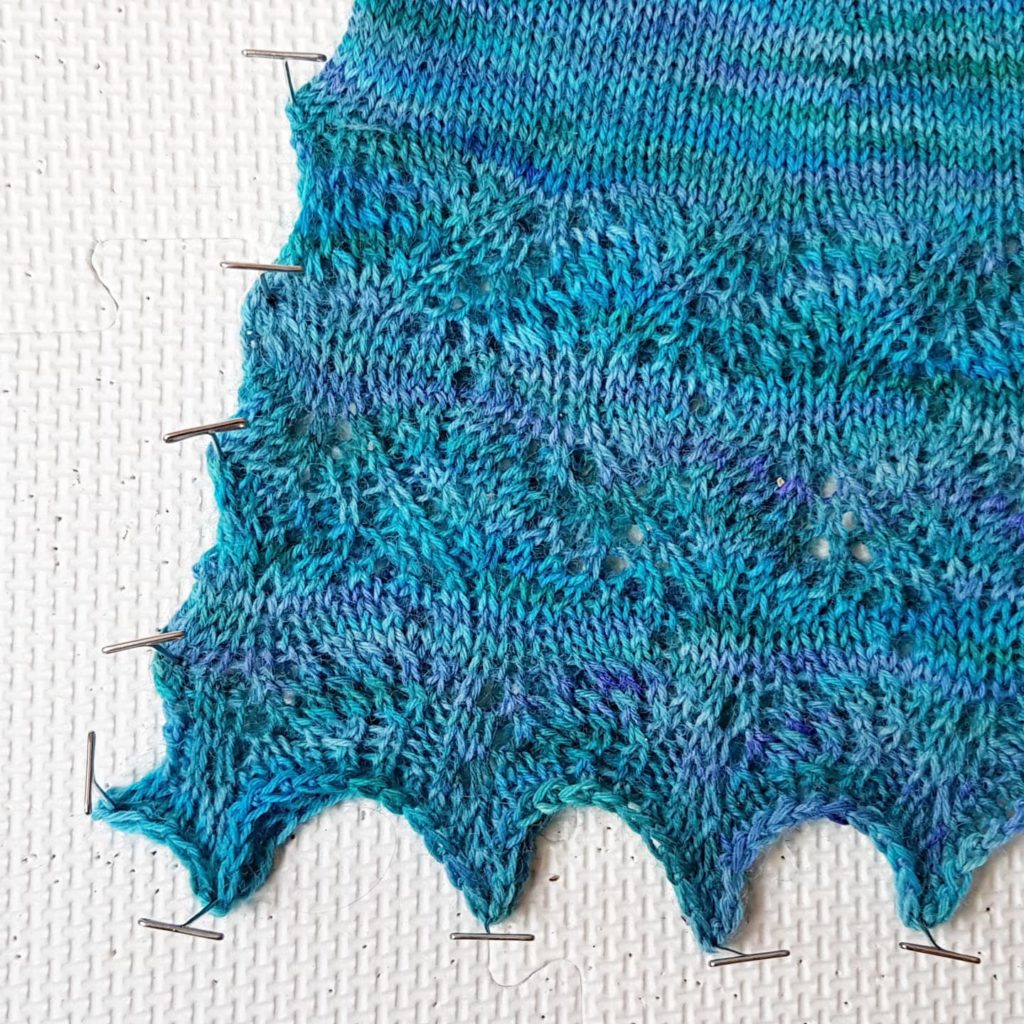 I bound off the neckline with an I-cord bind off, and really like the result.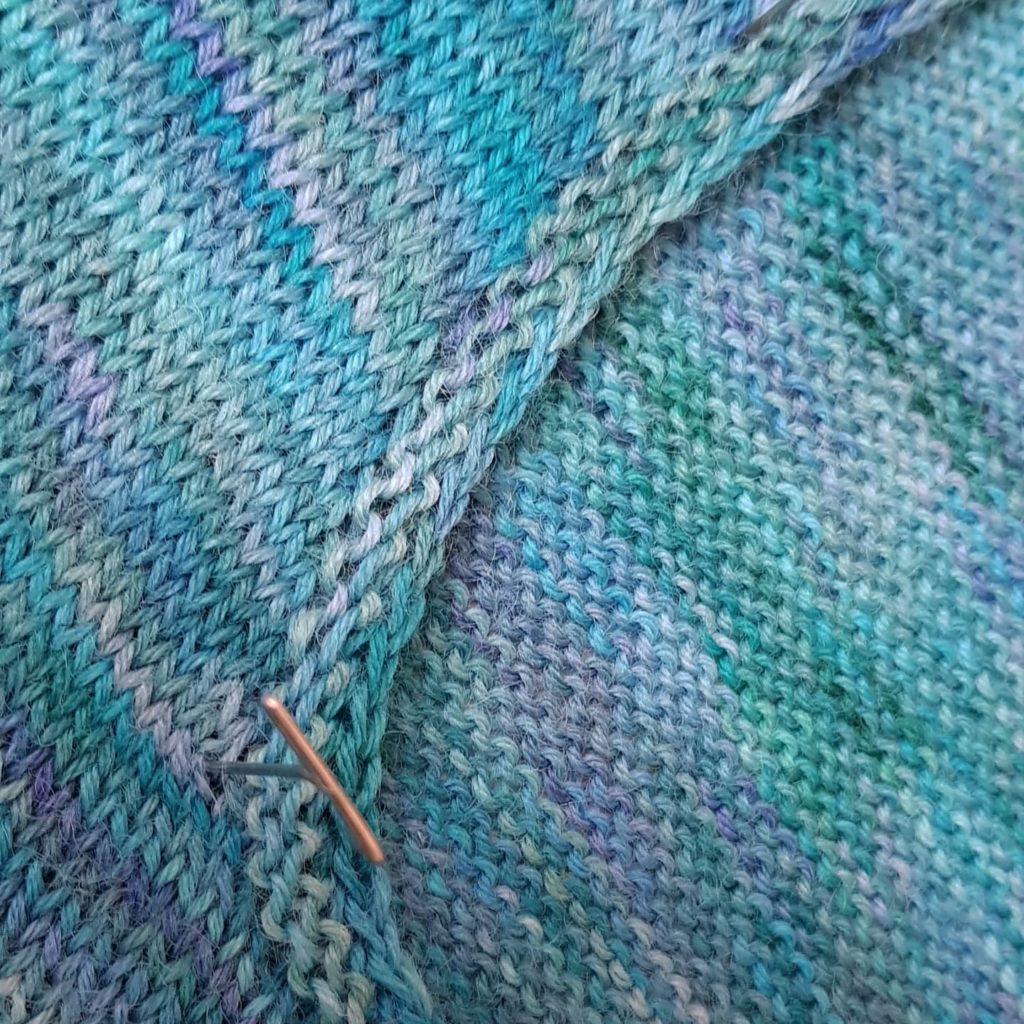 And then it was dry and I could try it on…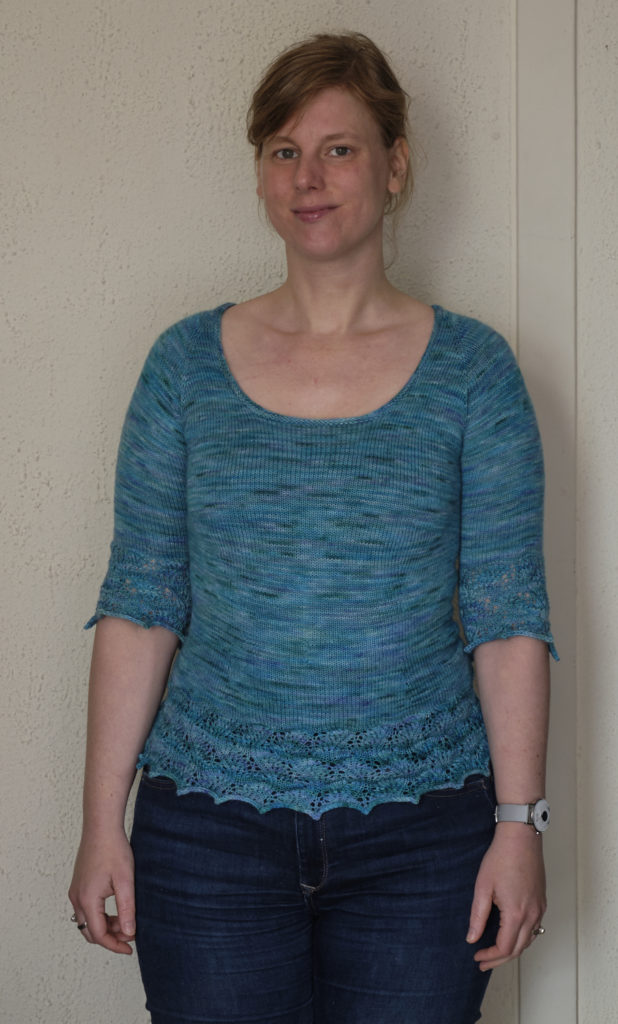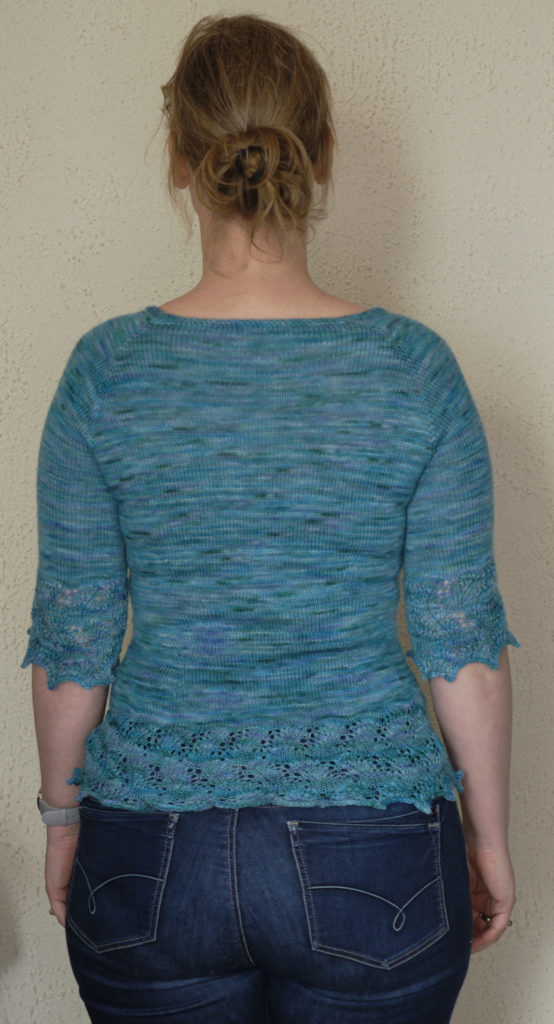 I really love the pullover! It's a bit too hot to wear it at the moment, but I'm looking forward to enjoy wearing it.
I really like the garments that I've made recently, and I'm looking forward to knitting the next one. But first I'll be spinning, I think. The Tour de Fleece is coming up. And I'm having my tubes removed tomorrow (eeek!) so I probably shouldn't start knitting from a pattern just yet… (please keep your fingers crossed for me tomorrow because frankly I'm super scared of the surgery).