A few years ago, I went to a colour analysis together with some Ravelry friends. I turned out to be a cool summer type: I look best when wearing cool pastel colours that are medium to dark next to my face. Not too much contrast, just a bit. I usually wear blue, pink, grey, purple, or taupe nowadays, and my wardrobe consists mainly of colours that are part of my palette.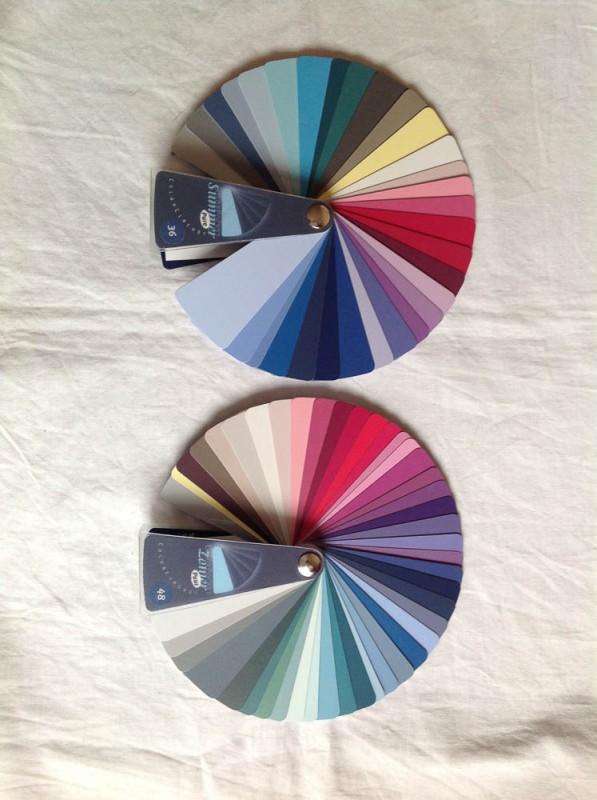 I do really like my colour palette, but there are some colours that I tend to miss. Mostly the warmer greens and rusty browns, as well as bright fuchsia, sky blue, and other jewel tones. So when I saw that lovely, lovely HedgehogFibres Skinny Singles in the Swamp colourway at Cross & Woods a couple of months ago, I almost started drooling, but I resisted the temptation.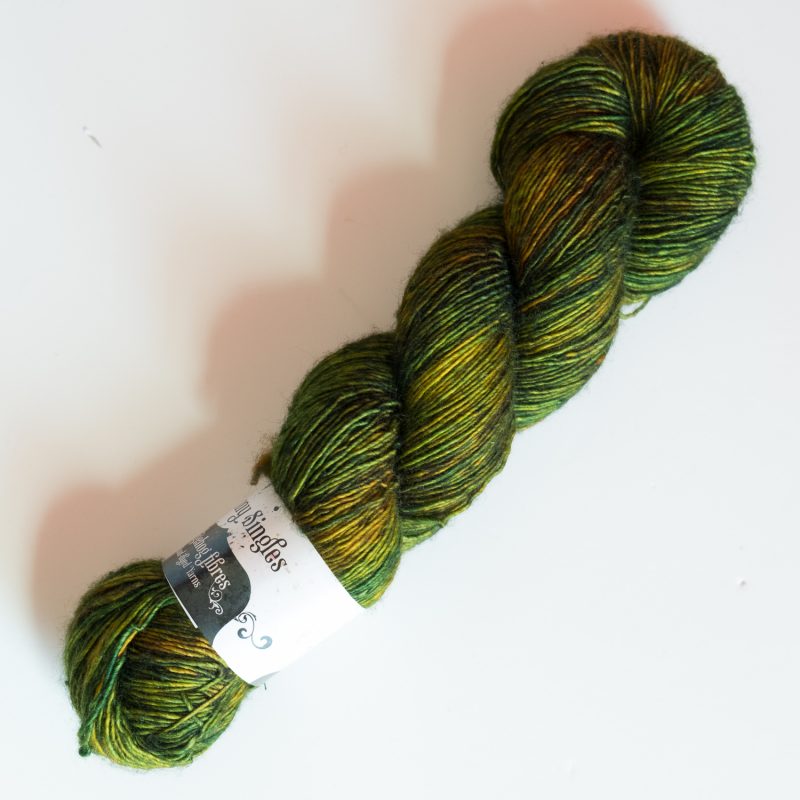 I visited Cross & Woods two weeks ago, and it was still there, that beautiful swampy green skein that was calling to me. And I decided to become a rebel right then and there. I can get away with green, but this skein was only 360 metres, and I prefer to make larger things nowadays. And my eyes fell on another skein of the same yarn in the colourway Copper Penny. A rusty orange!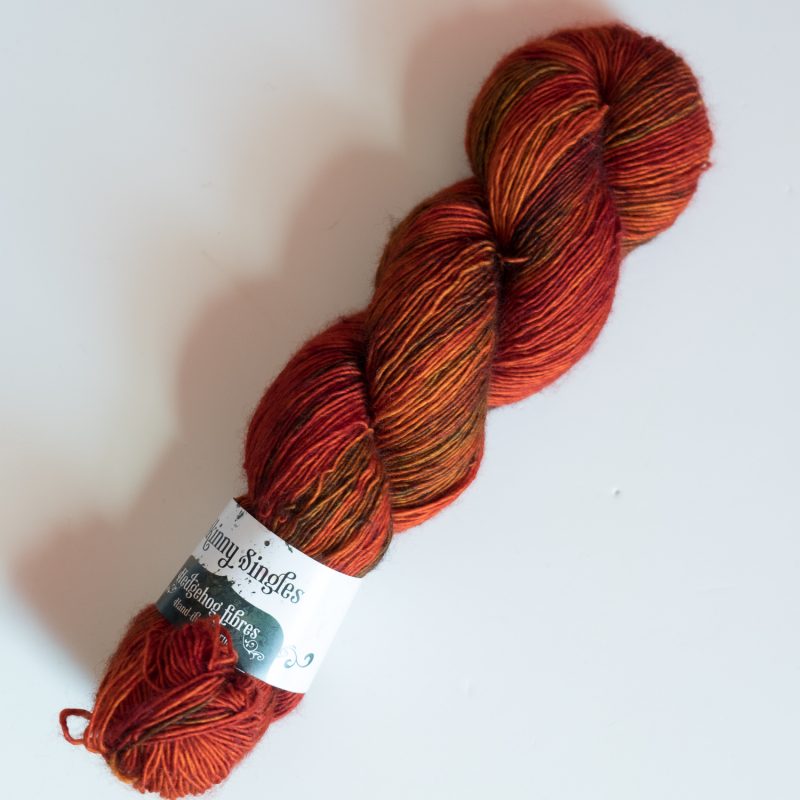 Somehow, these skeins seemed to combine well. Even though the colours were almost on opposite sides of the colour wheel, they both seemed to suggest a common olive oil-like golden base. They also seemed to be almost equally dark, so the only contrast between them was the colour.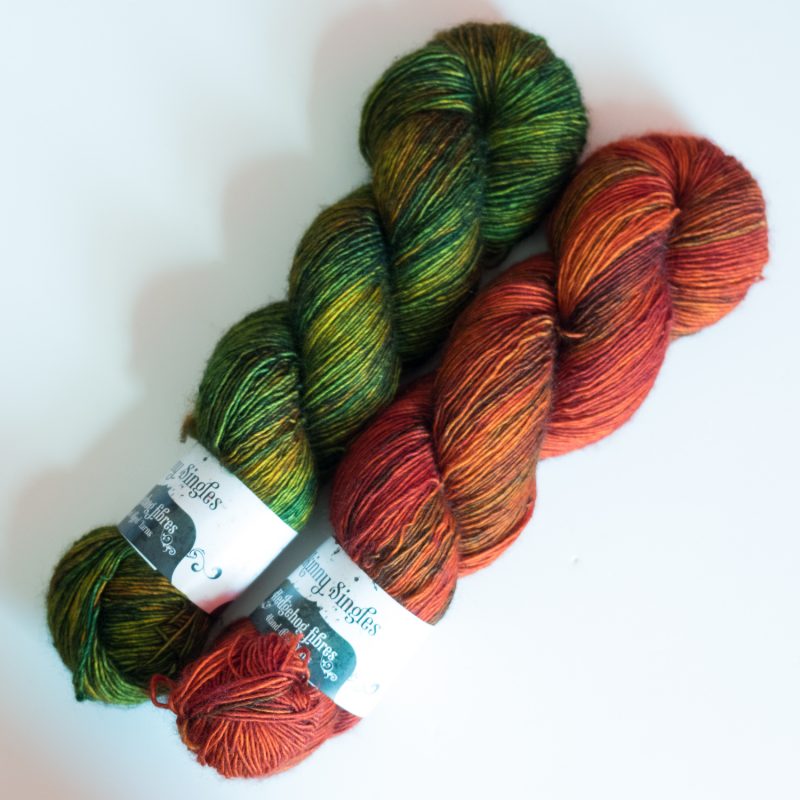 When I came home, my suspicions were confirmed. When I converted the photo of these skeins to black and white, this happened: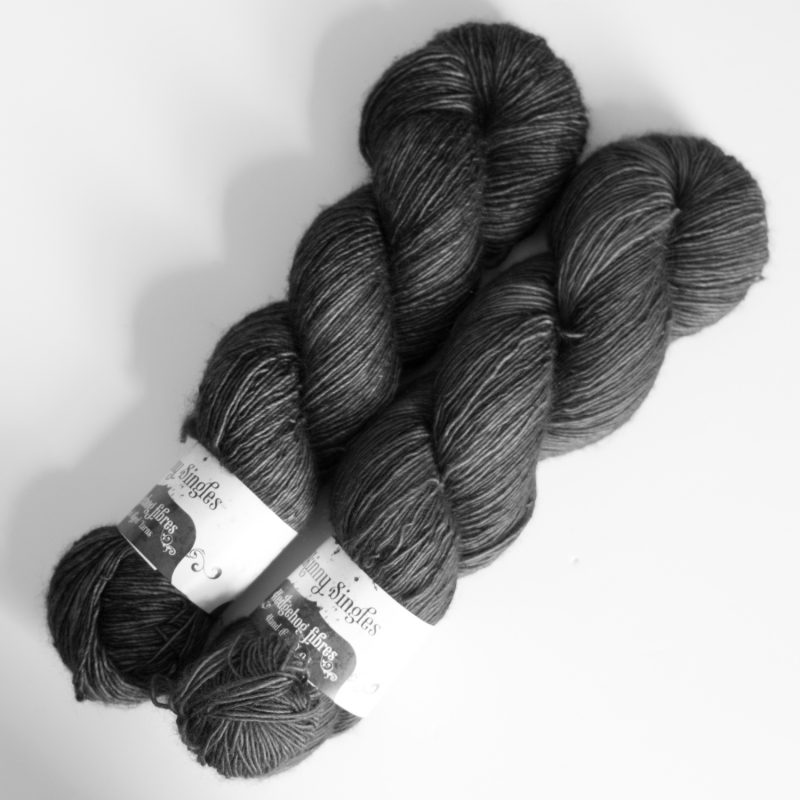 I wonder what a colourblind person would see when they see my shawl…
I wanted to use these skeins in a project in which they could both shine. Not brioche, preferably (too hot to wear in the summer), nor fair isle (I didn't want a "wrong side"). The previous project that I knitted used mosaic stitch, and I wanted to knit something similar. Then I found the reversible shawl collection by Amanda Schwabe!
I selected the pattern Two to knit with these yarns. You could just keep knitting until you would run out of yarn, and I love that in a pattern. I always want to use the skeins that I have completely, asI know that I'm not great with projects made with leftovers (I'm either never ready to start or never ready to finish them).
I started knitting and the shawl started growing from one of the points of the shallow, asymmetrical triangle shape. I loved the autumn-y look of it!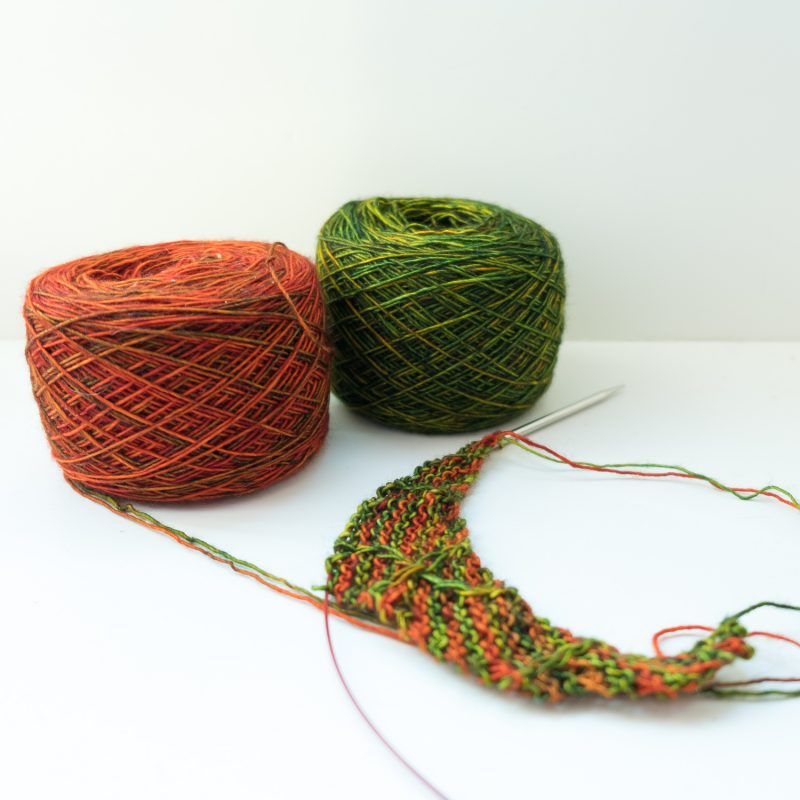 The shawl is basically knit in garter stitch, and some stitches travel around on both sides. Very cool!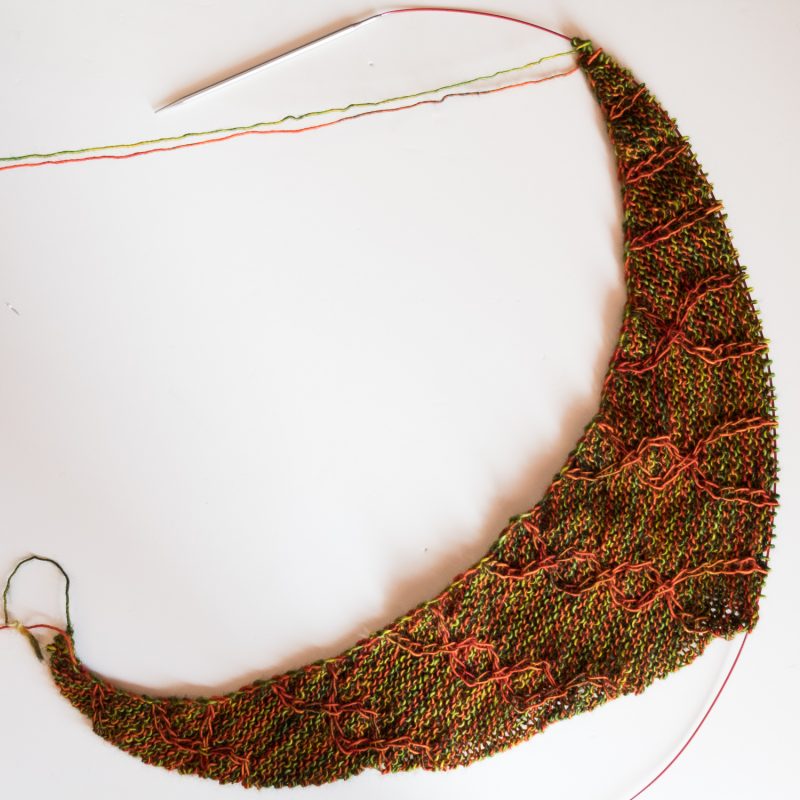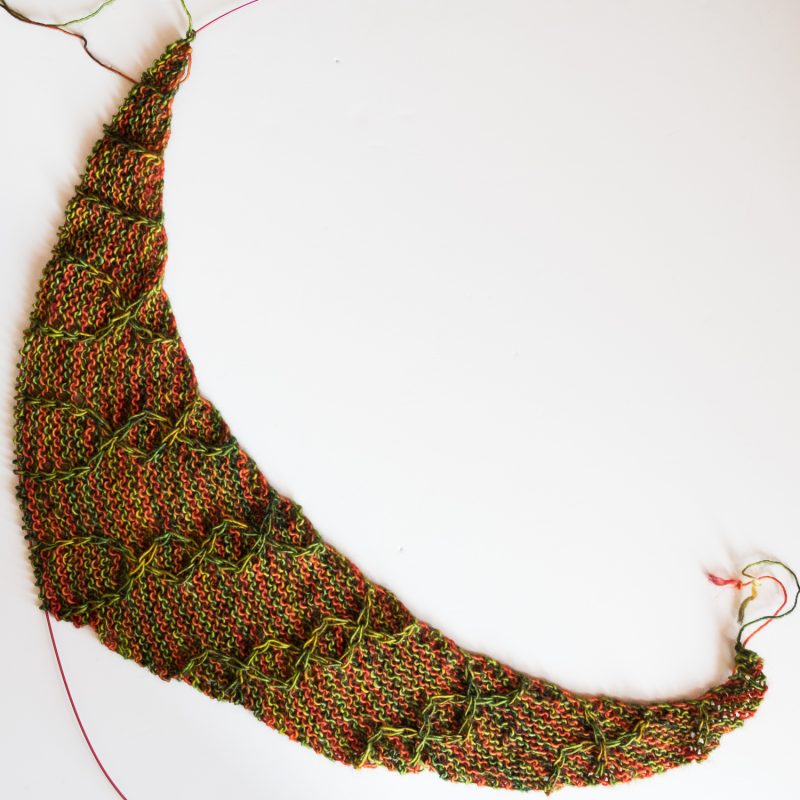 While knitting, I was still not sure whether this shawl would look any good on me, but I didn't care, I just liked the look of it. And since two out of three criteria of my colour type (medium to dark, muted) were met, I was hoping to be able to get away with it.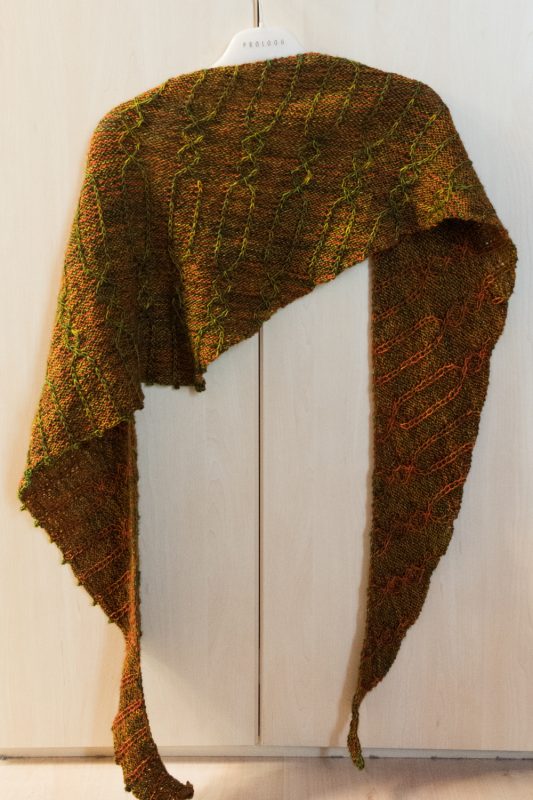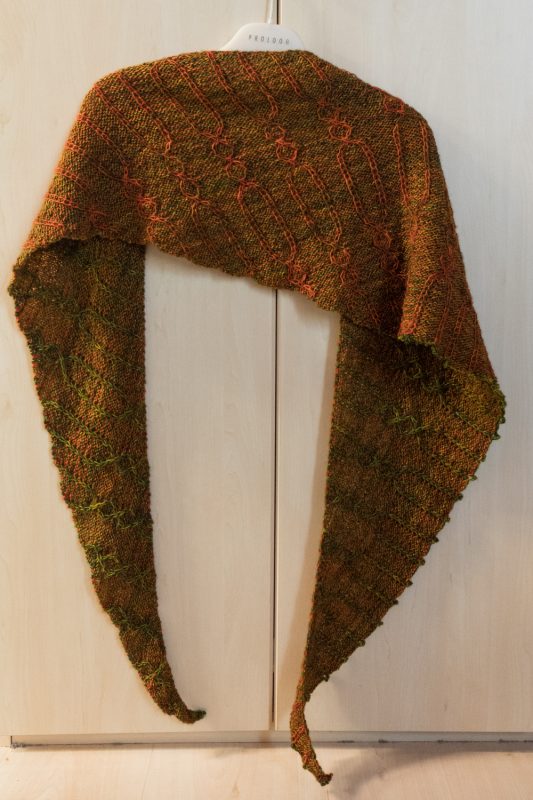 Then it was done! The shawl is quite large and nice and thick. I think that, from a distance, it may blend into a warm brownish colour with orange or green accents (depending on the way you wear it). I will probably wear it with the green pattern visible, as I prefer that side, but the other side looks great as well!