Remember that summer spinning project that I finished a while ago? Well, I decided to cast on a knitting project with it! Over the past few years, I have knitted many, many shawls. Realistically, I cannot wear all of them as much as I like. So, this time, I decided to knit a garment instead.
I opted to knit a breezy cardigan for chilly late summer evenings and the like. My spinning project had plenty of meterage (250 grams of laceweight yarn), so I didn't have to worry about having enough yarn. I didn't feel like looking for a pattern, so I chose to knit a basic raglan cardigan with a wide collar instead.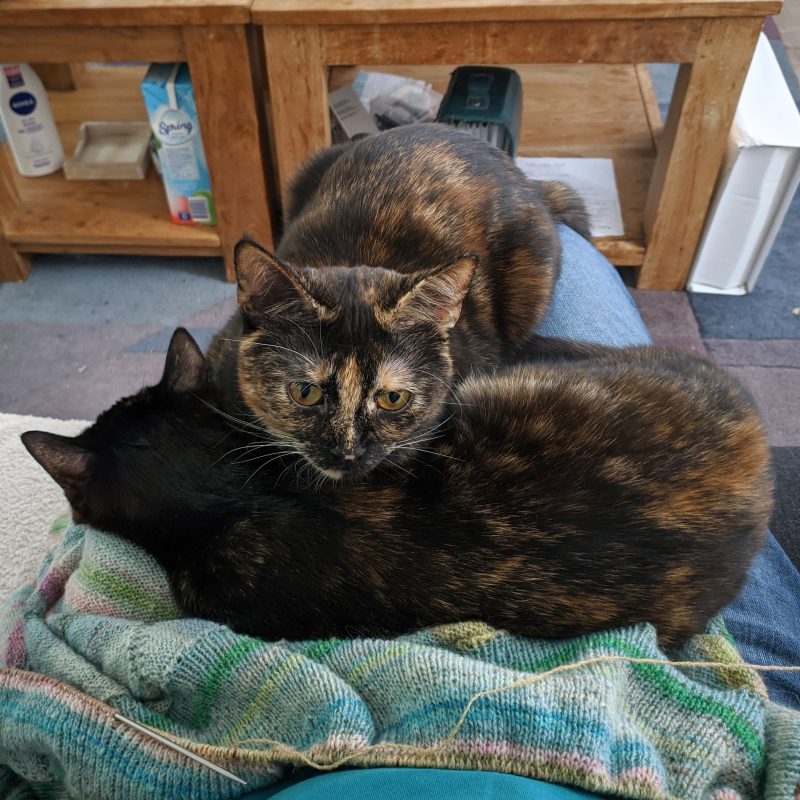 The cardigan grew steadily over the weeks, and soon enough, I arrived at the bottom. I decided to first knit the sleeves and then knit the collar so that I could just keep knitting until I ran out of yarn. My guesstimate of when to start binding off was close, but I did lose yarn chicken this time. Fortunately, I still had some yarn that I could use to finish the bind-off.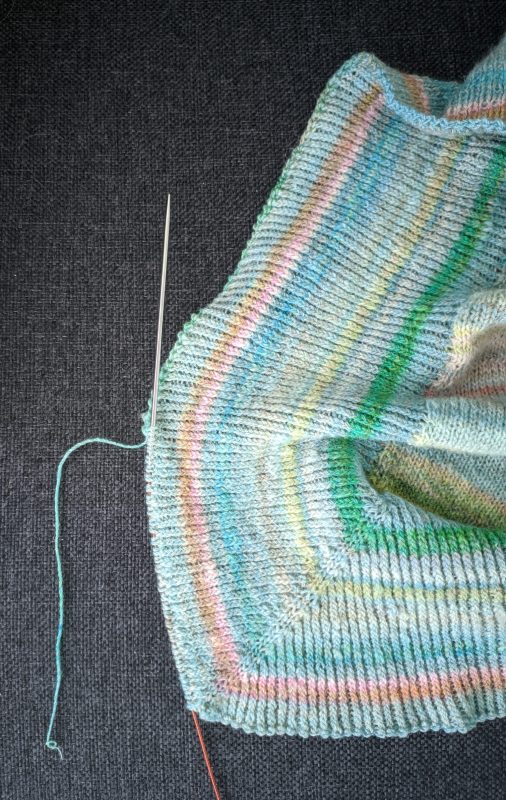 I pinned the cardigan down on the blocking mats and used my blocking wires to stretch everything evenly. I didn't have enough wires, so I also used some old knitting needles to shape the cardigan.
The cardigan dried up quickly, and I took it off the mats and draped it on my mannequin.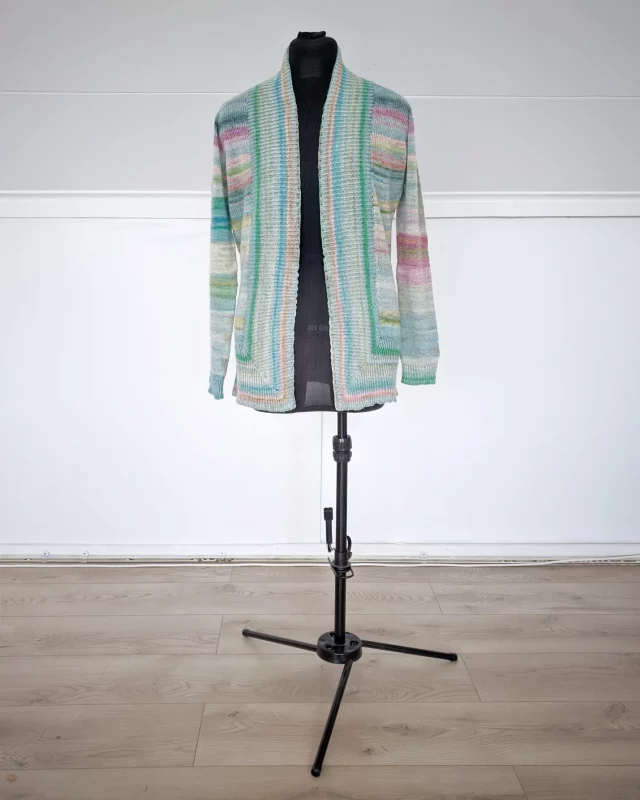 And then I got Covid-19. My husband brought it home when he took the train to work over a week earlier. We isolated within the house, and after a week, I still didn't have symptoms. I was starting to think that I was immune. But then I got a sore throat and gradually the symptoms arrived. I took daily tests, and on day 3, it was finally positive.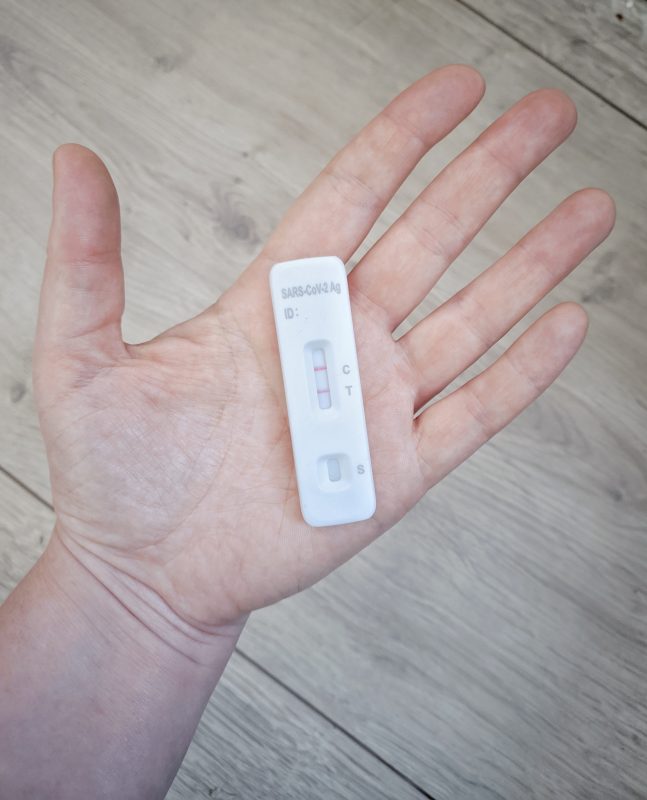 I have had the flu years ago (I think it was the swine flu) and in a way, this was similar in seriousness, just not the whole time. Sometimes I would feel almost fine, and a bit later, I would feel the strong urge to lie down again. It didn't help that there was a heat wave going on. I was in bed most of the day for a week or so with a temperature, and a headache. The laryngitis was right on my vocal cords, so speaking was hard. I don't really want to think about how bad it could have been, had I not been vaccinated and boosted.
Three weeks later and I'm feeling much better, but not 100% yet. I still tire quickly and feel that urge to lie down now and then. I'm also feeling foggy, my brain feels sluggish and tired, and I still have a bit of a cough. So does my husband. So we're not there yet, but I hope that the last symptoms will go away soon and that we won't suffer from post covid syndrome. We're trying to take it easy and not stress about the stuff we think we should be doing/be capable of, and just focus on taking care of ourselves. I haven't even spun anything in the Tour de Fleece this year!
I have wanted to write this blog post for a few weeks now. Only a few days ago I finally had the energy to take some pictures of myself wearing the cardigan. And now I have finally sat down to write this.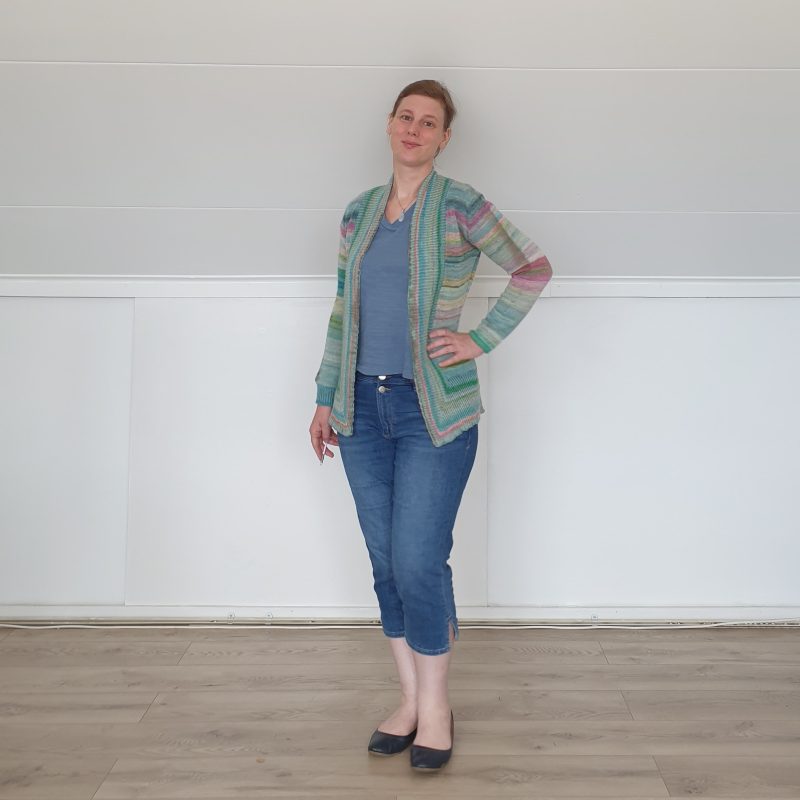 When I looked at the cardigan again when I wasn't that sick anymore, I noticed something bad. The knitting needles that I had used to block the arms and collar had stained the cardigan with rust! For now, I haven't done anything about it. I've looked for methods to remove rust stains from wool and found a few options. One uses lemon/white wine vinegar and salt, the other uses baking soda. I haven't tried them out yet. I don't want to accidentally bleach out the colours as well as the stains. If you have any tips for me, please share them!
For now, I'm just happy that the cardigan is done and that it fits nicely. I have already cast on another cardigan with handspun! I think that it's so cool to create something from (almost) scratch. In the slideshow below, you can see all the stages of creating this cardigan, from fibre to FO.