When I was five years old, I started playing the violin. I still was a wee Meilindis, so I had a 1/4 size violin. So tiny!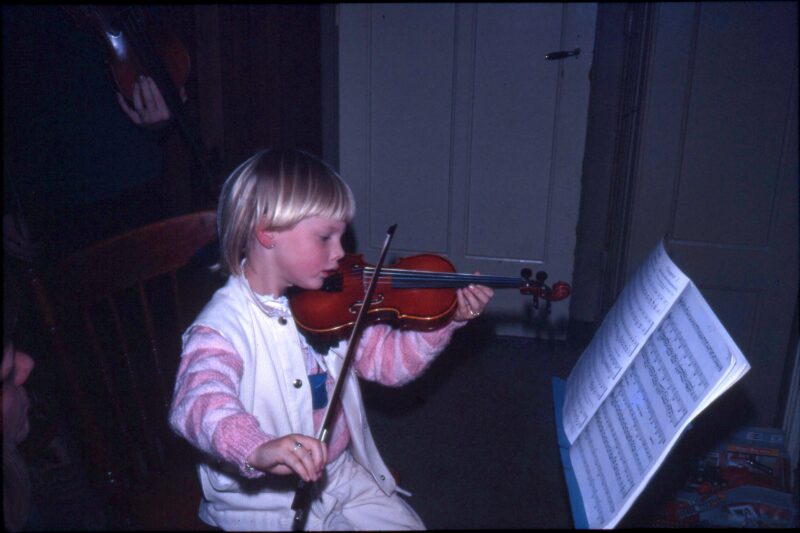 As I grew larger, I got a larger violin as well. A 1/2 size this time. Here I'm playing for Sinterklaas! I don't remember if I got candy for playing (or for stopping, hah!). Probably, because it was called a 'Pepernotenconcert'.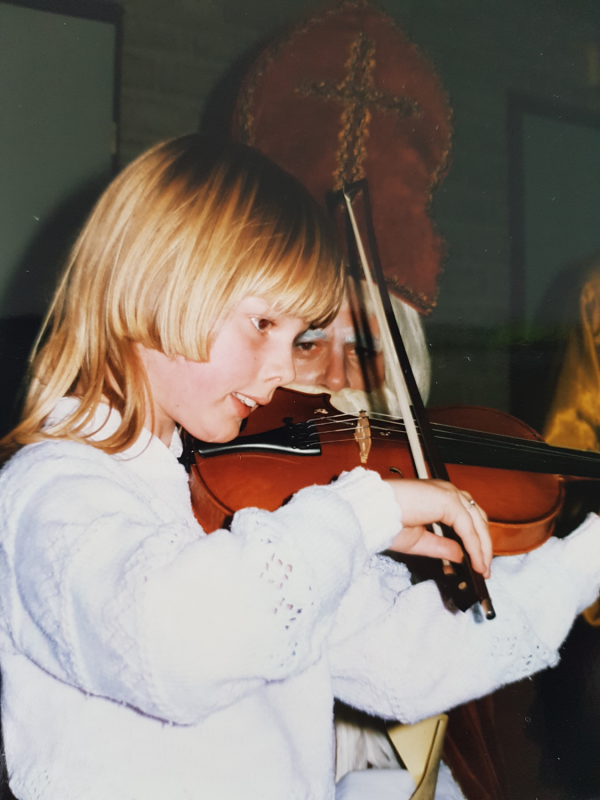 I grew into that awkward teenager stage where I got glasses, braces, and low self-esteem. Other kids had been bullying me about playing the violin, so I didn't disclose that I played when I went to high school. Only in the second grade of high school (I think it's eighth grade for US people?) did I dare to "come out". And I found someone who played the piano and wanted to accompany me. We're still really good friends! By then, I had a 3/4 size violin with a nice sound.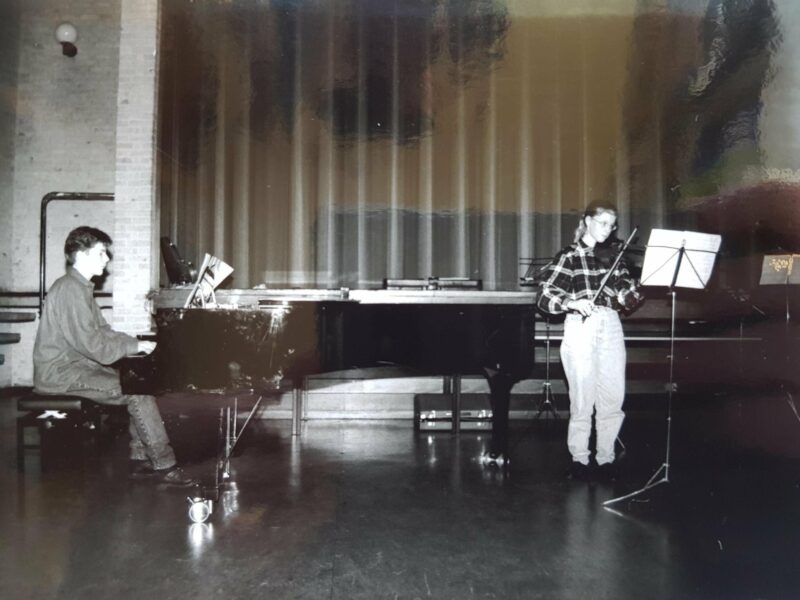 I liked playing the violin, but wasn't very active about it. I practiced, but that mainly consisted of playing through music that I liked. So technically I didn't progress as much as I could have, but I was having fun, so so what? And I did reach a good level. Here I'm playing the Légende by Wieniawsky at the goodbye concert of my violin teacher. He was retiring and I didn't find a nice new teacher, so moved on to singing instead. The rest is history…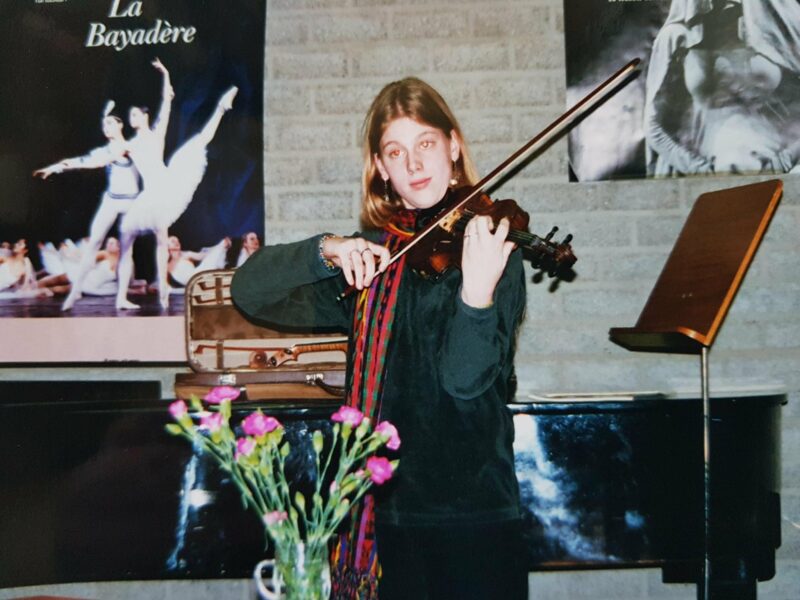 My violin was just sitting around in its case for years. Once every few years I'd pick it up for an afternoon, start playing, and stop because it was kind of frustrating that I couldn't just play the way I wanted to because it had been a while. Sometimes, a string was broken, and I put on a new one.
When we moved last year, I put my violin in my studio. A while ago, I picked it up and started playing again. Just for fun, but also with more musical understanding than 25 years ago. Yes, it has been that long!
And this time, I didn't stop. I've been playing like every other day for some time now. I'm still getting up to speed with my technique, especially my bowing, and I am thinking about taking lessons again. I love playing early music, and the Telemann fantasies are still close to my heart. But there is one thing that is kind of awkward. I still have a 3/4 size violin.
The 3/4 size violin is really a child's size violin. The dimensions are not as optimal as those of a full size (4/4) violin. Everything is shorter and narrower, and while that may be comfortable sometimes (I don't have to stretch my fingers that much), I'm paying for it with a less than optimal sound. Even though that 3/4 violin is quite good.
I was going back and forth on whether to keep it or to invest in a full size violin. In the end, I decided to visit a luthier here in the city for advice. But before I could go, I needed a new case as well. One of the hinges of my old case was broken and I didn't have a sleeve to transport it by bicycle anymore either. So I ordered a 3/4 size case.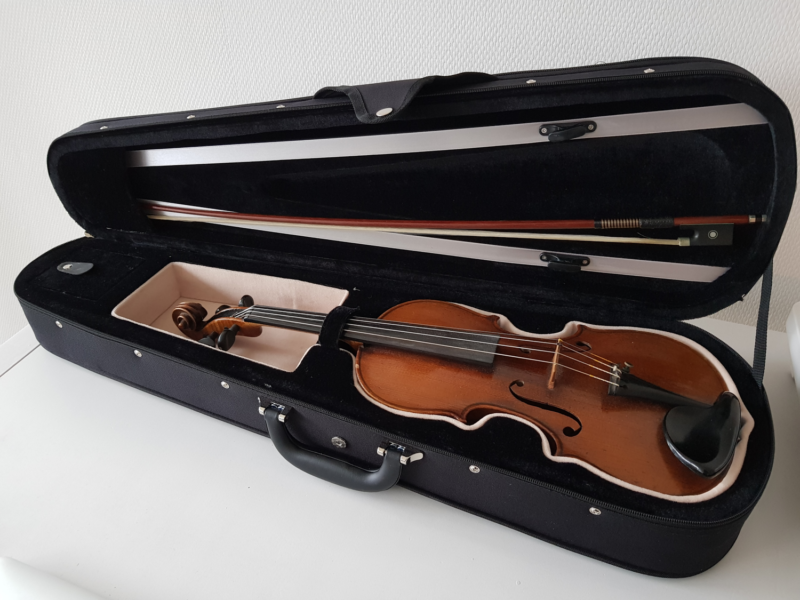 Oops. My violin might be 3/4 size, but my bow isn't! It didn't fit where it should, and putting it in without anchoring it doesn't sound like a good idea at all. So I returned it and ordered a full size case.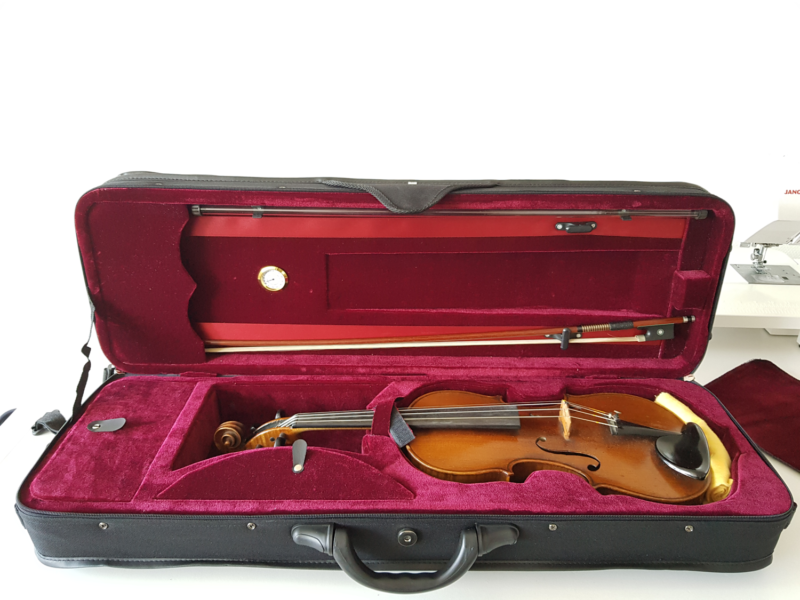 That's better. And there's a separate space for the shoulder rest, that's a plus too. A little bit of fabric to fill up the gap is fine.
Last Wednesday, I visited the luthier. He was very friendly and let me try some violins to see if they fitted my arm and hand size better. First up was a 4/4 violin. I used my own bow. Getting used to the violin wasn't as hard as I expected. Since it is longer, the distances between the notes are larger, but not by much. The neck being wider felt more sturdy in my hand.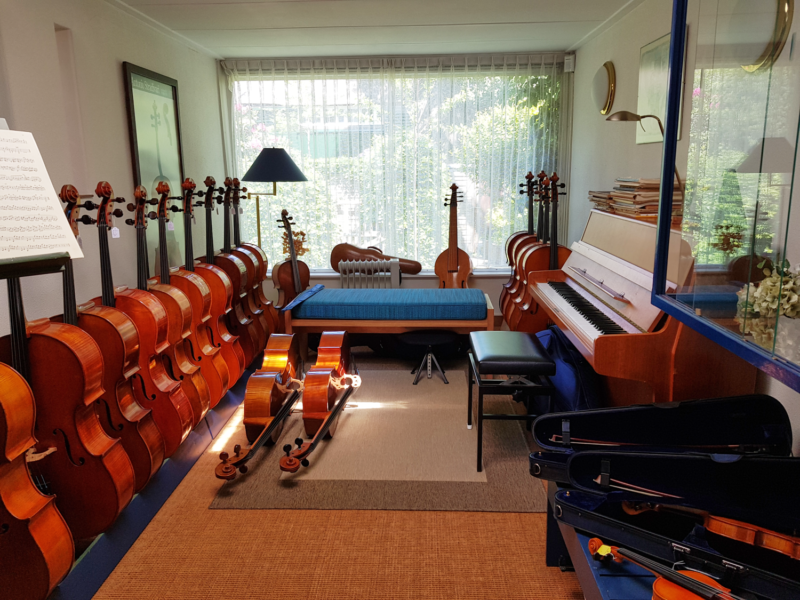 After about ten minutes of playing, the violin maker brought me two additional violins in my price range: another 4/4 violin, and a 7/8 violin.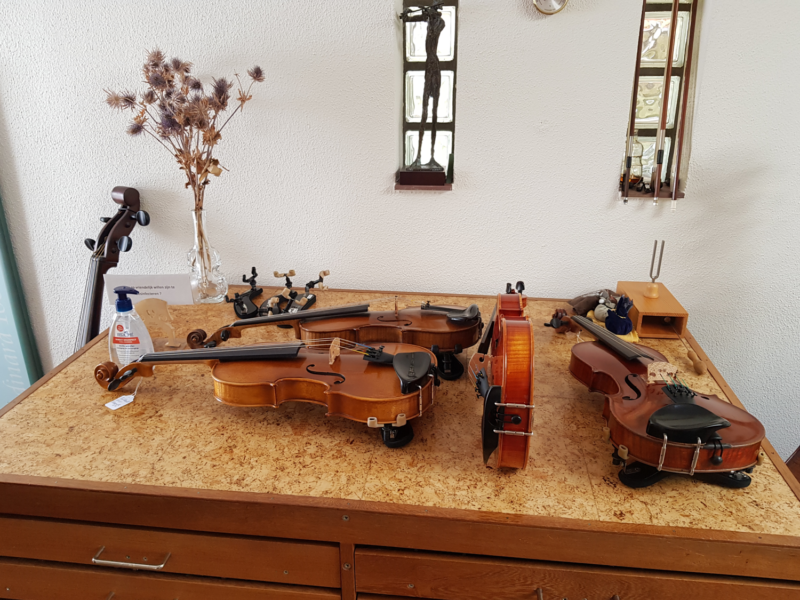 The 7/8 size is sometimes called a 'Ladies violin', and it's a tiny bit smaller than a small 4/4. The 4/4 has a range of dimensions, though, some of them are large, some are small. For example, the 7/8 has a corpus size of ~345 mm, where the 4/4 has a corpus size of 350+ mm. Not a huge difference, but noticeable.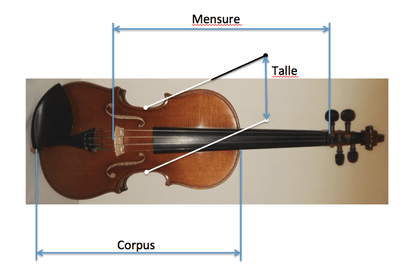 Since I didn't have a real problem playing on the 4/4 violin, I was a bit skeptical about the 7/8, I didn't think that I would need it and I was a bit afraid that the sound wouldn't be as good. But I was pleasantly surprised. This violin had a very nice, round sound and it was not flat or soft at all. The other 4/4 was easy to play on, but I didn't like the sound as much as the other two options.
In the end, I decided to sleep on it, and come back on another day to try out violins again with fresh ears. I'm going to bring my mum this time. She also plays the violin, so she can listen from a distance, and also play a bit so that I can listen from a distance too. And two sets of ears hear more than one. I can't wait!
And right now, I can't stop thinking about that 7/8 size instrument and I wished that I had it here to explore it further. That's a good sign, right?
Oh, if you're interested, I played a bit on each violin and recorded it with my phone (crappy and too close by, but still). It's all Telemann.
Today I played on my old trusty 3/4 again and realised that I still quite like its sound. But my fingers feel too close together now. What a difference a few centimetres can make!