You might be getting a bit tired of all my violin posts lately (Finding that sweet spot, Still comparing, and The jury is in!), in which case, you can just skip this one. But if you're interested in my search, it has now officially come to an end. I've just returned from the luthier with my new violin, and I couldn't be happier with it!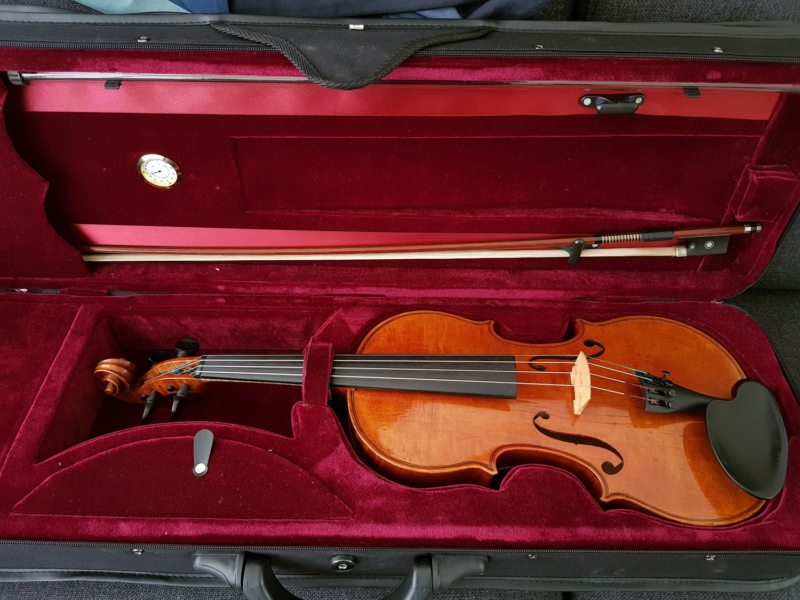 So I said goodbye to my faithful old 3/4. I had a good run with it and I hope that the next owner will be as happy with it as I was.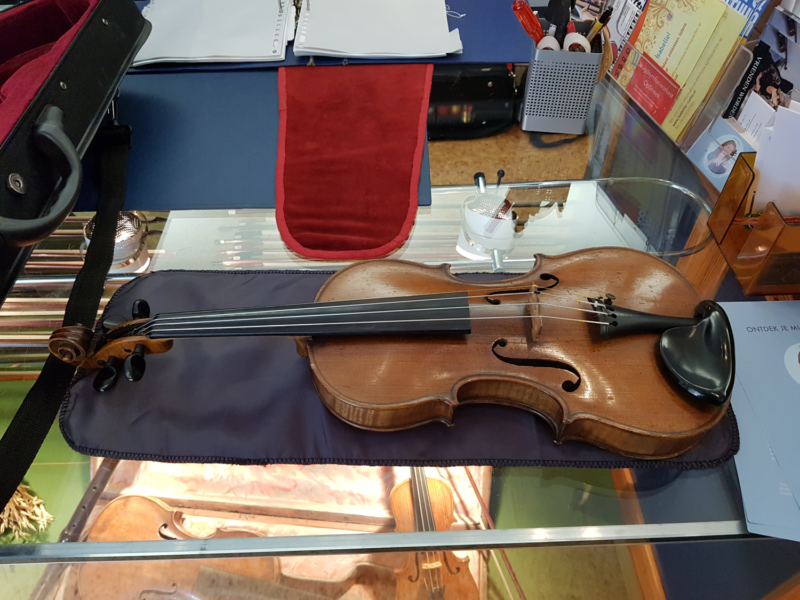 In the end, I decided to adopt the violin made by J. G. Wijn. Mr Wijn was a self-taught violin maker, and the luthier said that he did a pretty good job. Of course there were some abnormalities in his execution, because he had not had formal luthier training. A trained luthier would spot these differences easily. But Mr Wijn did use very nice wood, and made the violin with great care. The luthier said that he definitely was a good woodworker, even if he didn't know everything about making a violin.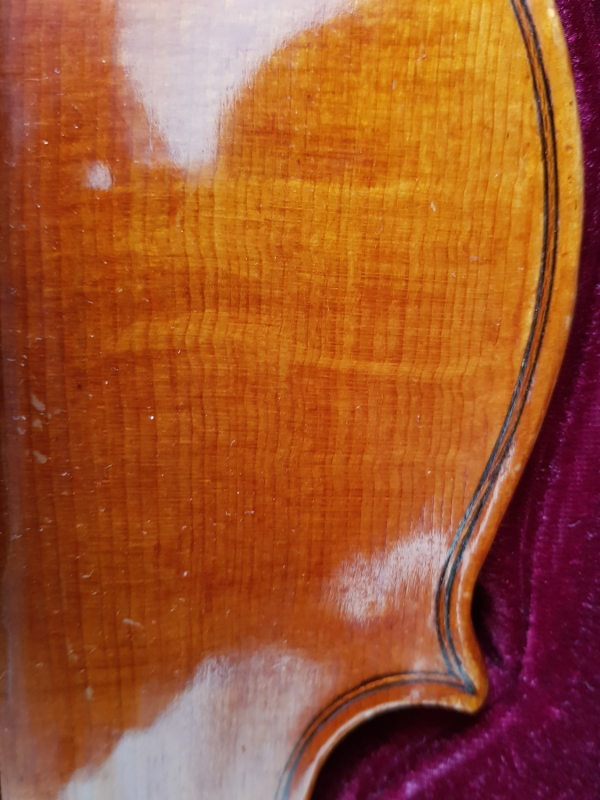 Usually, a handmade violin by a named maker would be way out of my price range. With my budget, I would be able to buy a trade violin – a violin made by a violin studio. For example, in Germany in the 19th-20th century, there used to be a few locations where they made lots of violins: Mittenwald and Markneukirchen, and in France you had Mirecourt. Whole villages made violin parts – Franz would make scrolls and be quite good at that, Hans would cut decent tops, and Fritz would put together the violins. Everybody specialized in a part, but there was nobody with an overall vision. Creating a very nice violin accidentally was of course possible, but most of the violins would be 'just' decent. The other violin that was in the running for me was an Anton Ostler violin from Mittenwald. I think that that one was quite good. My old 3/4 also was a simple, good trade violin.
Since Mr Wijn was not a professional luthier, his violin was more affordable than a 'real' master violin, and surprisingly, it was within my budget. That was interesting, although I was not just after a named instrument. In the end, a violin's sound and playability are paramount to me. So I gave both violins that had my interest a fair chance and tested them thoroughly over the past few weeks. I discovered that the Wijn violin had something that I connected with. A fluency in the middle register, and a singing quality that touched me. With the new, higher bridge, its palette opened up even more.
After he made the violin, back around 1935, Mr Wijn asked a few experts for their opinion on his work. So, the violin came with hand-written testimonials by Louis Zimmermann (concertmaster of the Royal Concertgebouw Orchestra and soloist), a Professor I. Wülff, and Josef Roismann of the Budapester Streichquartett. Very cool! Old-school user reviews.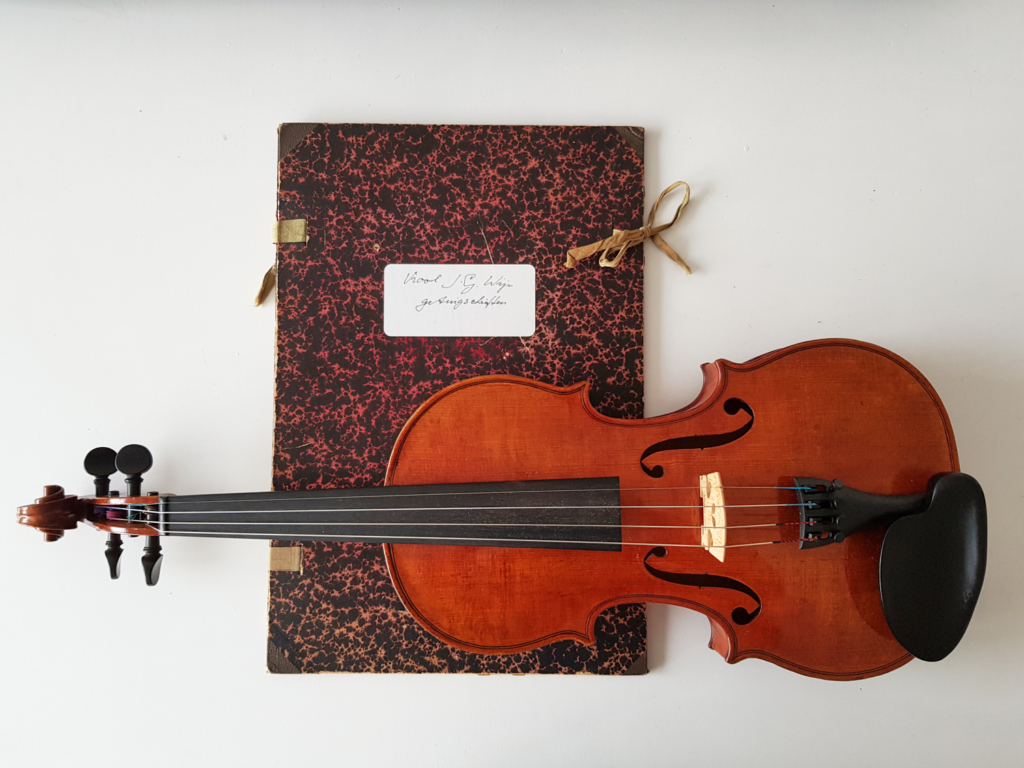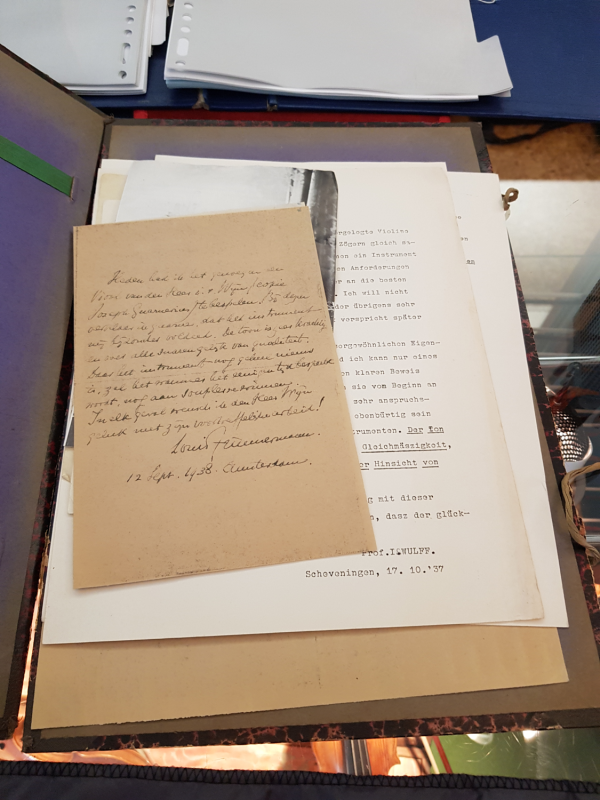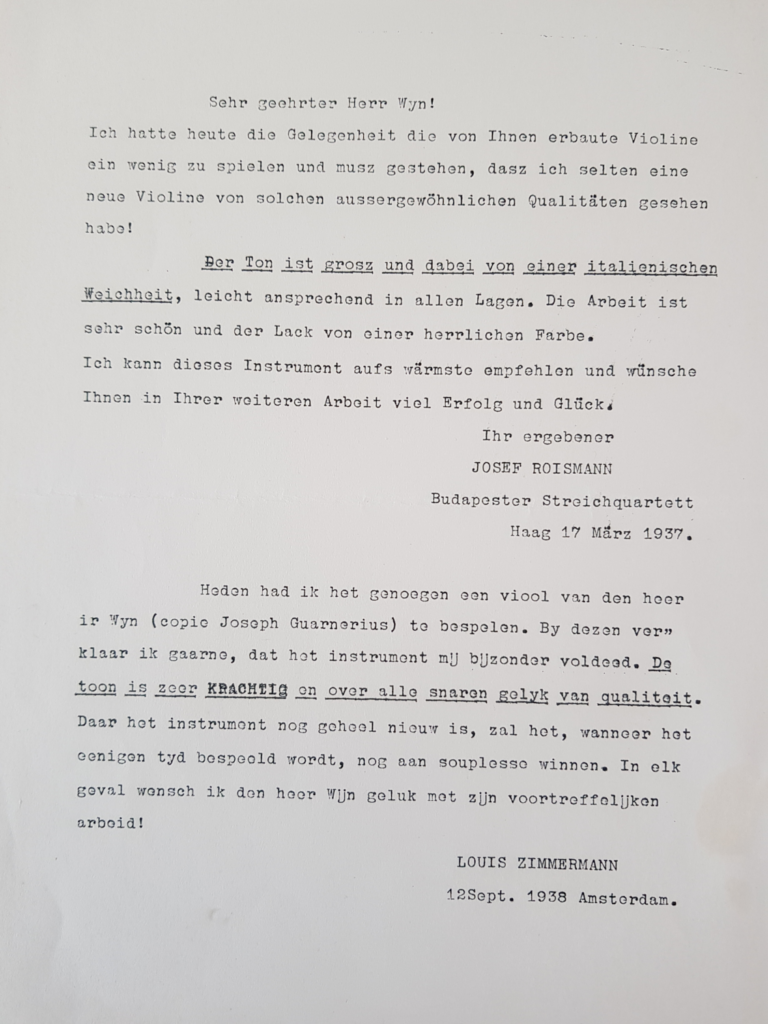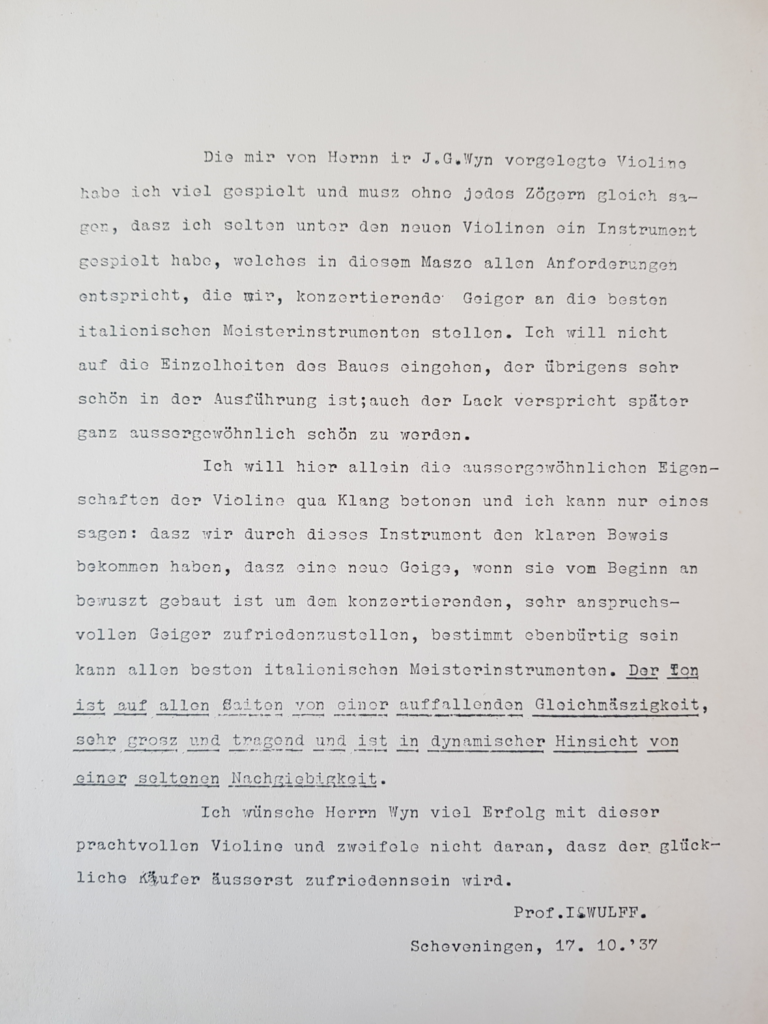 The testimonials all praise the balanced and powerful tone of the instrument and the beautiful handwork. Professor Wülff expects the future buyer to be utterly content with this gorgeous violin. And I can now add to that statement that, yes, I am indeed. I usually find making a choice quite difficult, but in this case, there is no doubt and no regret. I just love this violin!
I play it every day, and even though I'm not a great violinist or anything, it brings me a lot of joy!
And another, more romantic and lyrical one: