After knitting my Klimop shawl, I was feeling like knitting another project, but simple tv knitting this time. So I decided to just knit a basic asymmetric triangle in garter stitch. I based it on the 1/3-2/3 formula and I decided to do an i-cord edging. The great thing about this kind of pattern is that you use up almost your entire skein of yarn, independent of how much yarn you have. So it's a great choice for precious handspun yarn.
I decided to use a yarn that I spun about five years ago, during the Giro de Fleece. It consists of a blend of pink and purple Nunoco fibres: their Yewberry blend combined with their Bugles batts. 21 micron merino, mostly, with bits of tussah silk and silk noils. It's a fingering weight yarn, and I had 200 grams to play with.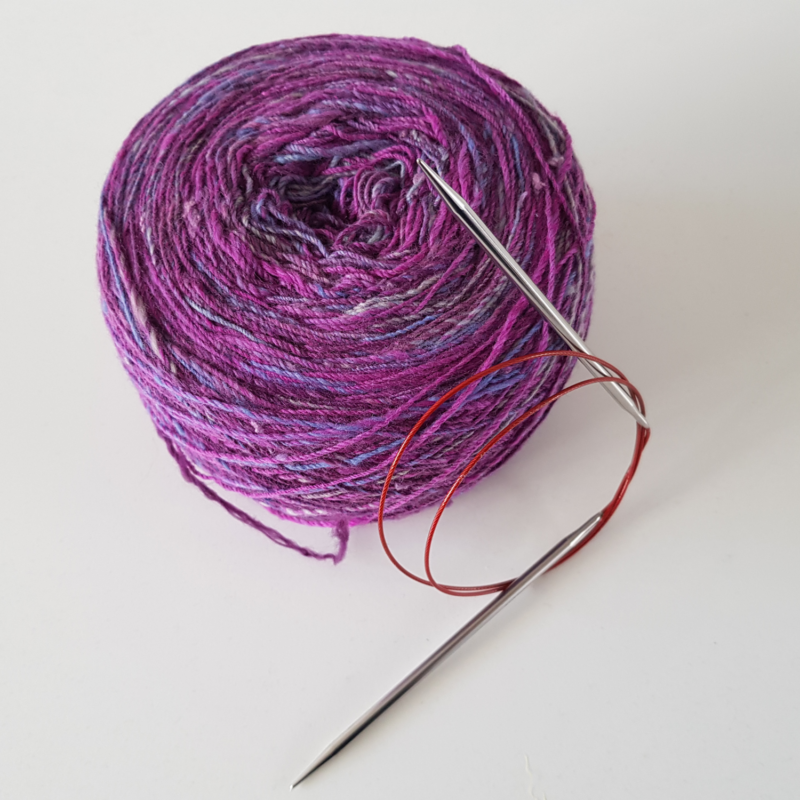 I cast on and yes, this was perfect tv knitting. Around this time of year, Masterchef Australia airs, so my shawl was knitted with a background of "belter", "barbie", "schnittie", "flavour", "pavlova", and other key words of that show.
Whenever I knit using this formula, there is a point in time when I don't trust the outcome. I'm convinced that I don't have enough yarn. But by now, I know that I just have to keep knitting (speeding up before I run out does not make a difference 😉 ), and make sure that I don't start knitting tighter. This time was no different, and in the end I had 6 grams of yarn left after binding off.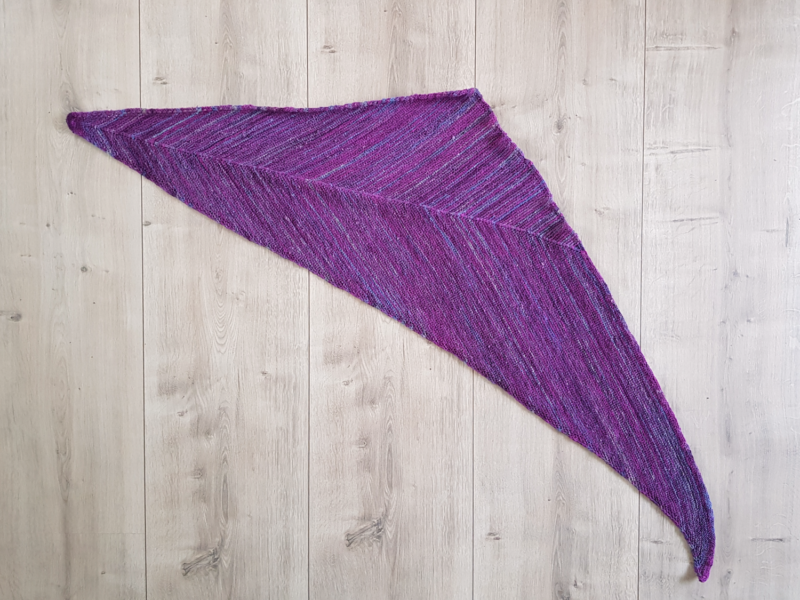 I blocked the shawl in my studio and it became quite large, more than I expected – but it was a pleasant surprise, because I love shawls that you can live in. It still feels weird to block stuff without Freya being there. I miss her, and I miss having a cat in general. I would probably have adopted kittens by now, but later this year our house will be made more sustainable. New windows, doors, solar panels, isolation – it will be a big ruckus and I think it might be quite hard to manage kittens around all that. So I'll have to wait.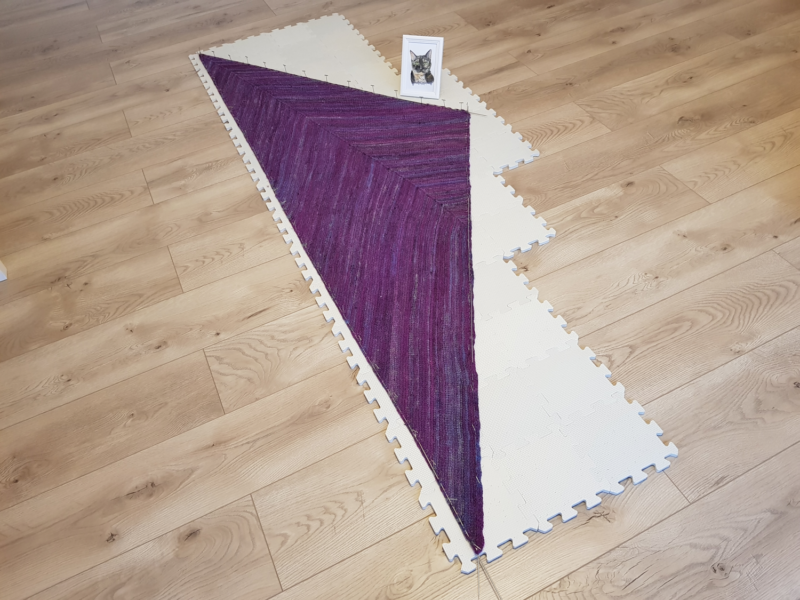 The shawl is quite generous in size: the long side is a little over 2 metres long. Plenty to wrap around and keep you warm.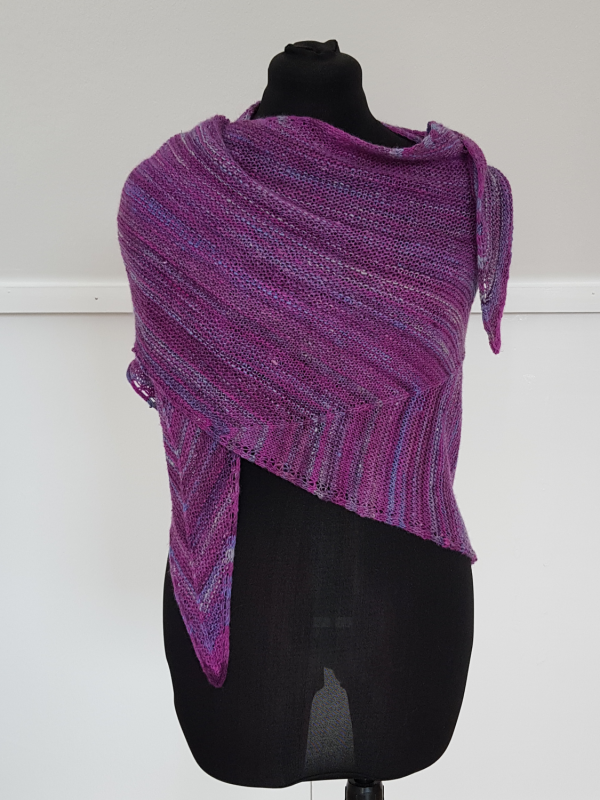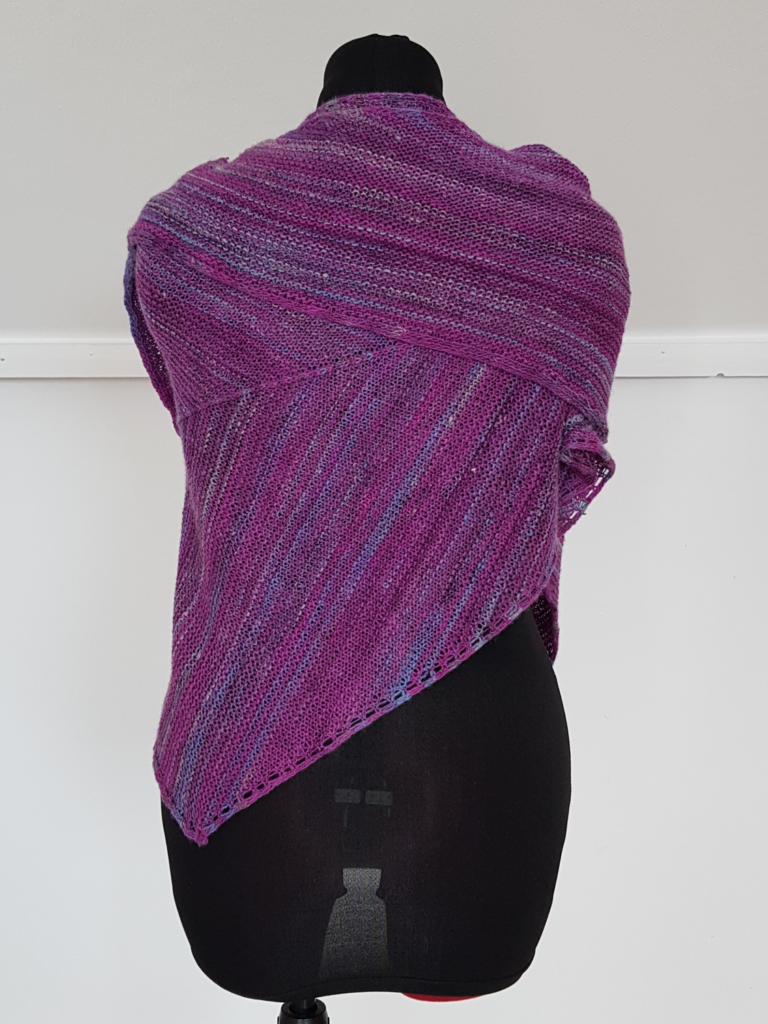 Of course the rainy, chilly weather is just changing to sunny and warm right when I finish my shawl. Oh well. Meanwhile, I'll be spinning the last few days of my advent calendar.
I will publish the shawl pattern at some point, when I have time and energy to write it down. I haven't had much of the latter, lately. I'm also still looking for a name. If you have a good idea for a name for this shawl, please let me know!