It has been a while since my last crafting post. But of course I have been working on some nice projects. The Schaap & Draak advent calendar is still a work in progress: I'm at 75%, and still have six more samples to spin. As each sample is 20-25 grams, that will still take me a while longer. This year, I'm using most of my spindles, so there will be a big group pic at the end!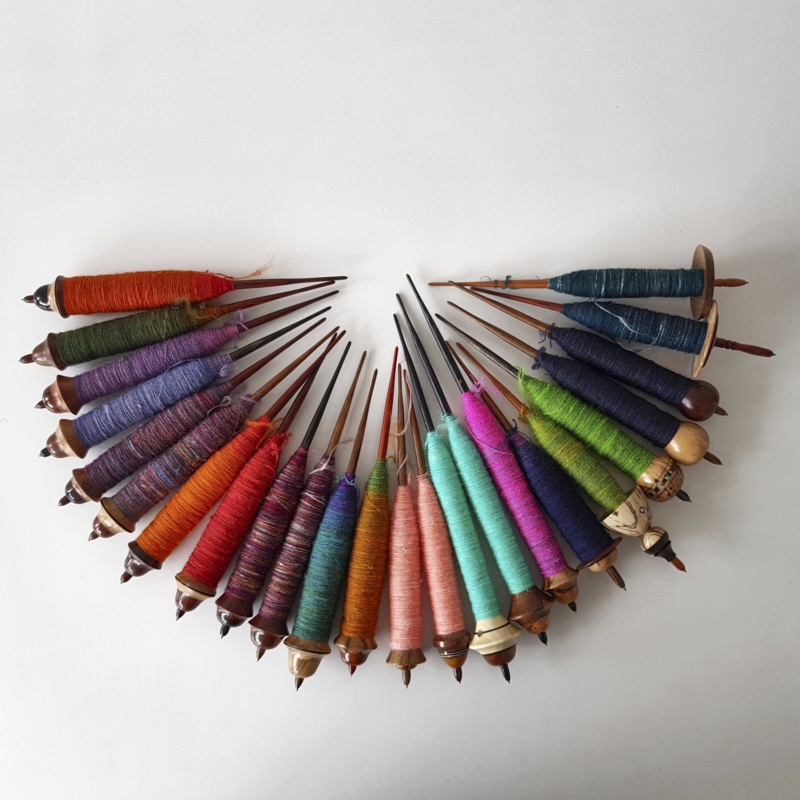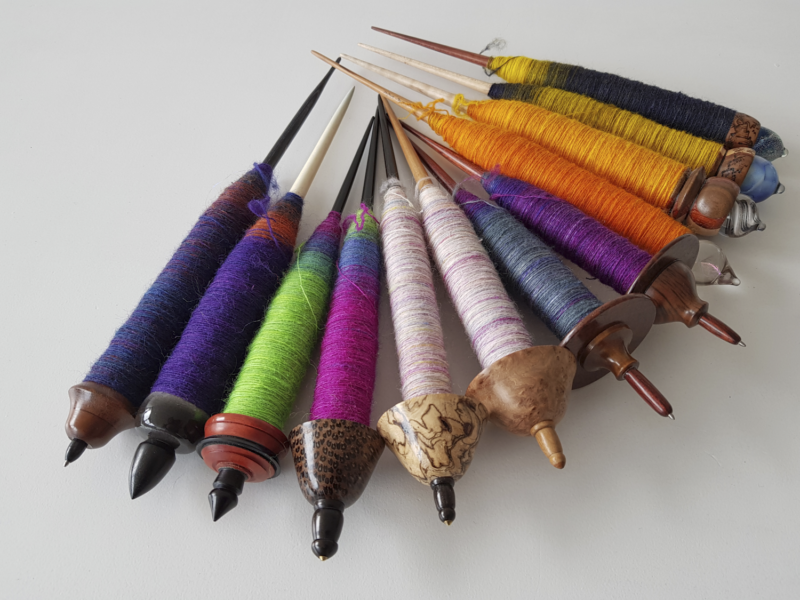 I've also been knitting – and designing. You may have noticed the project in my previous post, where it was blocking in my studio. I'm calling it Klimop (the Dutch word for Ivy, which literally means climb upward). It's inspired by a pretty vine pattern that I found via Pinterest. I built an asymmetrical triangular shawl around it, framing the pattern with cable borders and adding my own flowers.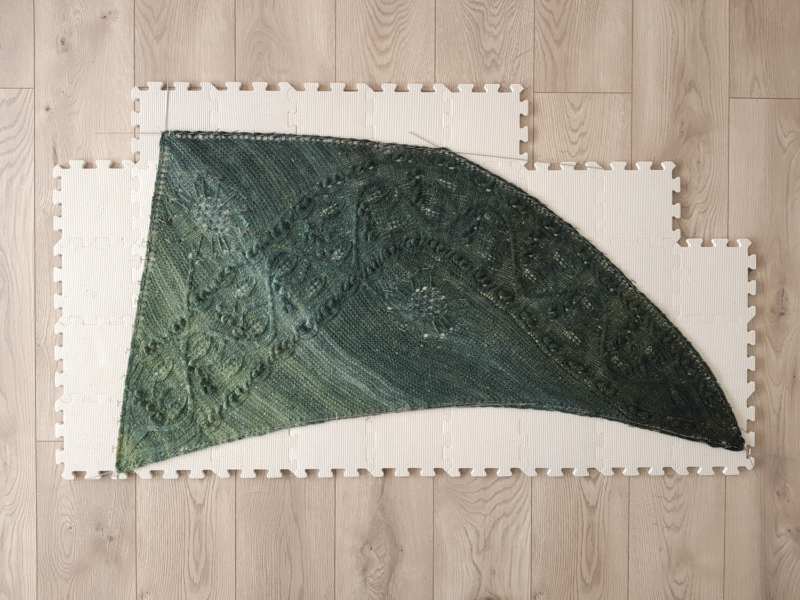 I knitted the shawl with my own handspun yarn and I don't (want to) remember how many times I frogged and started over. But in the end, I'm quite happy with the result. I do see some room for improvement, of course. The flowers that I designed don't have as strong a texture as the rest of the pattern, so I would replace the nupps that are in there with bobbles for the next version. I would also knit it in a lighter colour, because the dark part of the gradient obscures the pattern a bit. And I would make it a bit larger: the way it is now, the longest side is a bit shorter then what I prefer. But I'm still keeping this one!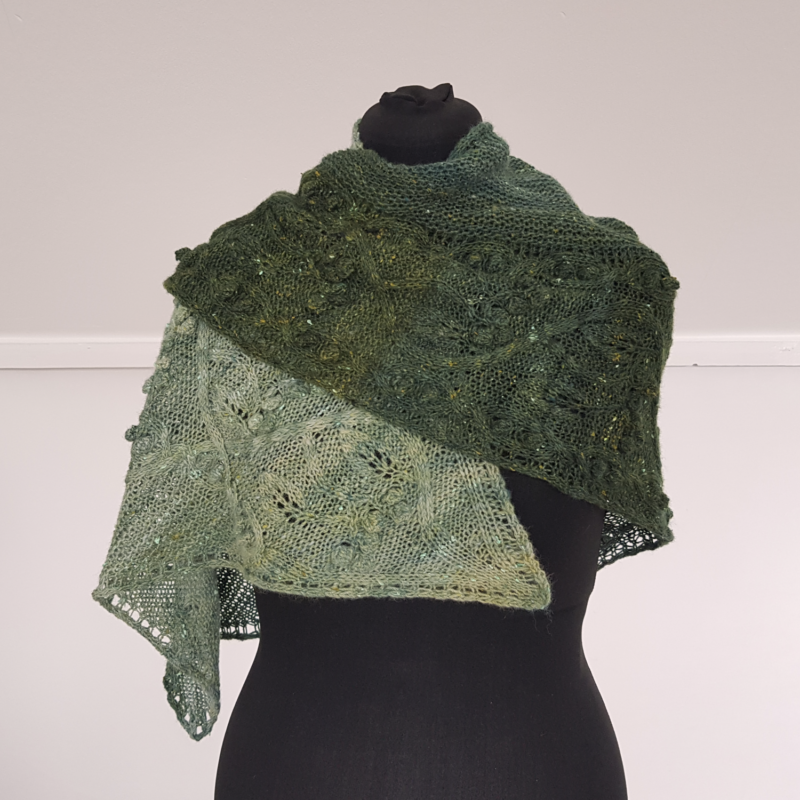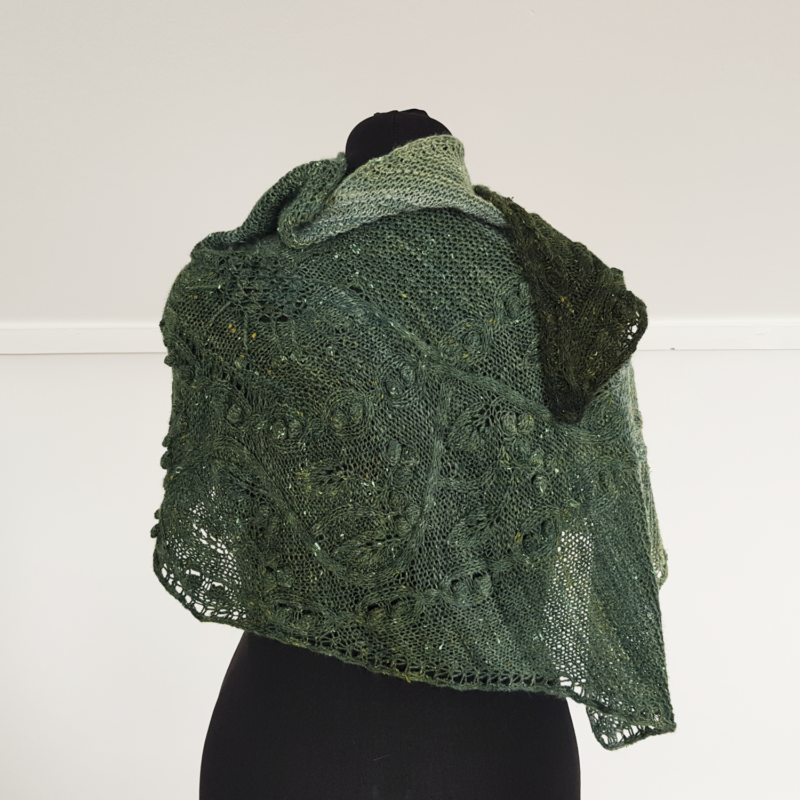 I'm not sure yet if/when I will publish this pattern. For now, it's the only one of its kind.
With spring being in full bloom and the days getting longer and longer, I feel fatigued more, and I am not as fast and focused as usual. Now that the world is becoming loader again sensory-wise, I get overwhelmed more as well and need more time to process everything that is going on.
That happens every year, so I'm used to it, but I have also been experiencing intense PMS/PME since I went off the pill last August. Basically, I only feel good and on top of things for max one week a month. The rest of the time, I'm experiencing all kinds of complaints like mental slowness, headaches, joint pains, flu feeling, brain fog, mood swings, lack of focus, bad misophonia, and being extra sensitive to smells, movement, and light.
So I try and take care of myself physically and mentally, and accept that I'm not as productive and smart about things as I want to be. I have decided that my next knitting project will be a more mindless one than this one. I've just cast on another Quaker Lines (with some small modifications) that I will knit with some pink handspun.