I did write about it back then, so you might remember that I got a fibre advent calendar from Schaap & Draak last year. It arrived in a box somewhere in November, and from December 1st to December 24th, I had a little present to unpack every day. I really liked having those small, colourful moments during the dark December days!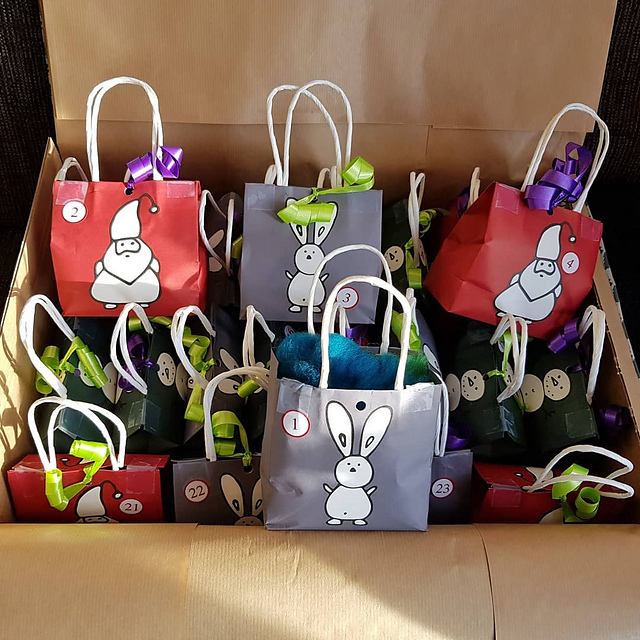 Every fibre sample was around 24 grams. While I'm a fast spinner, that's too much for me to spin every day, especially when I'm also supposed to work (I know, I know, get my priorities straight ;)). So it was only last week that I finished spinning the final fibre samples! This is what they looked like before I started spinning: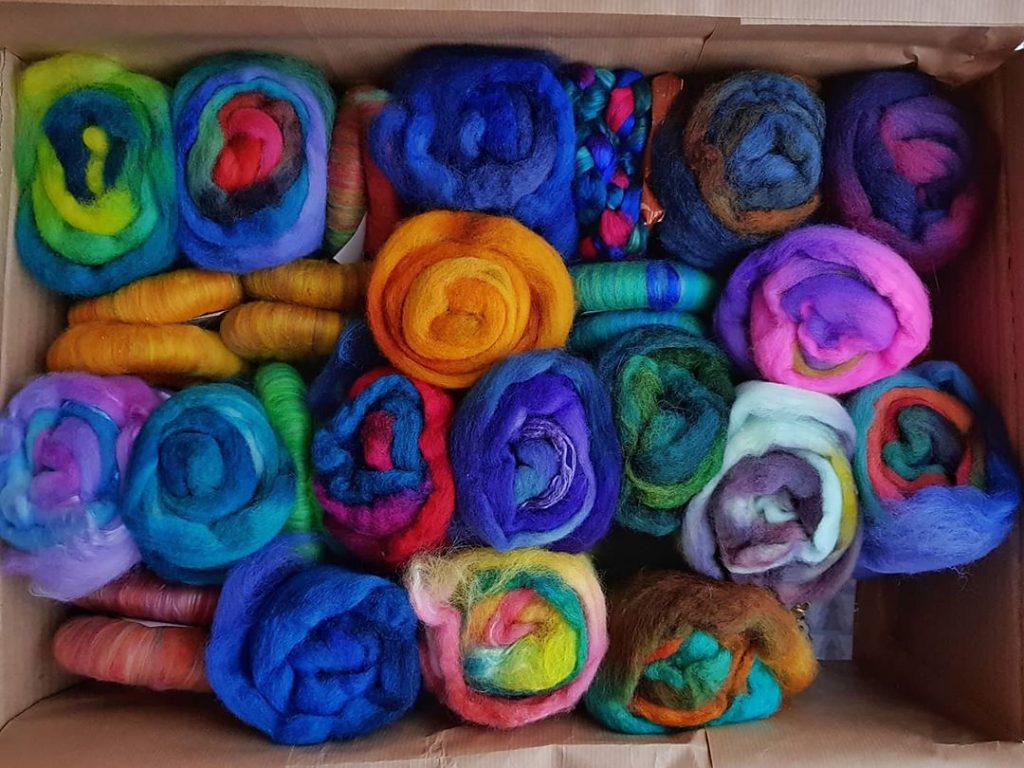 I decided to start by spinning the fibre that came as rolags.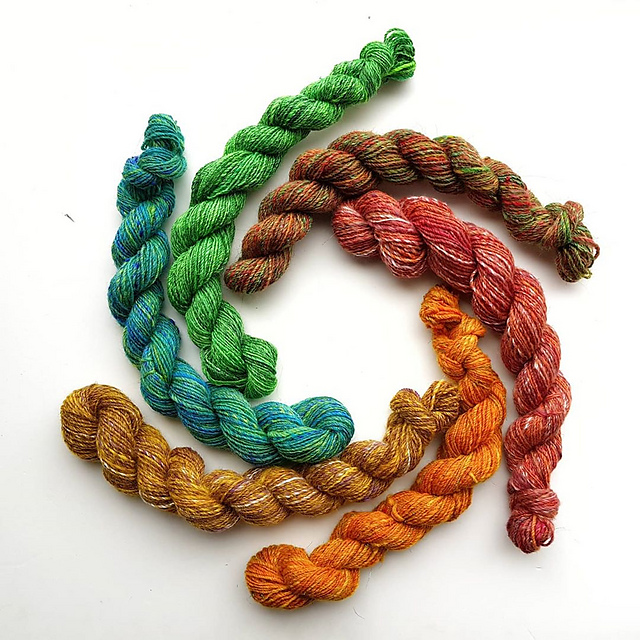 Then I decided to turn the rest into rolags as well. I prefer spinning supported, and rolags are a convenient medium. They are not too large, so I don't need a distaff, and I can easily do long draw with them. Usually, I can fit one of my rolags on one spindle. I created more rolags, this time of the cooler colours, and kept them small, so two rolags would fill up one spindle.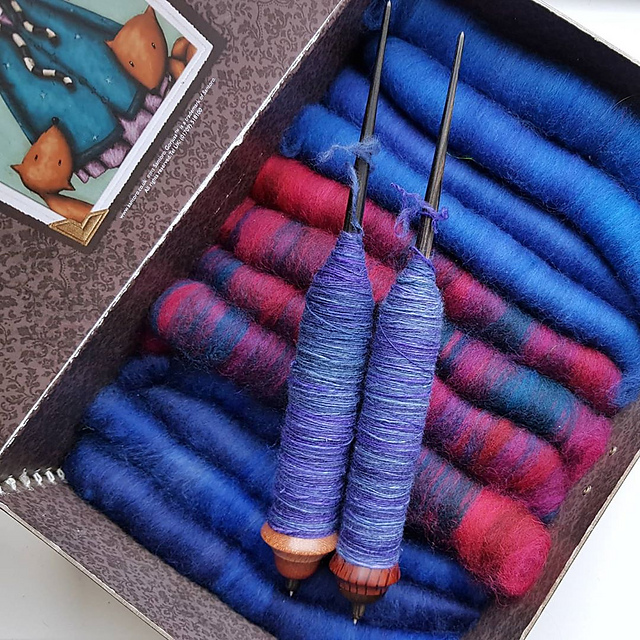 After spinning the cooler colours, I decided to take a group picture together with the first set.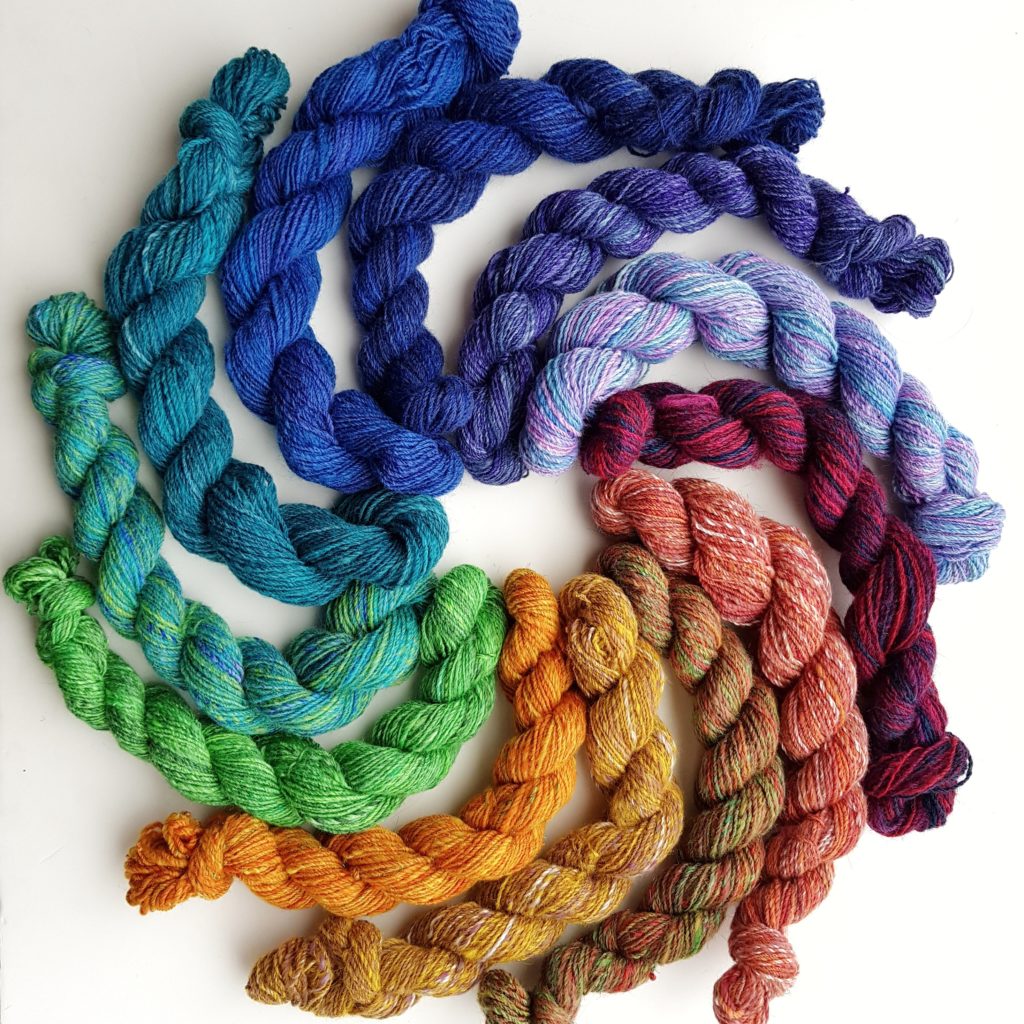 This was the halfway point. I still had twelve more fibre samples left.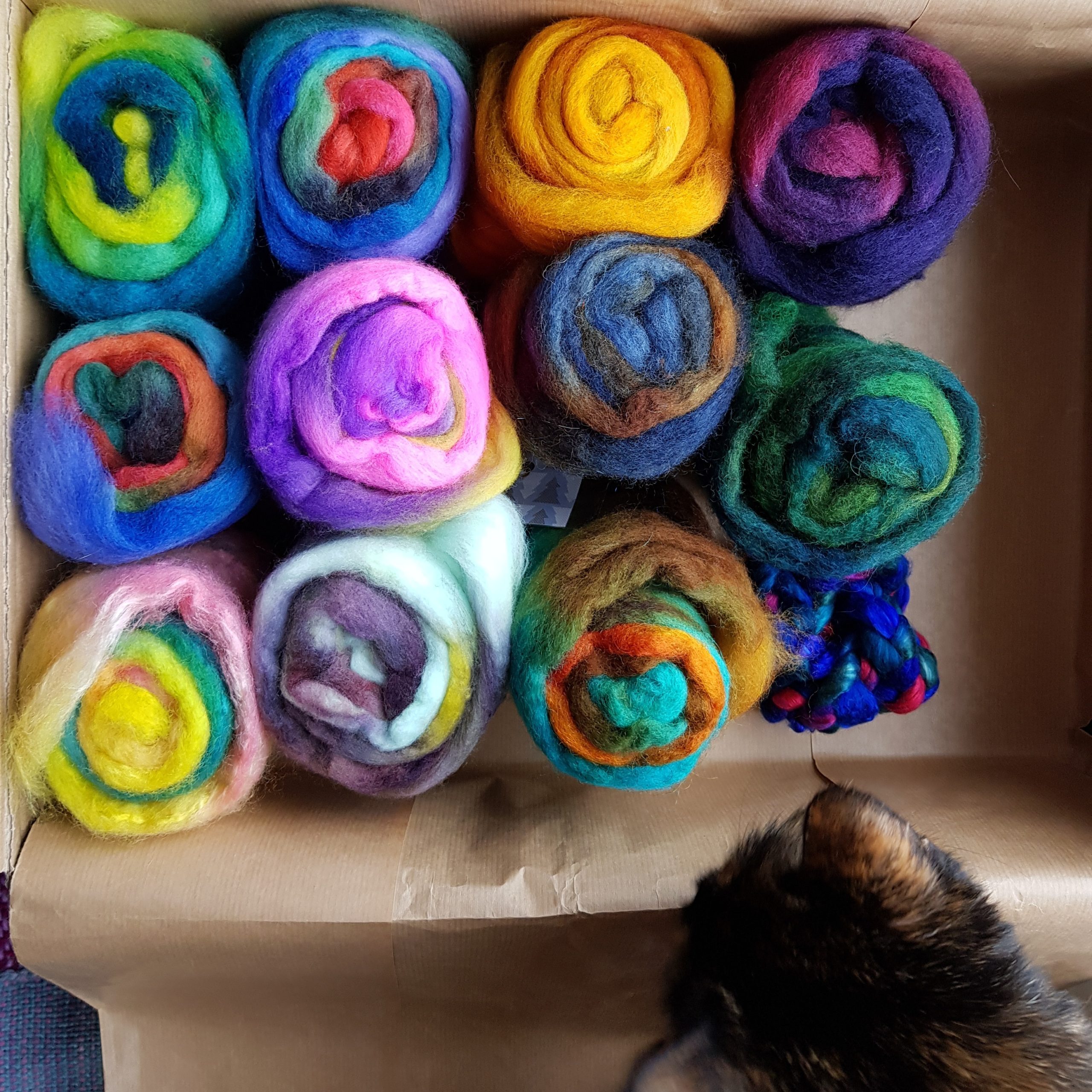 These fibre samples were mostly real multis. I decided to try and keep their colours together, making two gradients of each.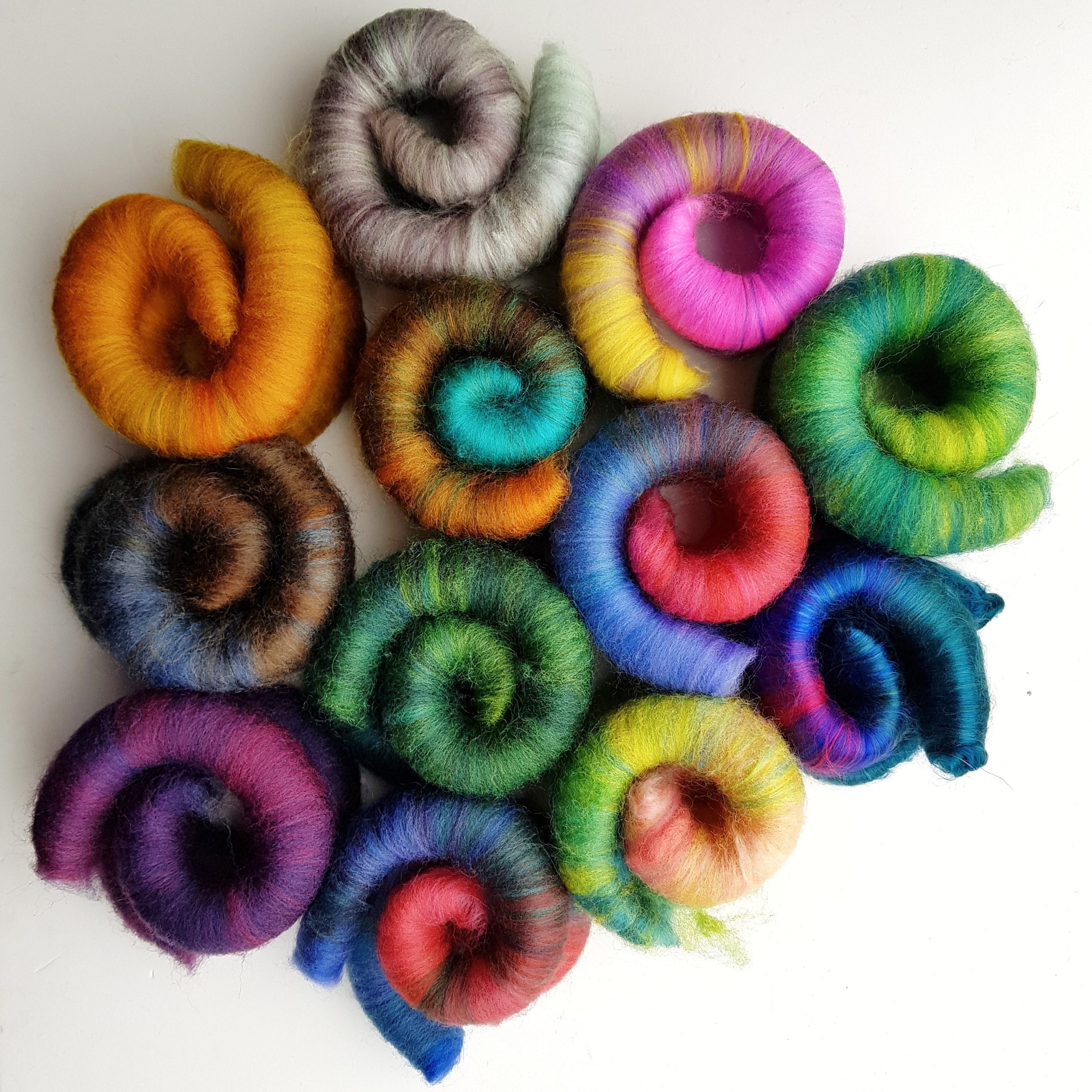 I decided to start spinning the first rolag from one colour, and the second from the other. Then, when plying, I would connect them and create the full gradient. For example, I would spin rust to turquoise on one spindle, and turquoise to rust on another. Then, when plying, I would start with turquoise, move to rust, and back to turquoise.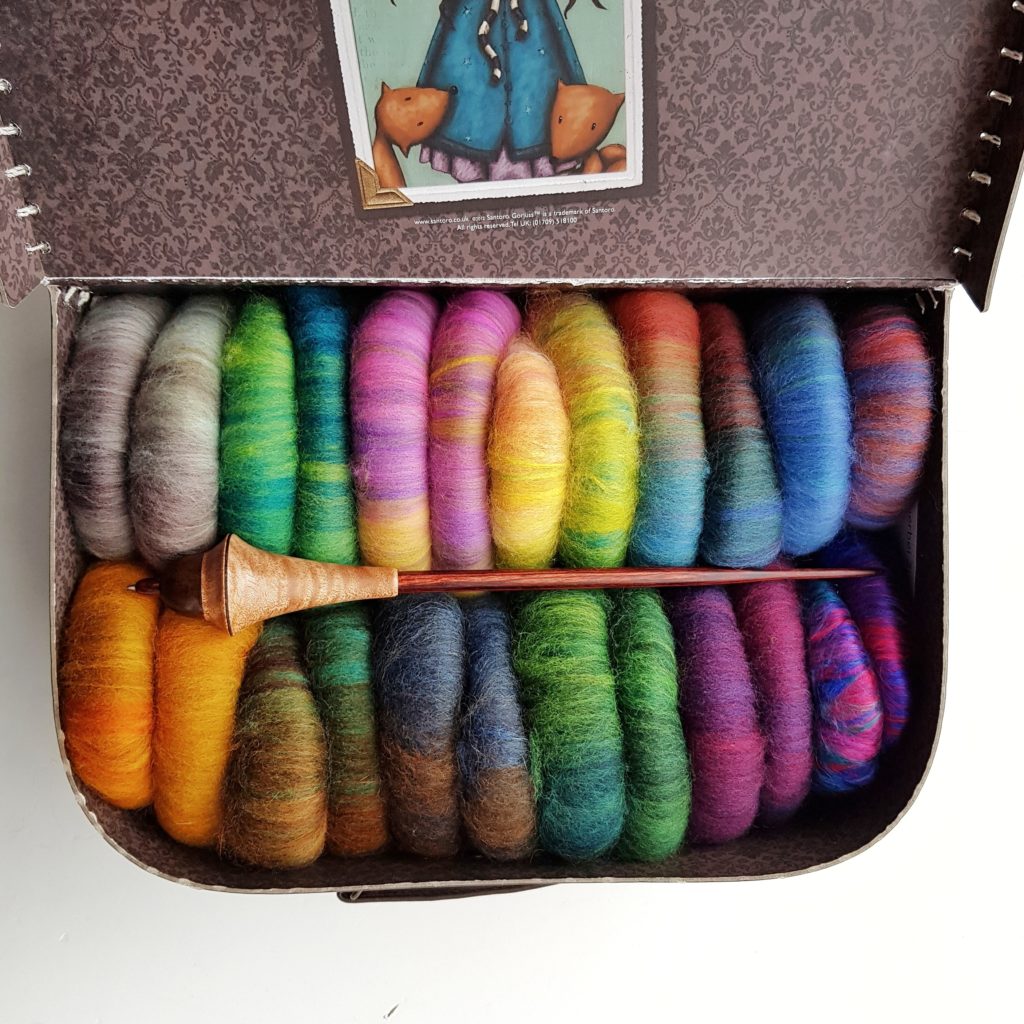 It took me a while to spin all of them, because I got distracted by knitting some tops in between… but last week I spun the final rolag!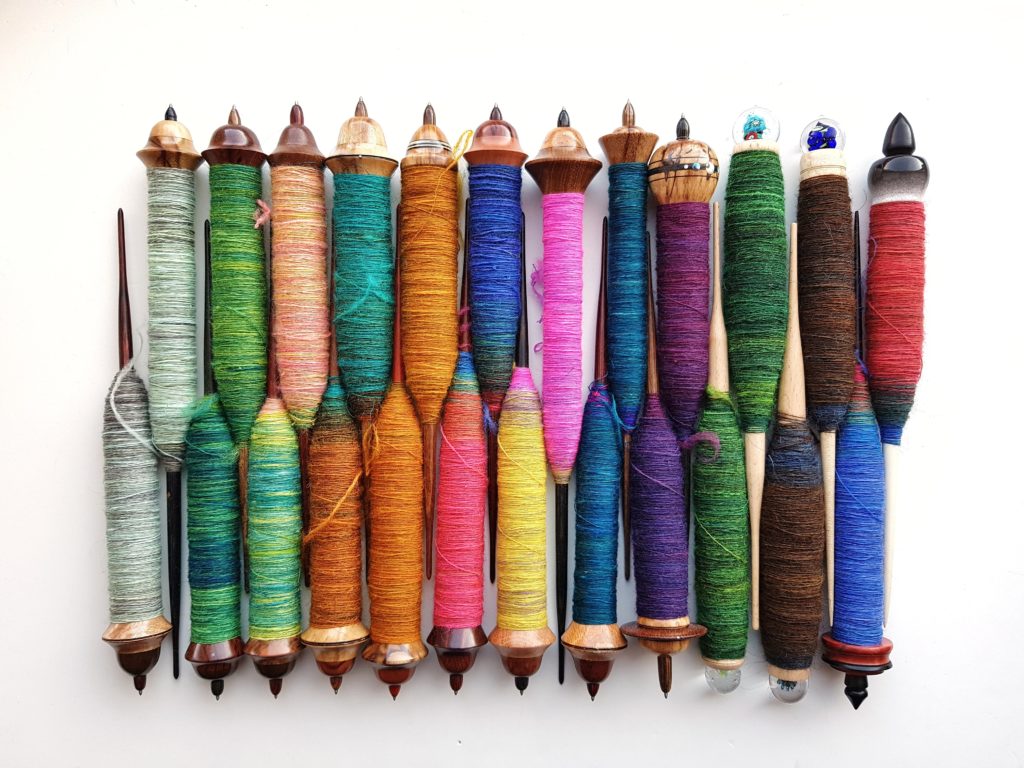 Here you can see what I mean. Every sample is spun on two spindles next two each other (one from the bottom, one from the top). The multis have been spun from opposite sides. Time to ply now!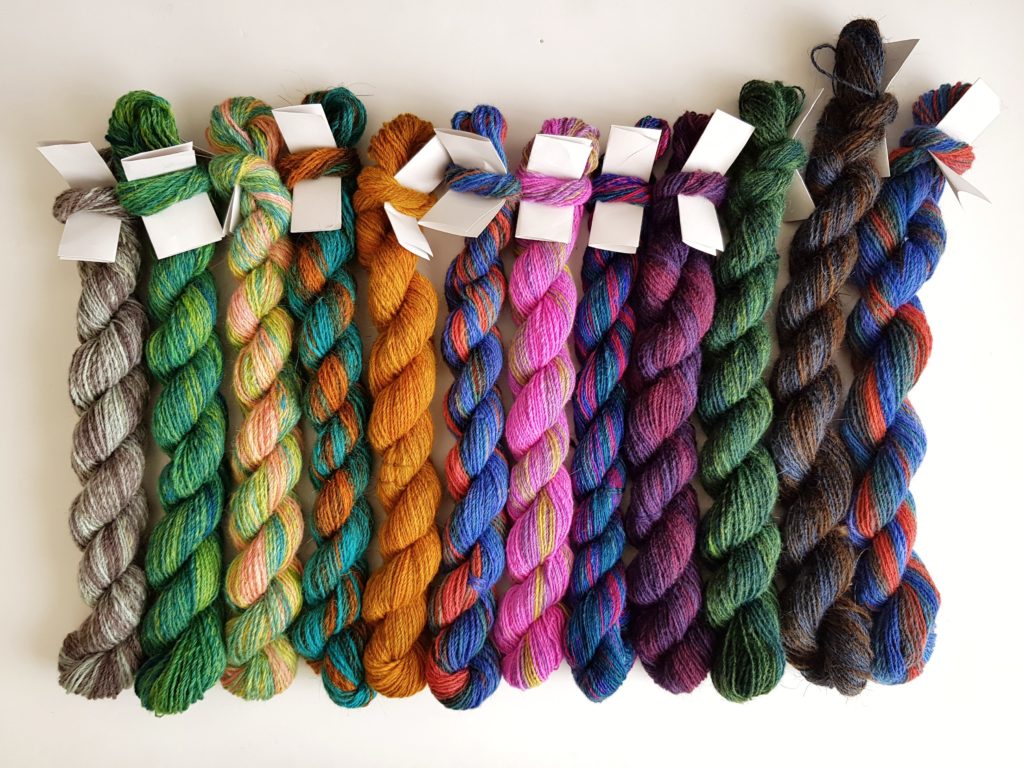 After plying I made mini skeins and noted the meterage per skein.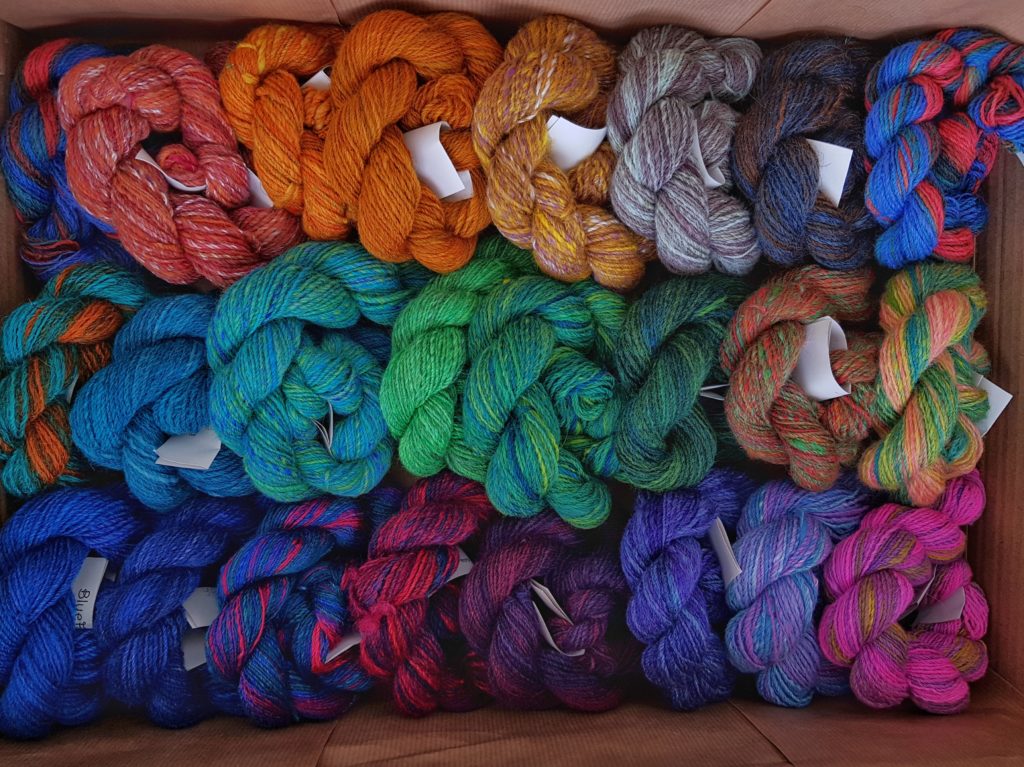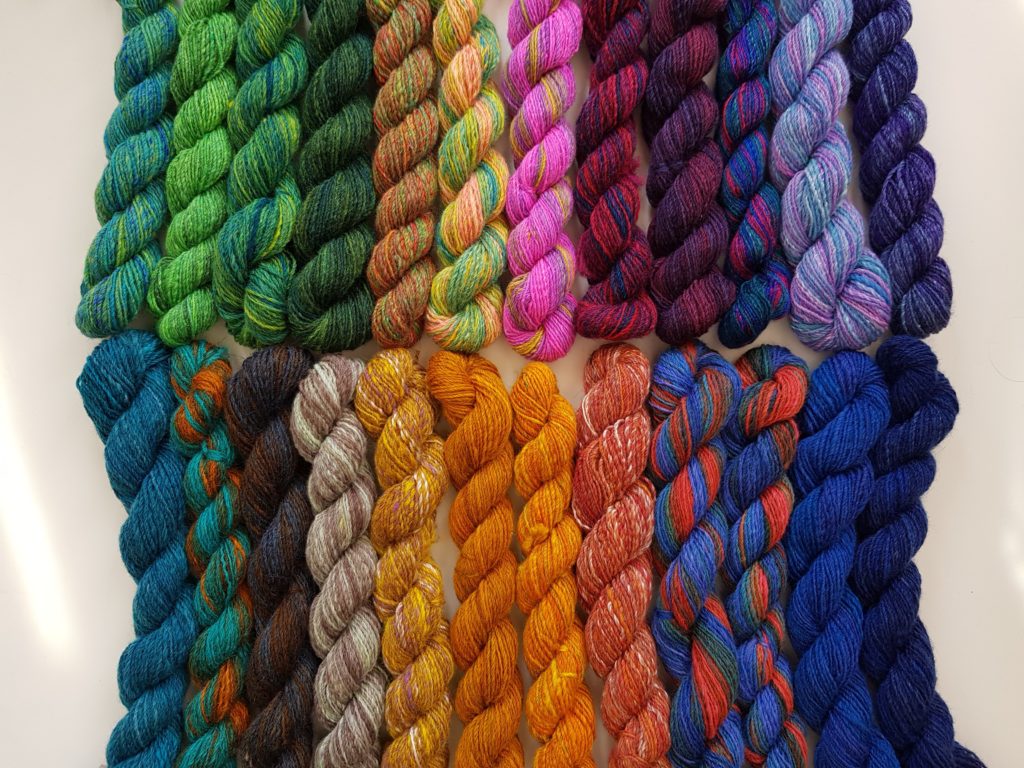 In total, I have spun 2762 metres and 569 grams of chain plied yarn. That makes it around 485 metres per 100 grams, a light fingering weight. It's not entirely consistent, though. For example, the skein of pure silk is almost 200 metres and 20 grams. I've noticed that I spin thinner when the fibres are thinner. The superfine merino results are noticeably thinner than the BFL results. As I've spun this over a longer period, I didn't really care if the results were completely consistent, as long as they were consistent per skein, and I've managed that.
I really enjoyed spinning all the samples, and of course I had my preferences. The merino and merino mixes were easiest to spin and they are nice and soft. The pure silk was really nice and a bit of a challenge. At one point I was winding up my spindle and some of the singles got loose and they were hell to untangle again. But I managed, and the resulting yarn is heavenly, so it was worth it. The pure BFL was nice and sturdy and nice to spin too. The BFL Humbug was a bit coarser so the resulting yarn was less smooth. I didn't much like the larger amounts of trilobal nylon in some of the fibre samples, because I know that the ends are itchy to me. But all in all the fibre choices were nice and the colours are amazing and they don't seem to bleed. I still have to wash the mini skeins, though.
I have already ordered next year's calendar, and I'm looking forward to see what Schaap & Draak comes up with this time!