I usually write a blog post when I have finished a project, or when I have visited a creative event. It has been a while, though. Not because I didn't do anything, it's just all still in progress. It irks me a bit, but I have decided to ignore the feeling that I should finish stuff. In the end, it's my hobby, and it has to be enjoyable.
So what have I been up to? Well, for starters, I've picked up an old WIP from 2013. Back then, I started knitting a Niebling pattern, with the intention to wear the result at my wedding a couple of months later. I quickly found out that there was no chance that I would finish it in time, so the project went into hibernation. It's Niebling's Frühling, a large circular pattern with pretty flowers and leaves. I'm knitting it in Posh Chloë yarn, which is lace yarn with silver sparkles.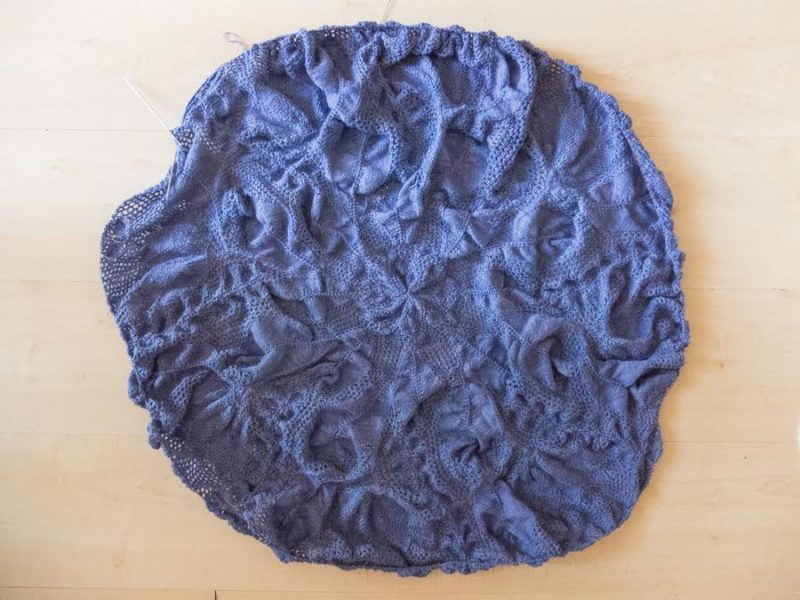 You start knitting in the middle and work your way outward. The pattern is repeated 8 times per round, and increases gradually in length until the final rounds that are thousands of stitches long. The pattern has 369 rounds, and after knitting on it daily for a while, I'm now at round 272. I have four skeins of the Posh Chloë yarn (3200 meters), and I have already used 2.5 skeins.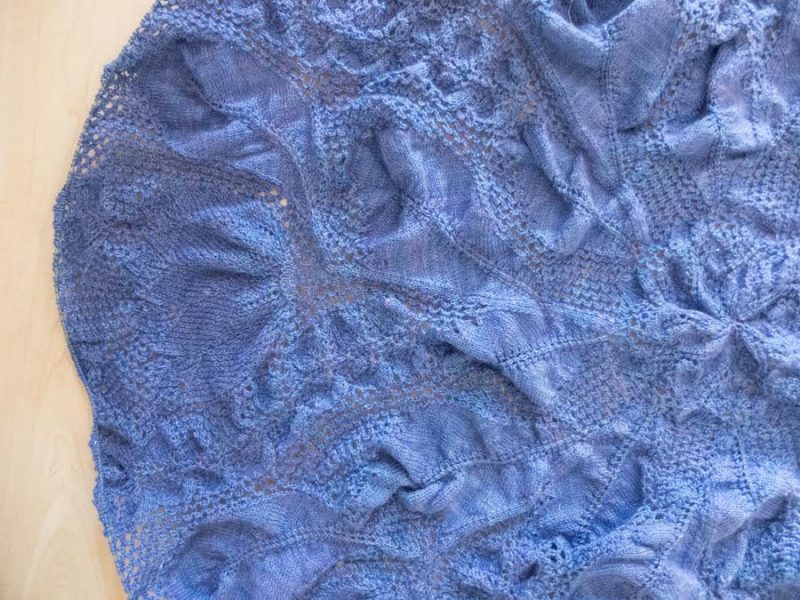 A bit of calculating showed me that I won't make it. I don't have enough yarn. There is one more skein of this colourway in the world, but its owner is not interested in selling it unfortunately. Once that all became clear, I promptly stopped knitting this project. Perhaps I'll think of a good solution at some point. At the moment I've lost my motivation.
Another project that I'm working on is a weaving project for MarvelKnits. I offered to weave a silk scarf for her in a swap, and I have worked on it on and off. I'm using light green silk yarn for the warp and multiple colours of silk in the weft. The main colour of the weft would be dark green, with some bits of pink, white, and purple for contrast, and because there wasn't enough of the dark green. I had to get used to weaving with silk. Unlike wool it is hardly elastic, and getting a nice tension took some time.
After I had woven part of the scarf, I found out that MarvelKnits actually doesn't like stripes. But the different colours that I added formed stripes, of course. We thought about what would be a good idea, start over or continue and change the amount and width of the stripes? In the end, we decided that I would continue and just decrease the number of colour changes.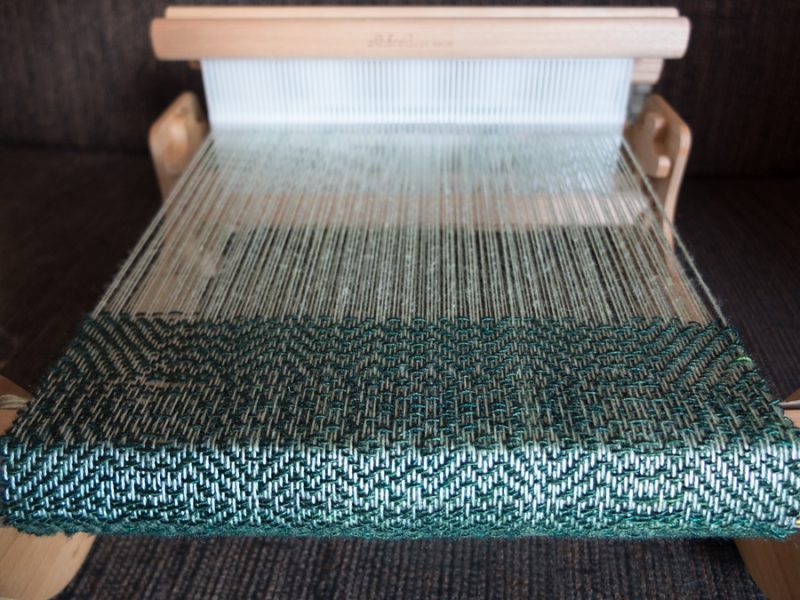 I still have to finish the scarf. I haven't woven since. Not because of the stripe problem, but the weaving bug moved on, I guess. I haven't even finished one project on the Louët Jane yet! I'm just not in the mood to warp the loom. Don't have the brain power for it.
I did start a new spinning project for the Yarn Therapy Zone Spin Cycle (September was Malcolm Fielding month). I'm spinning some light green Nunoco fibre. It's gorgeous, and I'm about half way done, but then I went on holiday, and I didn't bring my spinning. So that's still waiting to be finished.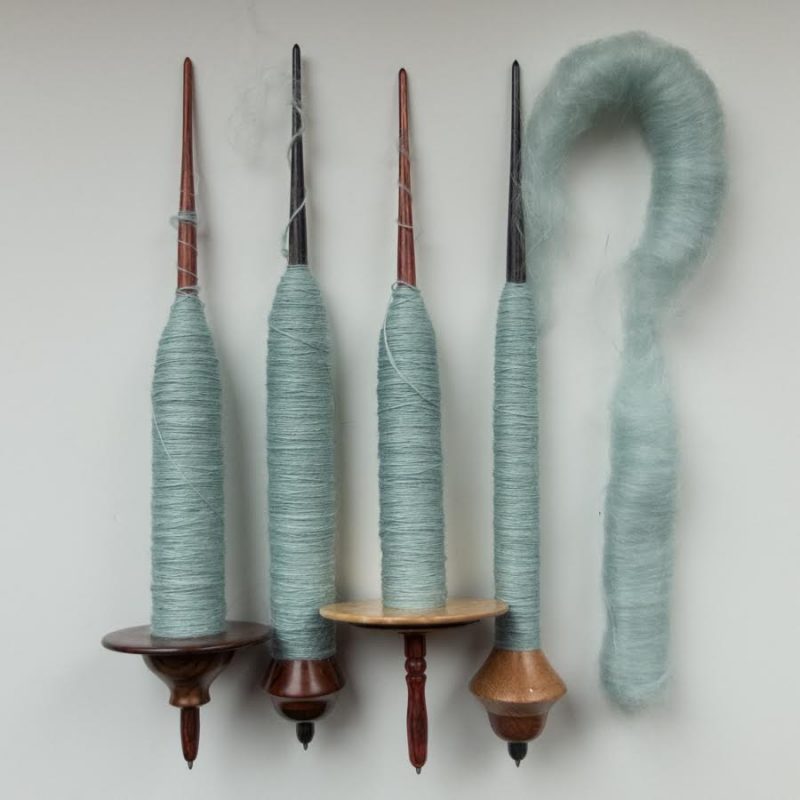 On holiday, I did start a new knitting project. I have had a ball of Handmaiden Yarns Casbah in my stash. It's a treasured yarn, it's incredibly soft, and it has a gorgeous colour. I never started a project with it, because I couldn't find the right pattern. I recently discovered that Schouten Handwerken in Hoorn also sells this yarn (I got mine from the USA). They even had the same colourway! So I ordered two more skeins and decided to knit something bigger with it.
I chose the pattern Butterfly Dream Catcher by Lily Go. It looks like a nice, large shawl, with lots of texture and detail. Perfect! So when we were on holiday, I started with the picot cast on. This shawl is knitted bottom-up, a first for me. The cast on took quite some time, and the first rows were long. I liked the pattern, but I didn't quite like the gauge, even though I had the gauge that was described in the pattern. It was a bit too loose for me. So I ripped it all out and started over. This time I was knitting the XXL version, but on smaller needles. Hmm, now it became too tight. And I found out that my skeins have 115g/325m, not 100g/325m.
With some more calculations and trying I started over once again, this time on the in-between needles, still aiming for the XXL version. I should be able to make it!
I seem to have regained my knitting bug, because I'm also thinking about making some nice mittens and a hat for myself. And perhaps a sweater or a cardigan. As I'm a serially obsessed crafter this means that my spinning and weaving projects will probably have to wait a bit.