Usually when I pick up a new hobby I slightly obsess over it – well, obsess may be too big a word, but I do tend to dive in deep, head first. Watercolour painting is no different in that respect. I have been painting a lot (and always want to paint more), and I have been reading books and websites about watercolour painting. Every hobby has its own rabbit hole of knowledge, skill, materials and jargon, and I love discovering the ins and outs of my passions.
There is a website, handprint.com, where you can find an amazing amount of technical information about paints, pigments, paper, etcetera. On the art forum WetCanvas you will find a whole section of the forum devoted to watercolour painting, and the people there are very generous with their knowledge and tips. I have to take care not to get lost in all the information instead of just painting… just like Ravelry keeps me from knitting from time to time!
I have been painting with my basic 12 colour set of Winsor & Newton professional half pans mainly. I have been exploring the combinations and colours and I'm loving it. But I'm not so sure about half pans. I now have nice decent Da Vinci travel brushes made with kolinsky sable, and I'm a bit worried that digging into the small half pans I'm putting unnecessary strain on the brush hairs.
I have bought some empty whole pans at the local art supply store, and they look much more brush-friendly. So I decided to keep the half pans for painting en plein air (which I want to start doing soon, once the weather gets better), and create a whole pan palette for painting at home. I already had some tubes of paint that came with a set I bought, and I also looked around for "must-have" colours.
I didn't want to buy too many pre-mixed paints (I'd rather mix them myself), so I focused on paints that were made with a single pigment. And I got some from a couple of different brands: Schmincke, Daler-Rowney, Winsor & Newton, Talens Rembrandt, and Lukas. I bought some pans and some tubes, and I'm filling empty pans from the tubes. I also ordered a lovely Holbein palette box, which is made of plastic, but it has strips on the bottom, so if your pans are magnetic they will stay put.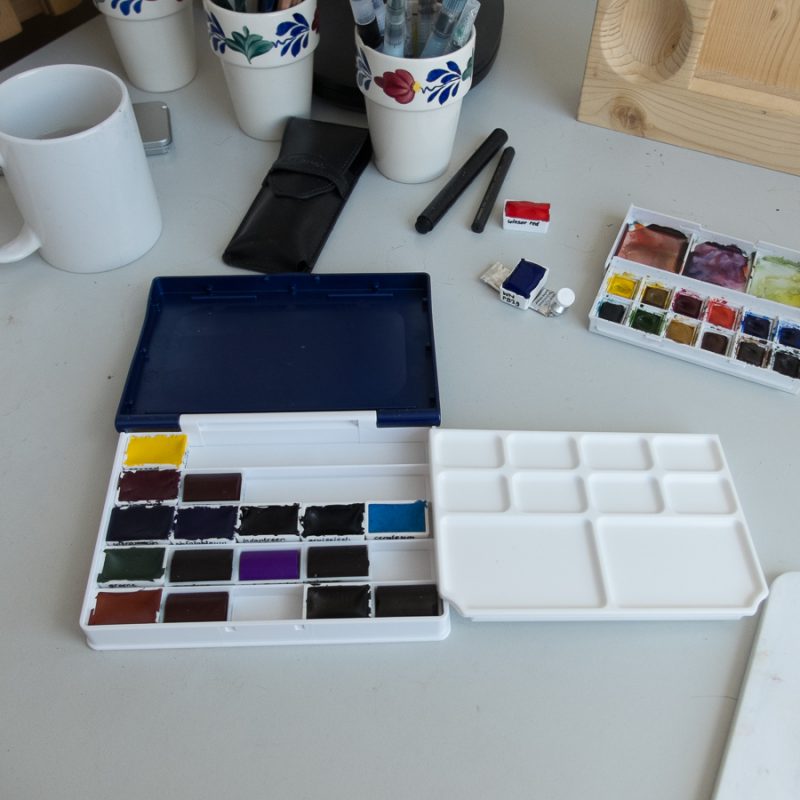 This box is not very big, but you can easily fit 25 whole pans in there! It contains a palette with large and small mixing areas which you can hang on either side of the box. For transportation you can put it into the lid.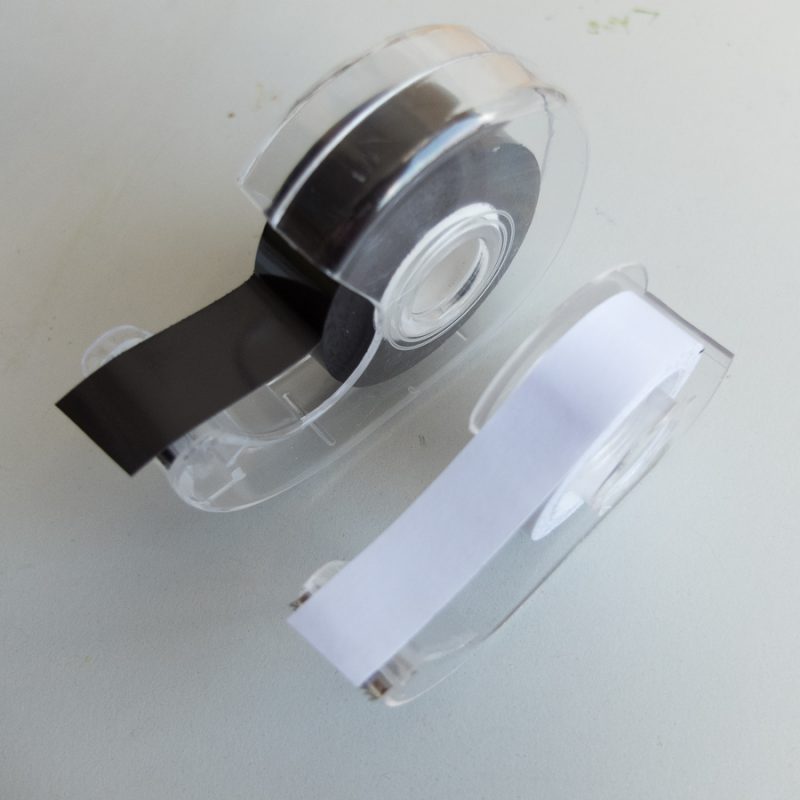 So I magnetized all my whole pans. I used magnetic tape and stuck it on the bottom (with a bit of double-sided tape in between because the magnetic tape was not very sticky). And it works! The magnetism is not very strong, but the pans do stay put. I also used an acrylic marker to write the name of the colour, its pigments, and its brand on the pans.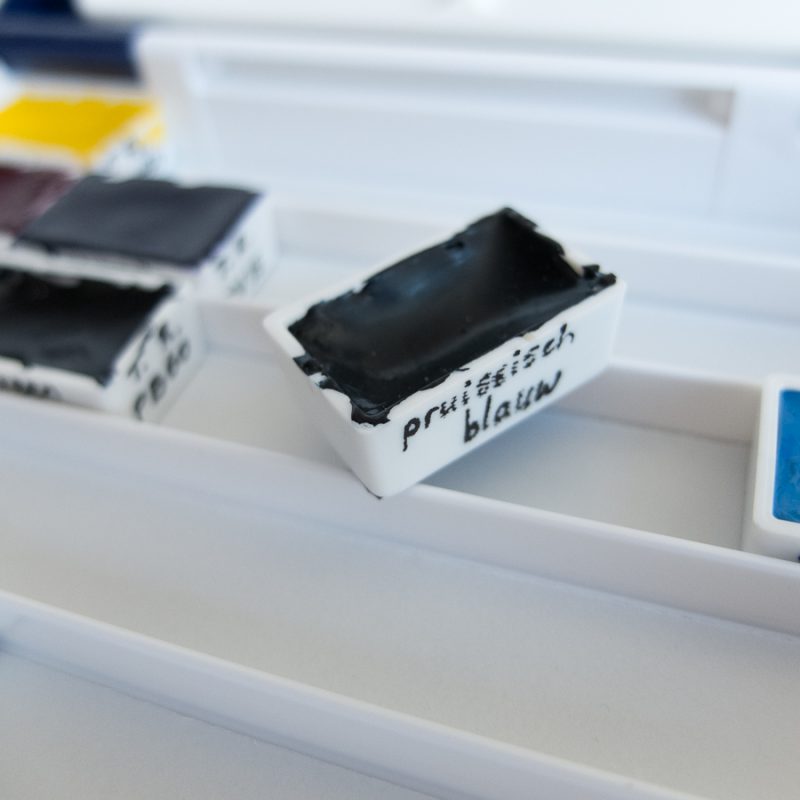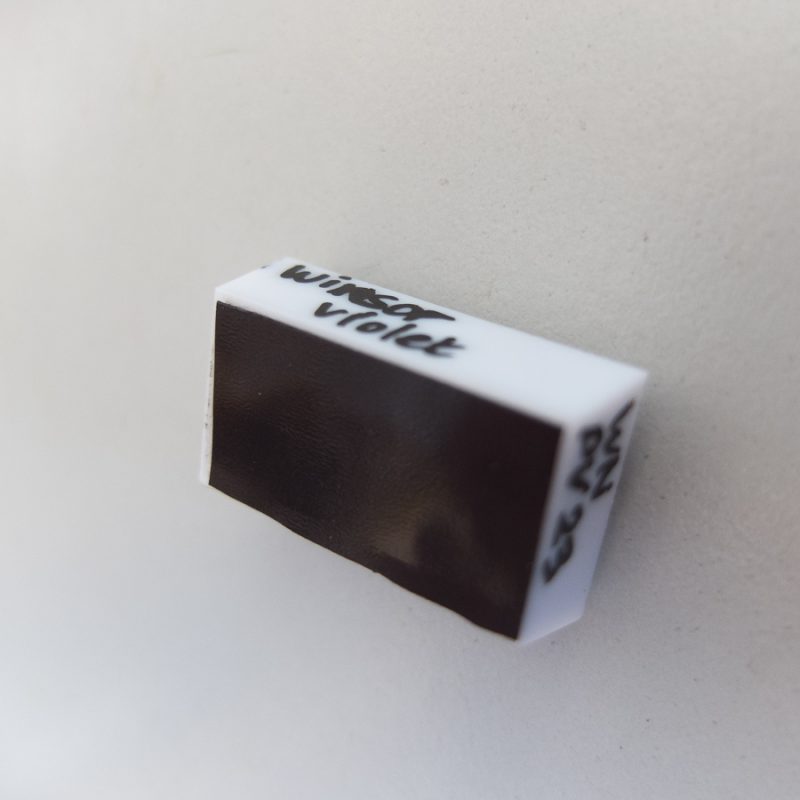 This afternoon I visited the local art supply store to buy some extra empty whole pans. And I also found a little treasure. They were getting rid of their old Lukas paints (a German brand with a good reputation) and they still had three pans of Manganese Blue (PB33). This paint is not made anymore (it is now approached with synthetic pigments as a hue, but it's not the same) because the world ran out of the pigment. It's a lovely colour, and now I have plenty for years to come!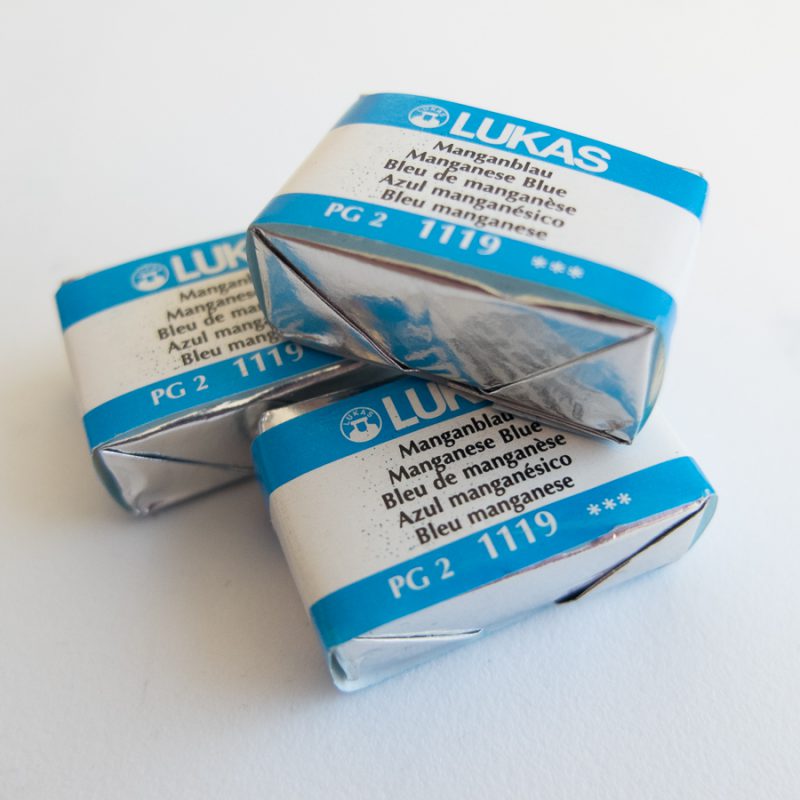 When I returned home I started filling pans. I filled them about halfway and will let them dry a bit, and tomorrow or the day after I will add the rest of the paint. I added a drop of glycerine to all the Winsor & Newton paints and stirred it through with a toothpick. Their tubes don't contain as much glycerine as their pans and the paint will completely dry out if you don't add something like glycerine to it. Other manufacturers have no difference in the formulas for pans and tubes. It's just an easy way for W&N to make more money, because pans are more expensive per ml. than tubes. I hope the glycerine will keep those pans from drying out too much.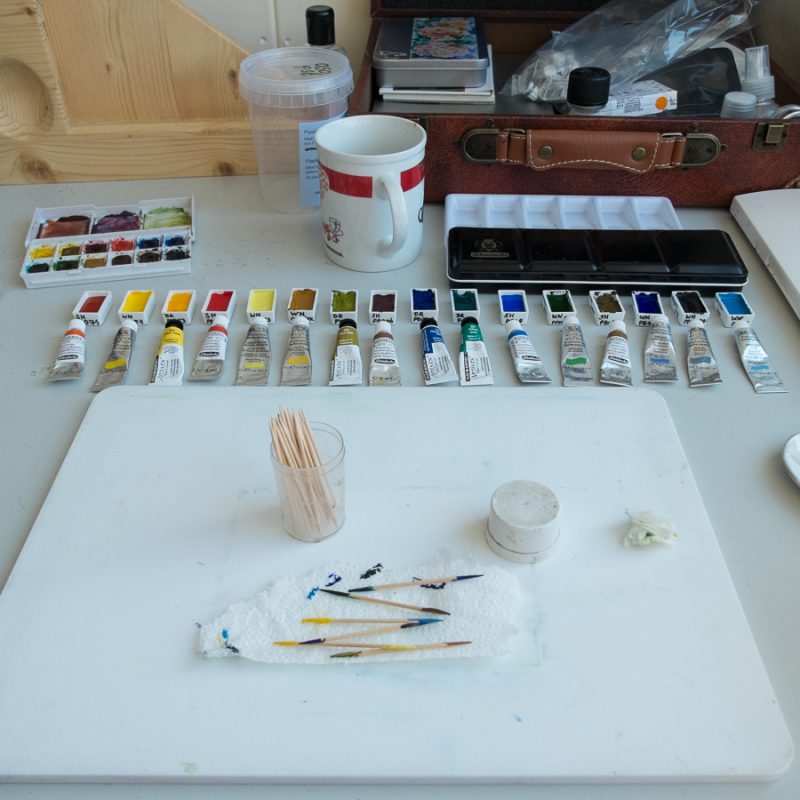 And then, when I was away, Freya came in to drink my painting water. And being her elegant self, she stepped right into one of the pans (brown madder – so appropriate). And then she sent the pan flying to the ground, where it ended up upside down (of course), and she continued walking on the table, then hopped onto the chair, and that's when I came back.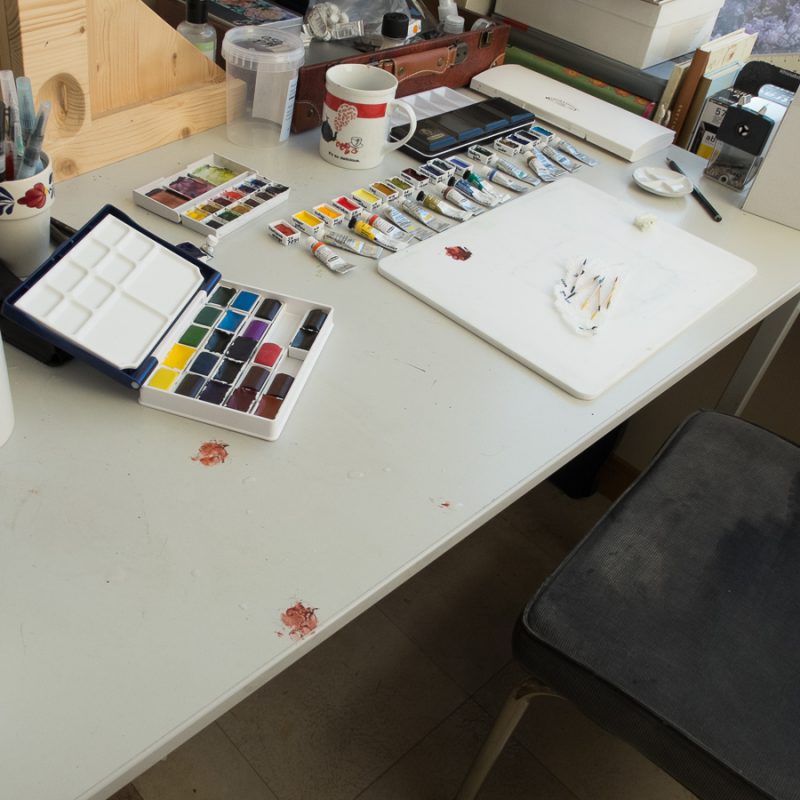 Of course I immediately inspected her paws, but she had already gotten rid of the paint. I hope it won't cause problems… Anyway, she was probably feeling inspired. I could only laugh about it after I had managed to clean the chair. She has a rather expressive paw of painting!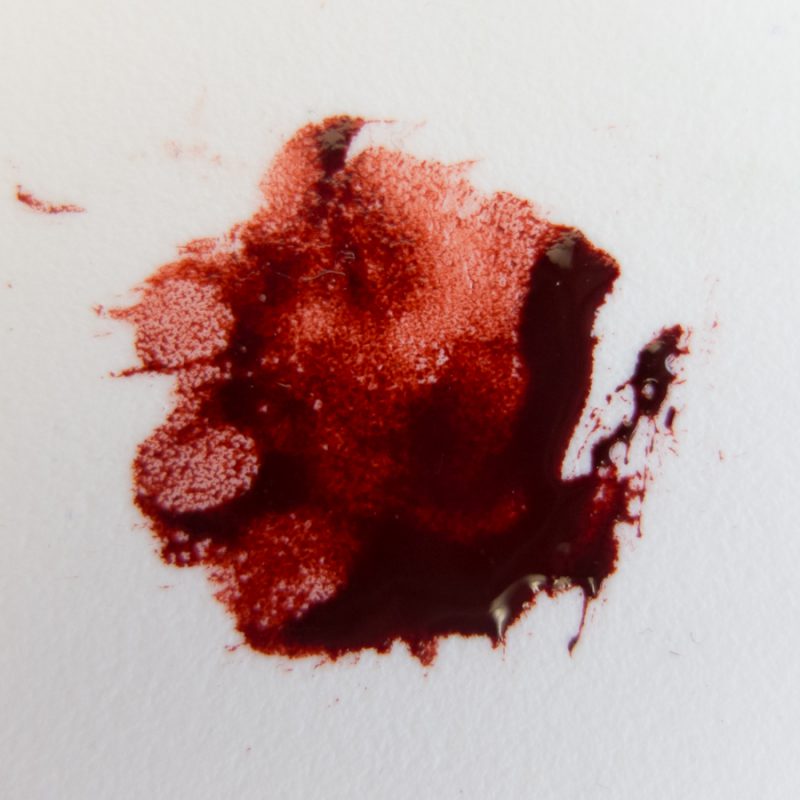 And madame looks rather innocent now…