It has been almost half a year since my dear cat Fiona passed away. On Tuesday September 1st we had to let her go, at only 11 years old. She was my close friend and we had all kinds of little rituals and communication. I miss her so much, still. For a while, I could not draw or paint because before her passing I had the idea of pastel painting her in primary colours – but before I could do so, she became ill and died. The painting in my head was still there, but I could not bear letting it out yet. And there was no room for something else.
Since a couple of weeks I have been painting again. Another medium, watercolor, perhaps because of this. I started a drawing of two cats with my pastel pencils, but never continued – it's still sitting in my drawings folder. I may just leave it this way.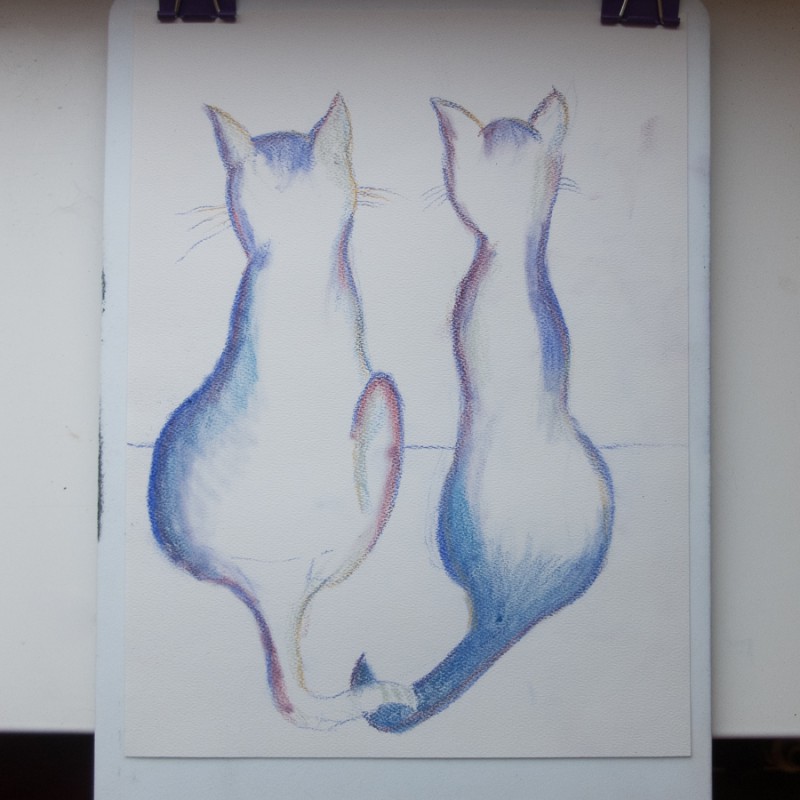 In the past week I have been missing Fiona more again. The sorrow comes and goes and is not as sharp anymore, but sometimes it still hits. I looked through some old photos of her and she looks so alive and happy… I wish she were still here.
Today I took my watercolor set and started painting her. A realistic painting, not like the one I had in mind, but just to see how it would go. I used a postcard again, to keep it small. And it worked – kind of. Emotionally it did. Technically it was hard… painting a tortie is not easy! Fiona had so many colours in her fur, seemingly randomly growing (except for her bust). I could not reproduce all of that, but I want to suggest it. So I used a couple of layers, trying to keep the highlights and darker spots, and filling in the rest more or less by feel.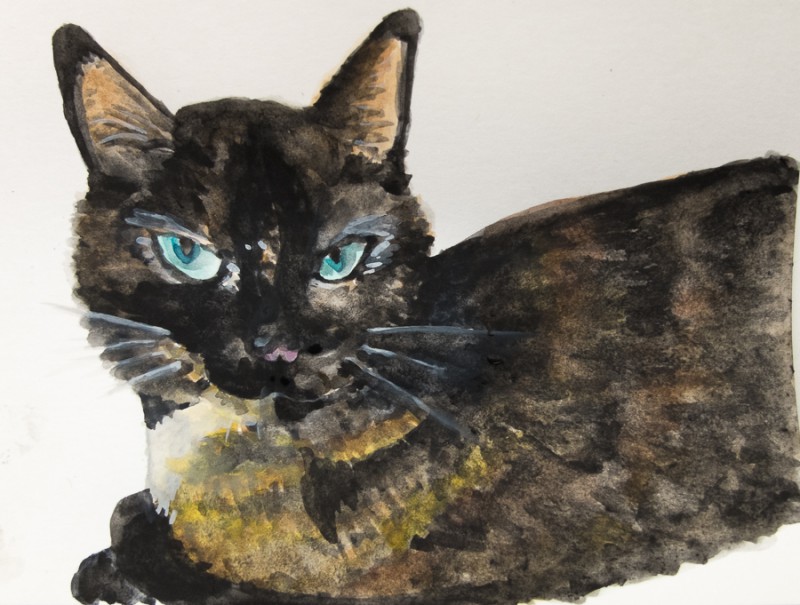 It does look like Fiona. Especially from a distance, or upside down, it looks an awful lot like a photograph… Of course I also see the parts that do not precisely match the way she looked, but other people probably won't.
I'm a bit sad now, but also have a warm feeling. I'm very glad to have known this sweet, sweet cat. She will stay a part of me.