Al is World of Warcraft al weer een jaartje oud, het aantal mensen dat het speelt blijft maar groeien… ondertussen zijn zelfs David en ik overstag en verkennen we bijna elke avond wel een uurtje de wondere wereld van Warcraft. In eerste instantie was er een grote drempel om dit spel te kopen, namelijk de maandelijkse bijdrage van 13 euro die je moet betalen om te kunnen blijven spelen. Sinds een jaartje of twee wordt het steeds gewoner om die bijdrage te vragen, al is dat gelukkig (nog) niet bij alle online games het geval. Guild Wars bijvoorbeeld heeft ook een grote wereld die online te verkennen is en een grote spelersgemeenschap waarbinnen gildes gevormd worden en daar betaal je geen maandelijkse bijdrage. Ik heb een tijdlang Guild Wars gespeeld en ben er ook erg tevreden over. Ook het vervolg, Factions, heb ik aangeschaft en van wat ik tot nu toe heb gezien kan ik zeggen dat het nog beter is dan deel 1. Waarom speel ik dan toch WoW?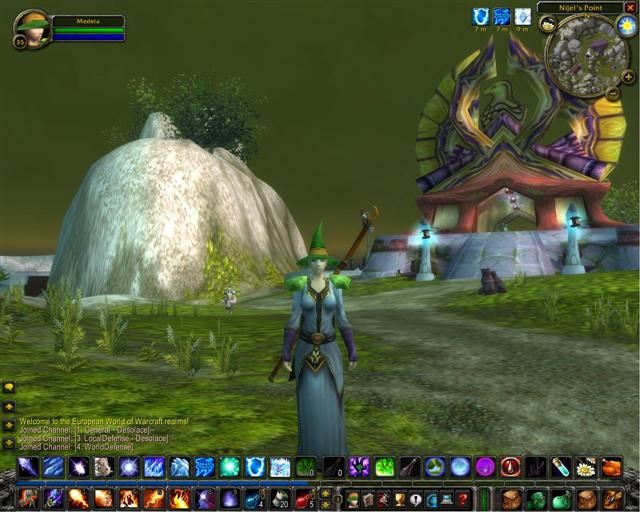 Een screenshot uit World of Warcraft van mijn level 35 Mage Medeia.
Ten eerste is WoW een heel ander spel. Okee, je speelt het ook online met een heel grote groep mensen (dus MMO), maar waar GW meer, zoals de naam al zegt, gaat over strijd tussen gildes en het vinden van de perfecte combinatie van skills en abilities om het tegen de ander op te nemen, is WoW meer een soort 3d-Diablo, veel hack'n-slashwerk, alleen ontbreekt het grote overkoepelende verhaal.
Dat is dan ook eigenlijk het enige echte minpunt van WoW, het gemis van een verhaallijn. Natuurlijk, er is genoeg te doen, alleen is het geheel eigenlijk een aaneenschakeling van sidequests.  In Guild Wars bestaat het PvE-gedeelte uit een groot verhaal, waarbinnen je je ontwikkelt tot level 20, het maximum. Dat kan vrij snel gaan en is ook niet erg belangrijk. Wil je PvP spelen, dan begin je als volleerde level 20. De kunst is om dan van alle mogelijke skills de beste combinaties te kiezen voor jouw karakter, en dan de arena in te gaan. Veel taktiek en strategie dus. Helaas kun je maar vier karakters maken. In WoW kun je er op elke server 10 maken (en dat kan oplopen!).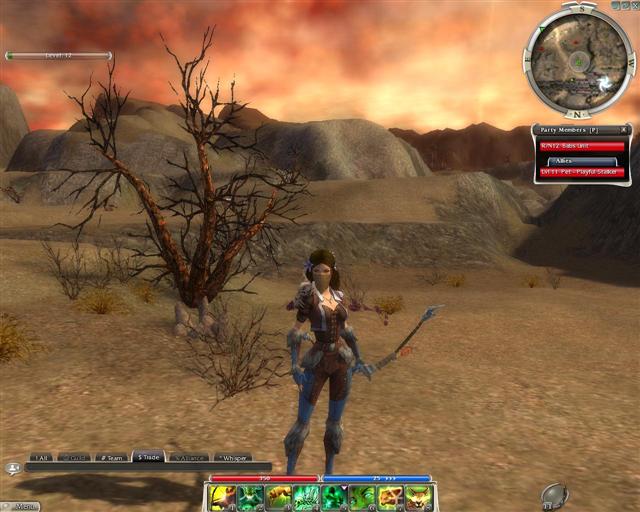 Een screenshot uit Guild Wars van mijn level 12 Ranger/Necromancer Babs Unit.
In WoW kun je groeien tot level 60, waar je best een poosje over kunt doen. Al die tijd loop je rond in de wereld, waar je ook PvP kunt vechten. Je kunt, naast de skills van je klasse, ook andere vaardigheden leren, zoals vissen, koken, kleren maken en alchemie. Wat dat betreft is WoW veel uitgebreider dan GW. Ook de werelden zijn totaal verschillend. WoW heeft een fantasy-achtige wereld, met allerlei kleuren luchten (zelfs paars) en sprookjesachtige bewoners. GW ziet er veel realistischer uit, ook zijn de graphics gedetailleerder dan in WoW. Toch is het vooral een kwestie van smaak welke wereld je het meest aanspreekt. In WoW kom je buiten de steden ook alle andere mensen tegen die aan het spelen zijn. In GW niet, daar wordt de wereld buiten de steden speciaal voor jou en je groep opgebouwd, daar kun je alleen andere mensen tegenkomen binnen de steden. Beiden hebben hun voor- en nadelen.
Zoals je wel kunt lezen is de weegschaal redelijk in evenwicht. Daarom heb ik ook beide spellen, al moet ik er eerlijk bij zeggen dat ik WoW veel vaker speel omdat David dat ook speelt en GW niet. Samen quests doen is nu eenmaal leuker dan alleen. Maar eigenlijk moet je alleen kiezen op spelvoorkeur: speel je graag met een gilde om als groep verder te komen, kies dan GW, leg je meer de nadruk op exploren, kies dan WoW. Plezier gegarandeerd bij beide!