It has been a while since my last hand knitted shawl, but I've finally finished a shawl knitting project again! The pattern is Morvarch by Lucy Hague. It starts from an intricate centre with lots of celtic cables, and then it moves into stocking stitch. I chose a beautiful skein of Posh Yarn Diana Lace from my stash to knit it with. The colourway was Fool's Paradise, a lovely semi solid sea green.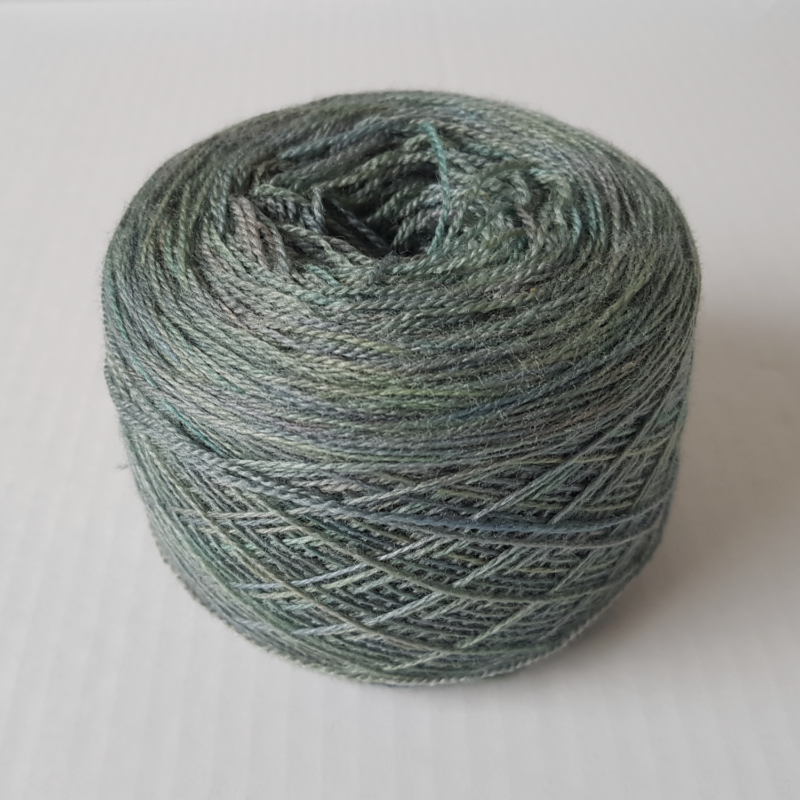 The cable part was, of course, the most interesting to knit. It features horizontal cables, which I had not knitted before. It starts in the centre and you knit it in the round.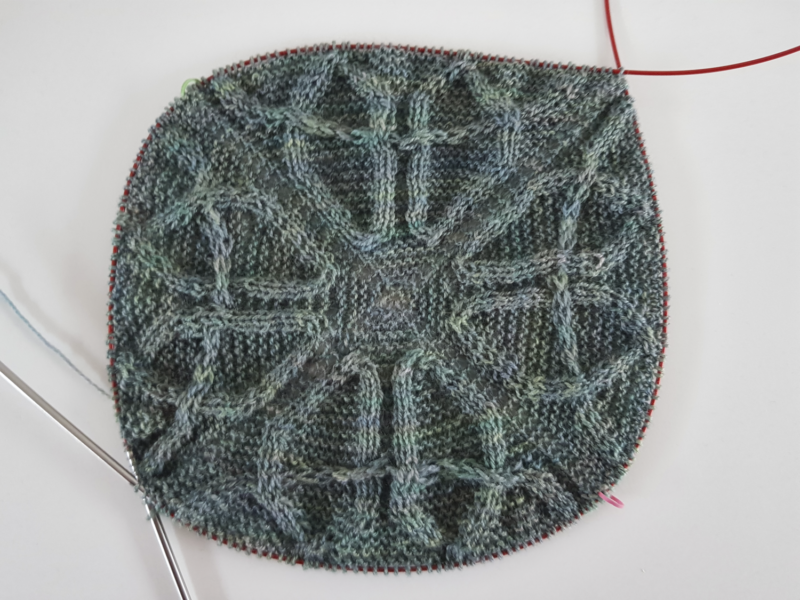 I was a bit confused with the transition from chart A to chart B. The instructions just didn't make sense to me until I found some notes from people who had figured it out. You are supposed to cast on some stitches with a provisional cast on. The secret was to cast on the stitches with waste yarn on a separate needle. Then you start knitting with your working needles again: purl those seven waste yarn stitches (as if on WS) with your right hand needle, turn, knit the next row of seven stitches, and continue with chart B. I found some notes that suggest doing chart C before chart B to avoid cutting the yarn there.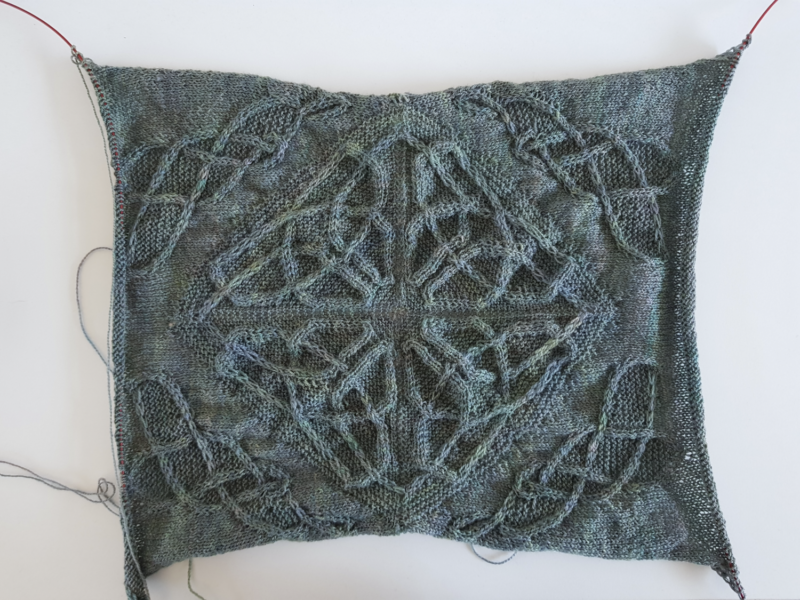 After knitting the cabled centre, the next part was knitting stocking stitch on both ends until you were ready to add the lace border. That part took me so much longer than knitting the cables! I find knitting stocking stitch quite boring, usually, but it's great TV knitting. I did the shawl ends two-at-a-time: both ends were on the same circular needle and I knitted the yarn from both ends. That meant that I had to pay attention which way I was turning the work, and where I needed to move on to use the other yarn end. I had to untangle the yarn regularly, so that was not ideal.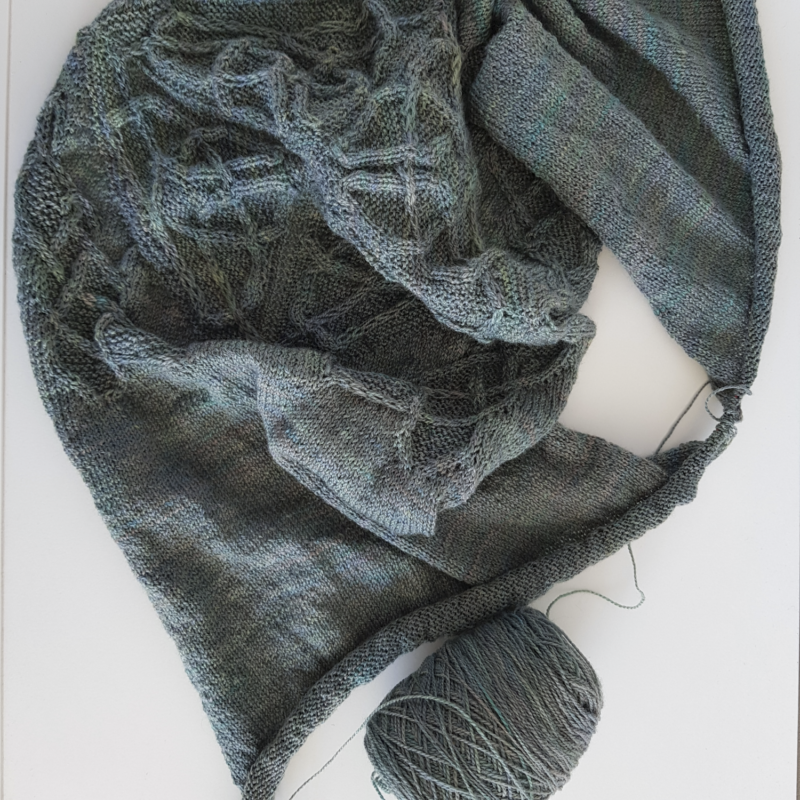 It did ensure that both ends of the shawl would be equally long, though, which felt important to me. And after many, many rows of stocking stitch, I finally arrived at the lace border. I continued repeating the lace pattern until I didn't feel confident anymore that I could get another two rows out of the yarn, and bound off. I used basically the whole skein of 800m/100g. Time to weave in the ends and put it on the blocking mats.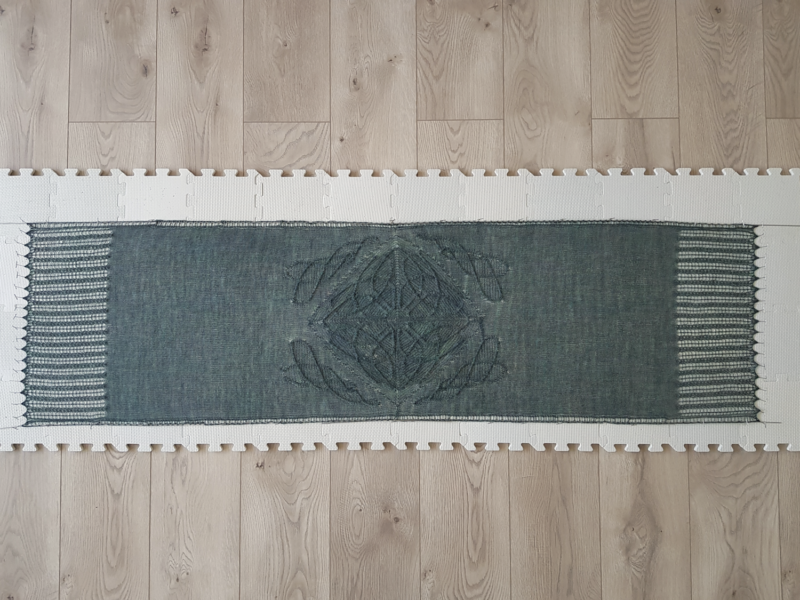 This time, there would be no cat block. It hurts. I started knitting this shawl when Freya was still alive, and now the shawl is done and she is gone. I miss her so much.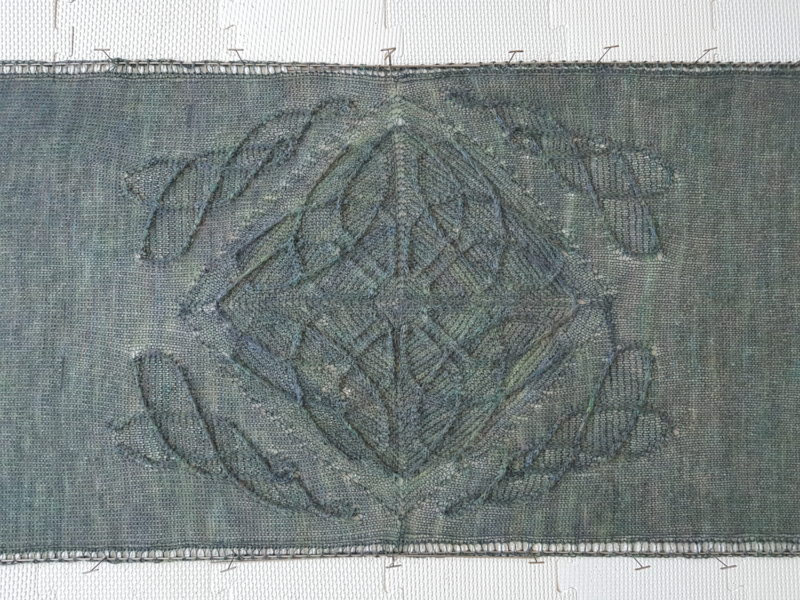 The cabled centre is quite pretty, don't you think? I did find a mistake, though. I didn't close one of the cables at the bottom left, and I just might try and fix that with duplicate stitch. I made a few other mistakes, but those are not that clearly visible and I can live with them.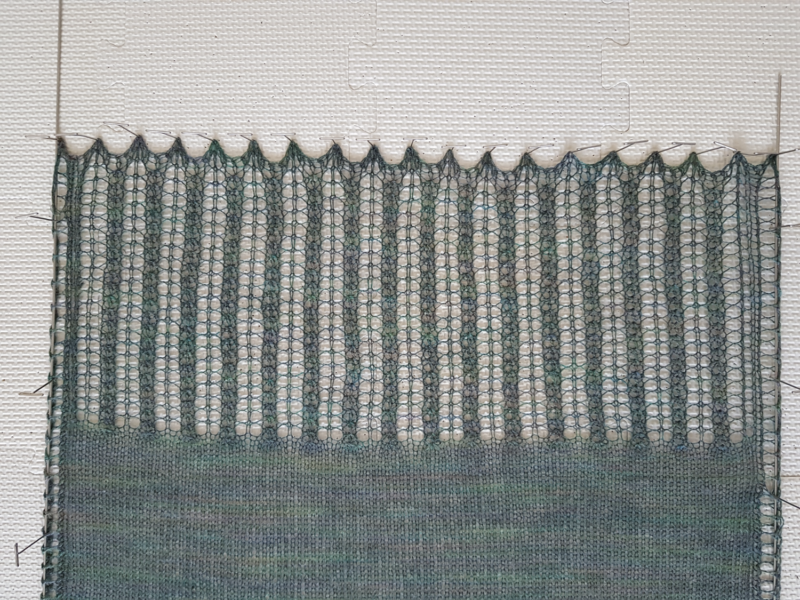 The lace border is not too complex, and it looks nice.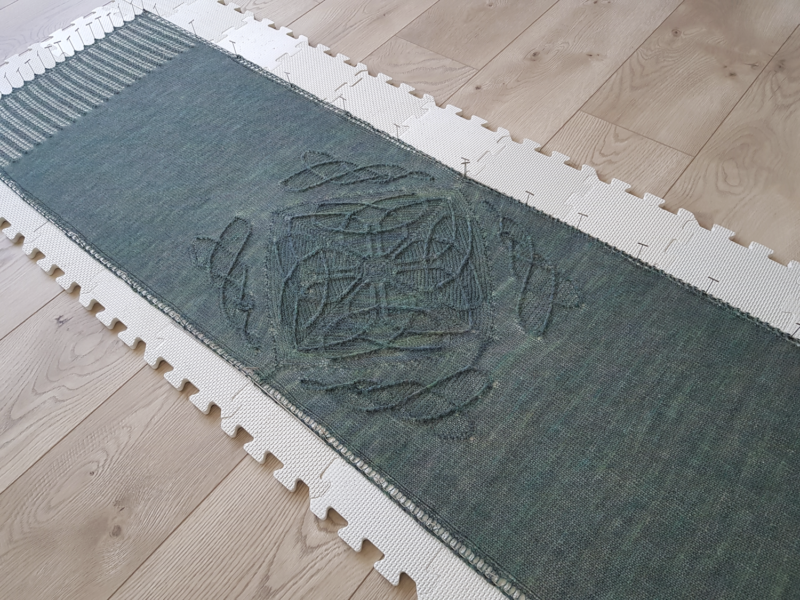 The cable pattern becomes more crisp when looking at it from an angle. I think that this pattern would also work well with fingering weight yarn instead of lace weight.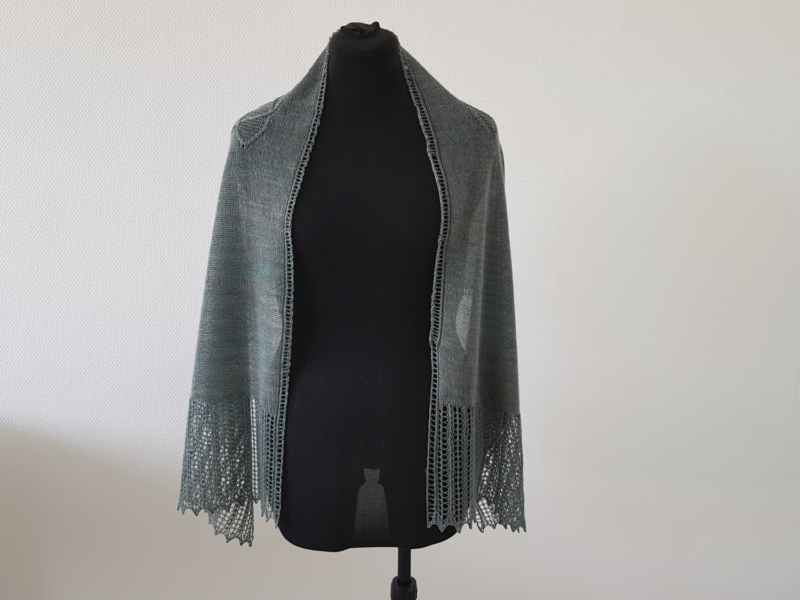 The shawl is not very long, but long enough. You can use it to keep your back warm and let the ends drape.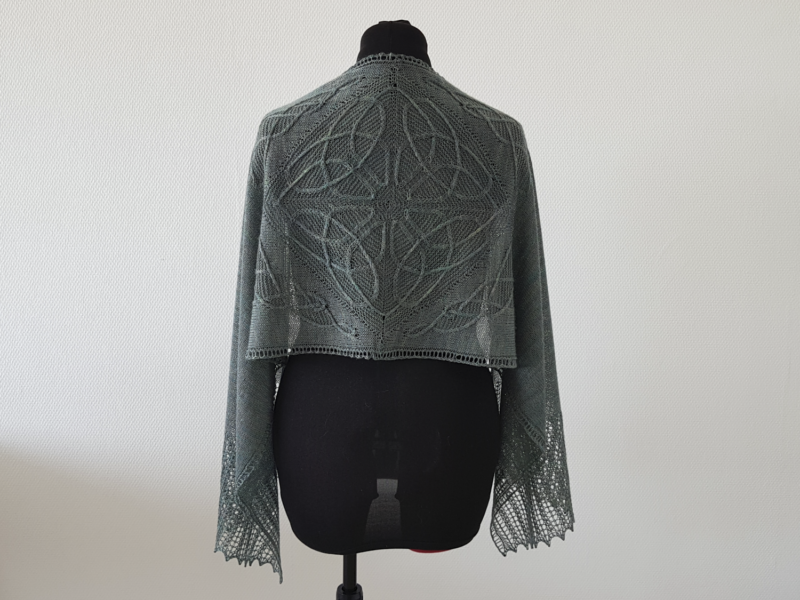 The cabled centre has the perfect size to show it off on your back.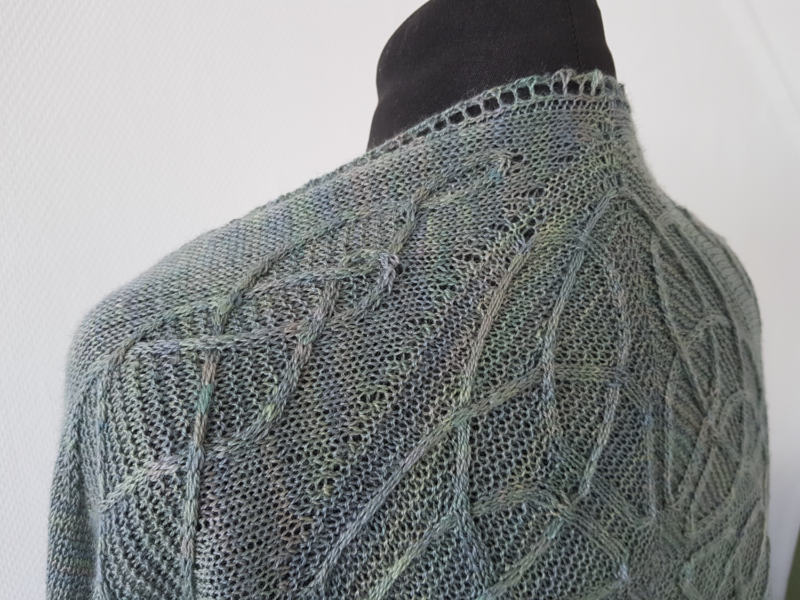 I think it might be interesting to explore using the centre cable pattern as the back of a cardigan as well. It would look spectacular!