Today, or actually, last night, Vrouw Holle entered The Netherlands. It was snowing and storming – technically, we had a blizzard! That sounds quite serious, but in reality, it was not that bad, at least not where I live. We had about 10 centimetres of snow. Yes, the wind was boisterous and chilling, but the snow was like powder sugar, very small flakes, gradually building up a thick layer of whiteness.
It is quite rare to have substantial snow in The Netherlands these days. I do remember snowy winters from my childhood, that even included the Elfstedentocht, but in the 21st century, true winter happens quite infrequently here. So when it does happen, our whole society basically comes to a grinding halt. Public transportation is almost unavailable because of frozen train track switches, and cars can only drive slowly. Don't even get me started about cycling. But the Dutch become feverish and get out their skates, sleds, and other winter accessories, and enjoy the change of pace.
It was a beautiful view, this morning! And it kept snowing lightly all day. The children in my neighbourhood – and the adults too – were having the time of their lives.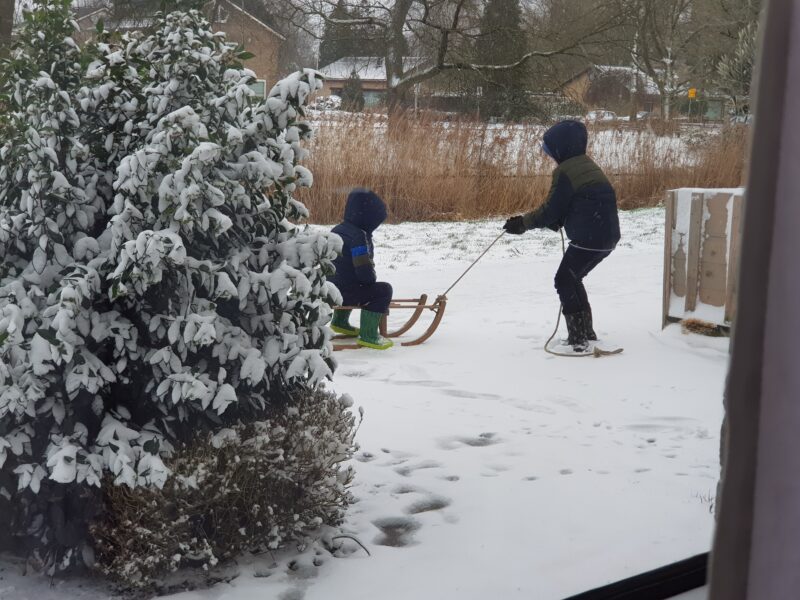 Lots of people sledding, or having a snow ball fight.
It helped that it was Sunday, so many people had weekend and time to enjoy the snow.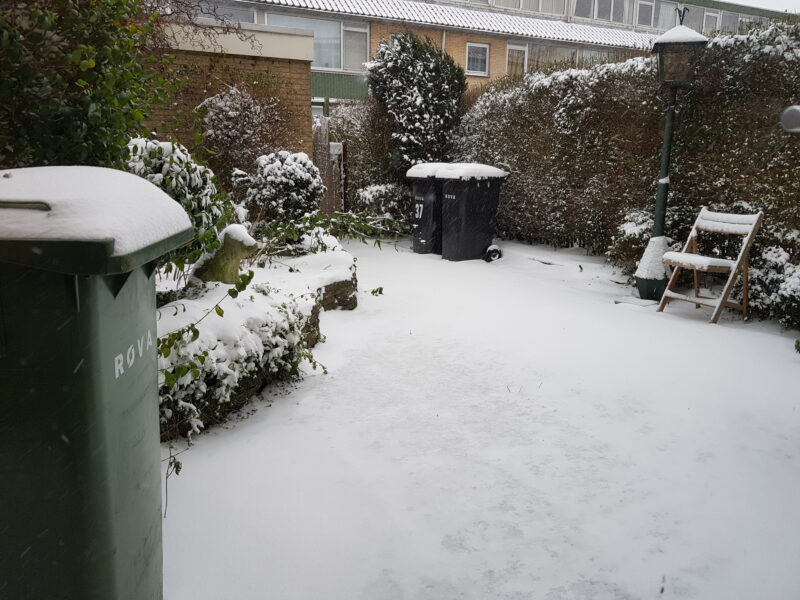 I have to admit, I didn't go outside! I didn't feel like being in the cold wind today, but I really enjoyed our beautiful view and watching the people have fun. And I started spinning day 7 of my advent calendar, which is Masham fibre in an apricot colour. Not my favourite fibre, a bit too harsh for me, but I still enjoyed it.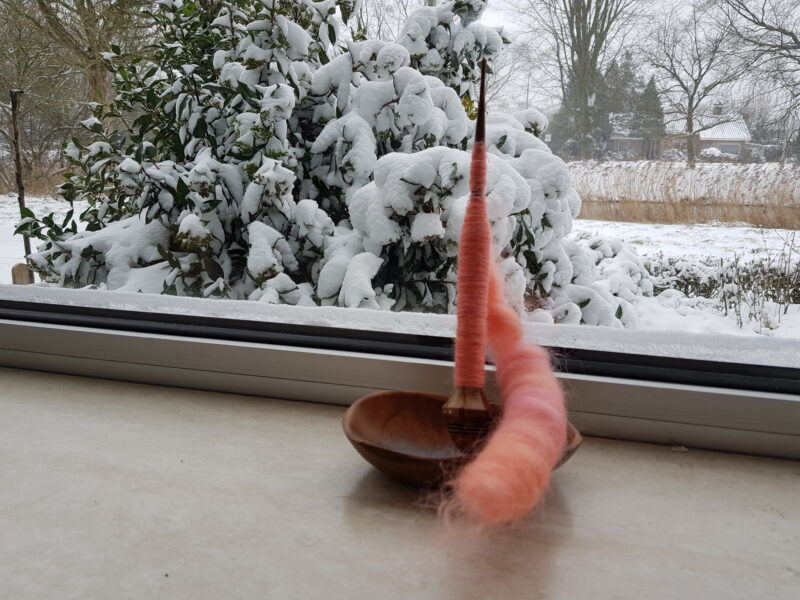 It was cloudy all day. The snow brought a lot of light, but how great would it have been if the sun was shining too! That reminded me of a beautiful song by Richard Strauss: Morgen! It's a happy song about looking forward to a sunny day at the beach with your love, and it's basically about bliss. Something that we can all use in these trying times. So I thought I'd share a live recording of that song today.
Here's a translation of the lyrics (by Richard Stokes):
Tomorrow!
And tomorrow the sun will shine again
And on the path that I shall take,
It will unite us, happy ones, again,
Amid this same sun-breathing earth …
And to the shore, broad, blue-waved,
We shall quietly and slowly descend,
Speechless we shall gaze into each other's eyes,
And the speechless silence of bliss shall fall on us …
I really love this song. By the way, I'm also playing the piano part in my recordings. My digital piano has a recording function, so I can store song accompaniments in there and play them back and sing along. Very convenient! So that's why you don't see anyone playing the piano.
I'm sharing these live recordings for a couple of reasons. One is that I love sharing the music that I love. Another is that I think that the world could use some extra free music now that performances are non-existing because of Covid-19. And finally, I'm practicing letting go of my perfectionism here. I know that these recordings are far from perfect, but they are straight from the heart, and I hope that they will bring you some joy.