It's been a while since I've written a post, and that is because I went on holiday for two weeks. Warning: this is going to be a long post! It's mostly for myself, to write down my favourite memories somewhere, but I hope that you will find it an enjoyable read as well.
I spent a lovely time in the beautiful North Pennines in England again, in the same converted barn as two years ago. This time we flew to Birmingham, rented a car, and drove all the way north. We got used to driving on the left side of the road much quicker than the last time!
At first it was busy on the roads, but as the surroundings became increasingly beautiful, the traffic became more quiet. Before tackling the last leg of the journey, we stopped in Penrith to get some groceries. Then we went on into the middle of nowhere.
The barn is almost right on the border between Cumbria and Northumberland. To get there from Penrith, you have to cross the Hartside pass, which is 1903 ft above sea level. First, you wind your way up through hairpin corners, until you reach the viewing point at Hartside Cafe. But when we got up there, we discovered that the cafe had been destroyed by fire. Only the walls were still standing. A sad sight. But the amazing view toward the north, over the Eden valley, with faint Scottish mountains far away still managed to impress.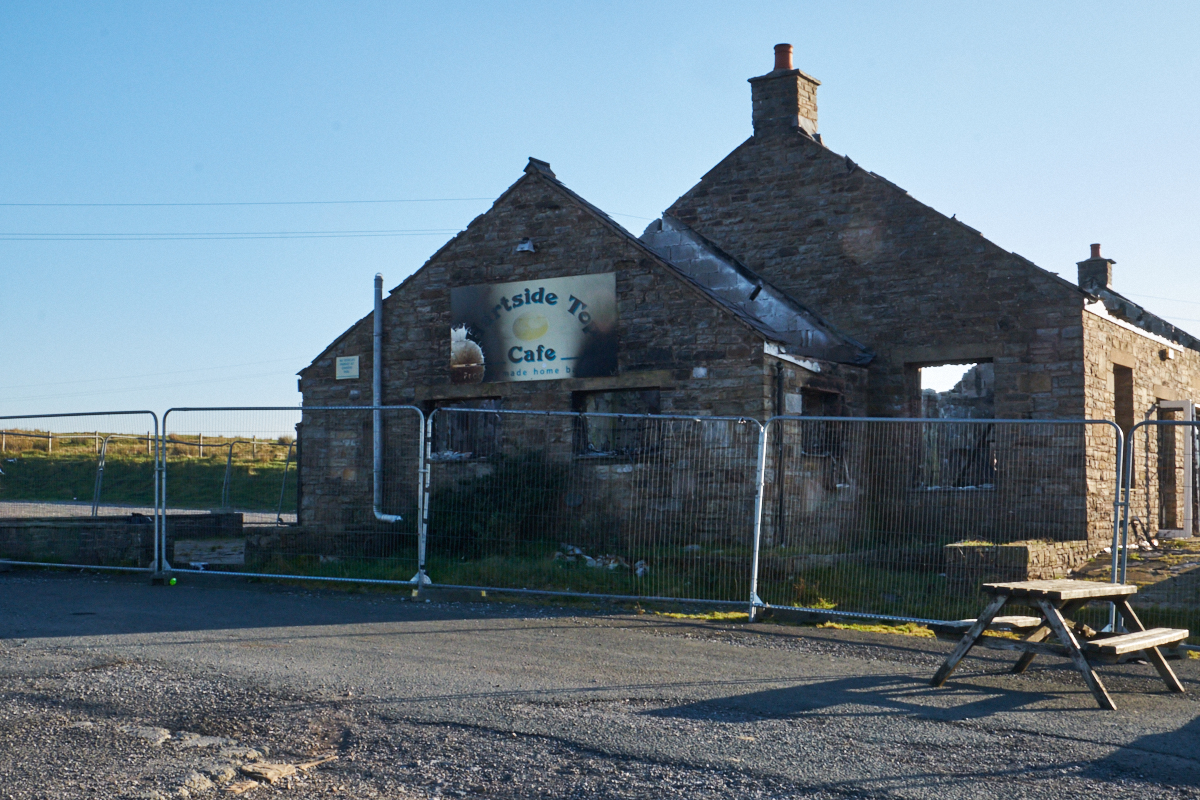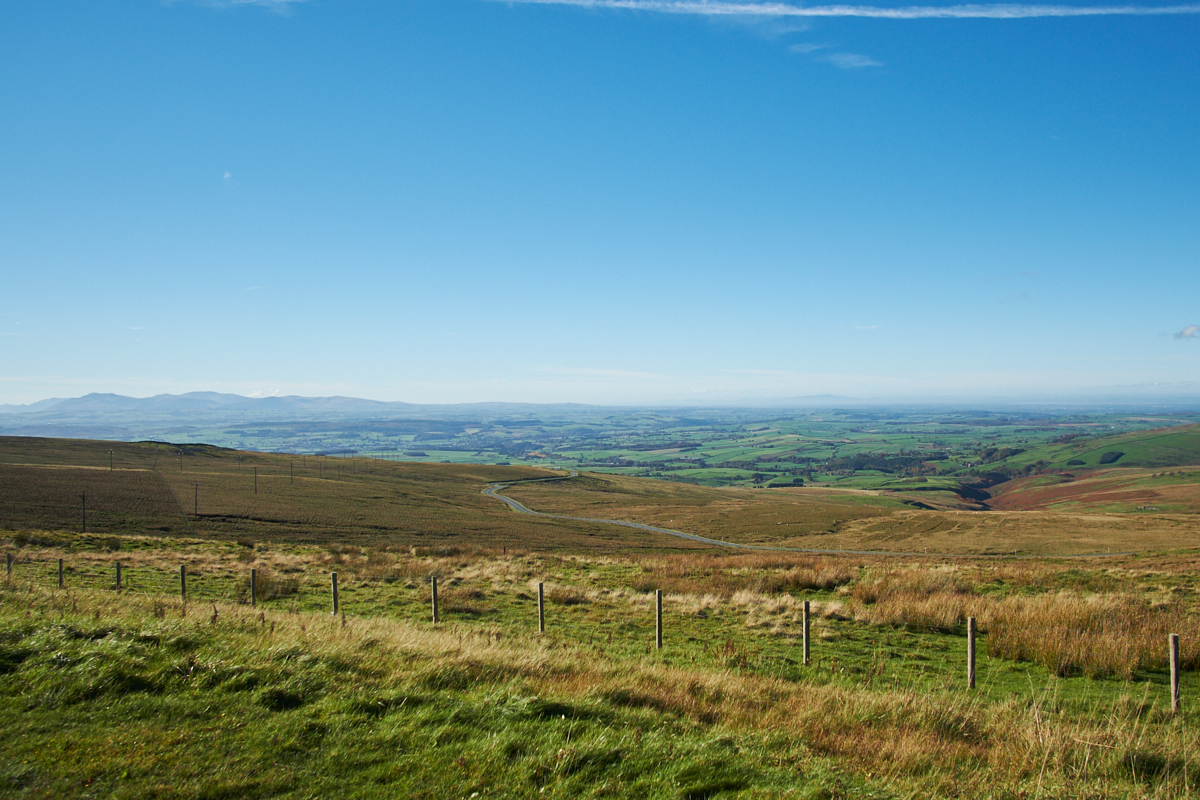 Down we went, into the North Pennines, an Area of Outstanding Natural Beauty. The bare hills look desolate, but once you take a closer look, there is so much life in them. Birds, critters, all kinds of tough plants, and many, many sheep. The sheep that you see the most is the Swaledale, a dainty but tough little breed. These sheep can survive high in the hills, almost all year round.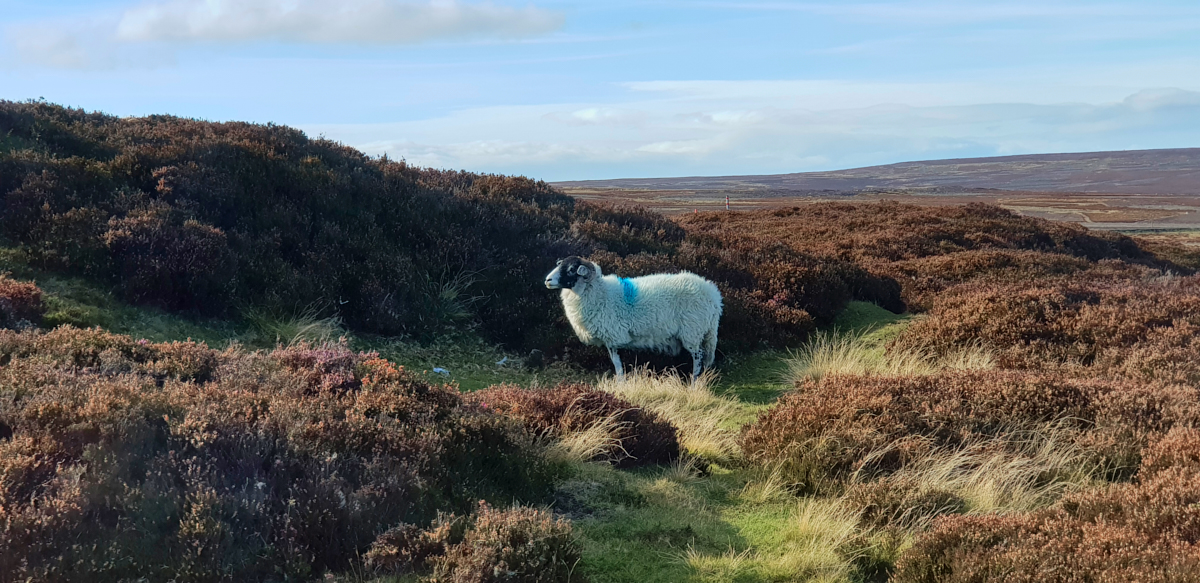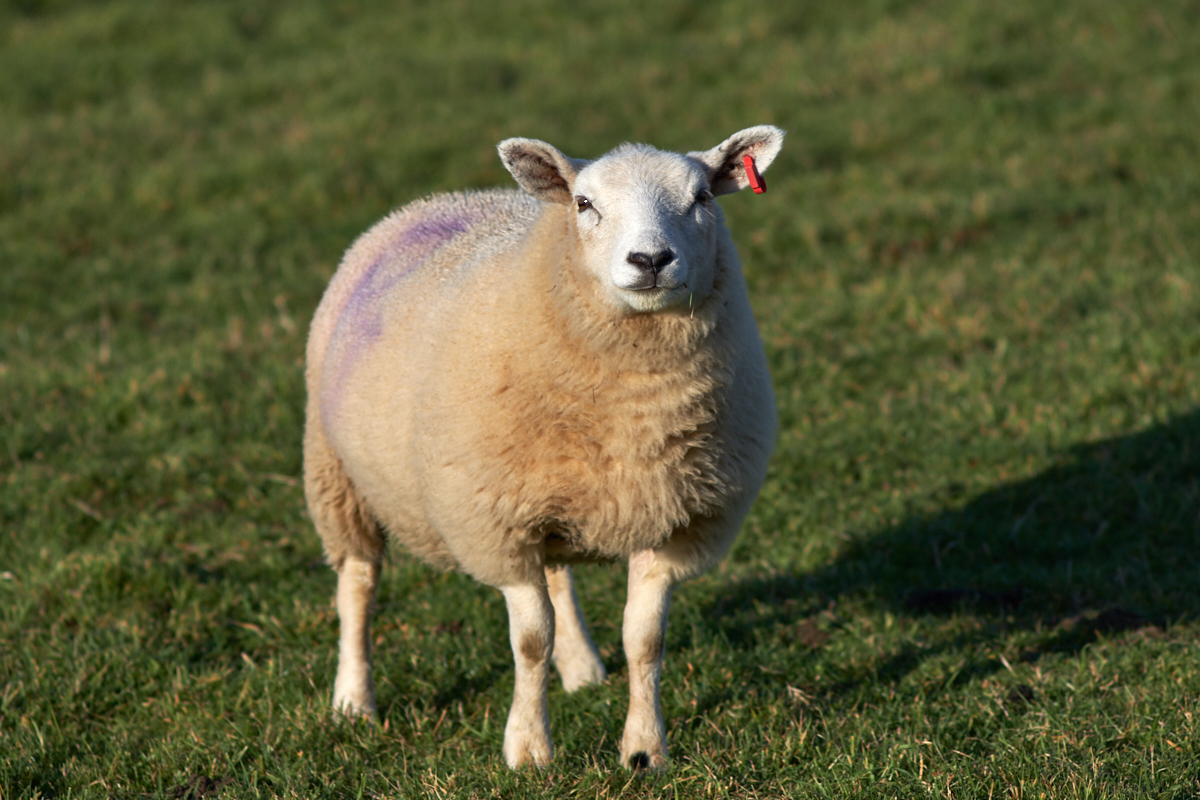 The barn was as we left it last time. It was as if we had never been away. The view was still amazing, and the quiet took no getting used to at all. We sighed with relief as we sat down and enjoyed the friendly afternoon sunlight entering through the windows. There is no TV in the barn, and there is slow internet only, so you are forced to disconnect.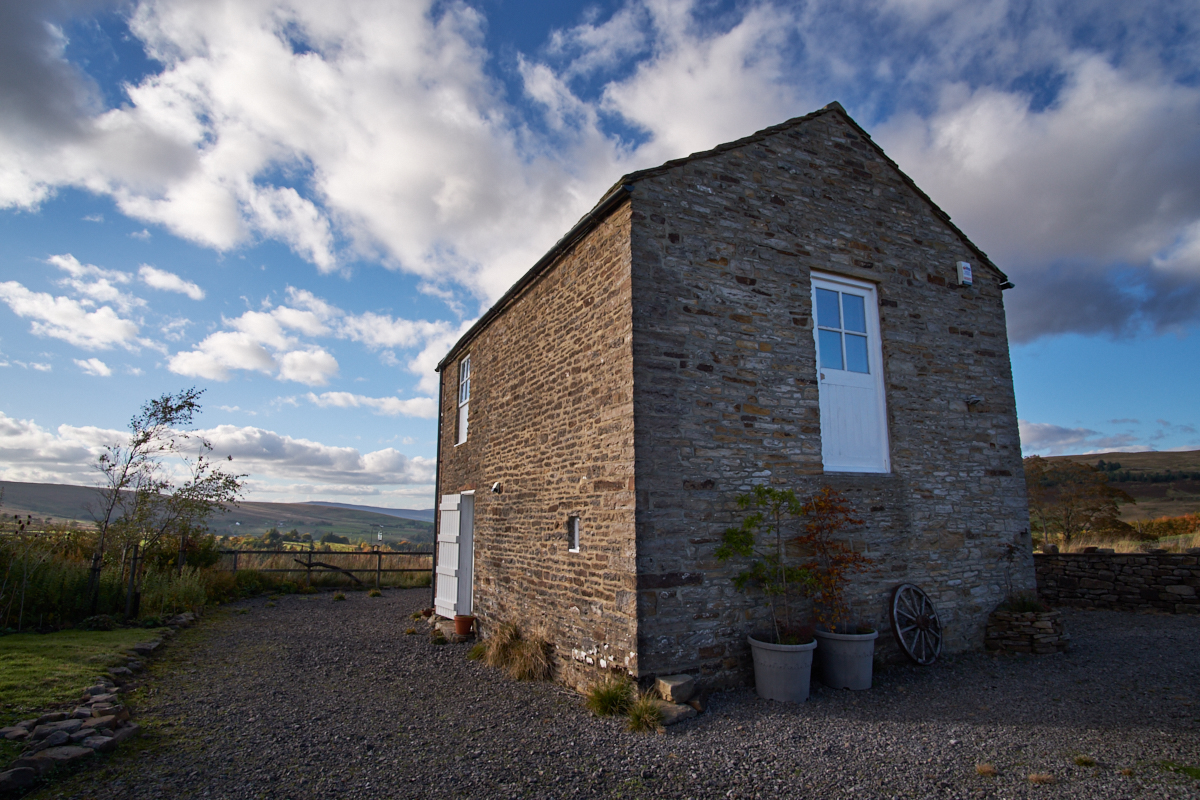 In the next couple of days, we spent time in the barn, reading, knitting, playing games, watching the occasional movie on the laptop that we brought, and, of course, sleeping. The nearest town, Alston, is quite small and only has small village supermarket for the bare necessities. The road in Alston was closed, so we had to take the diversion around it.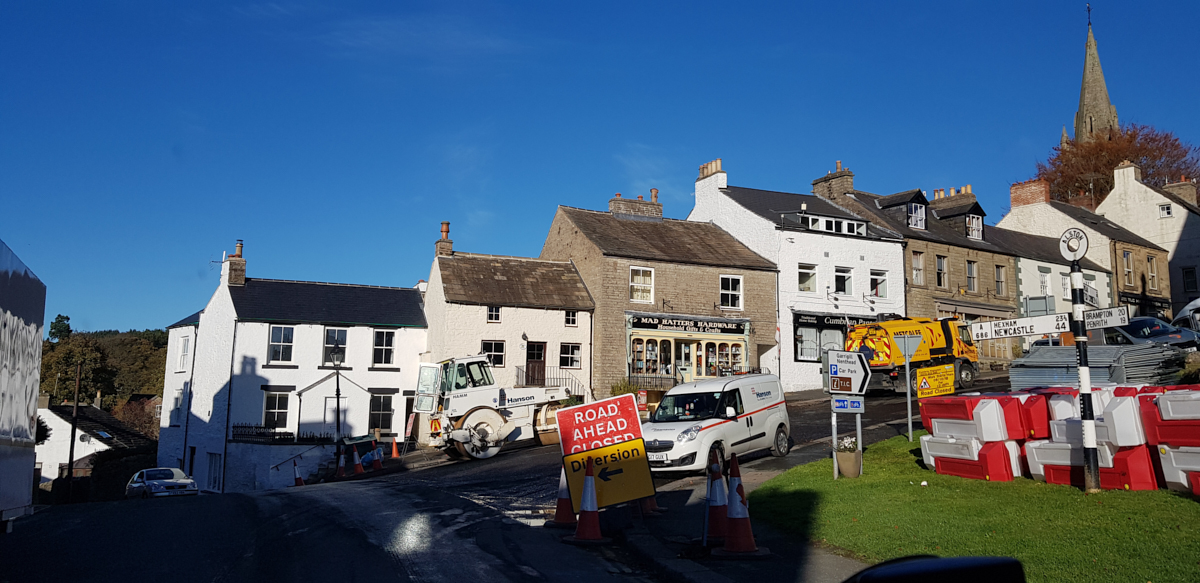 The closest larger supermarket, in Hexham, was a 50 minute drive, so getting groceries was an outing already! But we loved the Tesco (again), and discovered the Morrisons, which is a similar supermarket. It's always so much fun to try out new and local things when you're somewhere else!
I also did some astrophotograpy on the first Sunday. It was a cold night, in fact, it was freezing! The sky was completely clear, and there was no moon. Perfect for gazing at the Milky Way! I had never done astrophotography before, and I was looking forward to trying it. I had brought my tripod and a wide angle lens (Samyang 12mm f/2) and I tried some long exposures.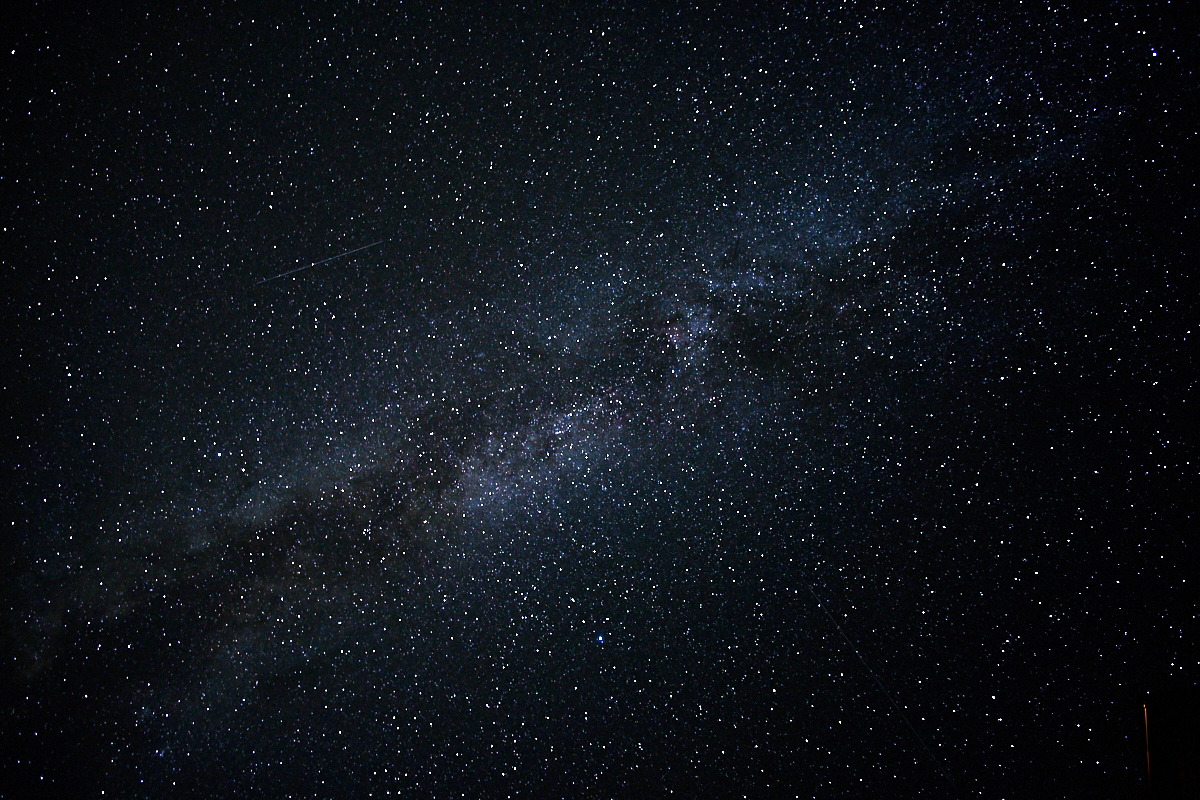 Even though it was very cold, I felt wonderful, looking at the infinite number of stars above me. I had never in my life seen so many, not even the last time we were here. It is amazing what stillness combined with the starry sky can do to your perception. Everything seems relative and harmonious and it doesn't seem to matter anymore if there's a purpose.
We visited the Wool Clip in Caldbeck again. It was still as charming a shop as the last time we were there. We knew what to expect, so my husband brought something to read and spent some time at the Watermill Cafe while I browsed the wool shop. The Wool Clip is a co-operative of more than a dozen fibre artists. They all have a section in the shop where they can display their wares, and they take turns manning the shop.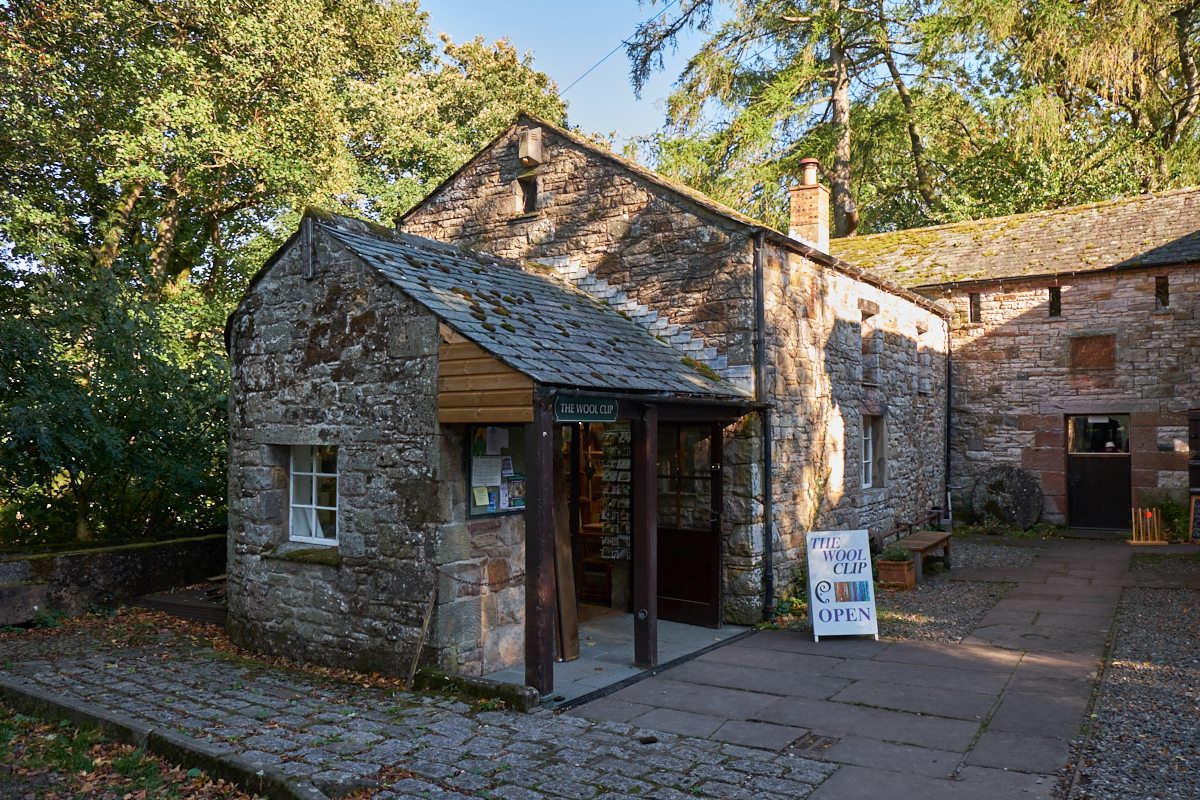 The Wool Clip is situated in an old mill, next to the church of Caldbeck. The river Cald Beck flows next to it. On the first floor, you will find the lovely Watermill Cafe.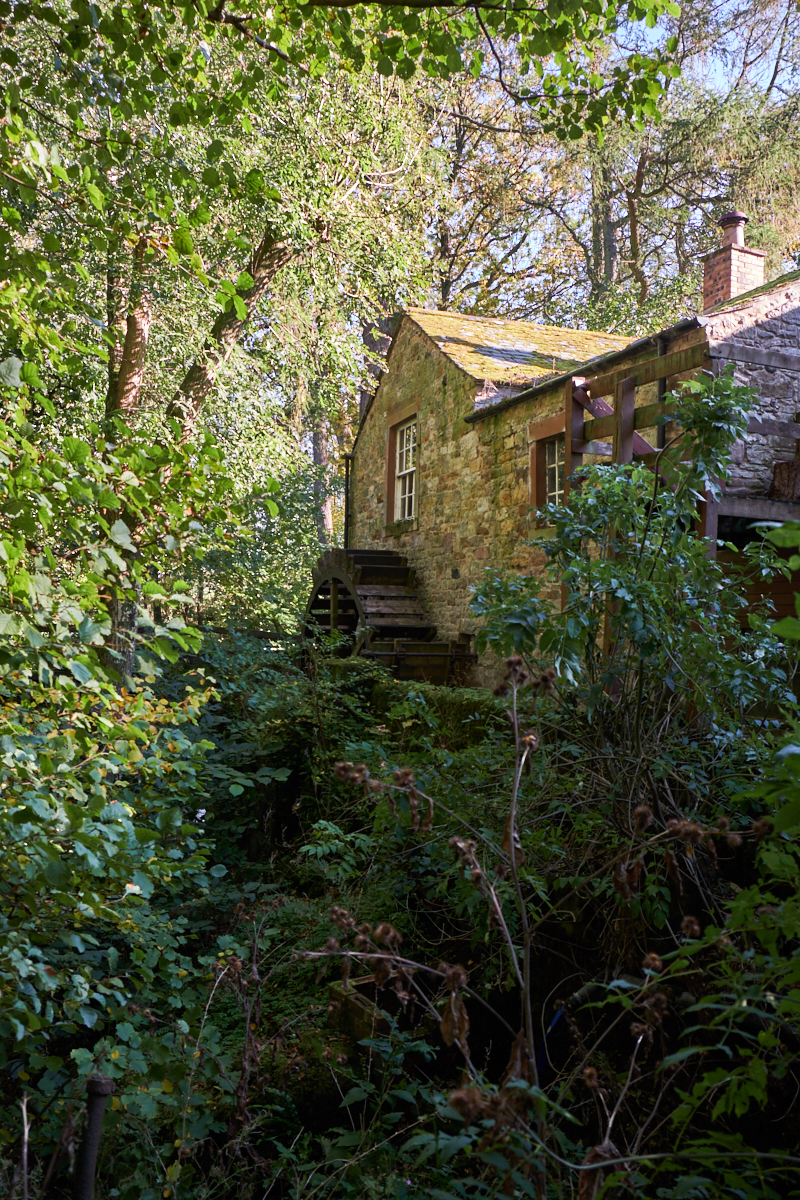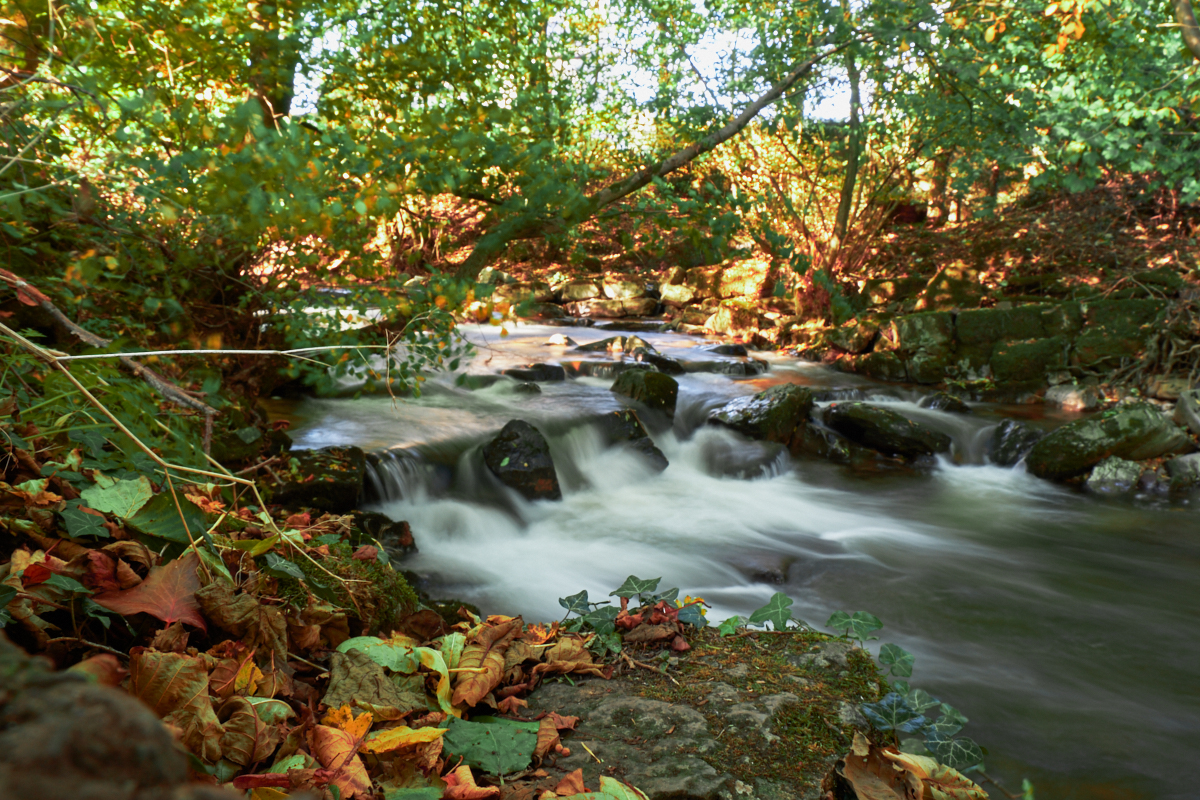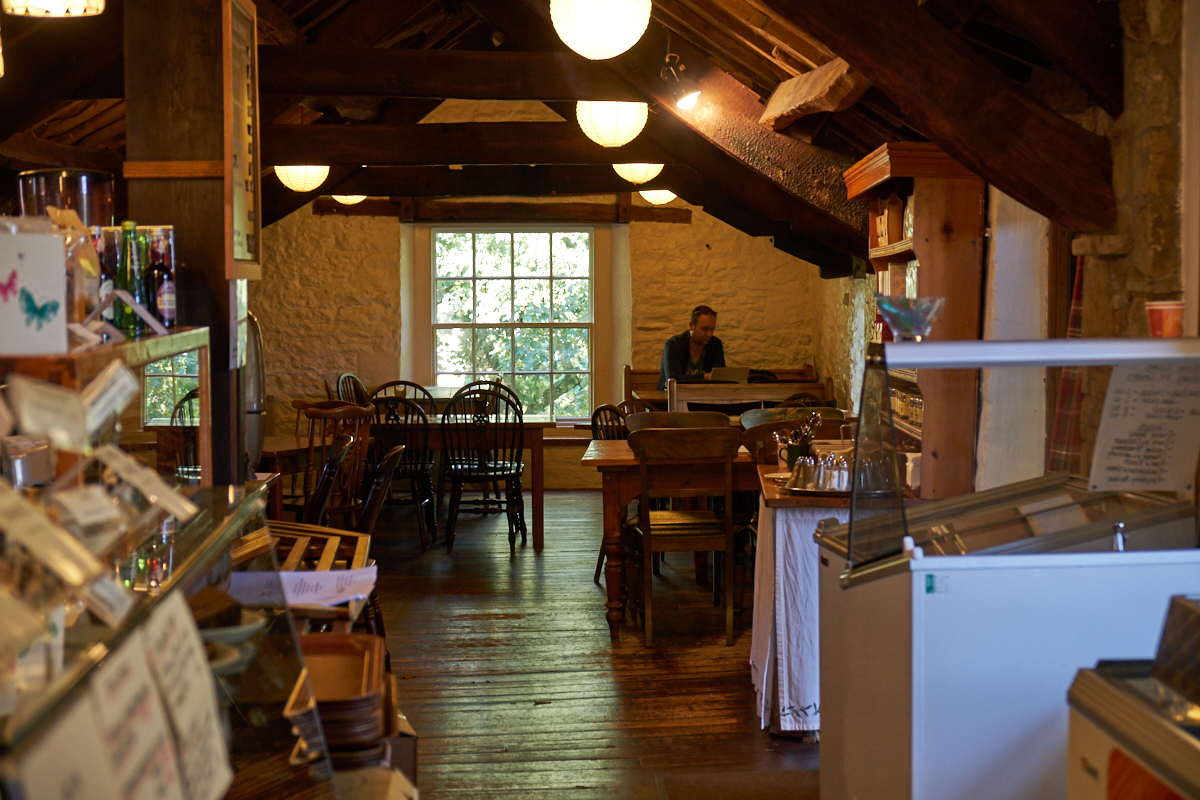 At the Wool Clip, I met Jan Beadle, a friendly weaver. The last time I was there, I had already been admiring her handwoven shawls, but I didn't find one in the right colour for me. So I didn't buy one, but I still remembered her work, and I hoped to find something this time. And did I!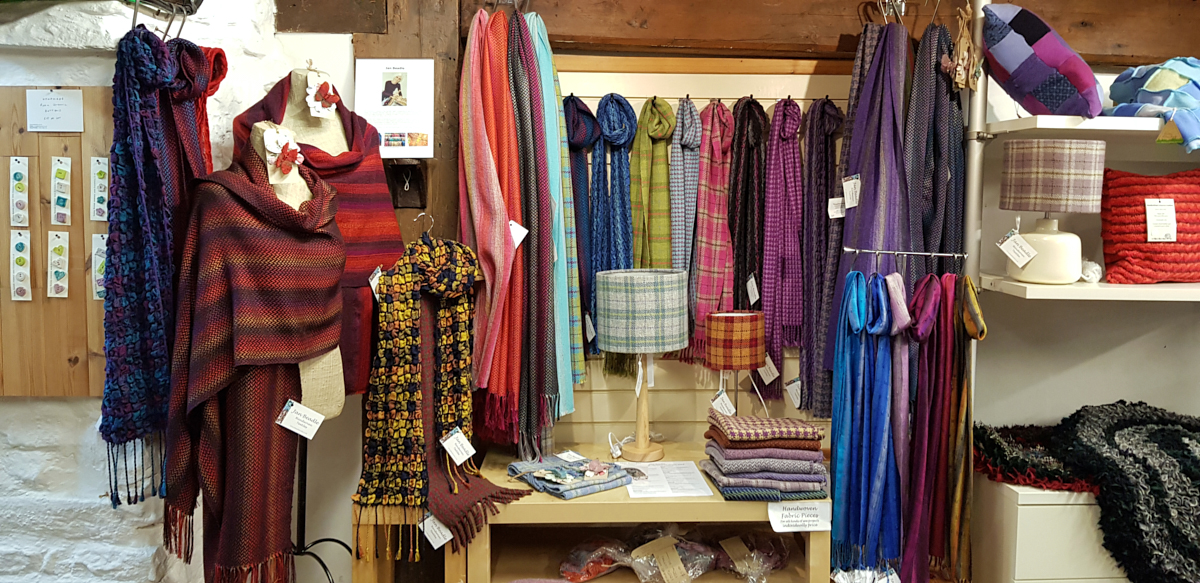 Her display looked wonderful again, and my eyes were drawn to a beautiful silk and wool handwoven shawl. It was quite expensive, but I got it anyway as an early birthday present to myself. I also bought some nice BFL/silk fibre from Wild Wood Wool and some Teeswater X Jacob fibre from Fleece with Altitude. Then I stopped looking around, because every time I looked more closely, I saw more beautiful things to bring home.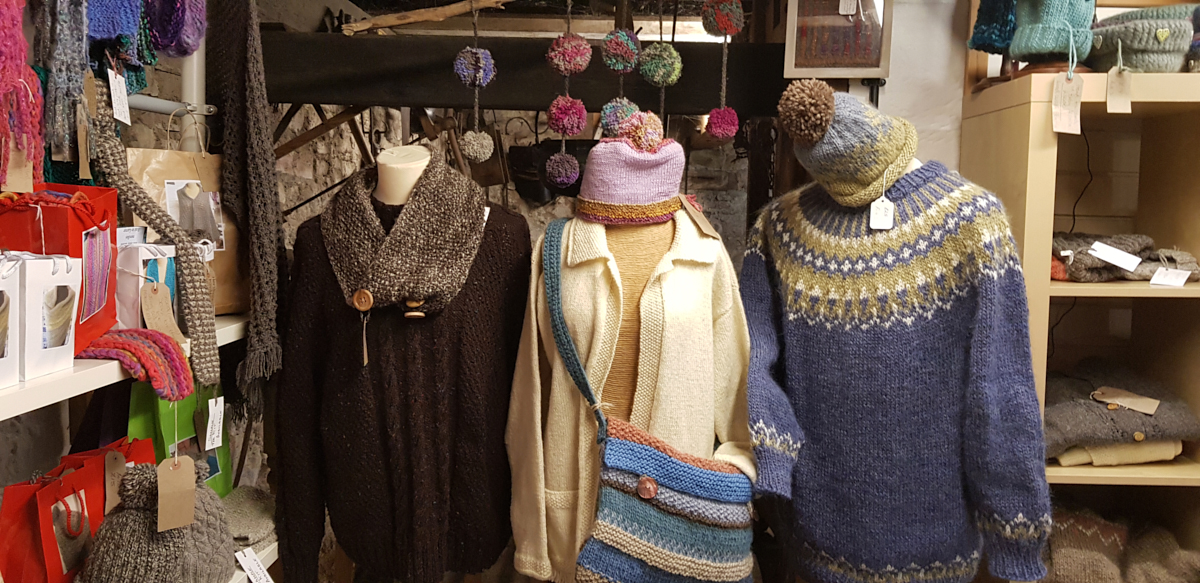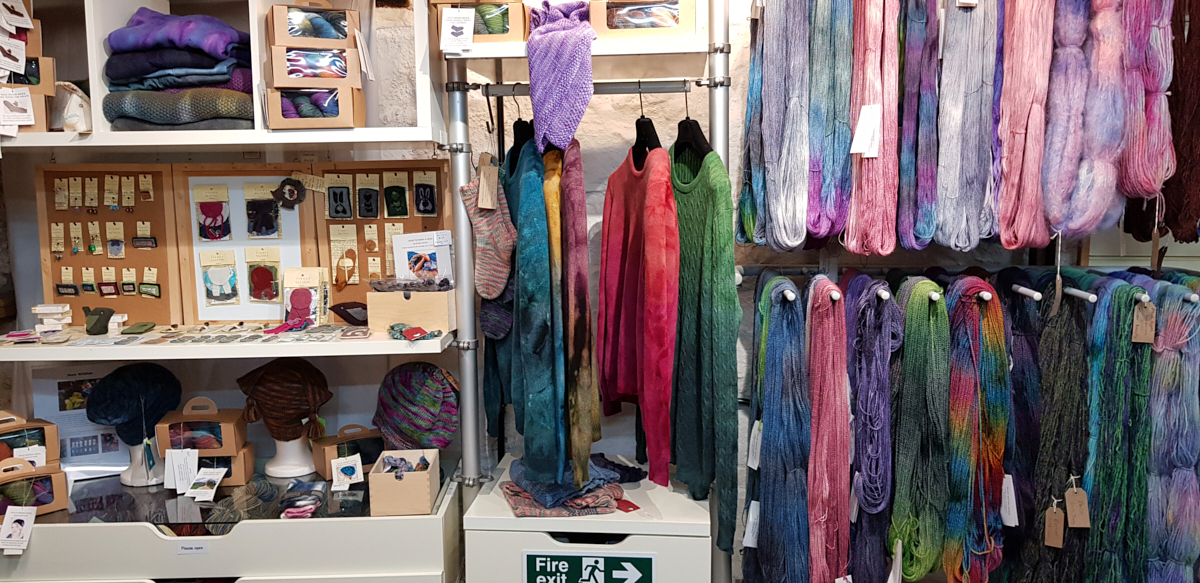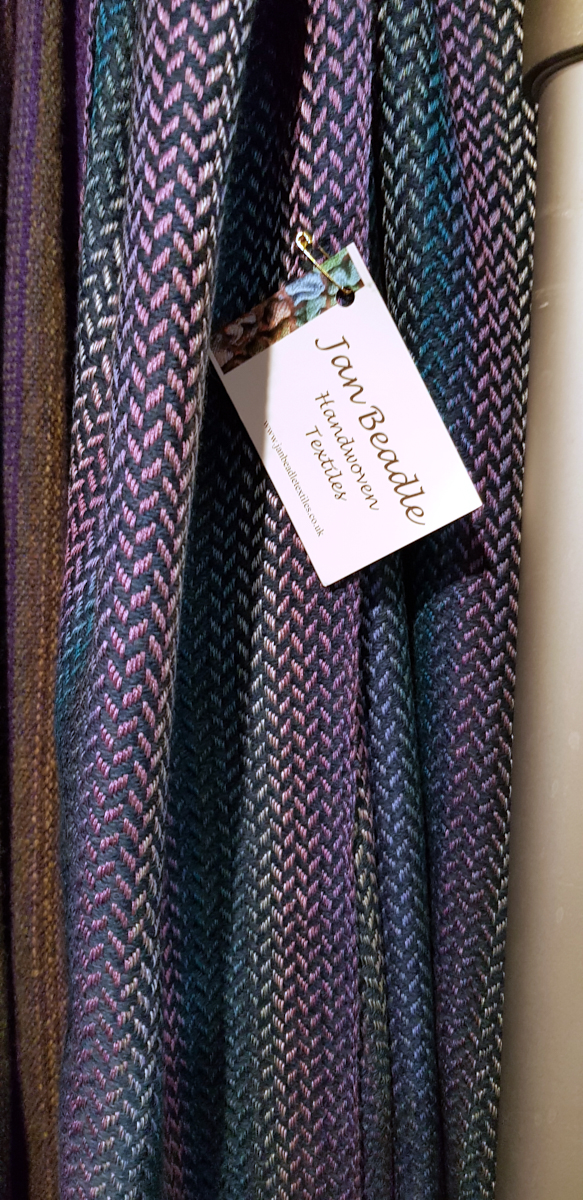 I also looked for the bags that Emma Redfern makes (Hole House). Her bags are high quality, and I love it that she uses tweed. Unfortunately, her bags were not there. I knew from the last time that she is very, very busy, and that she hardly has time to keep up her stock. But still, bummer.
Jan and Emma had been working together, giving a two day workshop where the participants wove fabric on day one, and made a purse on day two. I would have loved to do that workshop, but it was already full when I found out that it was happening. But… I saw on Facebook that a spot had opened up in the workshop in the next weekend, right in the middle of our stay. Emma was going to give her clutch making workshop again, this time without the weaving part by Jan. I jumped at the chance, and before I knew it, I was going to the Eden Workshop on Sunday to sew a clutch bag!
The Friday and Saturday before that we were mostly at home, because the weather was quite bad as the storm Callum passed right over us. Rain, wind, thunderstorms… we were glad that we were up in the hills, because there was flooding in the dales in some places. The rivers became spectacularly wild and wide! I did take a walk when it quieted down somewhat, and it felt wonderful to be connected to the fierce side of nature.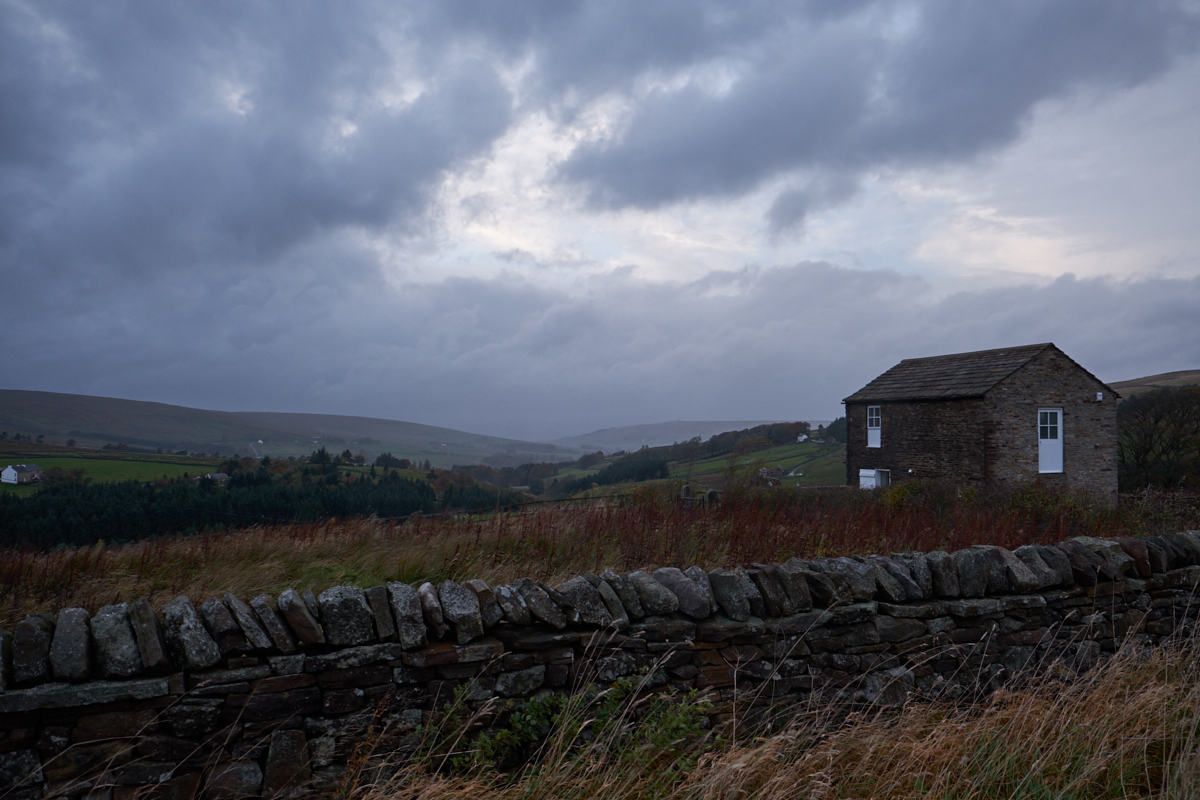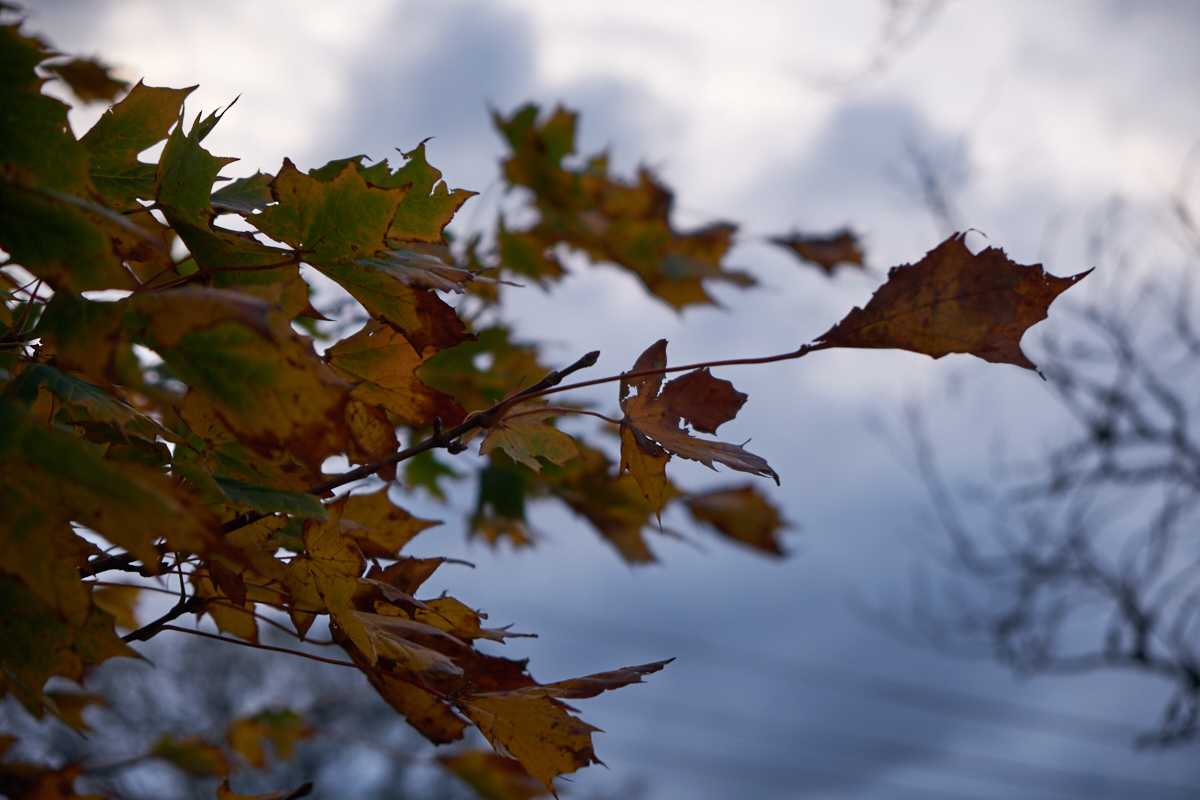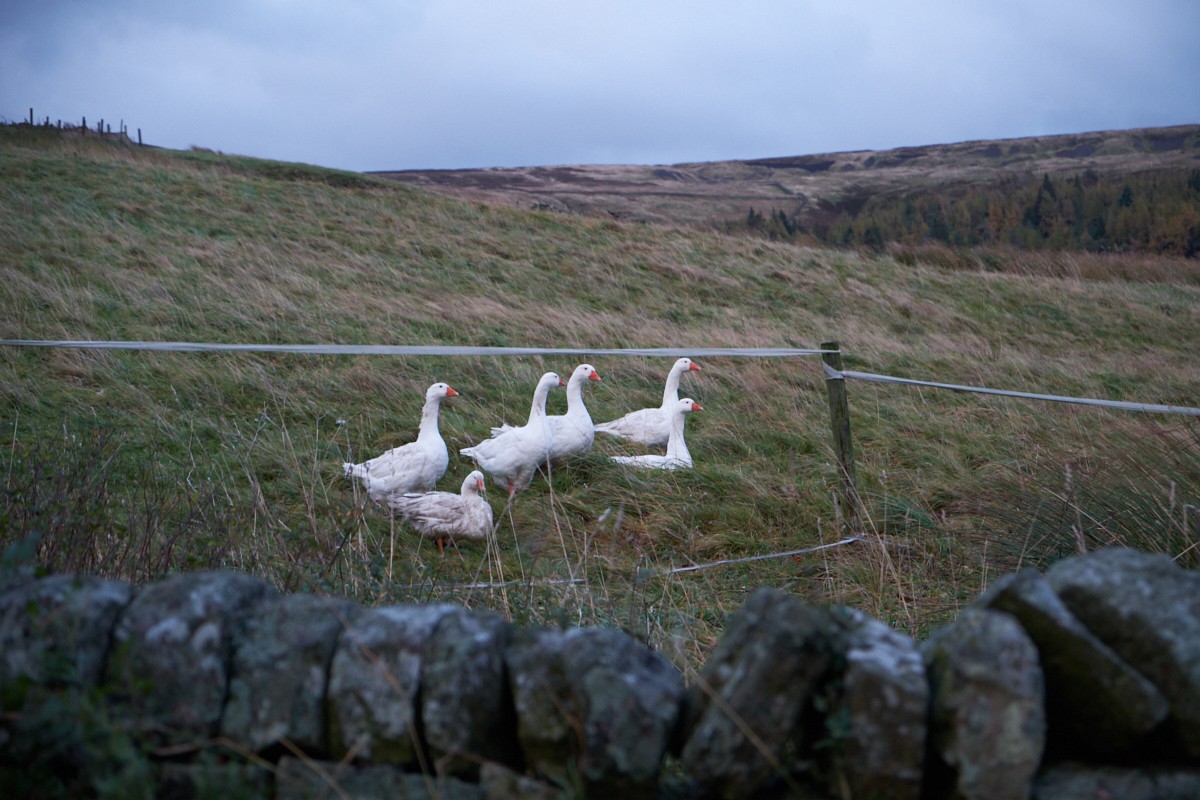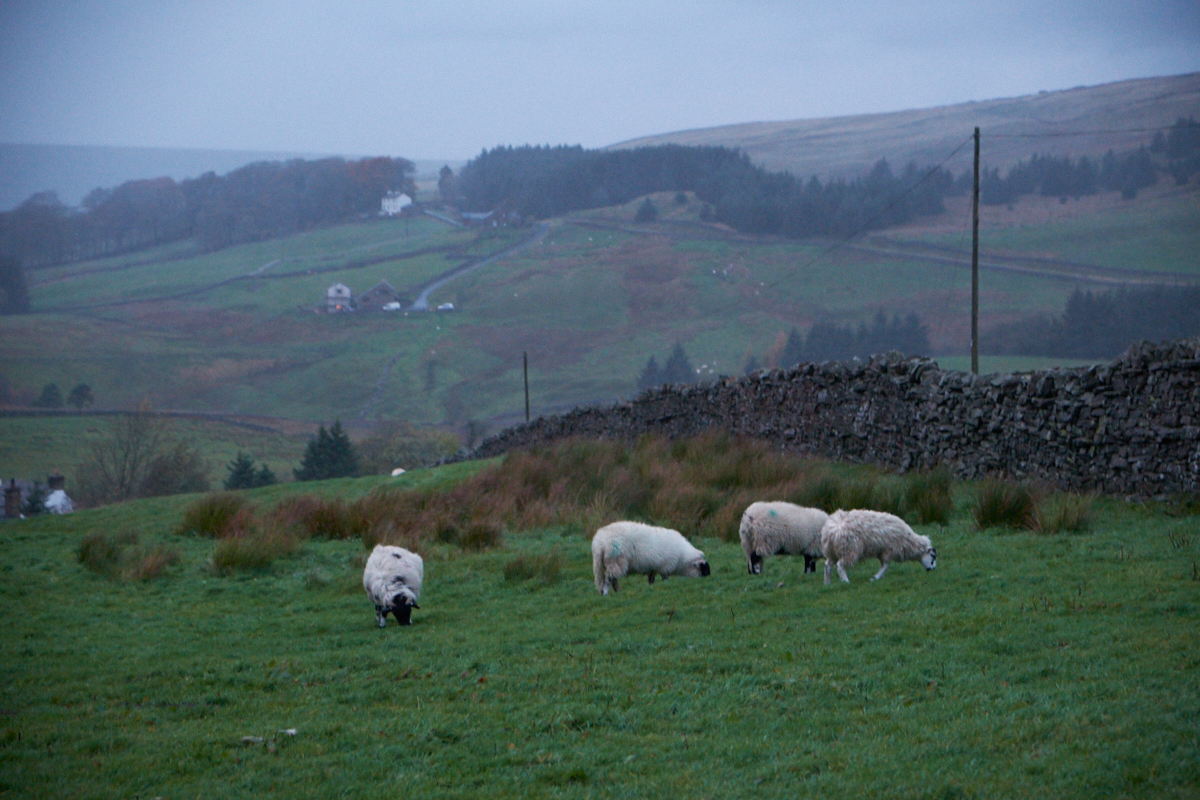 I do have a sewing machine at home, and I have played with it a bit. I even made a pair of pants once, but it didn't fit that well. I also made a skirt, some (ugly) bags, and of course I hemmed my trousers with it, because I have short legs. I'm not an absolute beginner in that sense. But I have never had a sewing class in my life, and I didn't know all that handy stuff that "real" sewists know. I was looking forward to picking Emma's brain!
The Eden Workshop is close to Plumpton, and downstairs there is a small shop with all kinds of handcrafted items from the area. Upstairs there is a space for workshops. The workshops are small and usually fill up quickly. I was lucky that I could join at the last minute! When I arrived, the other six participants were already there. They had all brought their own sewing machines, and some inner and outer fabric for the bag. Emma was very kind and let me use her (awesome) sewing machine and some fabric leftovers that she had. I found a lovely bit of purple tweed with a subtle blue line that would be perfect for the outside of the clutch bag. I chose some sheep fabric for the lining.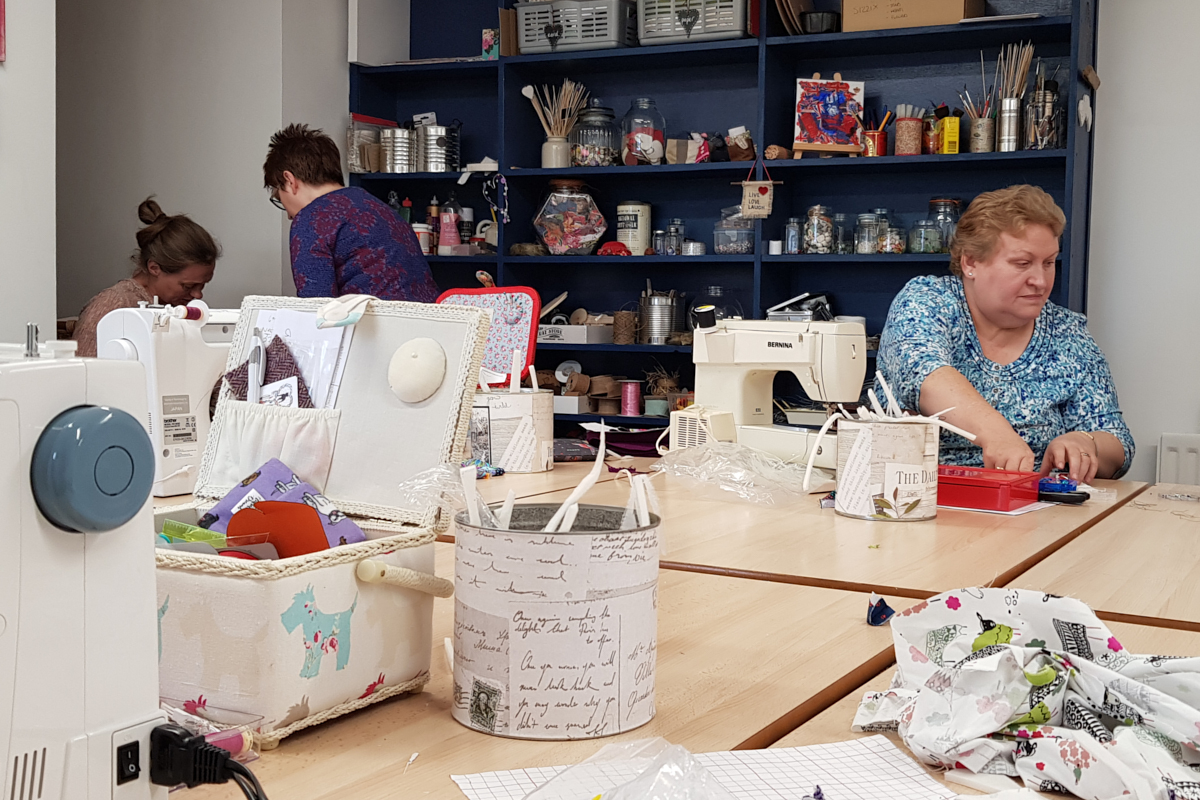 We got a sewing pattern and supplies (foam, bag frame, interfacing, etc.), and Emma also explained every step very clearly. As most of this was fairly new to me, I was not going very fast, but it all made sense and I just focused on being precise and understanding what I was doing. I learned about top stitching and bag construction. Interfacing is used at all times (I never used that before, that's why my bags turned out so soft and ugly). The added foam made the bag more plump and sturdy.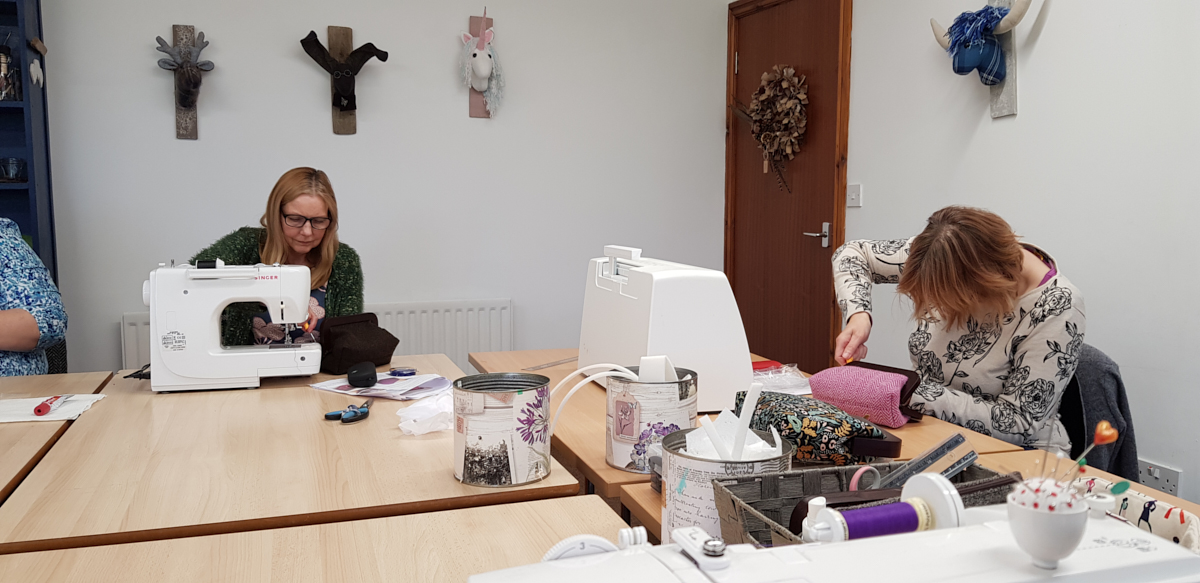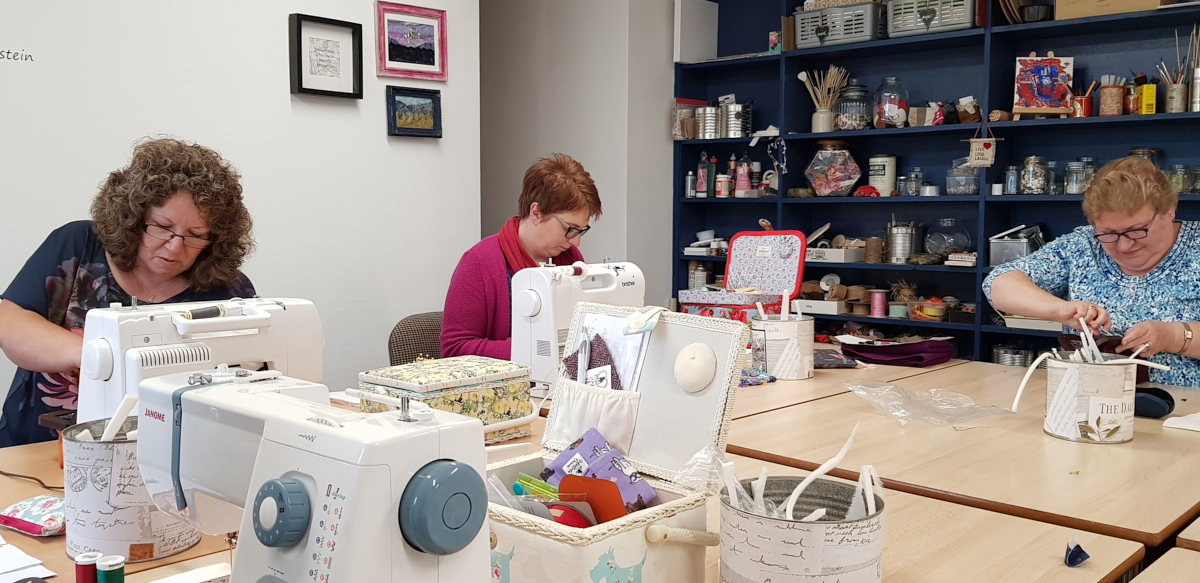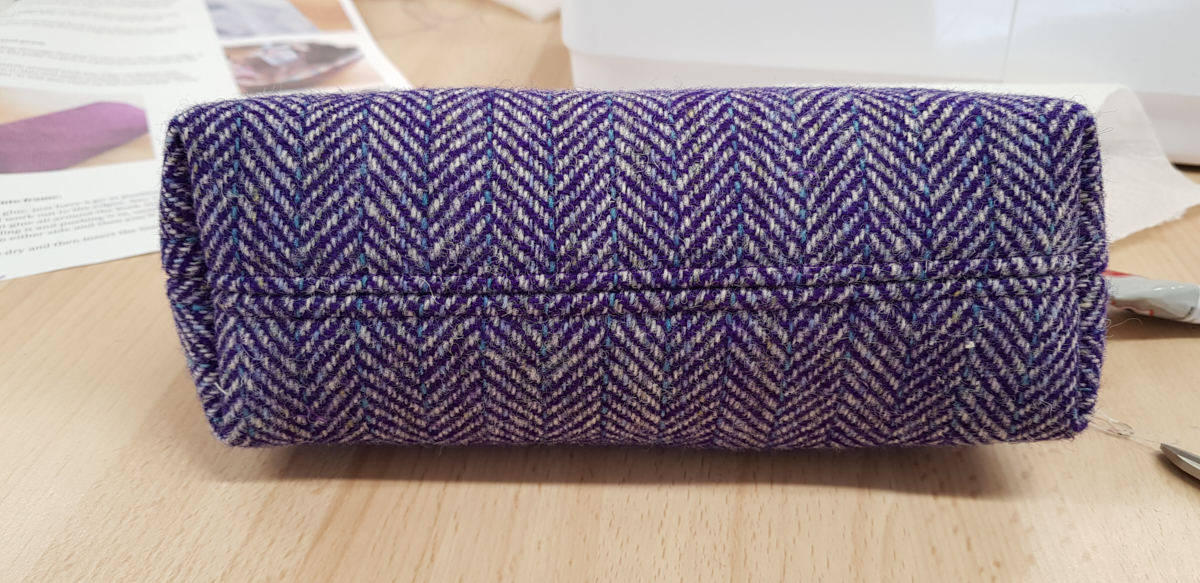 So after an hour or two, most of us had sewn a nice inner and outer bag, joined them together, top stitched it, and… now the scary bit started! We had to glue the bag into the frame. Emma warned us that the glue would stain the paint on the frame if it touched it, so we had to be very careful. First, we practiced putting the bag into the frame without glue. Then, the moment of truth was there. The secret was not to feel rushed, to take your time, because the glue didn't dry that fast anyway.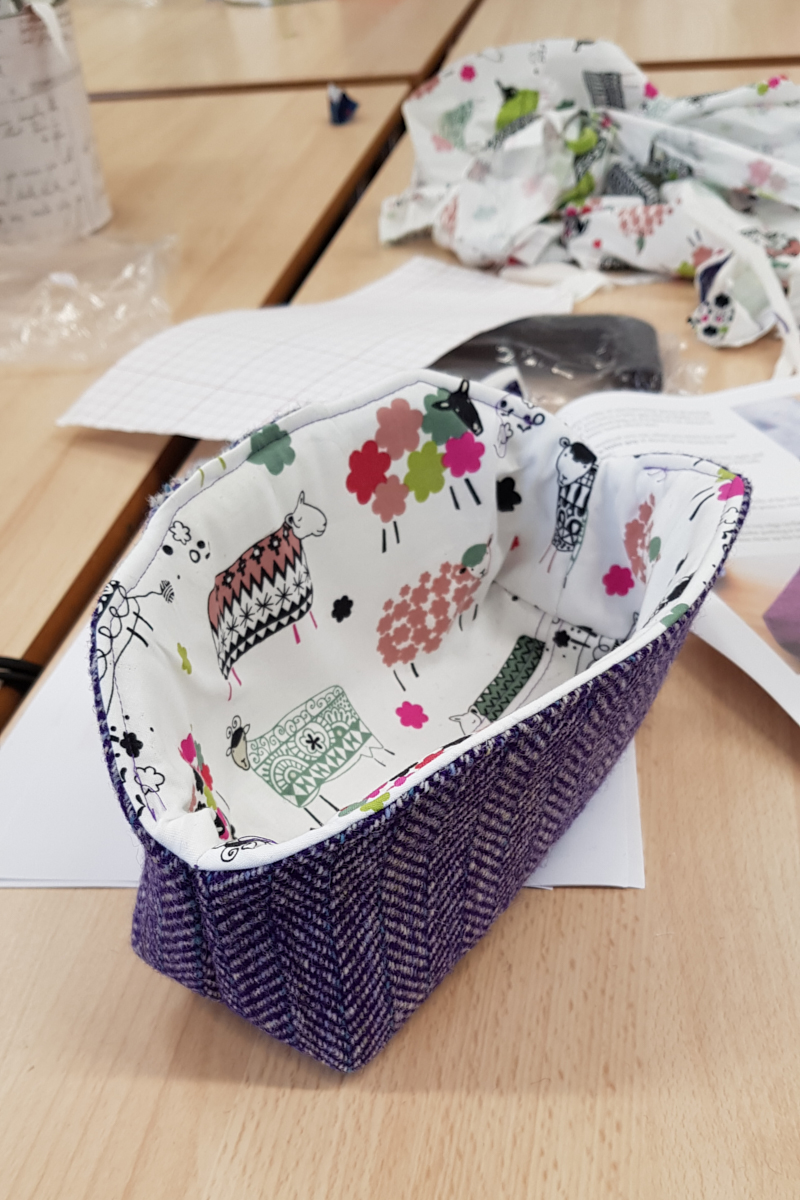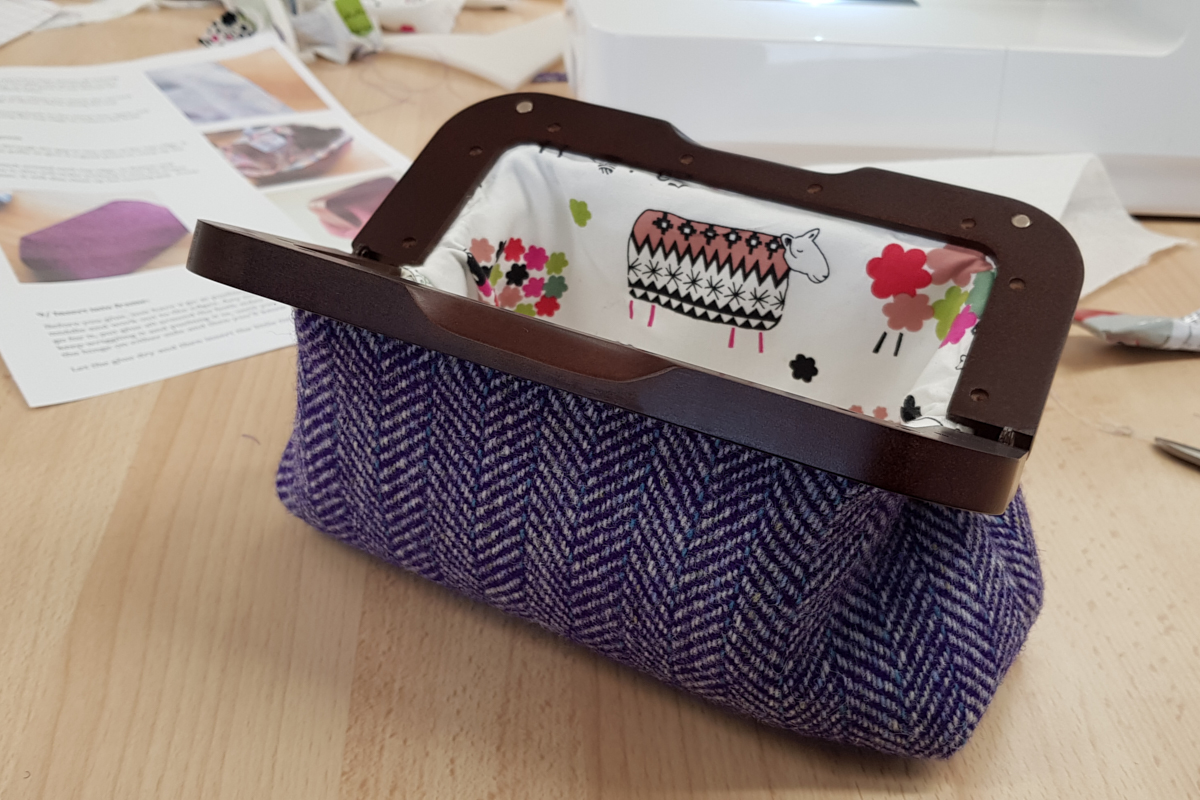 When everybody had glued their purse into the frame, we went downstairs for a lovely lunch. We chatted, and some of us bought something in the shop. We ooh'd and aah'd over some very nice and soft handwoven tweed from a "secret" supplier (that everybody wrote down the name of immediately). Then we went upstairs to finish the clutches. We screwed the screws into the frame, and we were done! Of course we took a group photo of the finished clutches, and then I went home, proud as a peacock!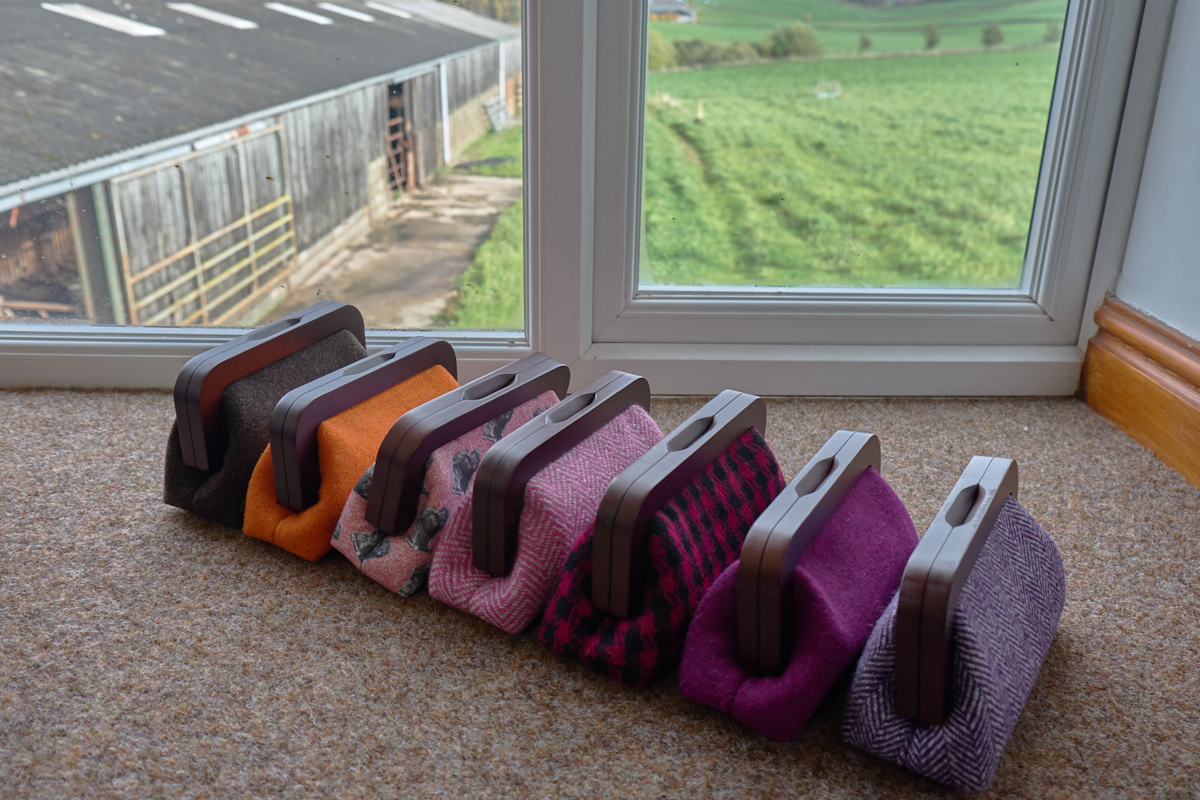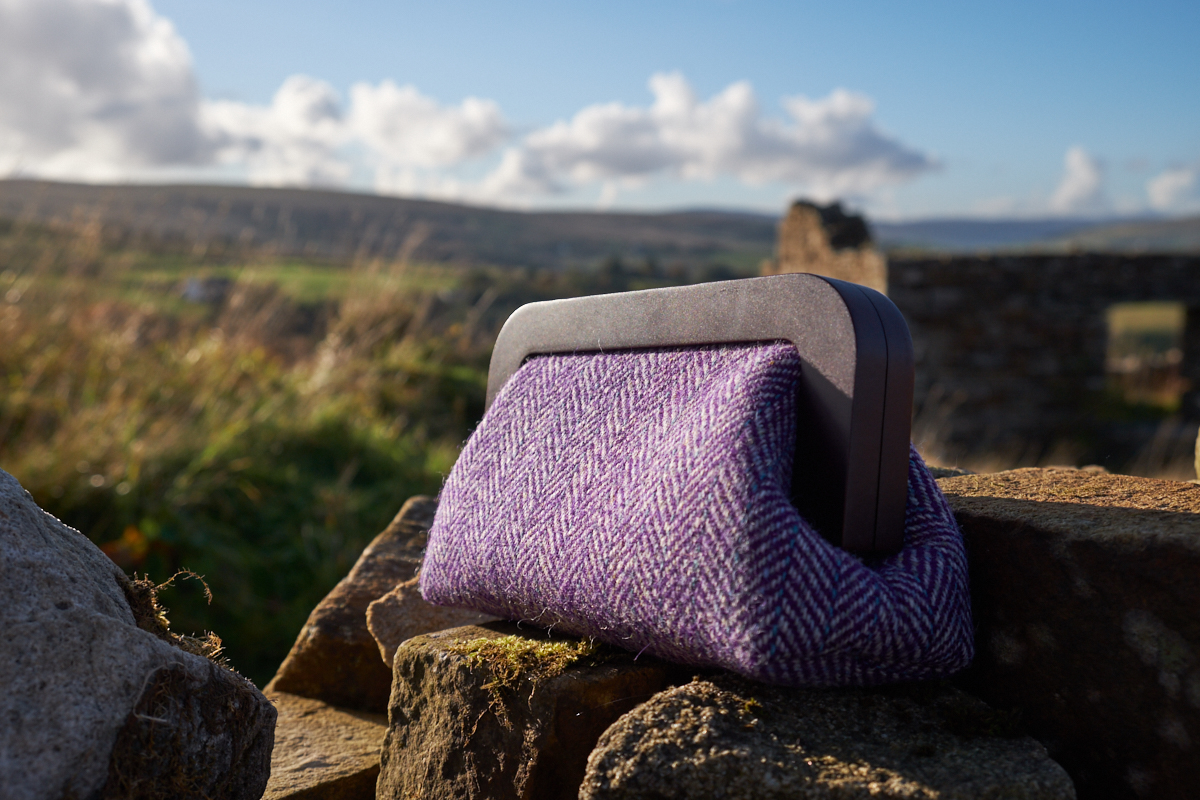 On another day, we visited the High Force waterfall. There was still more water coming down than usual because of the storm Callum from a few days earlier. We heard that someone had jumped down the waterfall just days before. Crazy, because the water is wild and cold and the rocks are hard. He could have easily been killed. I loved the waterfall and the surrounding area. The fall colours made it even more beautiful.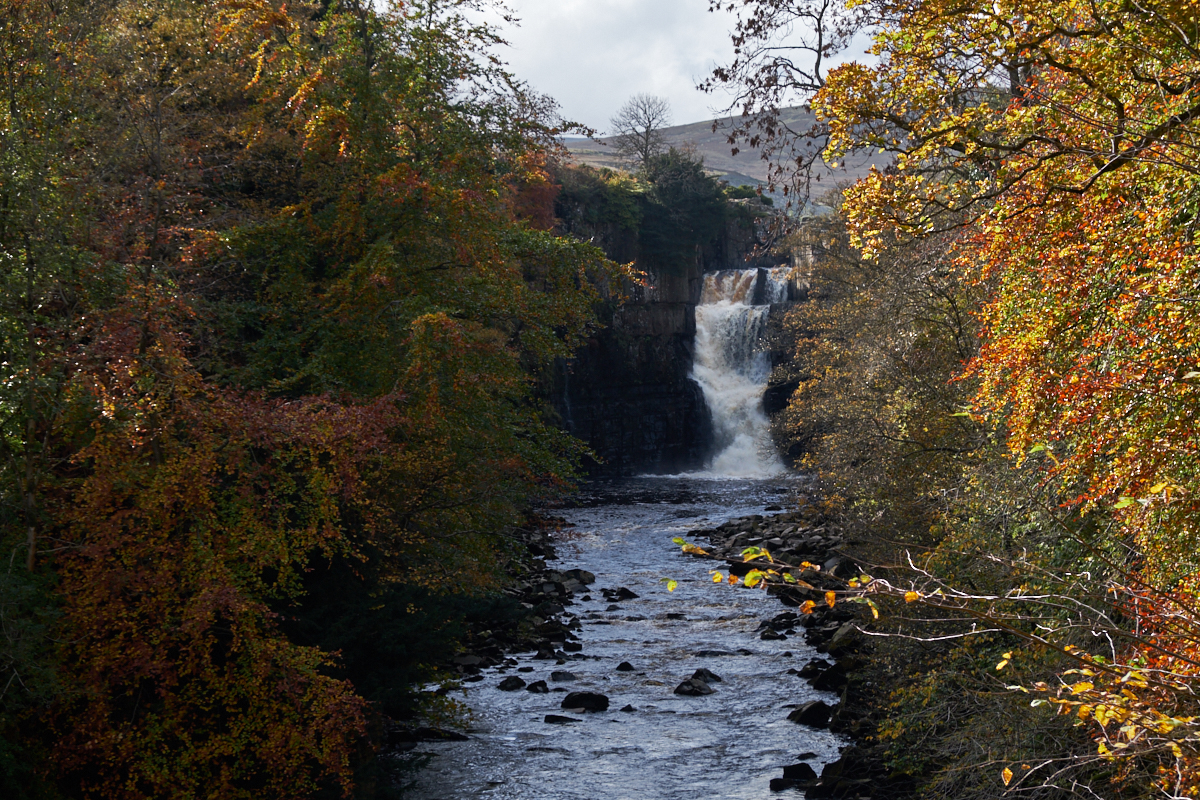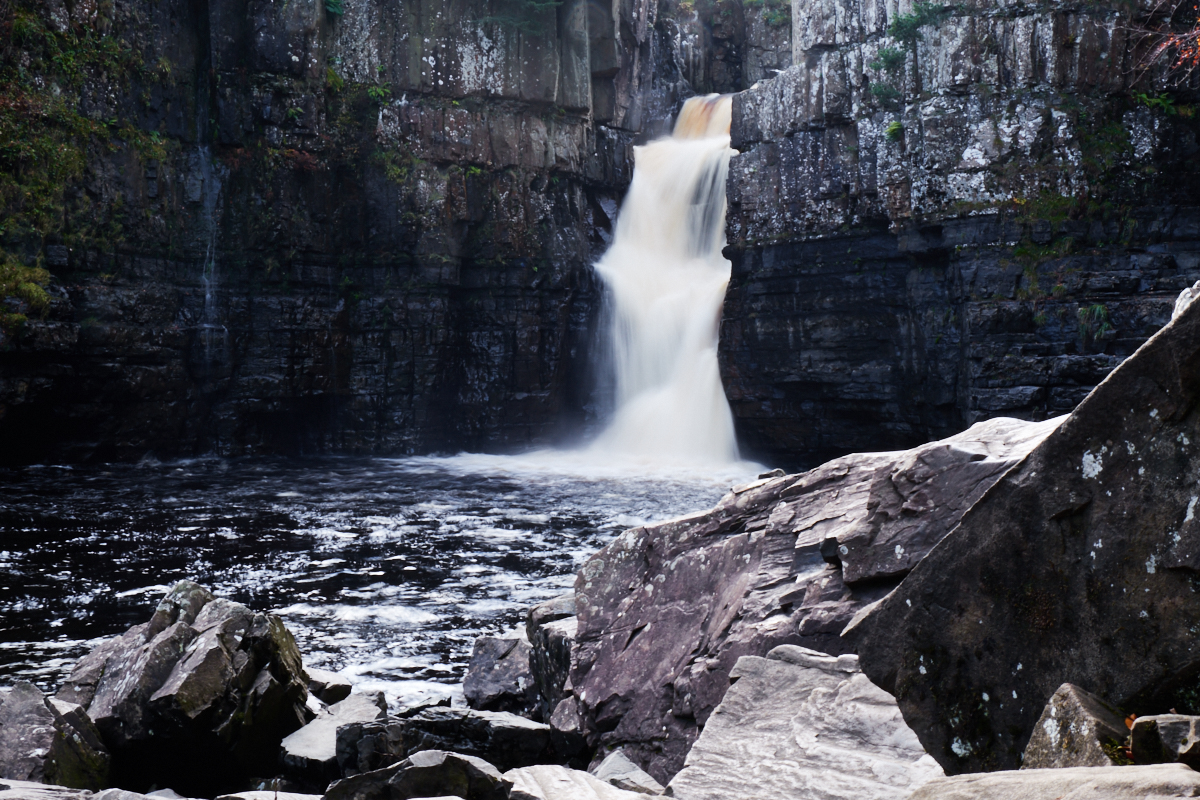 The astrophotography night was not the only night with frost. In the second week, we woke up to hoarfrost outside, and fog in the dales a few times. I took a walk outside in the crisp morning air, with the sun in my face, and passed a local woman who said "It doesn't get better than this!", to which I heartily agreed, of course.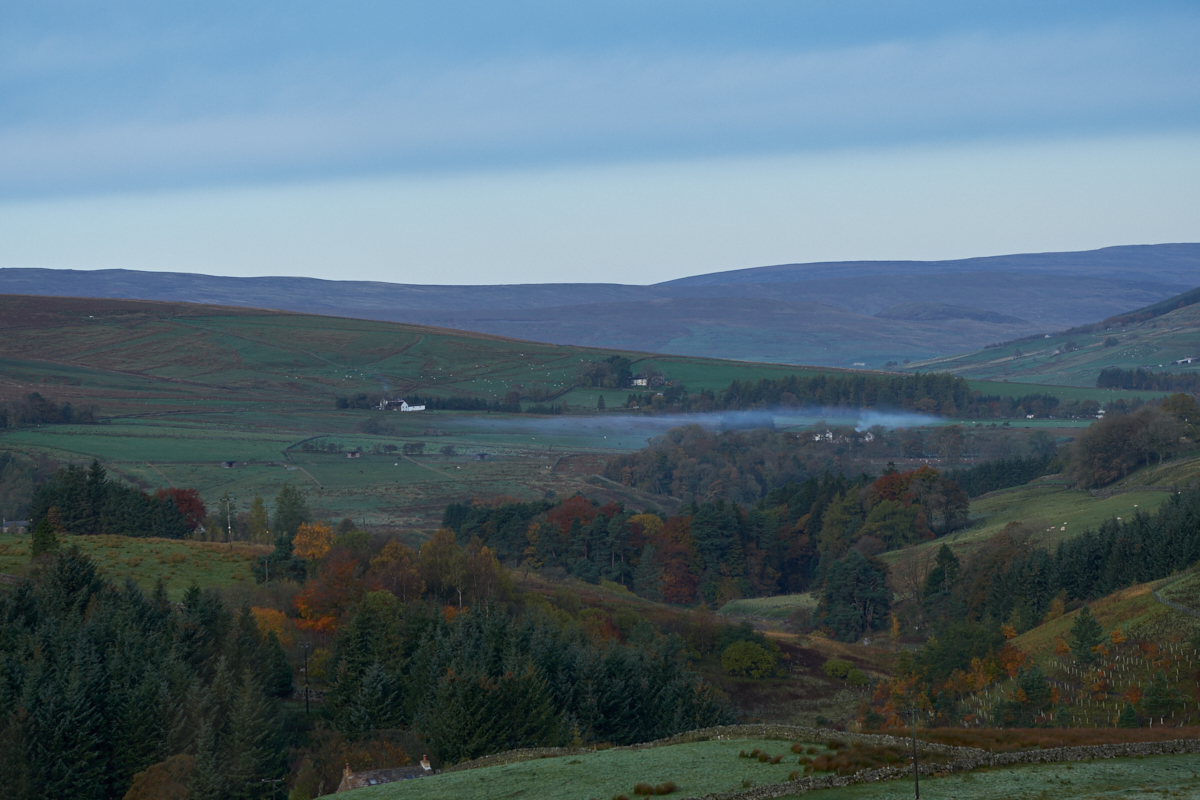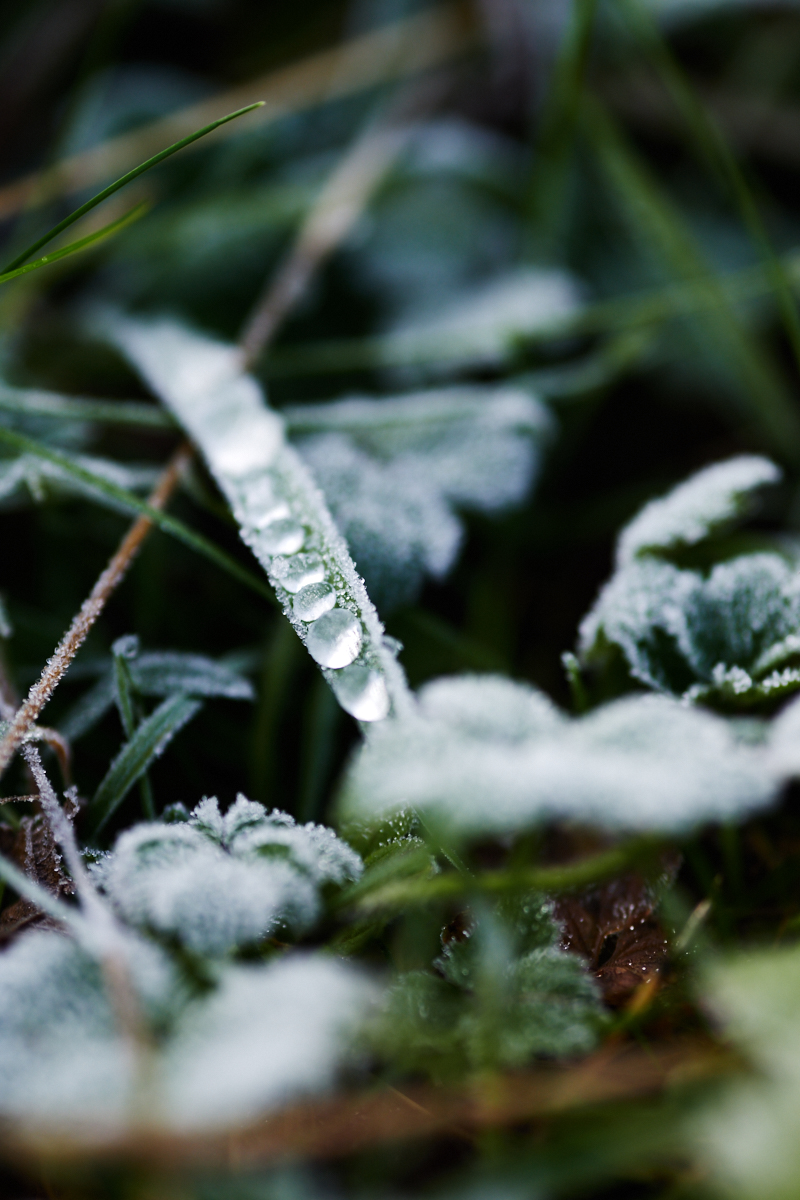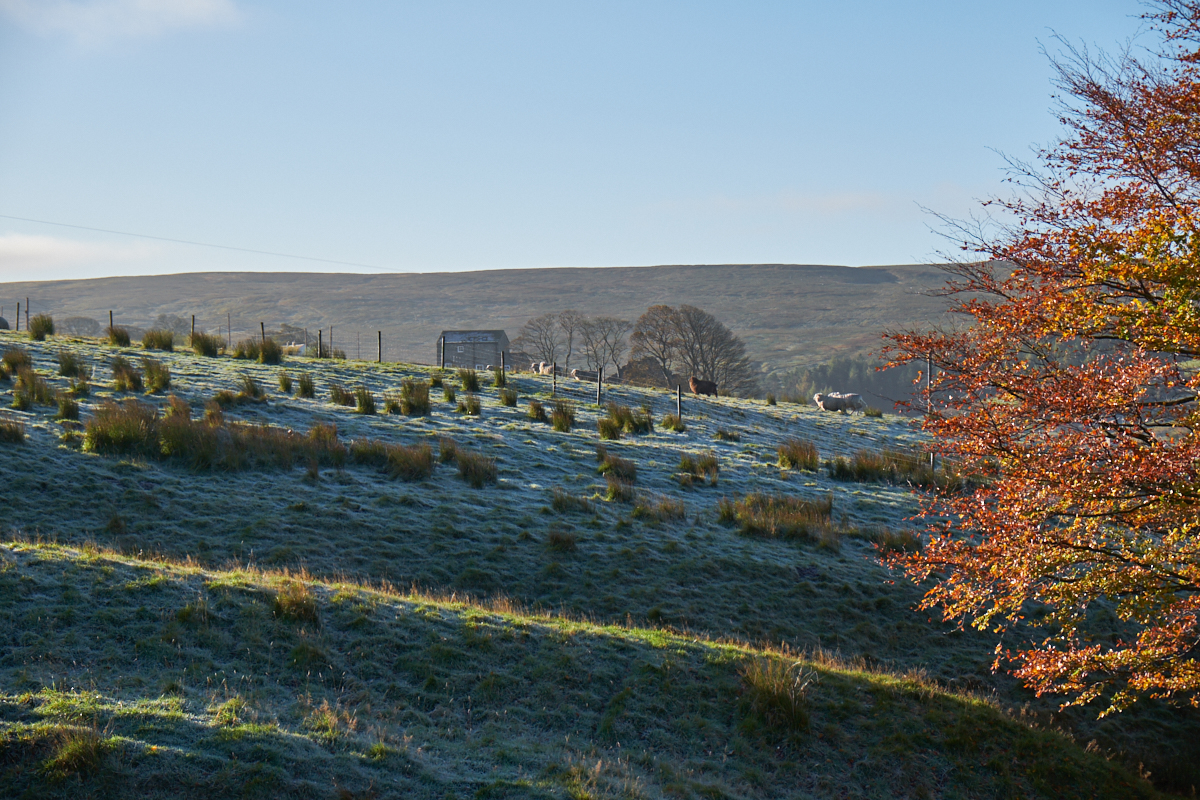 We drove through the North Pennines in both Cumbria and Northumberland. Somehow, the Cumbria side seems friendlier, and the Northumberland side seems more stark. There are no walls or fences there keeping the sheep off the road, so you have to really pay attention to what they are doing when you are driving past them. They can be unpredictable. The vistas were marvellous and I could drink those in all day.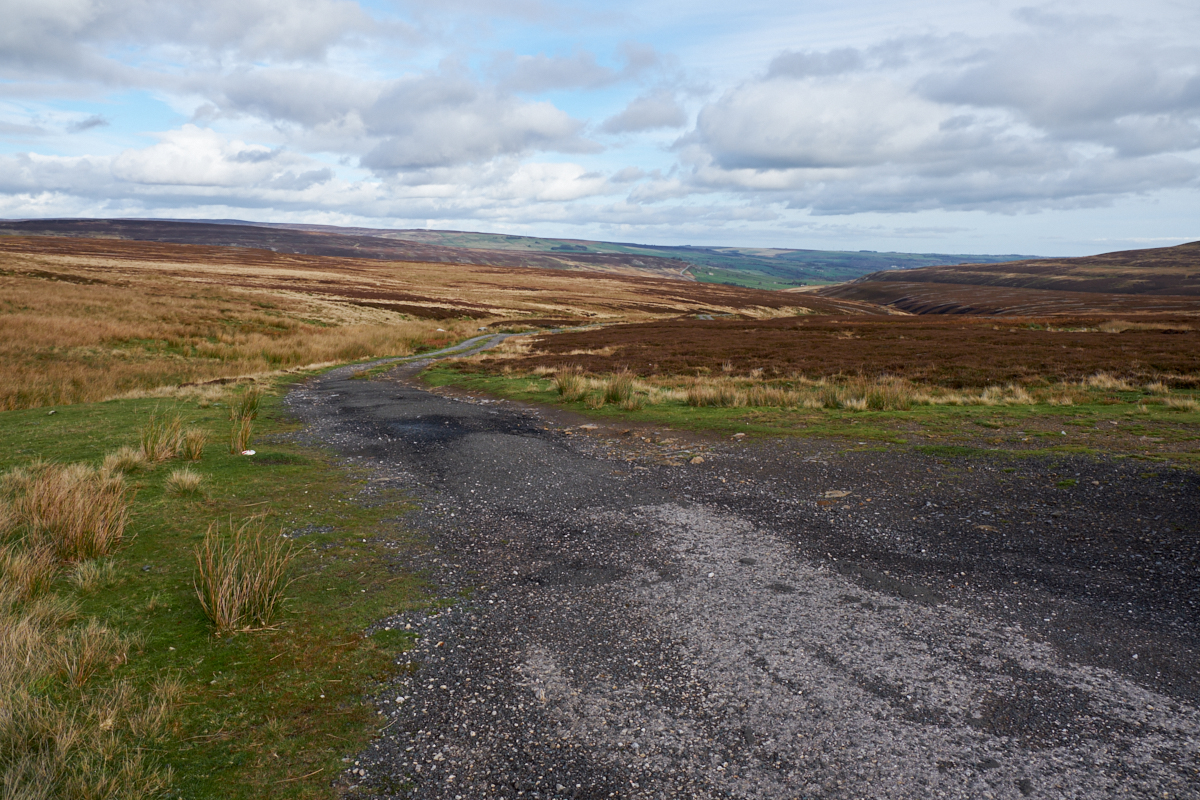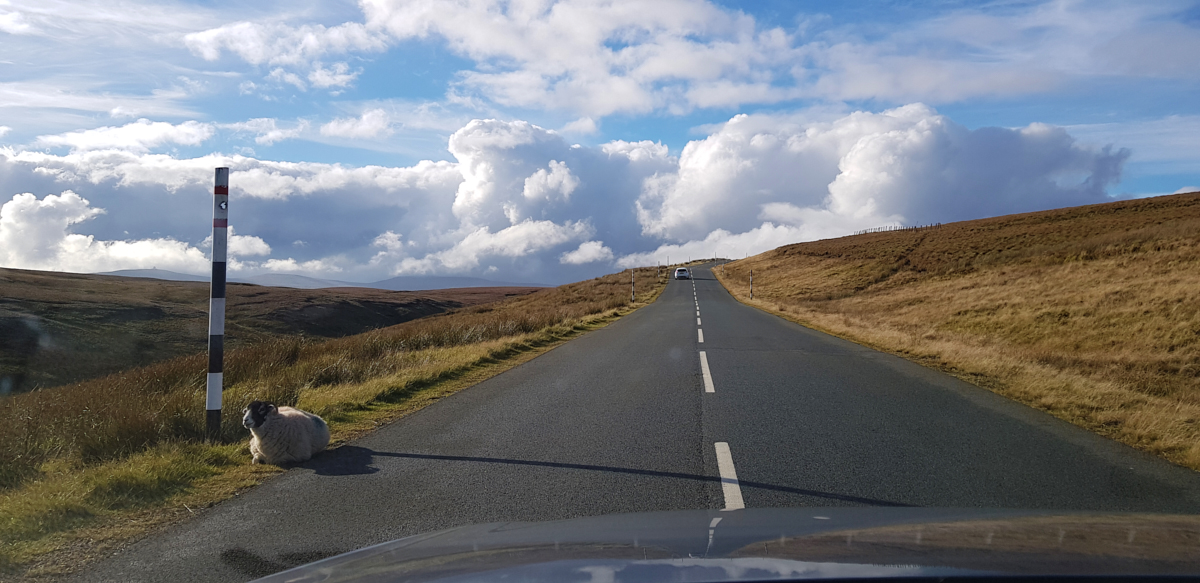 Even though the surroundings are mostly browns, after a while you start to see how much colour there really is. Red plants, some greenish grass patches, blue sky, grey clouds, golden grass, white sheep, purple bits of heather… It's subtle, but so beautiful! And the sun and shadows play with the colours, turning the hills into an enormous caleidoscope, ever changing, yet the same. And the sunsets are different every day!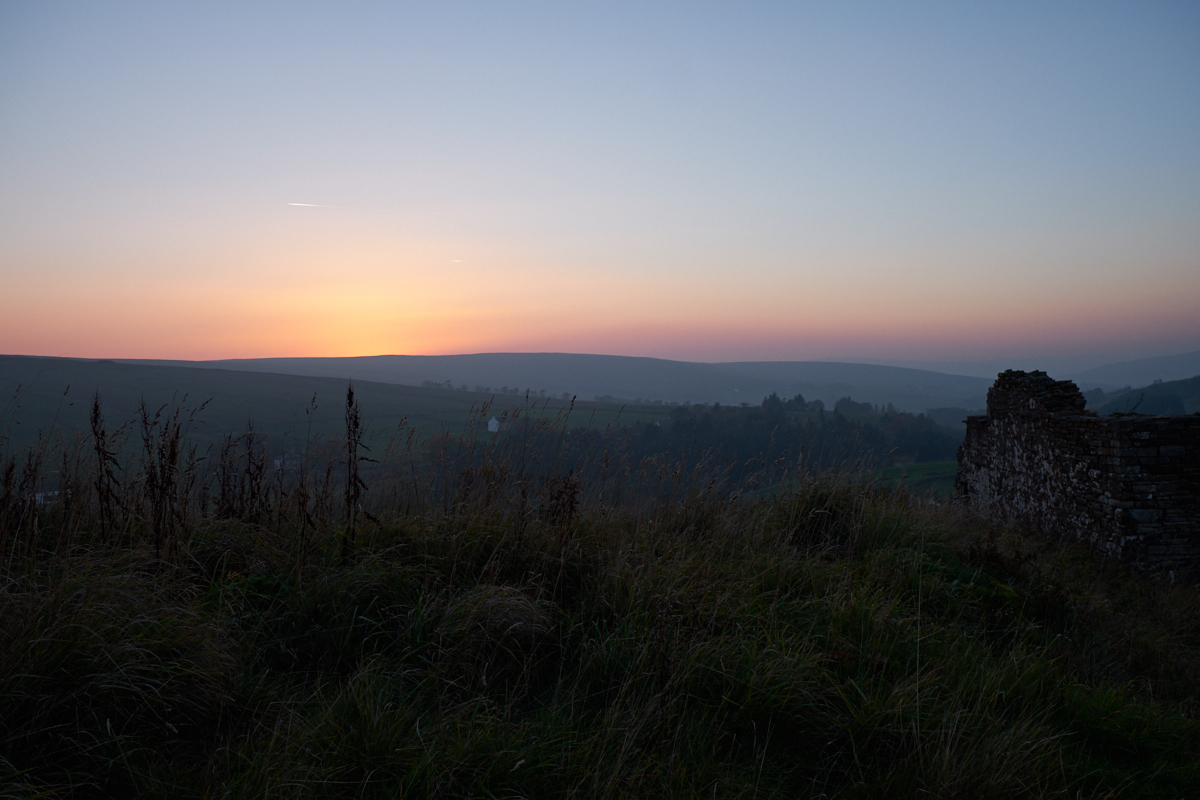 We also visited Carlisle again. It's a charming city, and we took a walk through the city centre. Then we had coffee and cake at Patisserie Valerie.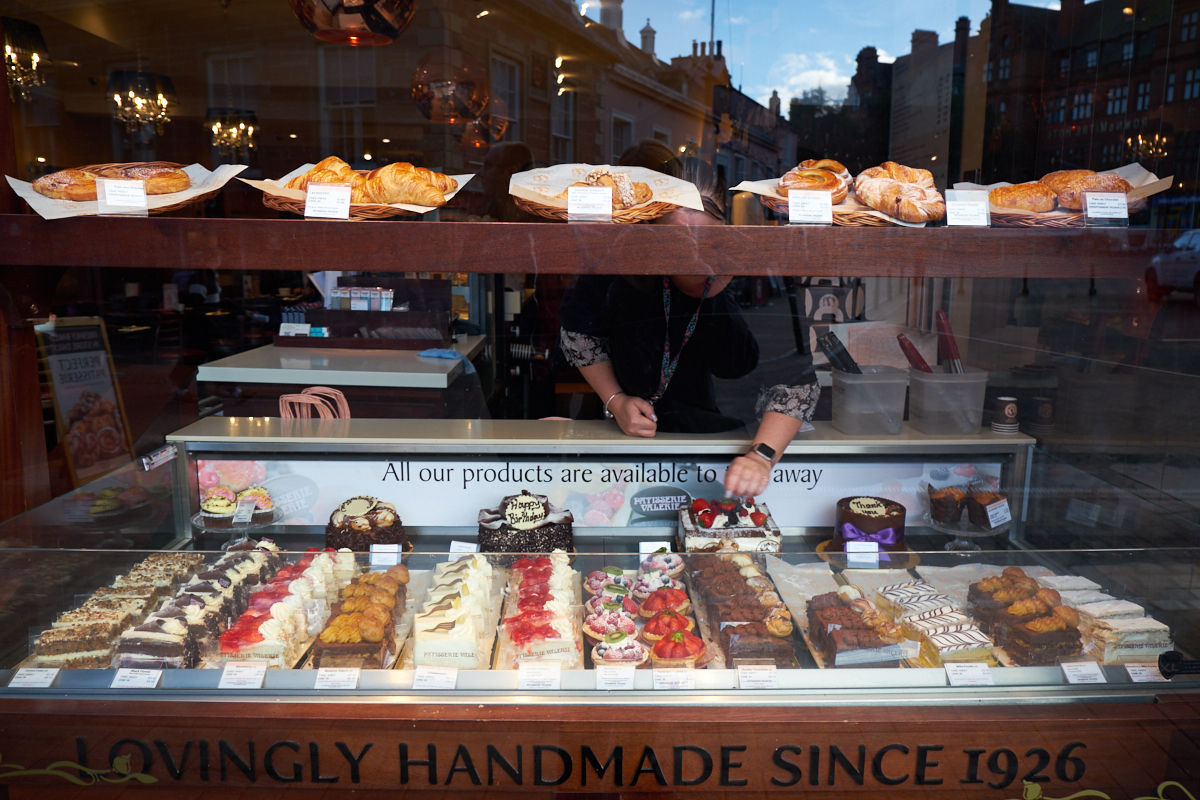 Then, after two weeks full of blissful solitude, it was time to leave. I felt rather miserable that we had to go, but at least I had something to look forward to: we were driving back to Birmingham to visit Destination Star Trek! This was our first time to visit a Star Trek Convention, and we were really curious what it would be like!
We stayed at a B&B close by for two nights. On Saturday, we visited the convention. We were both still rather tired from the trip and from not sleeping very well. We stayed with an elderly couple, so the house was quite warm. We're both not that good at sleeping in a warm room – our bedroom at home is not heated and the window is always open.
We knew to arrive early at the convention, because there was going to be a lot of queueing, as I found out on the all-knowing Facebook group about the event. Thousands of visitors were expected to visit, and most of them would want to go in as soon as the doors opened at 10. So we arrived around 8:30 and there was quite a queue already…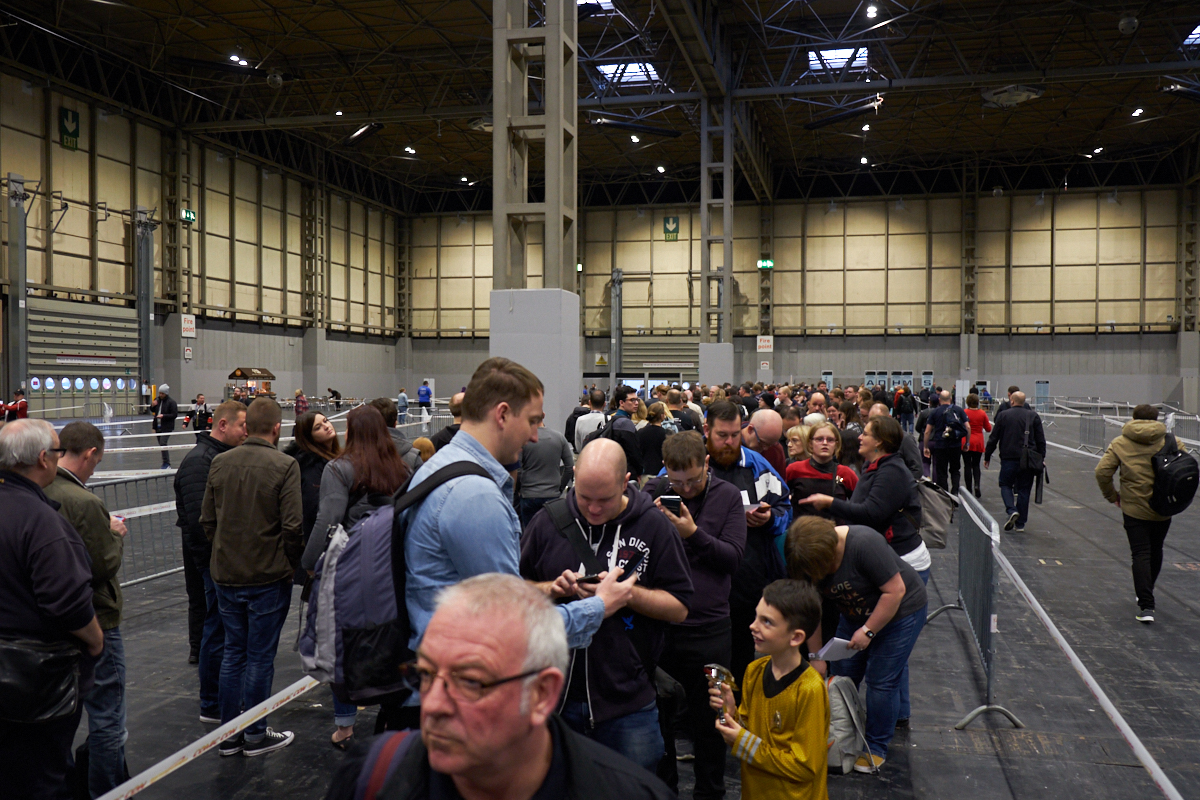 One thing that I noticed immediately was the diversity of the visitors. They were of all genders, all ages, in costume or in normal clothes, of all skin colours, and this really touched me deeply, especially in the times we live in. Everybody was so friendly and it is amazing to think that a tv show can bring people together in this fashion. But of course, that's what Star Trek is all about: exploring and respecting diversity!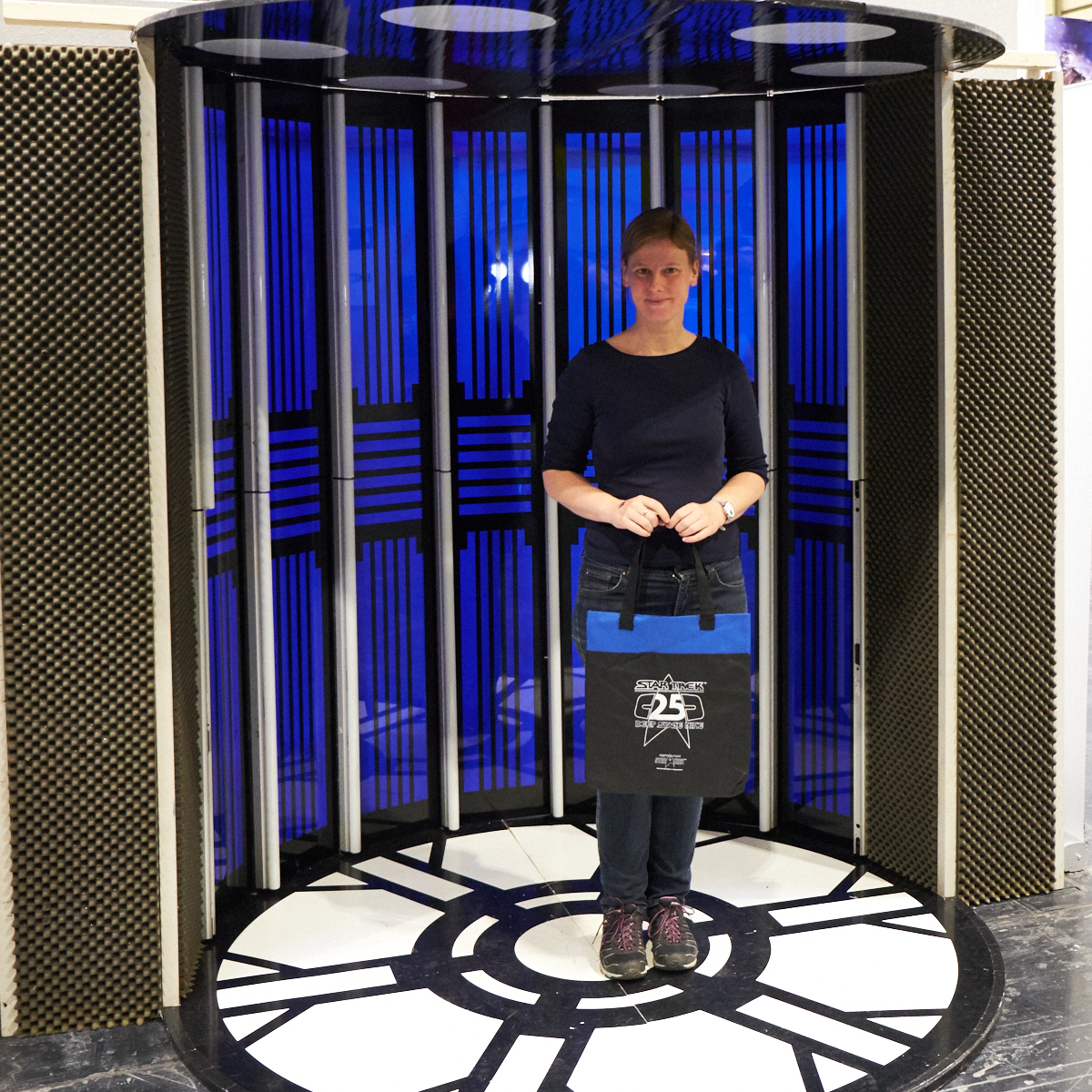 Of course, the organisers of the event were just in it for the money (as you'd expect). Sometimes it was blatantly obvious, for example, the audio and camera people were not professionals, and the hall was not very atmospheric. Throughout the day, you could have your picture taken with one of the attending actors, get their autograph, or attend talks. All for a decent amount of gold-pressed latinum, of course. And there were stalls with merchandise and collectibles as well.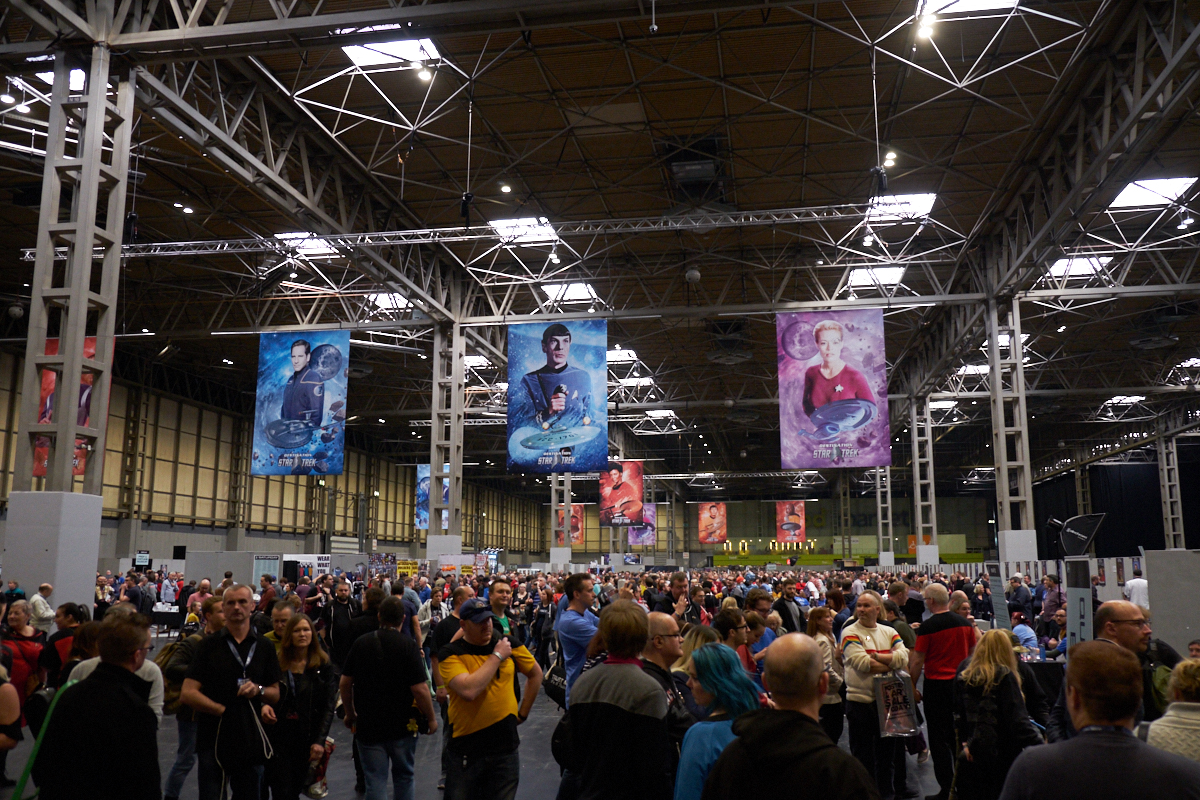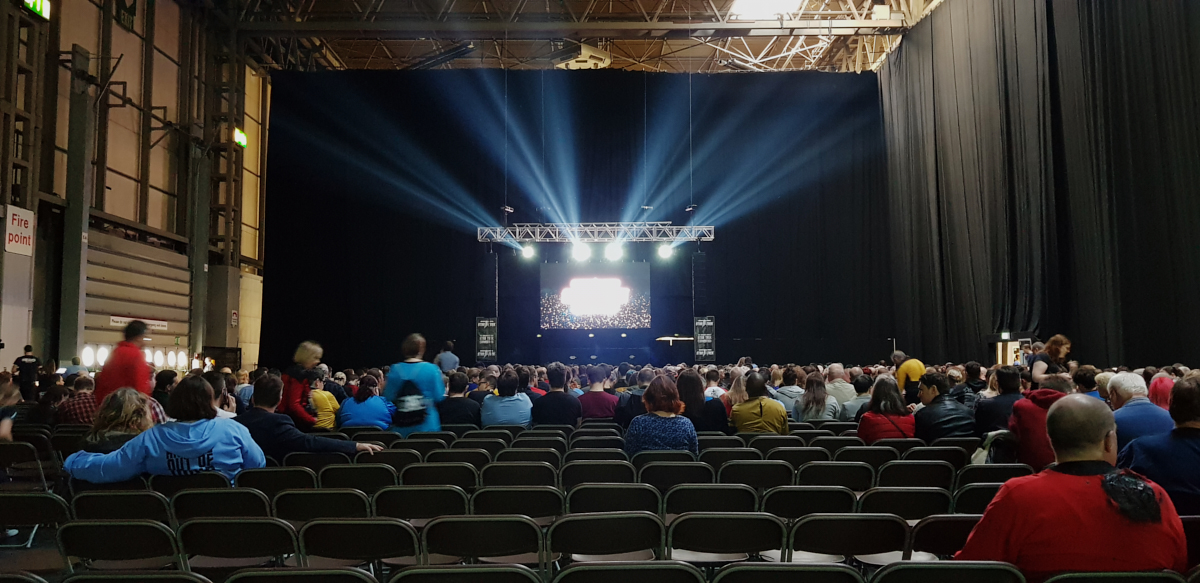 We attended a talk called "25 years of DS9", which we expected to be about the Deep Space Nice show that we loved (it's my favourite Star Trek show), but instead, it was more about the recently made DS9 documentary and about Ira Steven Behr. Some tidbits were interesting, but it was not what I had hoped for. We did get a bonus appearance of Alexander Siddig (Dr. Julian Bashir), who kind of talk-bombed the stage at the end. That was fun! But I should have had my photo taken with the amazing Jeffrey Combs instead.
After seeing most of the free stuff and the stalls, we decided to go to the city centre of Birmingham for lunch. We ate a bit at Wagamama, which served fresh Asian food, and enjoyed that. Then we went back to the NEC.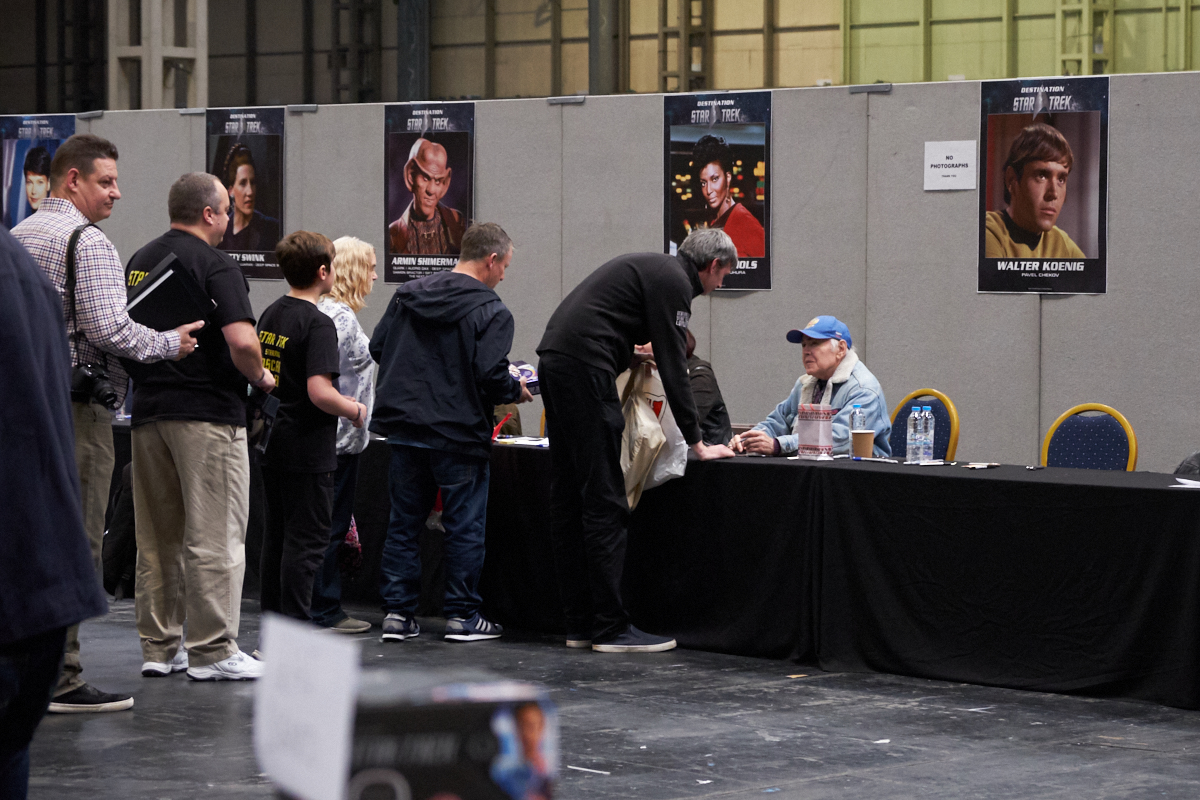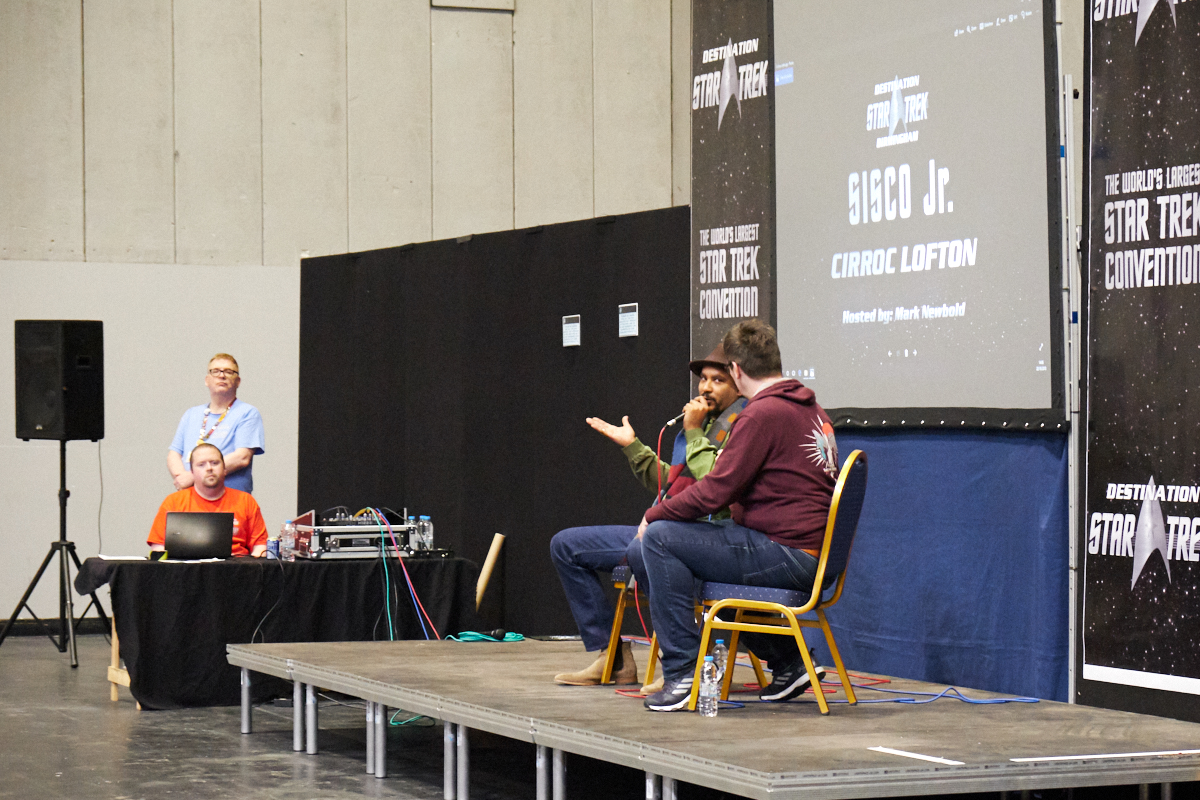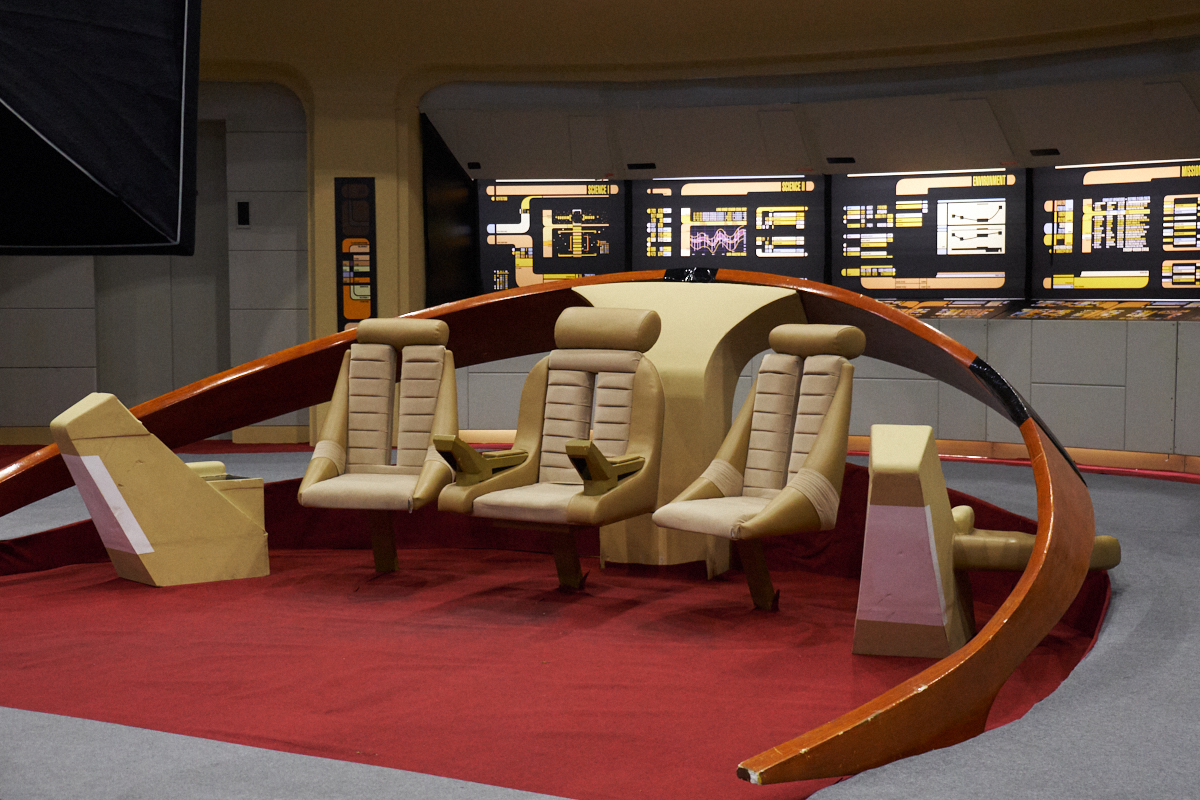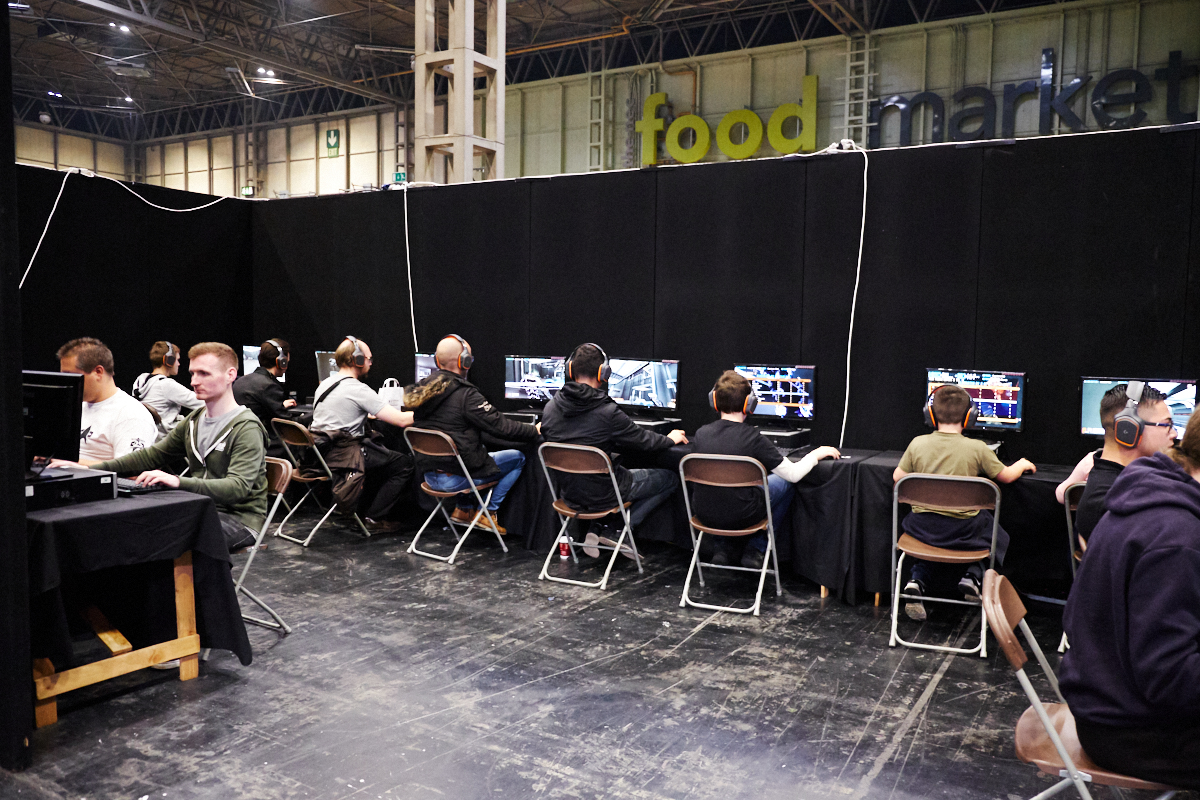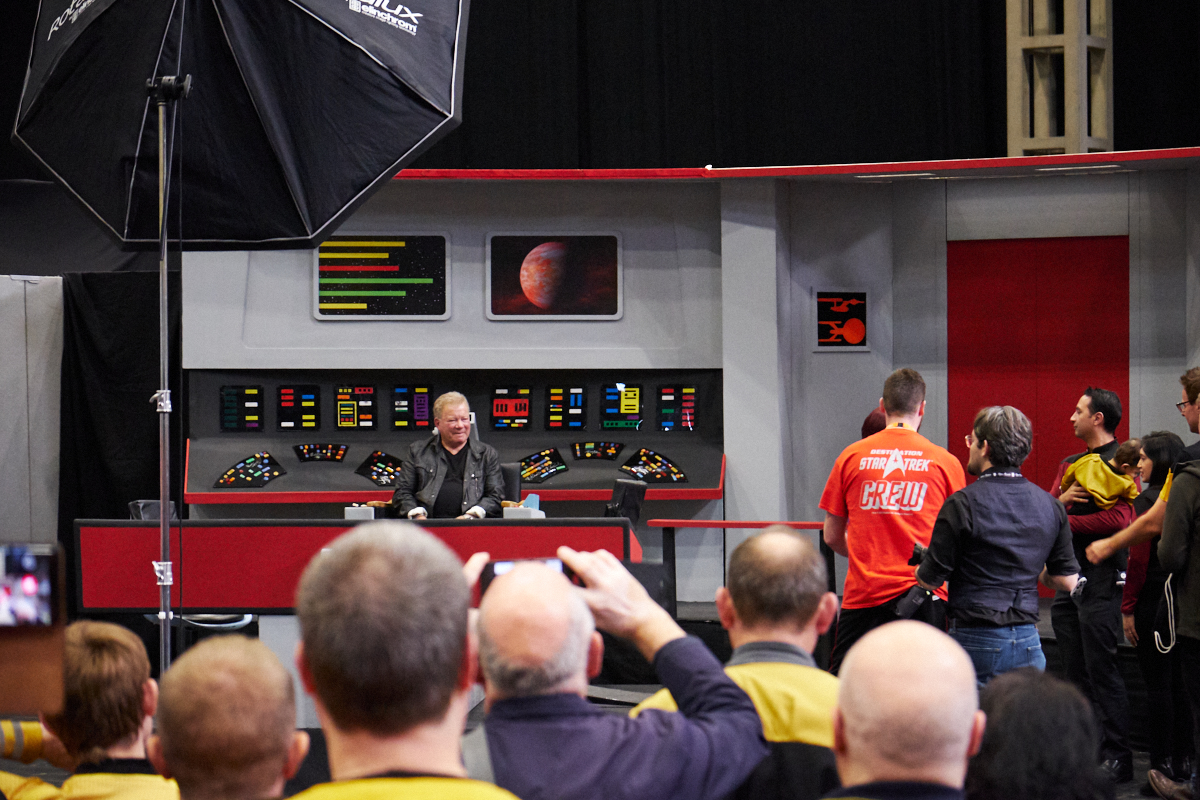 In the afternoon, I had a photoshoot with one of my favourite (Star Trek) actors: Andrew Robinson, who played "plain, simple Garak the tailor" masterly. In real life, he is not at all like the secretive, snake-like Cardassian spy, but he is a very kind, loveable man with a wonderful smile. I'm still a bit star struck!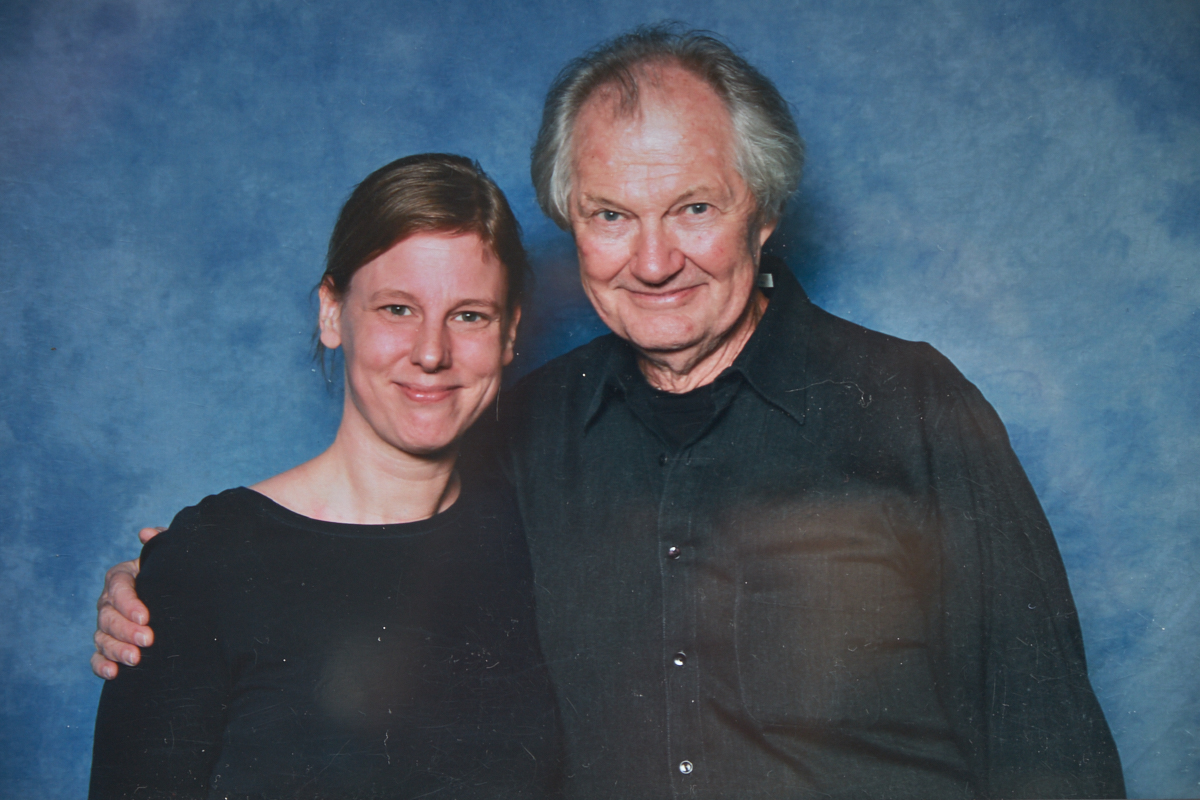 I didn't get his autograph, though. I like the picture as a memento of meeting him and thanking him for his great portrayal of Mr. Garak!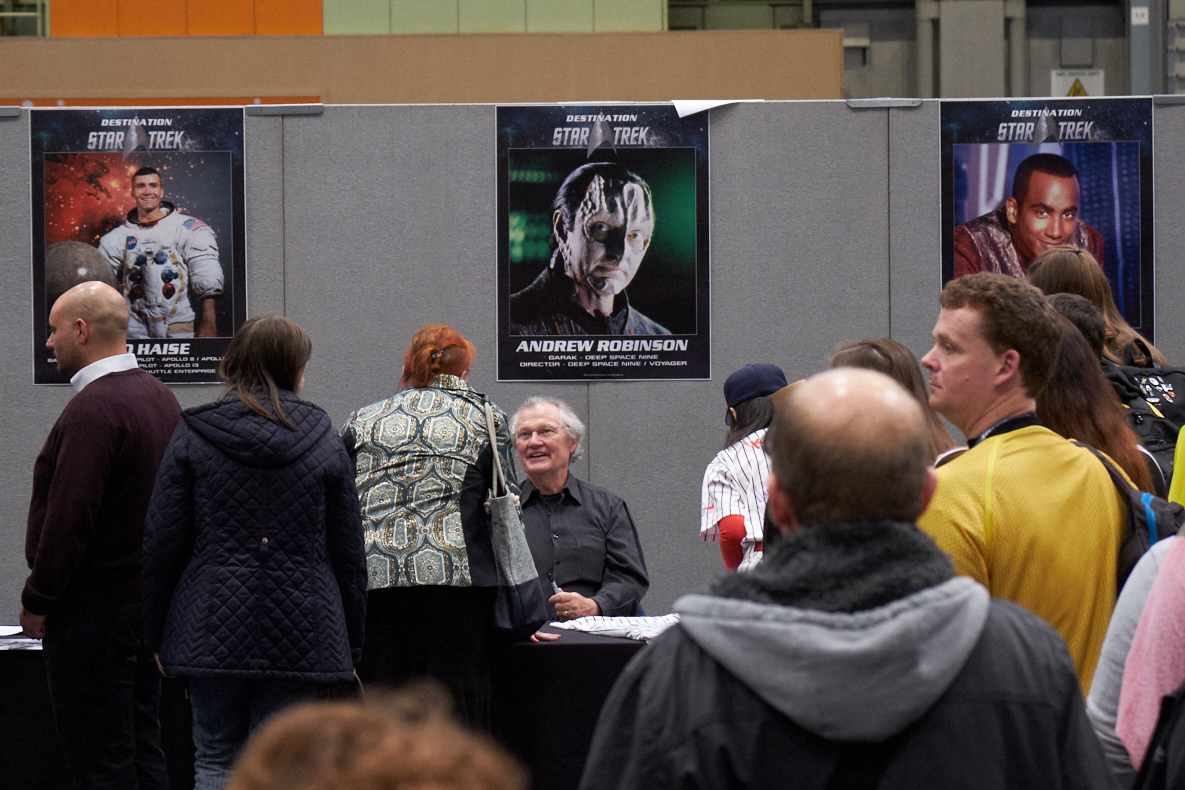 It was fun to see all the people who dressed up. Many of them had crafted their own costumes! There was a competition for best cosplay too.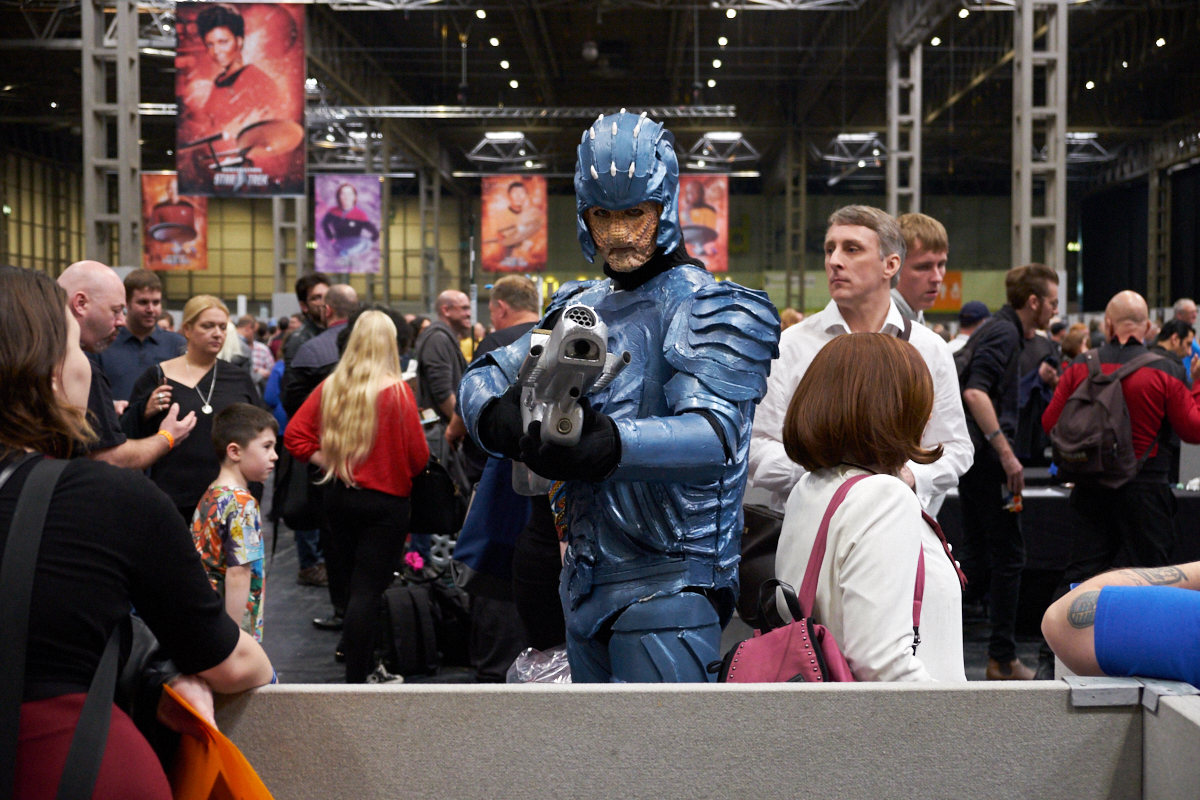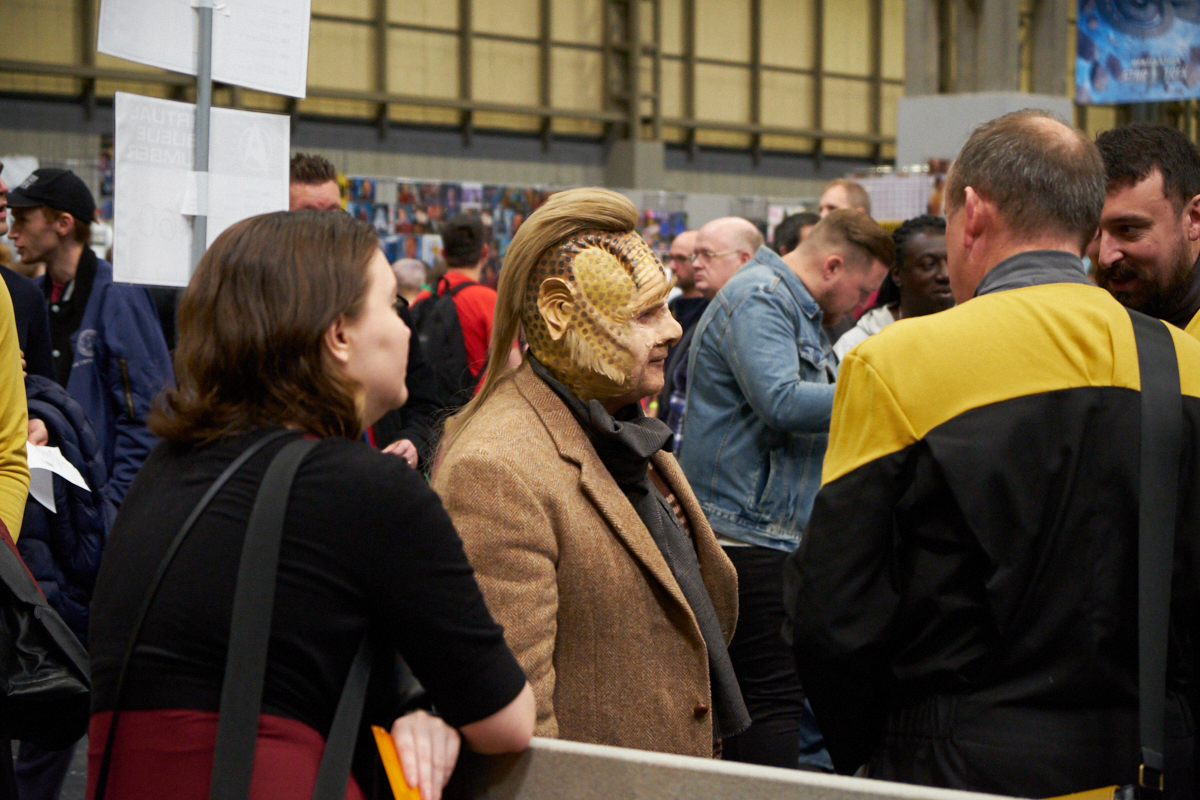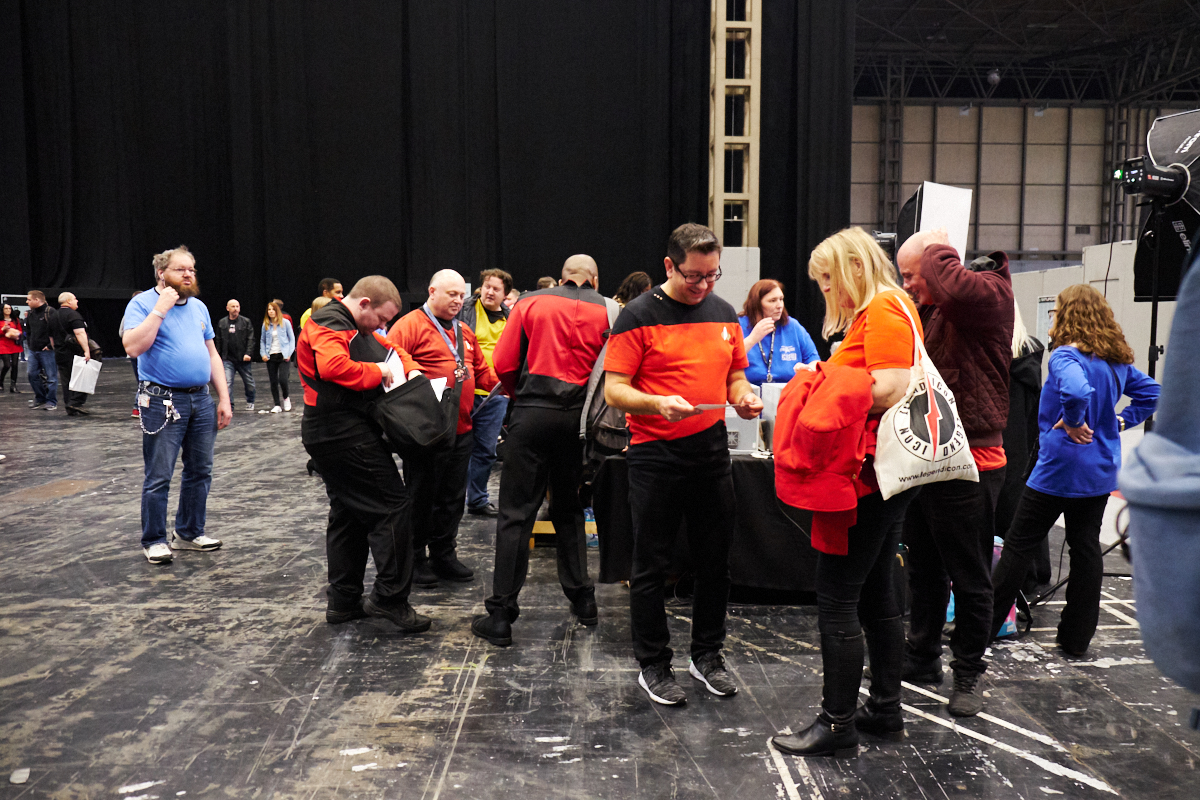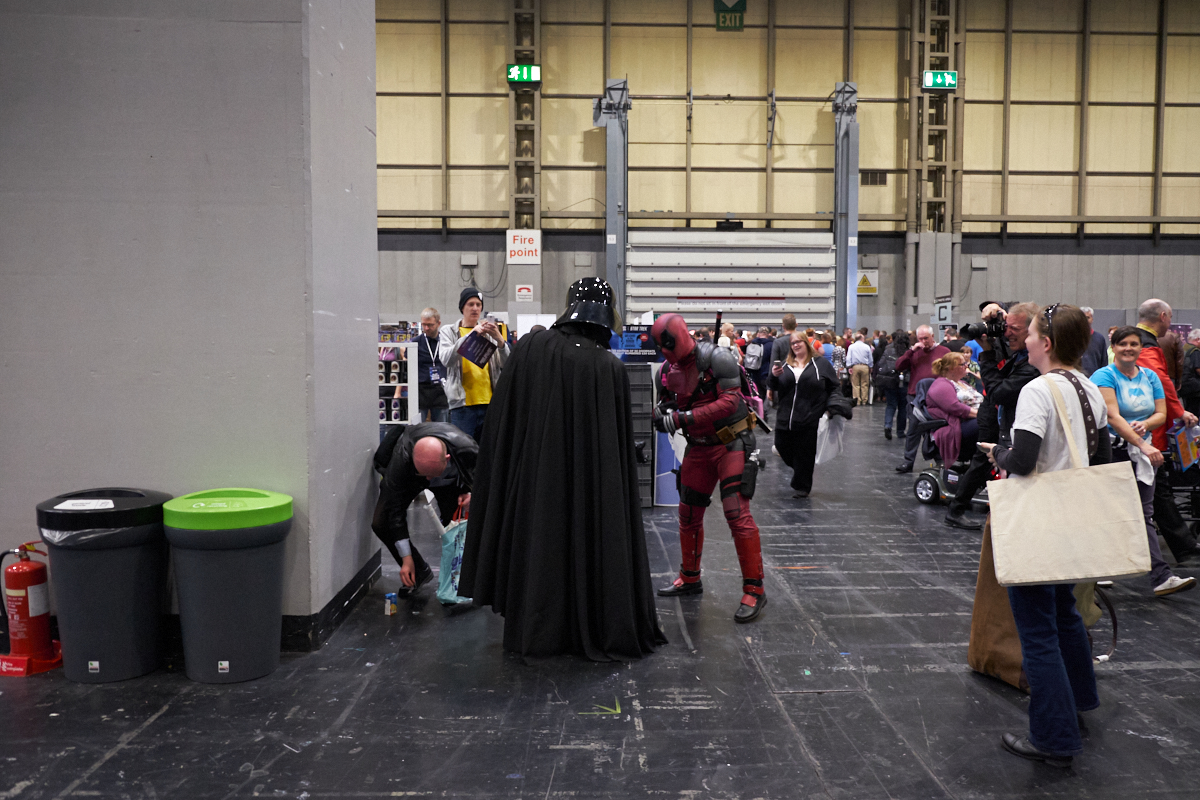 It was a great day, which we could have appreciated even more if we had been well-rested. We did enjoy ourselves, and we also enjoyed the peace and quiet when we went back to the B&B.
The next morning we journeyed home. We took the bus to the airport, which is in close proximity to the NEC where Destination Star Trek was still going on. Three or four of our fellow passengers were going there, and it started to itch a bit. Perhaps we'll go again someday!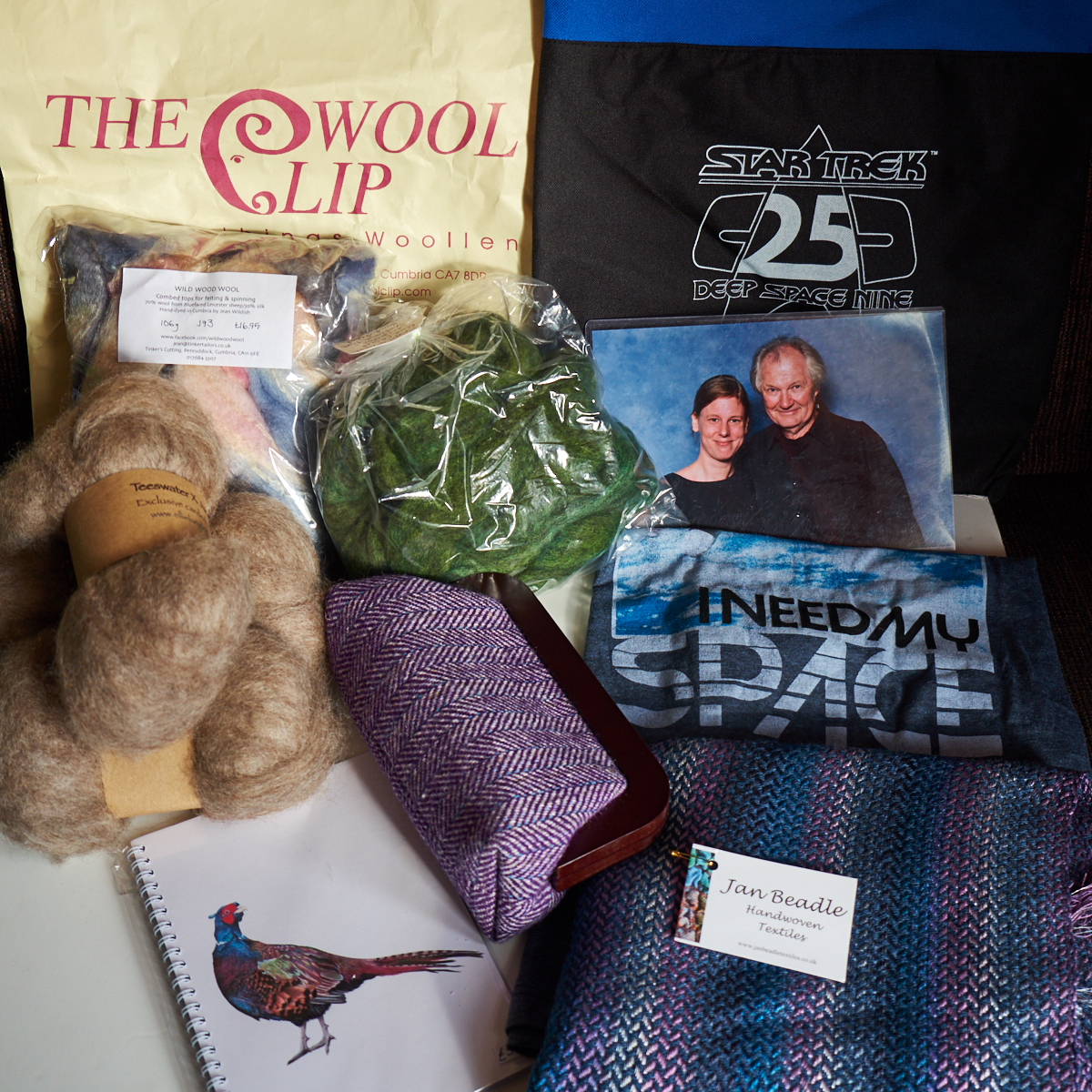 So, after this memorable holiday, I have some mementos to help me remember all the fun I had. They are both pretty and functional. I will spin the fibre while thinking about the beautiful Pennines and the sheep that live there. I will try to muster up the courage to wear the beautiful shawl (I'm a little scared that I will damage it). I will use the notebook from The Cane Workshop in Alston to write notable stuff. The clutch will be used for notions, and to remind me that sewing is fun. I'll look at the picture of me and Andrew now and then, and smile. I'll wear my "I need my space" t-shirt when going to yoga. And I'll use the 25 years of DS9 anniversary bag for my knitting projects. This way, I will bring some holiday vibes to the rest of my life!
And of course, I have another reason not to go on holiday again (soon):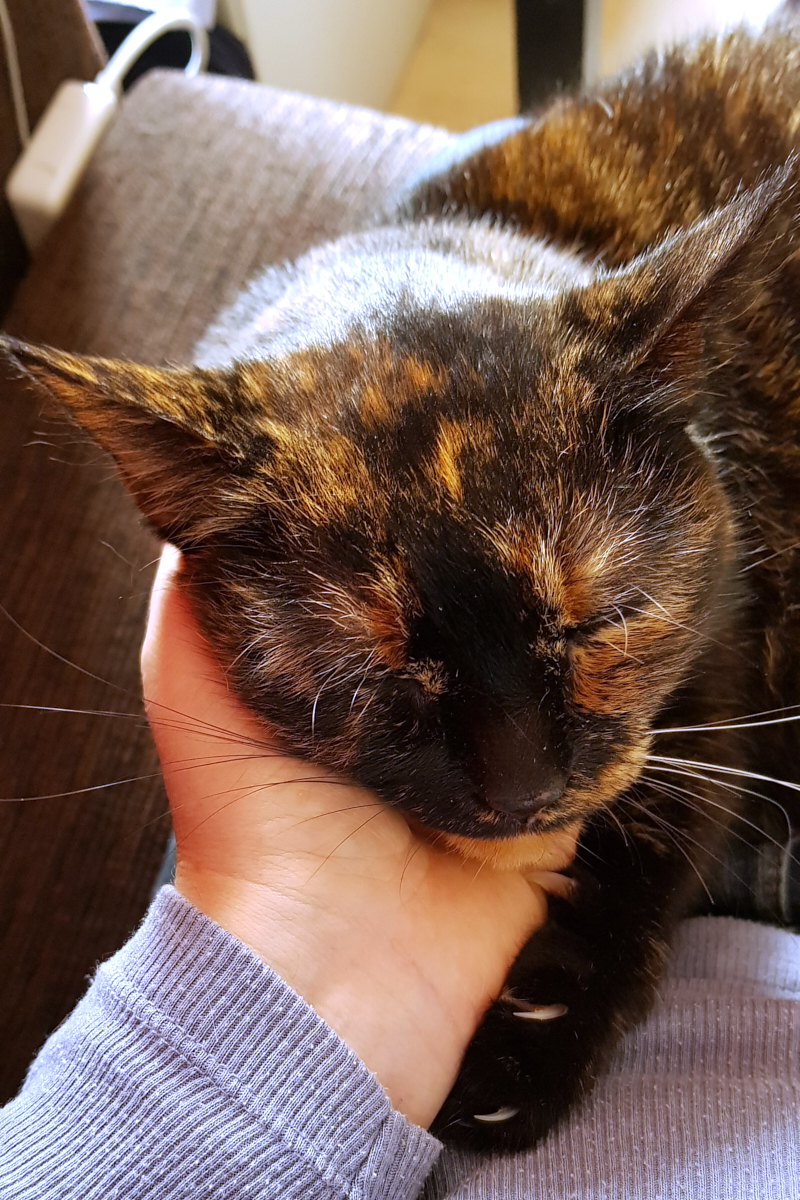 I missed you too, Freya.