Two weeks ago, the MirkwoodArts Thriathlon began. The Thriathlon is a SAL (spin-a-long) that runs for almost three months. It consists of three stages: Elves, Hobbits, and Dwarves. At every stage, the participants try to spin a nice project, inspired by the theme. 
For the first stage, Elves, I decided to combine a couple of Nunoco batts into a slow gradient. I used some Nunoco batts that I bought just before they closed their business: Midnight Moon and Wintergreen. Additionally, I added a custom mini batt which was a gradient too, from purple to green.
I made 40 rolags in a slow gradient from white to dark green, with hints of purple here and there.

Then I started spinning at the light side. I did not expect to finish this spin in the first stage, because we had only two weeks. However, as I spun along, it went faster than expected, so I sped up a bit during week 2 to finish the project in time.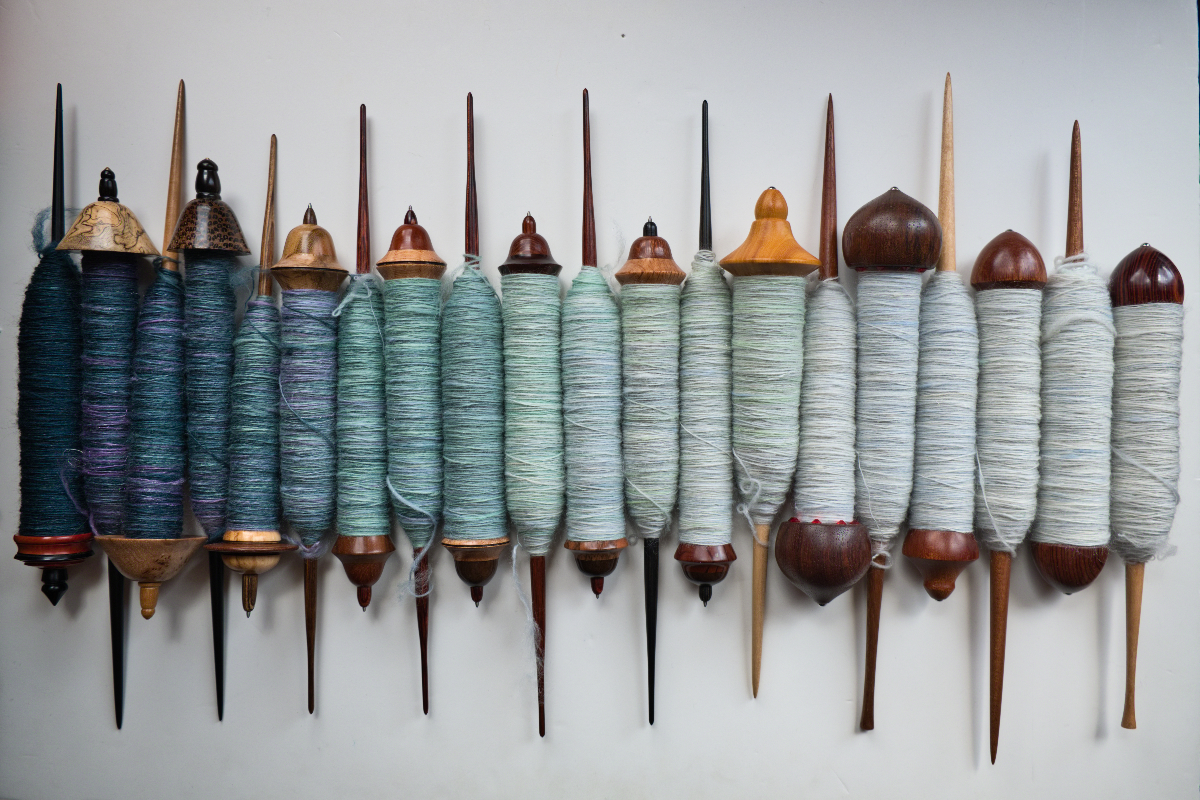 I spun two rolags per spindle (about 14 grams). I love the result! I finished spinning the singles last Thursday, and on Friday I chain plied them on my wheel.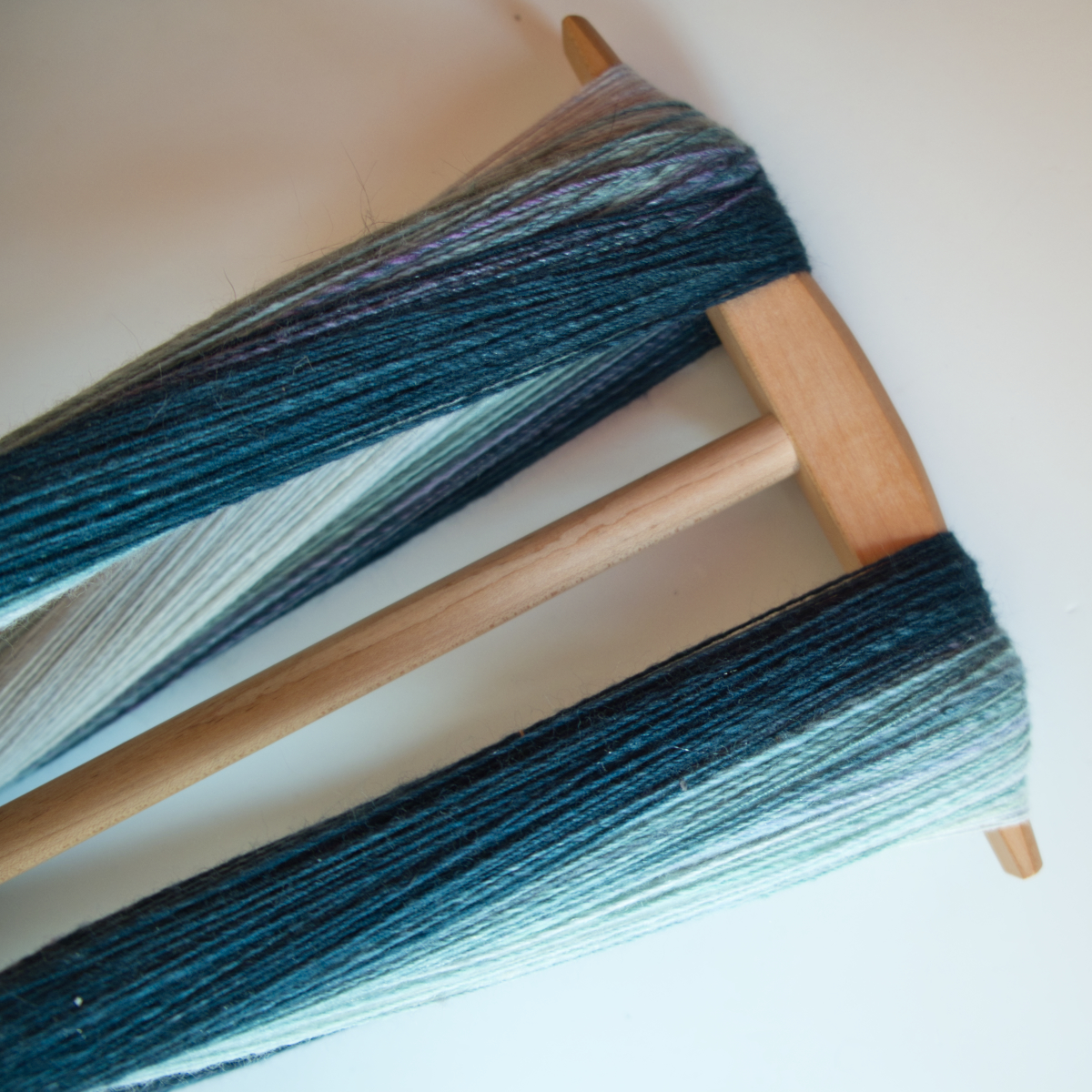 The plying was done on Friday, and on Saturday I wound the yarn onto a niddy noddy to measure it. It turned out to be 289 grams and 1150 meters of 3-ply yarn, a nice fingering weight.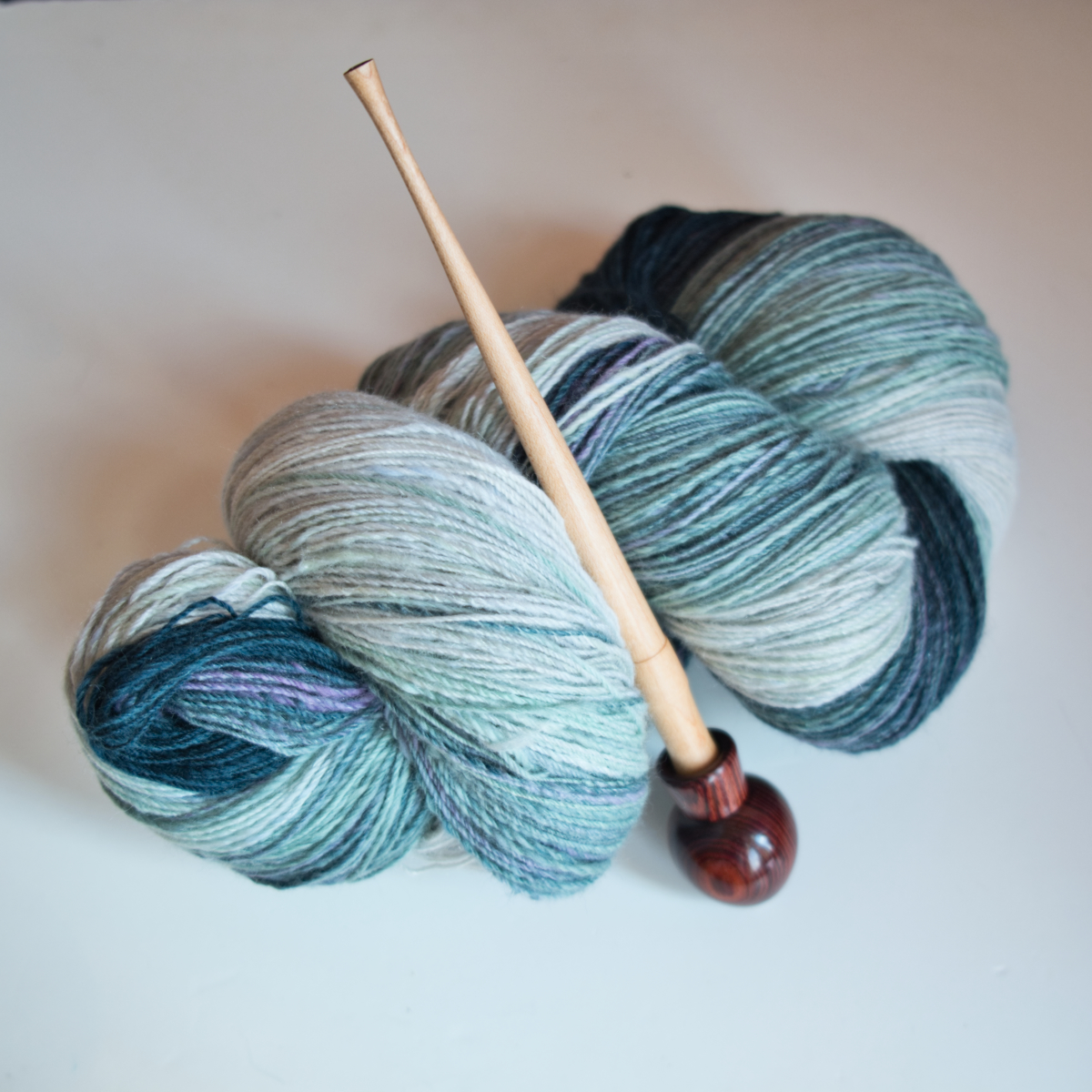 I washed the skein and it's hanging to dry now.
Because I finished my project a bit early, I had to think of a new project for the second stage of the Thriathlon: Hobbits. When I think of Hobbits, I think of the Shire, of cozy things, of nature. So I stash-dived, looking for inspiration.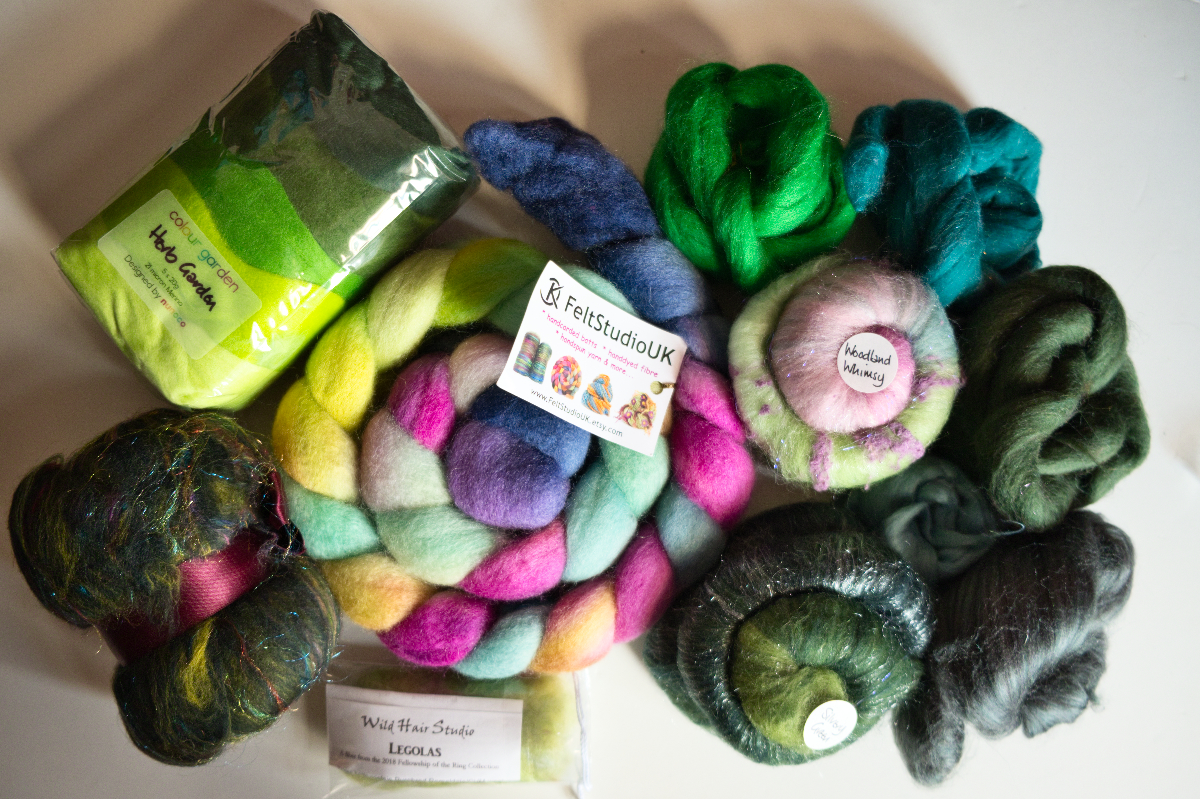 This is what I came up with! All kinds of green fibre, and some fibre in cheery colours to make sure that it didn't become boring! Combining them would be quite a bit of work, though, because in total, it was about 400 grams of fibre.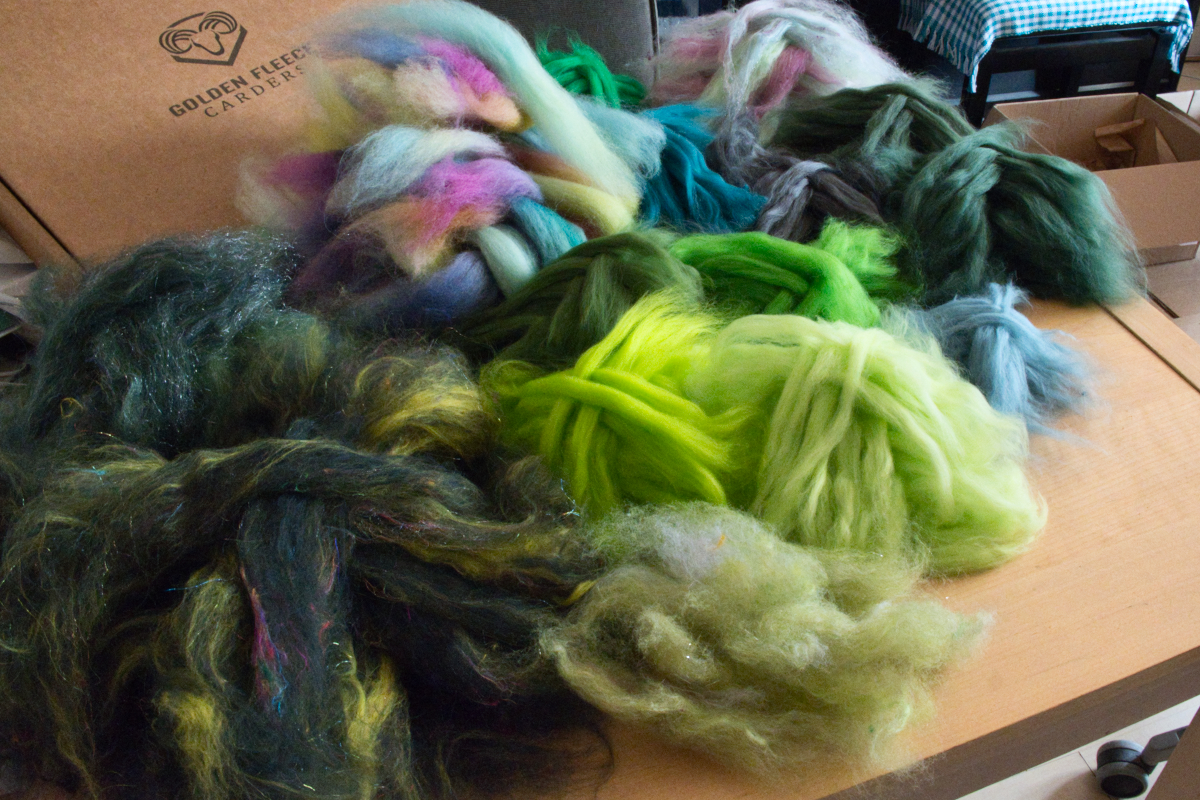 I didn't want the rolags to become too large, so I divided each bit of fibre into 64 (sometimes very small) pieces.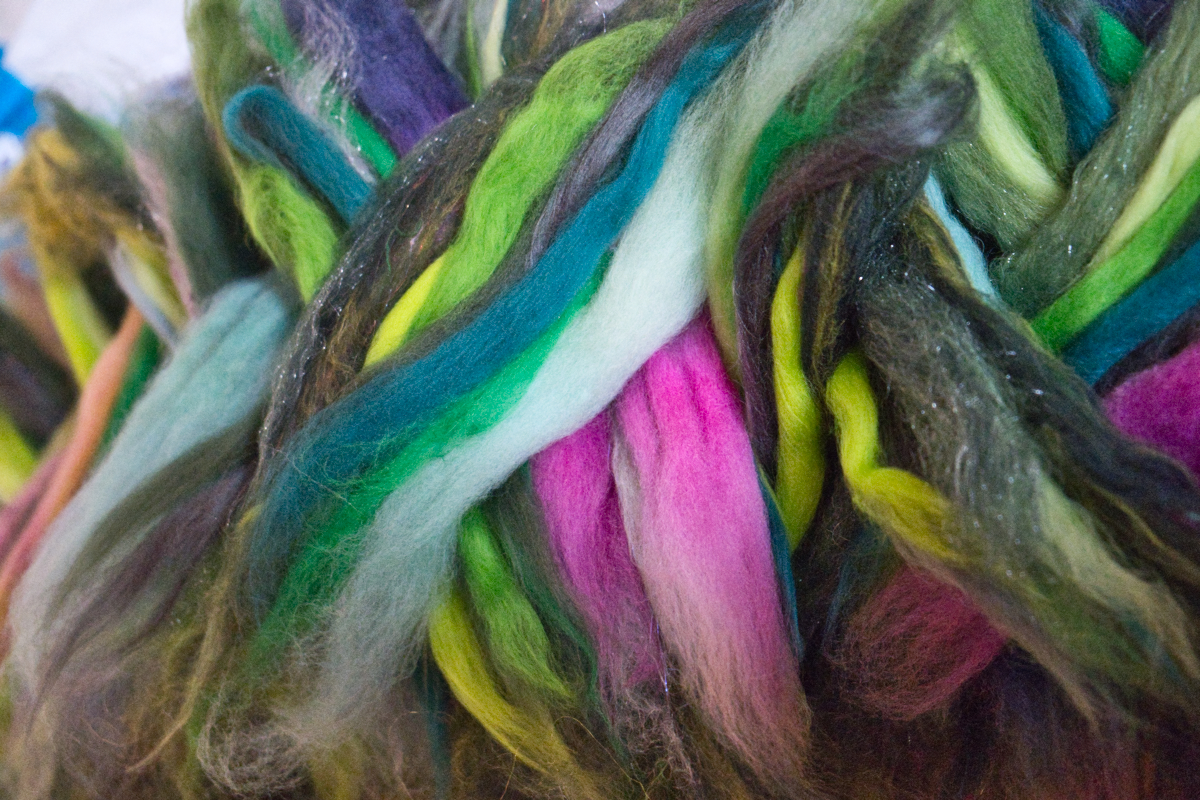 Then I sorted them. I took a piece from each pile and combined them. I laid them out cross-wise so that they would stay together properly. Then I blended them one by one on my blending board.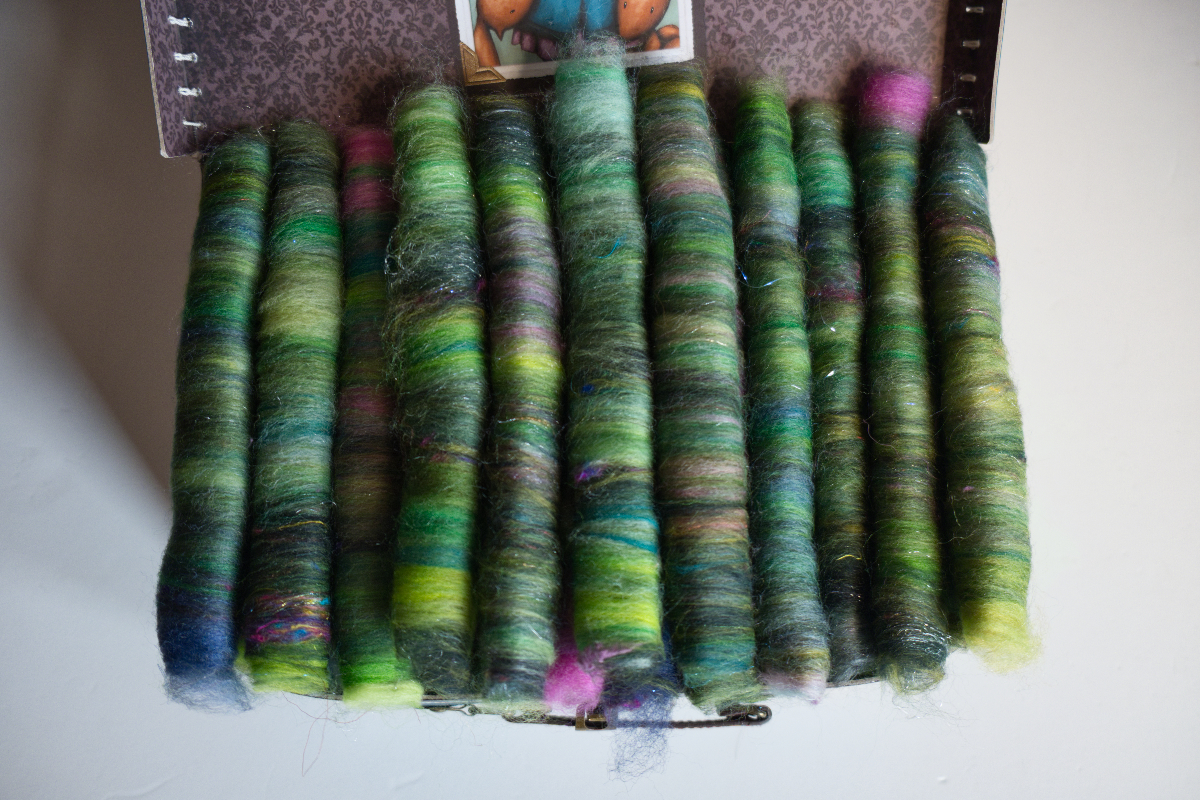 I filled up my suitcase entirely, and then some. The rolags look quite green, don't you think? They all have some "surprise" colour inside, though, so the resulting yarn will have pops of colour. The rolags remind me of nature, of meadows and wild flowers. I'm really looking forward to this spin! Stage 2 runs until the end of the month, so I should be able to finish this – I usually spin about 100 grams of fibre a week.