This is one of my favourite pasta recipes. It's vegetarian, and it tastes really nice. It's also quite fast and easy to make. It looks very colourful on your plate. Rossa e verde, which is Italian for red and green.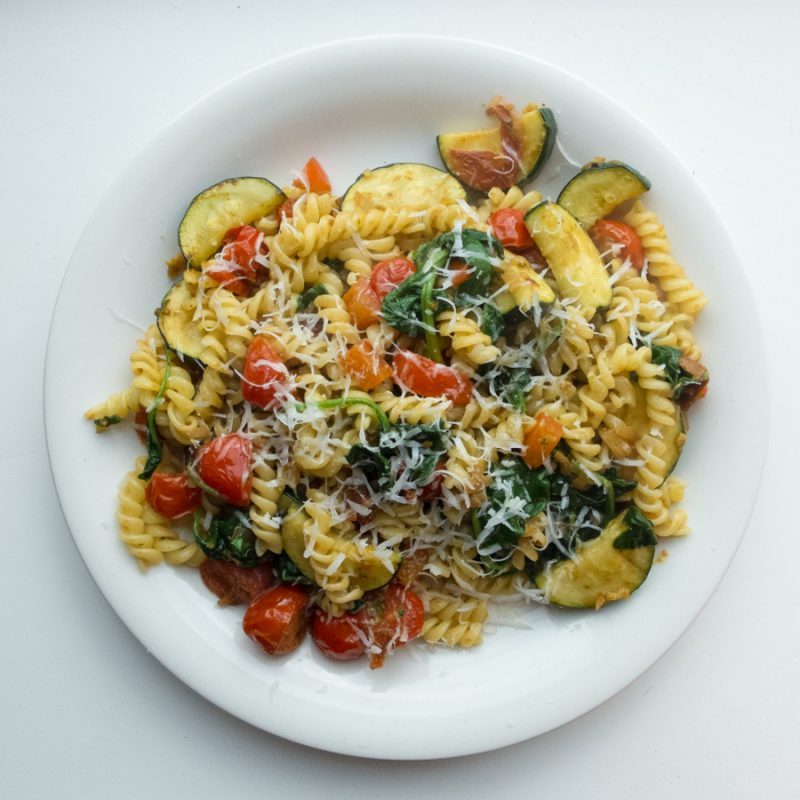 Ingredients per person
80 grams of fusilli
10 cherry tomatoes (roma) – halved
two hands full of fresh spinach
1/3 of a zucchini – diced
1/3 of a bell pepper – diced
2 or 3 sun dried tomatoes – diced
1 big shallot – diced
1 clove of garlic – diced or pressed
2 tablespoons of green pesto
A bit of grated parmezan
Olive oil
Salt & pepper to taste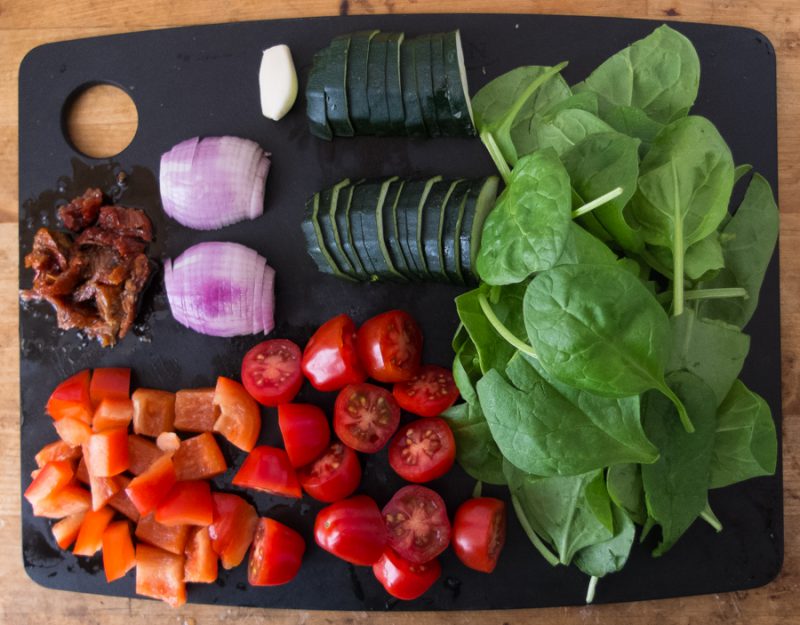 Recipe
Cut all the ingredients. Boil water for the pasta. Once it boils, put the pasta in and set the timer. My fusilli takes 8 minutes to cook, and that's just as long as the vegetables will take.
Put some olive oil in a frying pan and put it on the heat. Once the pan is hot, put in the shallot. Glaze it for a little bit, then add the garlic. Once you really start to smell the shallot and the garlic, add the bell pepper and the zucchini. Lower the heat a bit and keep stirring regularly.
About two minutes before the pasta is done, add the cherry tomatoes, the sun dried tomatoes and the spinach. Keep stirring while the spinach shrinks. In the final half minute, add the pesto and stir it through. Turn off the heat.
Drain the pasta and add it to the vegetable mixture. Add some pepper and salt to taste and mix everything well. Put it on the plate and put the grated parmezan cheese on top. Serve and enjoy!
Tip: Add some roasted pine nuts for more crunch!