It's tulip season in The Netherlands! The Keukenhof is open and the tourists are admiring all the different colours and sizes. There are many! I have visited the Keukenhof a couple of years ago and it was very beautiful. But the Keukenhof is hardly the only place where you can find tulips at the moment. Even in a busy city with little green like Den Haag there are tulips around almost every corner. The people who have a (small) garden usually have some spring flowers in there, and there are also communal places that have been adorned with flowers, mostly tulips. One of these spots is the Koningsplein, a small town square with a playground in the middle.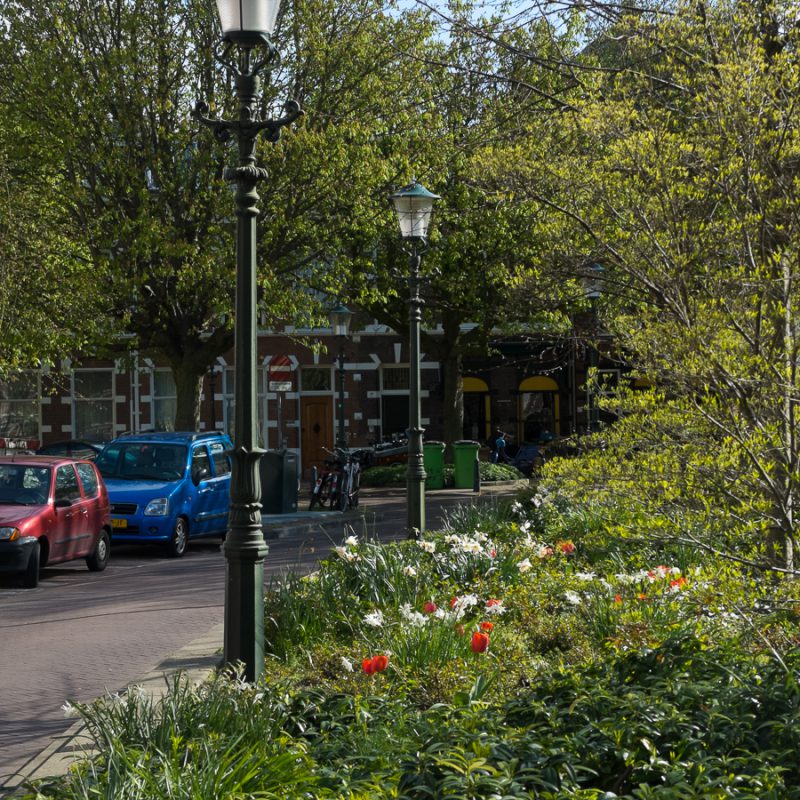 Todays painting is a wet-in-wet tulip. I tried to look for that "glow" that is so characteristic for watercolour painting. I used only five colours for this painting: transparent yellow, scarlet lake, permanent alizarin crimson, sap green and perylene green (all W&N artist half pans). I started by painting the whole postcard yellow. After that had dried a little I started painting the tulip. I mixed the two reds for the darker parts (sometimes with a bit of green) and I added some yellow for the lighter parts. Then I painted the background.
That was a bit too early, the tulip was still wet, and the reds and greens started to mix. I used tissue paper to get rid of some of the excess mud and waited a bit more to finish off the painting. I actually wanted it to be a bit less realistic/sharp, because I like the dreaminess of suggestion and colours. You can still see that it's a tulip, right?
I lifted off some paint to create the highlights on the right (the paints I used were not staining, so I could really go back to the white of the paper) and I made the background rather even. I first tried adding more patches of dark and light, but that didn't work so well, so I went for a lighter green gradient mix of perylene and sap green (and a bit of yellow on the right).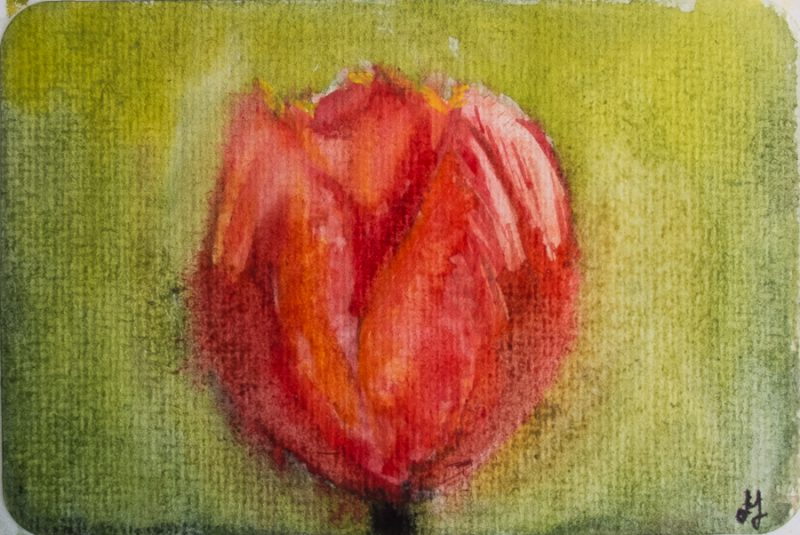 In the end I decided to make the edges more sharp, so this is the final picture: