Wet-in-wet. That's what I'm trying. For the birds I was working wet-in-dry, which gives you more control over the outcome, but the hard thing and the fun about watercolour starts when you allow the water to play its own part in your painting… I chose a landscape this time and tried working in a more general way (not too many details) – which turned out to be quite hard!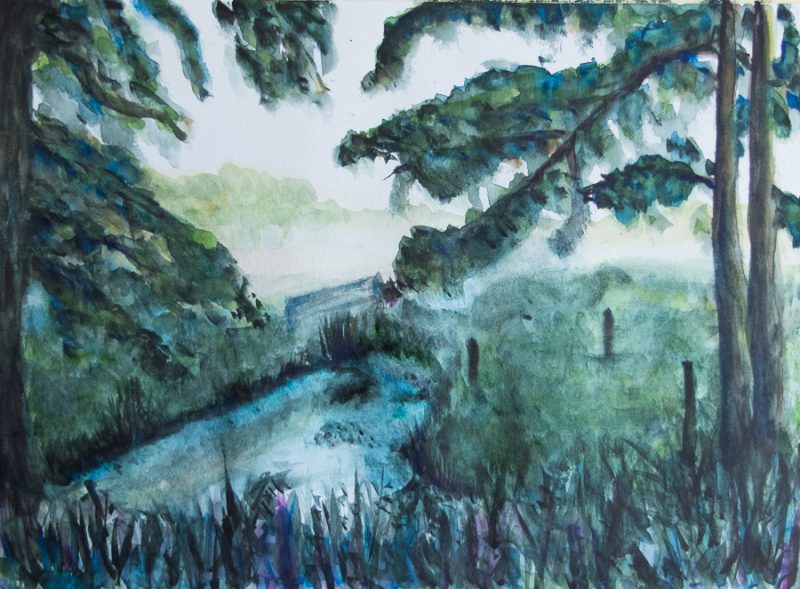 The fact that I was using hot-pressed paper may have made things a bit more difficult too. I have been painting on cold-pressed (the postcards) for the past week or so, and the smoothness of hot-press takes some getting used to. I started with a light separation between foreground and background (top a soft orange, bottom purple). Then I started painting the picture.
I tried to suggest leaves instead of painting them one by one, but I'm not satisfied with the result at all. It looks wild and messy. I want to check if I can find a tutorial somewhere, because this is just not working. Oh, and with wet-in-wet on hot-pressed paper it's really hard to make focused details. I kind of like the water in this painting, but the meadow is not substantial enough. I do like the background – the mist and the warm treeline look quite nice. I need to keep on practicing!