Last Tuesday when I woke up, the third Sock Madness 10 pattern had arrived in my mailbox during the night. It was called Waimakariri (by Sonya Newstead – StringHerder on Ravelry), and it was inspired by a river in New Zealand where the designer lives. This river meanders and parts of it go one way, others go the other way, but after a while all the streams converge again.
The pattern was almost entirely written out (there was a chart for the cuff, but by then I was so used to the written out instructions that I just continued with those), and it features meandering cables. It starts with a provisional cast on for the toes, initiating the cables that go along both sides of the foot. I used Lorna's Laces Shepherd Sock (400m/100g) in the colour Gold Russett and 2.25mm needles. Well, one sock started on 2mm needles, which I found out after the foot, and I went up to 2.25mm for both – for a short while I thought about restarting, but the difference was minimal. By now I don't remember which sock it was.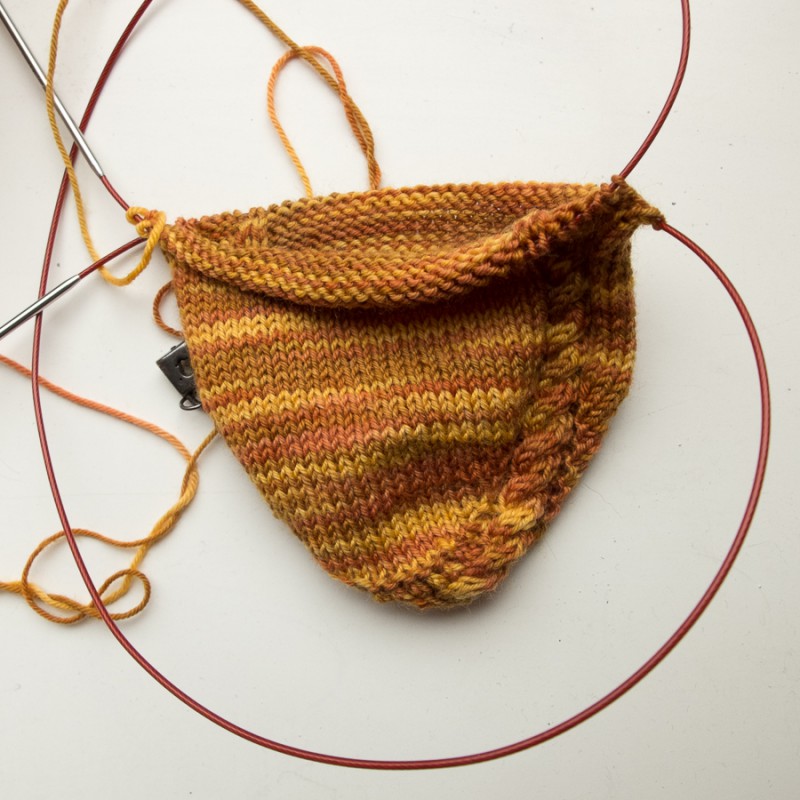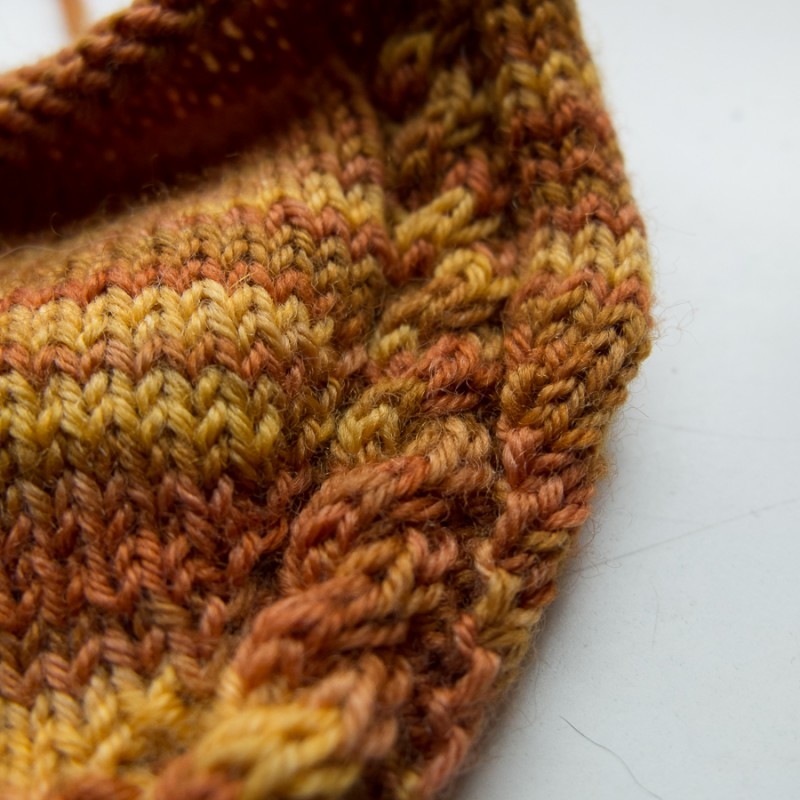 I continued knitting and when you get to the gusset increases, the cables start to move around, meeting and diverging again. The shape of the sock seems really wonky by that time, and it is hard to imagine that it will really fit later. But it will. This is a trustworthy pattern.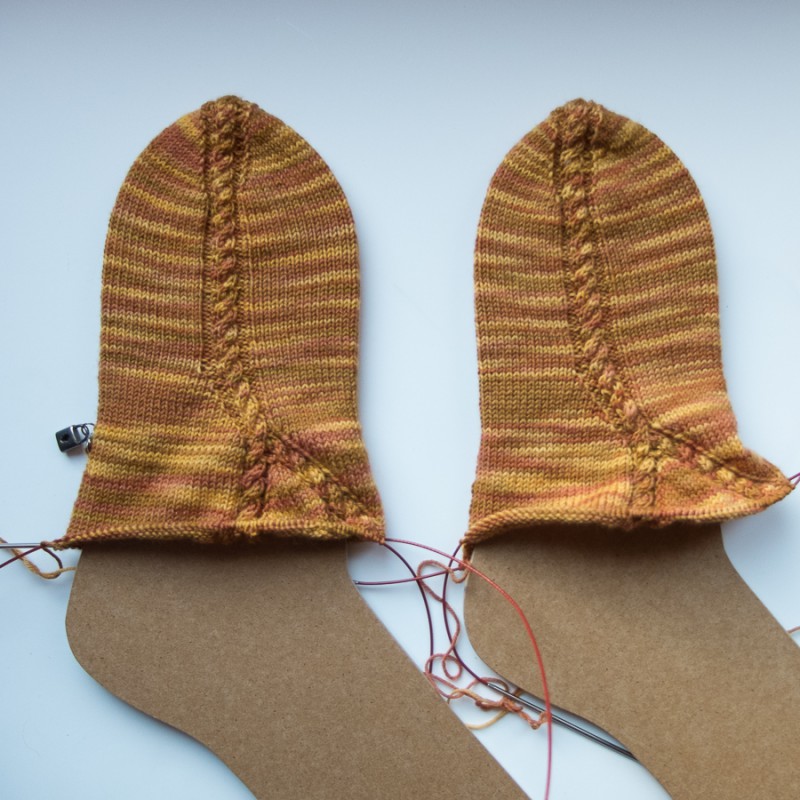 Once the rounds become so big that you think the socks will just fall off when you wear them, the heel kicks in, and everything is fixed. Then you can enjoy some more cables when knitting the leg part (which seems quite long). I made a mistake in one of the socks, causing me to be 4 stitches short later, and I had to tink back because there was no elegant way to solve that. But then I was back on track.
You could choose your own bind off, so I decided to try Jeny's suprisingly stretchy bind off (JSSBO), which I had never done before (or at least I can't remember doing it, only reading how it works). It works really well, and the socks fit perfectly!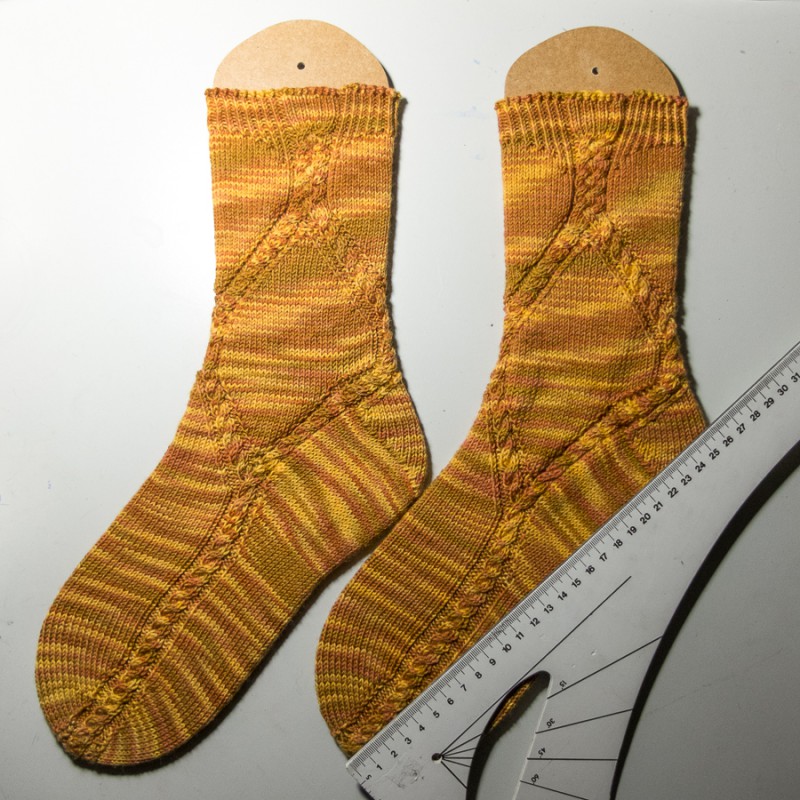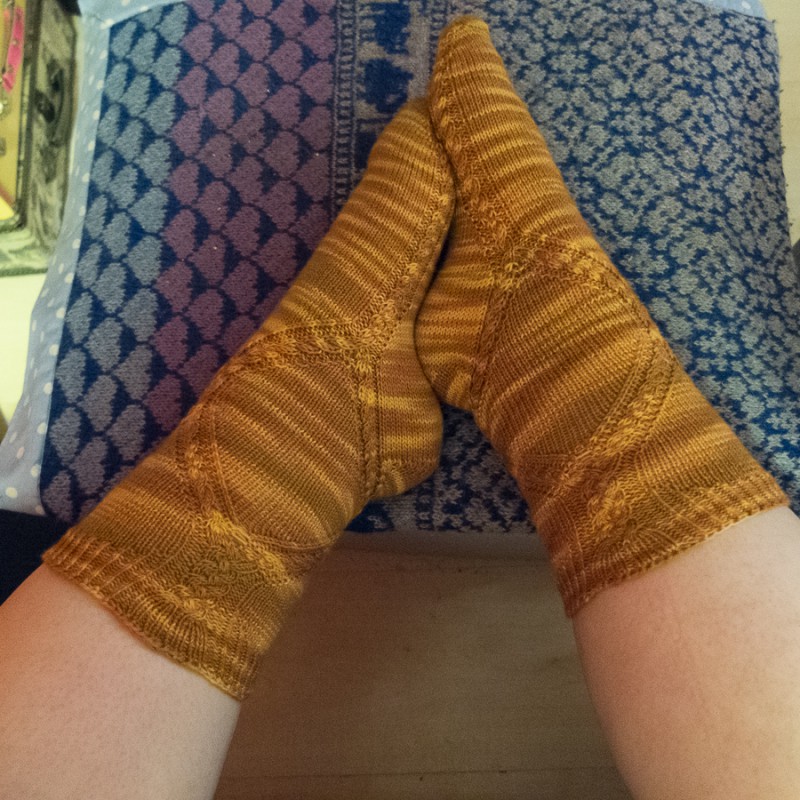 I just finished taking pictures and sent in my "finished!" email. I'm the 7th member of my team who finished the socks. Better than last time, when I was 12th, but not because I was feeling competitive. This time I really enjoyed the pattern and wanted to continue knitting because I was curious how everything would turn out!