At first I was a bit busy with other things, but two days ago I got started on the Sock Madness socks (SlipStripeSpiral). I really liked the colours next to each other in the balls, but when I was knitting the slip stitch pattern, it did not work as well as I anticipated. The contrast was too small.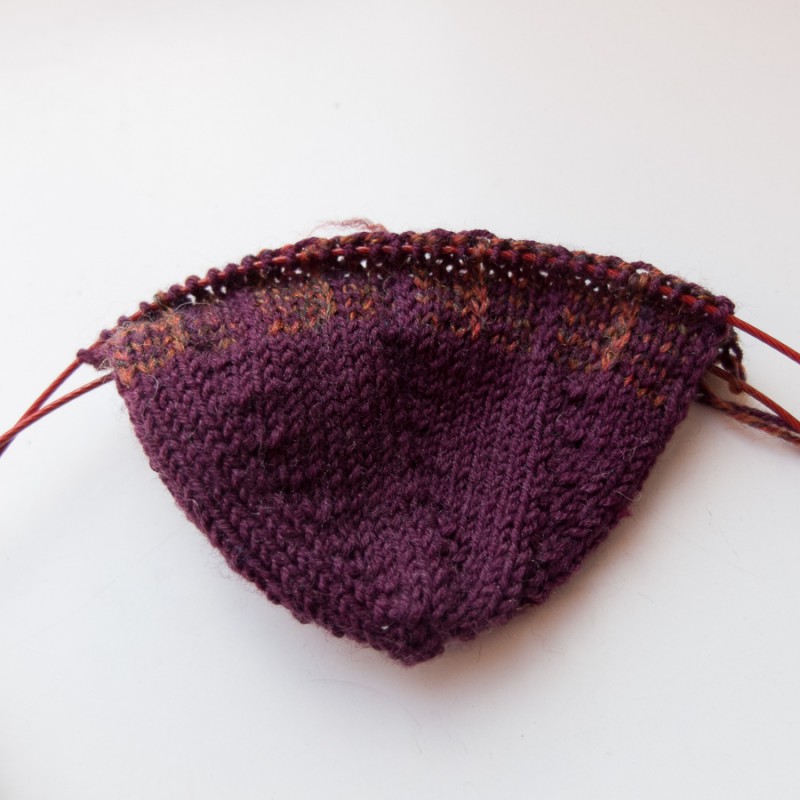 It might get better after some more rows, but I was not convinced, so I frogged it and started looking for some other yarns. Then I found the perfect non-perfect option: handspun! In last year's Tour de Fleece I had spun two quantities of fibre from the Swap de Fleece in the NKS. This was a round robin swap where everybody sent half of their fibre to their downline swappee. The pale lilac one was the one I received, it's Nunoco's cobweb colourway, and the green one has its own story.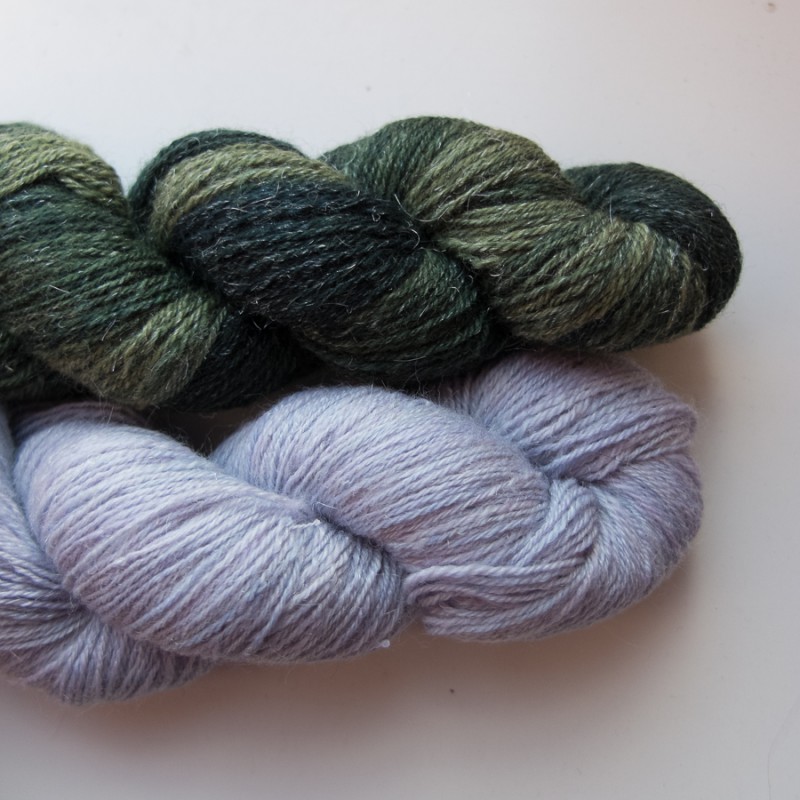 At one point in time I had ordered a box of sample fibre from Nunoco that was made according to my preferences, and this was "Silvery green". I re-ordered this for the swap, because it was in the fairy tale green family that my swappee, Snorrepot, likes. The original batt was a gradient from dark green to very pale green, and it was gorgeous. However, the Nunoco ladies had lost their "recipe book" of custom orders, so they recreated it for me from memory and the picture. And it was much darker as a whole, which made this less fitting for Snorrepot. I did send it to her with the remark that if this was not to her liking, I would find something else for her, but she did use it and spun a gorgeous heavy lace weight with it.
For the swap I was supposed to combine the two fibres and create something. I tried plying them together, but that didn't look nice at all. So I made two separate n-plied sock yarns and planned to use them together for something knitted at some point. This looked like the perfect project! Only this is very delicate, soft handspun, non-superwash, so it's actually quite inconvenient for socks… So I decided that these would become my couch socks. Not for walking.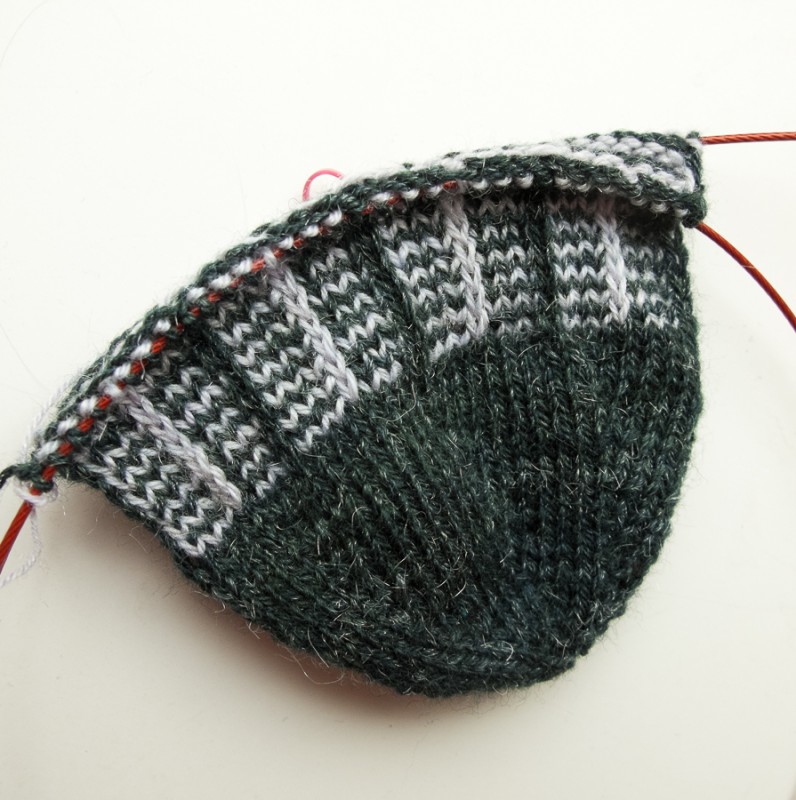 I started the pattern again, and this was a much better choice. The pattern jumps out and the vertical stripes are pronounced. And then I remembered that I had spun the green yarn as a gradient…
I don't really like asymmetry in my socks, so I had to find a solution. I opted for knitting them two at a time, moving from one to the other regularly. This has the added bonus that I won't suffer from second sock syndrome. But I do need to cut my yarn a lot, something I don't like to do.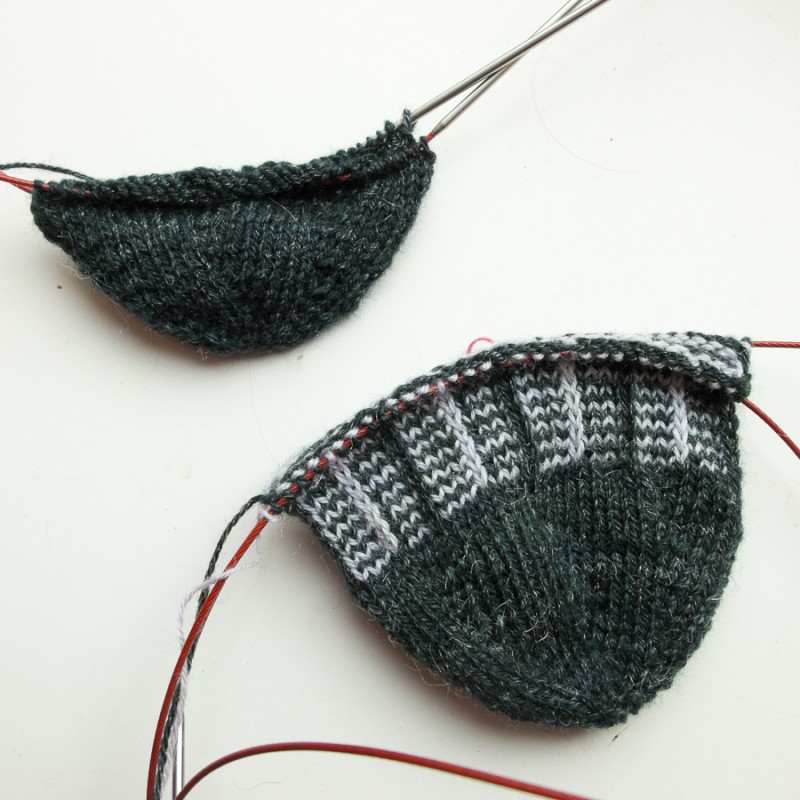 The first bit looks good, the toes are the same colour! Gradually, the socks will become lighter. I'm looking forward to seeing how that will develop.
I will give you one more picture of the slip stitch pattern, because I like it so much. It's quite similar to the edging of Stephen West's Rockefeller shawl, but with two colours of vertical stripes. And I get two whole socks with it. Yay!