It has been a while since I posted here, but I'm still alive and knitting! And spinning, but I'll write about that later… Lately, I've been knitting easier patterns, because my head tires quickly and I need my mental energy for my work and studies. However, easy patterns are not necessarily boring, and I love the results until now!
I made a very soft and cozy shawl in Faroese style, out of Drops Alpaca, with a beautiful lace border and a garter stitch body. Lots of work, but quite some mindless knitting bits, perfect for tv knitting. I've worn it a couple of times on chilly evenings as a substitute for a coat, and it works well!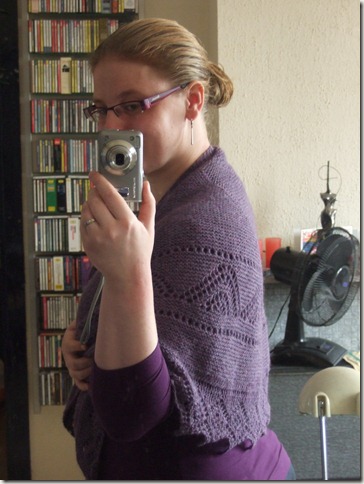 Next, I took the plunge and started knitting with my own handspun! I made fingerless mitts for a swap, and they turned out very nice. The recipient loved them! It was very satisfying to make something from start to finish (okay, I didn't make the sheep, I admit).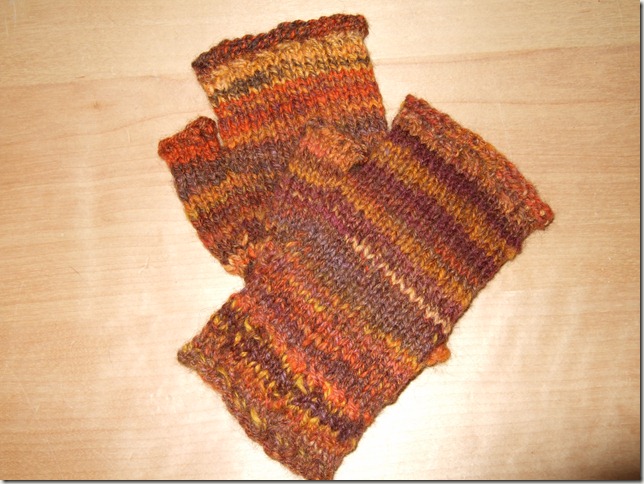 I got enthusiastic and wanted to knit some handspun for myself as well, a scarf this time. I took an easy pattern with a lacy edging which I could memorize quickly, and started knitting it. I noticed my spinning/twining had improved, because the yarn was very regular and relaxed.
Now I'm working on finishing my self-designed cardigan, I'm working on the edging. I hope it turns out nicely and that it fits well, because during the last part I couldn't try it on anymore. I'm making it out of sock yarn on 3,5mm needles, so it takes a lot of time. The yarn however looks great, and the bamboo gives a nice shine to it.