In diverse landen op deze wereld is het intussen mogelijk om te trouwen als je een homoseksueel stel bent. Helaas zijn er nog steeds veel mensen die daartegen zijn (waarom eigenlijk?), maar ze moeten er in die landen dus maar mooi mee leren leven. Gaan we naar Boston, Massachusetts. Daar is de Christian Coalition of America actief, een groep die tot voor kort zeer tegen het homohuwelijk protesteerde.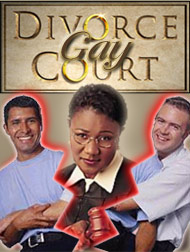 Ze zijn echter van mening veranderd.  Vanaf nu protesteren ze niet meer tegen het homohuwelijk, maar tegen homoscheiding! Er zijn namelijk al stelletjes die toch weer willen scheiden, en de CCA vindt dat ze dan wel het recht hebben om te trouwen, maar dat nergens in de wet staat dat ze zich ook weer mogen laten scheiden! Daartoe hebben ze een petitie opgesteld die ze in de herfst aan het Hoger Gerechtshof willen aanbieden.
Jaleel Philips, antihomo-activist drukt het zo uit: "Luister, ze willen trouwen, dat vind ik eigenlijk wel in orde, het houdt ze uit m'n buurt. Maar als ze willen scheiden,  dan zijn ze weer terug op straat, om hun AIDS en weet-ik-wat te verspreiden. Daar ben ik het niet mee eens." Voorstanders reageren door te zeggen dat dit argument niet geldig is, omdat homo's net als hetero's, vreemdgaan wanneer hun huwelijk hun niet meer bevalt, dus dat ze "hun AIDS en weet-ik-wat" dus toch wel zullen verspreiden, ook al zijn ze getrouwd. Overigens ontkende de gouverneur van Massachussets, Mitt Romney, dat er überhaupt homo's en lesbo's in Massachusetts wonen.
Helaas is homofobie nog wijdverspreid, ik heb dat nooit kunnen begrijpen. Waarom voelen, met name, mannen zich zo bedreigd door het bestaan van homo's? Wat is er zo eng aan en waarom denken ze dat homo's zelf ervoor kiezen om homo te zijn? Verwarren ze dat misschien met het ervoor kiezen om ook anderen te laten weten dat je homo bent? Of zijn ze zo onzeker over hun eigen "mannelijkheid" dat ze denken dat ze zelf ook homo worden als ze erkennen dat homo's niks verkeerd doen?