Jullie zullen het allemaal wel gemerkt hebben: er is weer een hittegolf in Europa. Overal is het heet, er is haast geen ontsnappen aan. Alleen supermarkten brengen nog enige verlichting, daar ga ik nu dan ook veel liever heen dan anders. Aangezien David en ik in een bovenwoning met plat dak wonen is het nergens koel. Integendeel, het is overal ongelooflijk benauwd, alsof er te weinig zuurstof in de lucht zit. En warm! In Den Haag zijn we toch gewend dat wind van zee meestal wat verkoeling biedt, maar met een oostenwind hebben we niet veel aan de zee.
David loopt de afgelopen week te ploeteren als postbezorger voor Selekt Mail en maakt dagen van tegen de tien uur gemiddeld. En dat in de buitenlucht, volle zon (hij is erg verbrand inderdaad) en dan maar sjouwen… Ik heb in principe vakantie, maar stilzitten is niets voor mij, met deze hitte word ik van stilzitten alleen maar beroerder. Dus ik maak het huis eens grondig schoon, maak een nieuwe broek, enzovoorts, enzovoorts.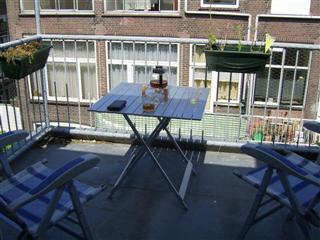 In de ochtend is het op het balkon nog heel goed uit te houden, tot een uur of twee, half drie kun je zelfs in de schaduw zitten, daarna is het volle zon tot de zon achter de huizen verdwijnt. Ik maak dan ook heel graag gebruik van deze extra openluchtkamer, waar wél zuurstof is en waar het een stuk koeler is dan binnen. Toch waren de omstandigheden nog niet optimaal.
Ik heb twee bloembakken hangen, maar de inhoud daarvan is al een poosje geleden overleden. Nieuw gewas ontspruit aan de aarde, maar niet echt de planten die ik wil hebben. Zelfs een beginnende eikenboom is zich aan het ontwikkelen! Goed, ik besloot dus om het balkon wat te gaan pimpen. Zo gezegd, zo gedaan, dus ik toog naar de plaatselijke plantenwinkel voor wat leuke planten.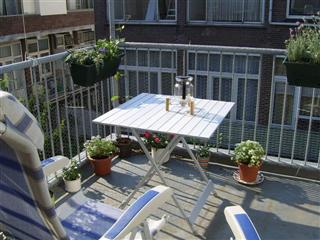 Nu heb ik er absoluut geen verstand van, dus ik kies maar gewoon wat ik er leuk vind uitzien, of wat lekker ruikt. Ik kwam dus thuis met een paar lavendelplanten, een paar floxplanten, een roosje, klimop, en de rest, tja, daar weet ik de naam niet eens van… Maar het ziet er goed uit! Het balkon is een stuk gezelliger zo. De katten vinden het natuurlijk ook prachtig, na wat aanvangsaarzelingen lopen ze steeds zelfverzekerder naar buiten. Ze schrikken nog wel erg van harde geluiden, en houden niet zo van wind, maar ze lijken het verder erg lekker en spannend te vinden. Ze zijn eral wel achter dat het balkon gloeiend heet wordt in de zon, Fiona brandde gisteren haar pootjes, ze schrok er erg van.
Het zomerweer zal nog wel een poosje aanhouden, het KNMI voorspelt nog steeds geen weersomslag. Ik hoop dat de planten het volhouden met de droogte, ik geef ze op dit moment zowel 's morgens als 's avonds wat water. Ik hoop dat ik ze niet verdrink… O, trouwens, sinds gisteren zweet ik eindelijk! Dat scheelt…