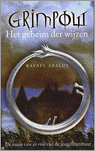 Grimpow –  Het geheim der wijzen is een nieuw boek van de Spaanse auteur Rafael Ábalos. Het is een jeugdboek en op de voorkant staat de pretentieuze zin "De Naam van de Roos van de jeugdliteratuur". Nu heb ik dit boek van Eco niet gelezen (wel eens in begonnen), maar ik denk dat het een beetje overdreven is.
Het boek speelt in de veertiende eeuw, een tijdje na de kruistochten. Grimpow, de hoofdpersoon woont in de bergen samen met zijn vriend Durlib, een stroper. Op een nacht vinden ze samen het lijk van een tempelridder. Dit verdwijnt op mysterieuze wijze nadat Grimpow een vreemde steen, een stempel en een boodschap heeft gevonden. Bang geworden door de vreemde gebeurtenis besluiten de vrienden de nacht door te brengen in het klooster van Brinkdum. Langzamerhand wordt duidelijk dat de ridder op zoek moet zijn geweest naar een geheim en dat hij werd achtervolgd door een inquisiteur. Grimpow heeft ondertussen ontdekt dat hij, die nooit heeft leren lezen, dit opeens wel kan en dan ook nog eens in alle talen even gemakkelijk. Zo is hij in staat de mysterieuze boodschap te ontcijferen die de tempelridder bij zich had.
Er volgt een lange zoektocht naar het geheim der wijzen,  waarbij hij en zijn latere vriend Salietti vele raadsels moeten oplossen. Tegelijkertijd worden zij nu ook achtervolgd door Bulvar van Goztel (de inquisiteur). Het boek is spannend en interessant.
Maar wat vond ik er nu van? Meestal weet ik het wel, maar bij dit boek vind ik het een beetje moeilijk. Het verhaal vind ik goed gevonden, maar op de een of andere manier spreekt de schrijfstijl mij niet zo aan. Maar of dit nu ligt aan de stijl van Ábalos, of aan de stijl van de vertaler, kan ik niet zeggen. Het verhaal voelt af en toe wat gehaast en afgeraffeld, al is het boek best dik. Ik denk dat ik het over het algemeen wel een goed boek vind, maar niet een absolute topper zoals op de kaft wordt geïnsinueerd.