Regie: Jonathan Lynn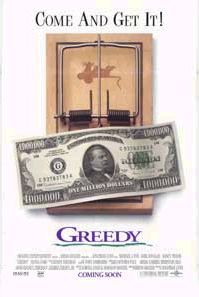 Met o.a.: Michael J. Fox, Kirk Douglas en Olivia d'Abo 
Gisteravond gespot op tv: Greedy. Bij nader inzien had ik deze film al een keer gezien, maar hij was wel zo leuk en zo ver weggezakt dat ik hem nog een keertje wilde zien.
Uncle Joe is rijk. Erg rijk. Zo rijk, dat zijn familie zo ongeveer alles zal doen om bij hem in een goed blaadje te komen met het oog op de erfenis. Uncle Joe heeft dat natuurlijk wel in de gaten en maakt schaamteloos misbruik van de hebzucht van zijn familieleden. Hij zet ze ertoe aan elkaar zwart te maken, een stel heeft zelfs alleen maar zoontjes (expres) die allebei Joe heten… Je merkt, dit kan nooit goed blijven gaan.
Op Joe's verjaardag maakt de familie kennis met Molly, zijn verpleegster. Een jonge, knappe vrouw waar Joe helemaal verliefd op lijkt te zijn. De familie ziet de erfenis in gevaar komen en speelt een troef uit: het lievelingsneefje van Joe wordt opgespoord en geherintroduceerd. Deze Danny is een mislukt bowler die zijn leven drastisch zal moeten wijzigen na gestopt te zijn met zijn bowlingcarrière. Daarvoor heeft hij geld nodig.
Danny lijkt eerst geen interesse te hebben voor de erfenis, maar alleen zijn band met Joe te willen aanhalen. Toch raakt ook Danny gevangen in het web van hebzucht en afgunst dat heerst in de familie. Het blijft lang spannend wie het fortuin zal erven, Molly of Danny? Of heeft oom Joe nog andere plannen? Na een onverwachte plottwist lijkt alles helemaal mis te gaan, maar toch eindigt de film positief.
Een goed gemaakte, goed geacteerde film. Oom Joe is een medogenloos bespeler van de slechtste kant van mensen. Hij manipuleert iedereen in zijn omgeving om redenen die alleen hijzelf kent. Danny is een wat naïeve jongen die erg sympathiek overkomt, maar toch wordt meegesleurd door de omstandigheden. Beide acteurs spelen erg goed. De familie is ook geweldig vormgegeven, geloofwaardige types, die je niet graag tegen zou willen komen, maar die misschien zonder oom Joe best te pruimen zouden zijn geweest.  Zeer goede film, ook meer dan tien jaar later nog niet verouderd. Aanrader!