I've started a new spinning project with some beautiful fibres that I received in a Secret Santa exchange. However, it's progressing quite slowly. One of the reasons is that the kittens see my spindles and especially my rolags as toys, so spinning is not very relaxing at the moment unless they are sleeping.
Another reason is that I'm simply tired. Over the past few months, I've started to go to bed earlier and earlier, and I'm usually horizontal by 8PM or so. Not sleeping yet, I still read a bit, but laying down my head and being in a dark room feels good.
And during the day, when there's rare daylight, I spend time in my studio when I can. I practice my violin playing, and I paint with my pastels. I haven't done much digital painting lately, it's all physical. Picking up a stick of pigment and putting it on the paper is a wonderful direct way of playing with colours.
I've bought some new (to me) paper to paint on, Pastelmat, and it's great. You can add so many layers! It's inspiring and so I'm painting whenever I have free time in the afternoon (and some energy left).
My recent paintings have been explorations of colour, but also movement. I still tend to paint fantasy landscapes if I don't have the energy to think of a cool subject, but I've also explored some other things. Sometimes, I've just been entering prompts for the Dall-e AI to generate an image, and taking one of those as inspiration/a starting point.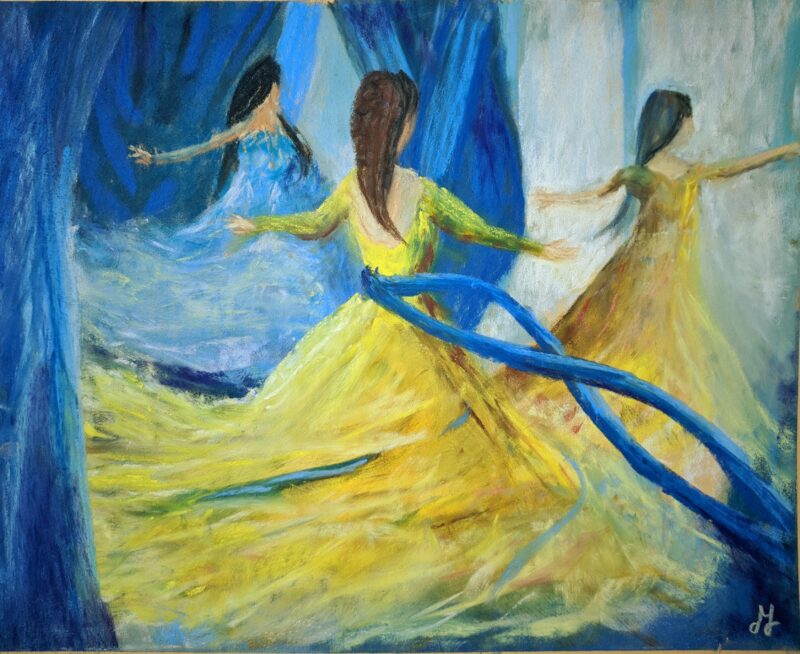 This is an example of such an image. My idea was to paint someone who was dancing alone in a room full of mirrors. But in the end, I arrived at three different ladies just dancing and swirling. I love yellow and blue, so those were my main choices for this painting. But there are plenty of other colours there, if you look closely.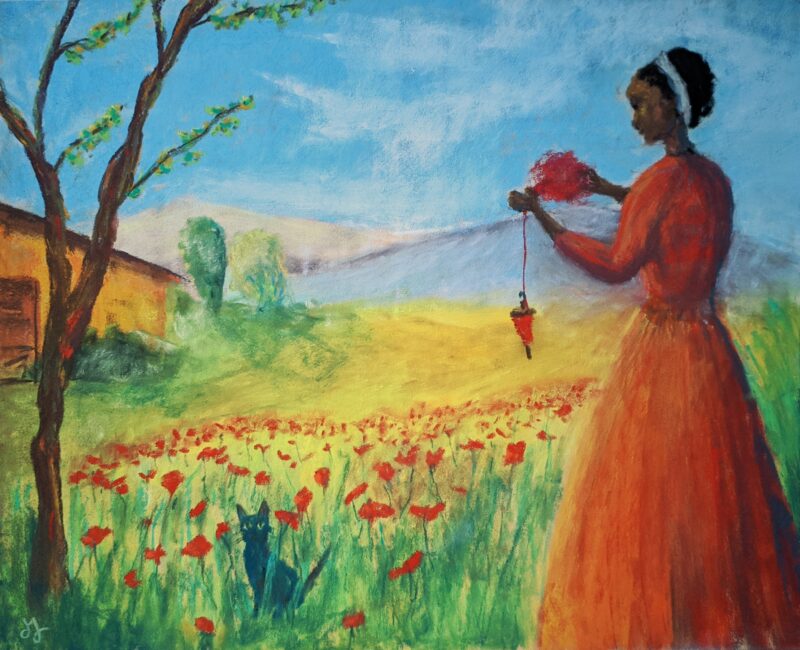 If I can't spin, I'll paint someone spinning instead! This painting started with the woman, actually, with the colour of her dress. We've had a few cold spells this winter, and I was looking for warmth in this painting. So, she's outside, in a warm, hilly landscape. Of course, there's a cat as well.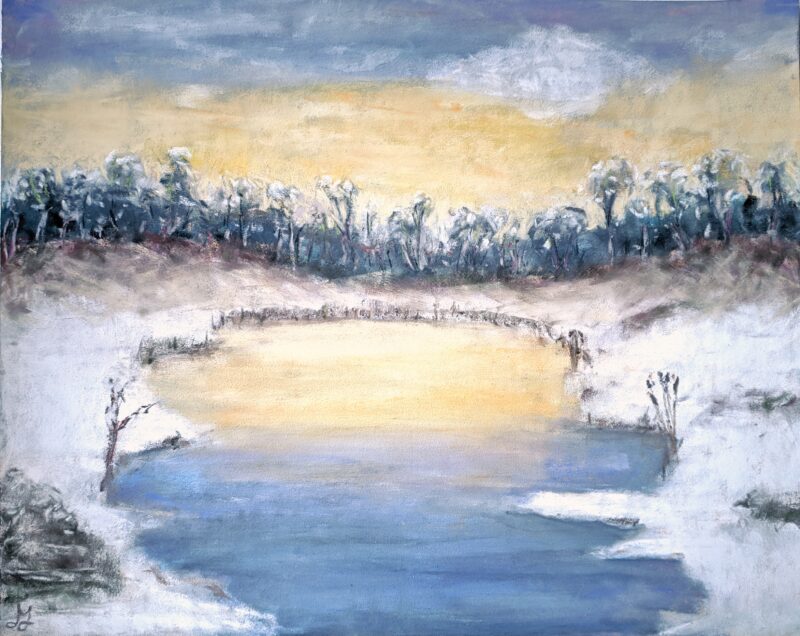 It might be cold, but there's beauty in winter! I tried to combine warm colours with the icy blues and whites of ice and snow. I like the treeline in the distance, but the perspective is kind of wonky. Either that pond is super large, or the trees are really small. Still, fun to paint this on some yellow paper.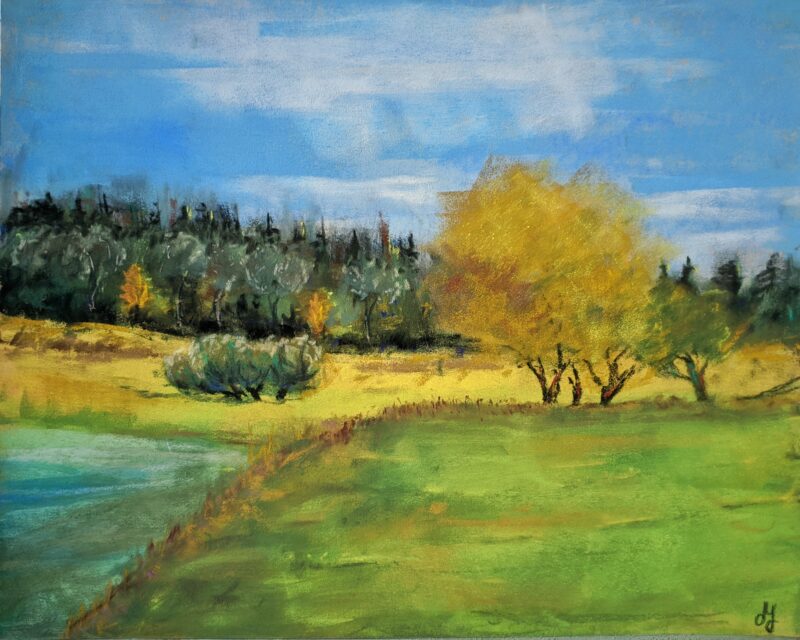 Again, I was painting on yellow paper. It gives an inner warmth to the painting even if you fill the whole sheet. This painting was inspired by the landscape near Frankenau in Germany. It's a lovely area, and I enjoyed trying to improve my trees. I still find them hard to paint with pastels, thought, because the tips of the pastels are not very fine. I probably should suggest the rest of the tree, but it hasn't clicked for me yet.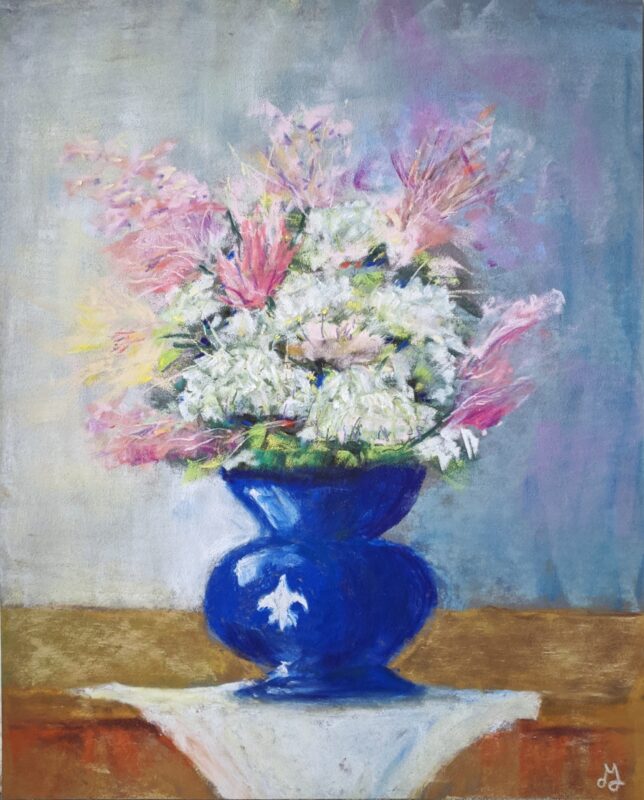 I do love it if a painting is not entirely realistic or very detailed. It leaves room for imagination, for seeing something different every time. I tried my hand at a fantasy bouquet here. The flowers are not 'real' flowers, they're the feeling of flowers. The vase and the table are a bit more concrete. I painted this on light grey paper. It gets a different feeling, don't you think?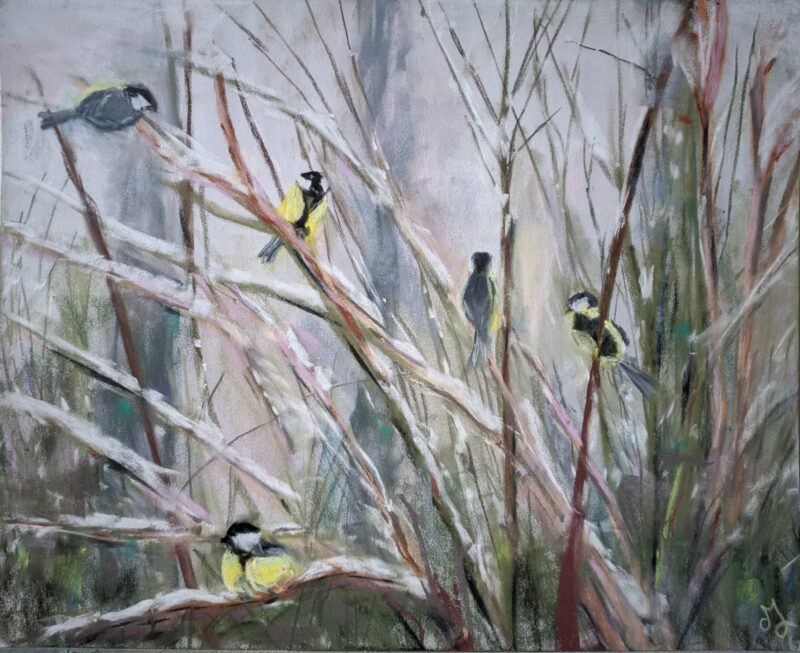 I'm quite proud of this painting. Here, I finally realized how to do an out-of-focus background. It gives depth to a painting that would otherwise be really busy, with all those branches. I also love painting the little birds that visit for food every day in my garden in winter.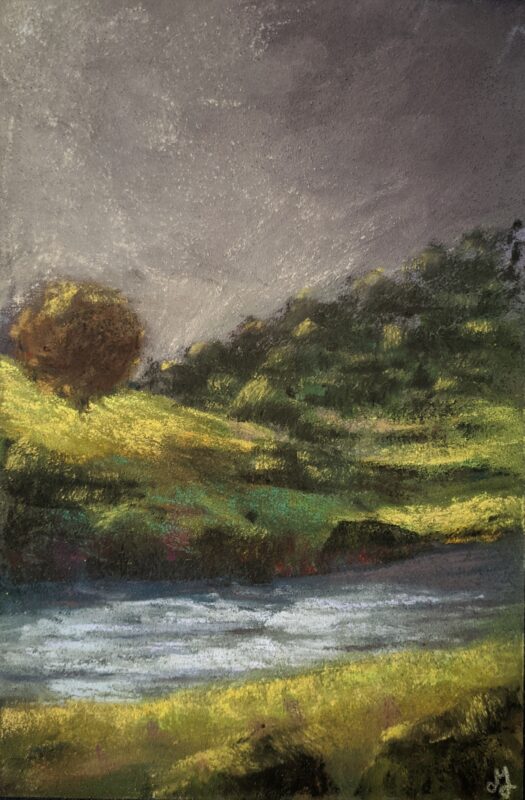 This painting was painted on black (and smaller) paper. It feels so different from the others. I love painting moody landscapes.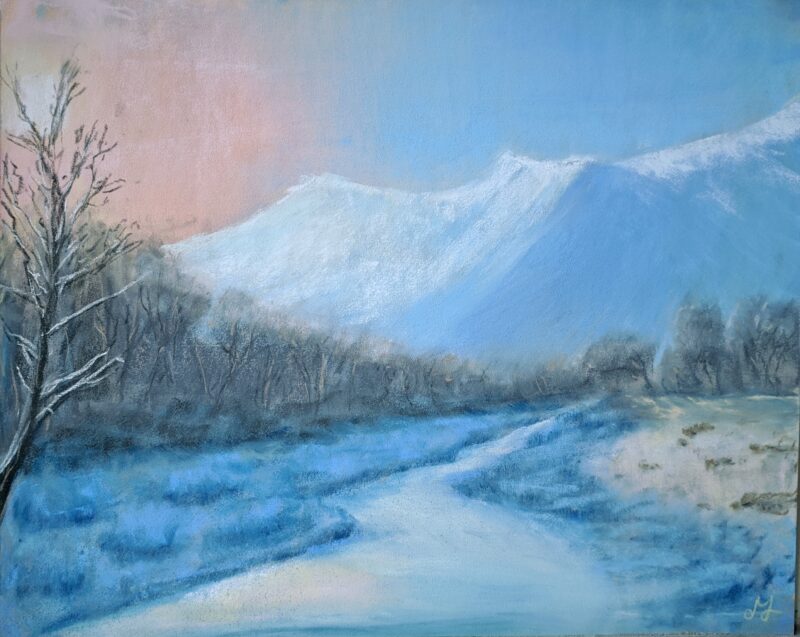 The final painting is from yesterday. It's a bit less saturated than in the picture. Again, I was playing with warm versus cool tones, and with yellow paper. I have hardly used any white in this painting, despite there being so much snow. The only white is in the sun. I like the perspective, the mountain, the colours, and the treeline. But I don't like the tree at the front. I find it quite hard to paint single trees, I've noticed. The far away trees can be suggested much more easily than the one that is in focus. Something to practice!
It's quite rewarding to see my progress like this. And it's so much fun to create these!