Regie: Karyn Kusama
Met onder anderen: Charlize Theron, Marton Csokas en Jonny Lee Miller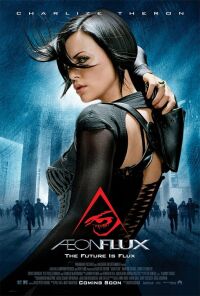 Het is alweer een tijdje geleden, maar David en ik hebben laatst de film Aeon Flux gezien. Deze film speelt in de verre toekomst, waarin het grootste gedeelte van de wereldbevolking door een mysterieuze ziekte is omgekomen. Er bestaat nog maar één stad, Bregna, omgeven door een hoge muur die de natuur buiten houdt, en daar woont de gehele mensheid.
De mensen zijn bang geworden voor de buitenwereld en proberen hun leven over het algemeen zo veilig en gelukkig mogelijk te leven. Toch is niet alles in orde, want regelmatig verdwijnen er mensen spoorloos en niemand weet waarom. Een rebellengroep, de Monicans, verdenkt de overheid ervan de mensen te laten verdwijnen, en stuurt een van haar agenten, Aeon Flux, naar het zwaar beveiligde complex van de regering om de leider, Trevor Goodchild, te vermoorden.
Eenmaal daar aangekomen blijkt het allemaal toch niet zo simpel te zijn. Aeon Flux is goed genoeg om het klaar te spelen, maar door verschillende zaken wordt ze aan het twijfelen gebracht of ze wel alles weet en of ze wel aan de goede kant vecht. Heel lang blijft in de film het geheim bewaard.
De film is gebaseerd op een tv-serie (anime), die ik niet gevolgd heb, dus kan ik geen oordeel geven over of hij er goed bij aansluit. Over de film zelf heb ik natuurlijk wel een oordeel, en dat is grotendeels positief. Eindelijk weer eens een leuke Science Fictionfilm. Die zijn er niet zoveel meer lijkt het. Het verhaal is ok, de acteurs zijn prima (Theron straalt als Aeon Flux, mooie meid is dat) en de setting is origineel. De actiescènes zien er gelikt uit, al zijn ze soms iets te lang waardoor je je concentratie verliest.  Over het algemeen is het een visueel aantrekkelijke film.
Een aanrader voor iedereen die van sci-fi, actie, mysterie, eyecandy en een goed verhaal houdt!