Ruim twee jaar geleden kocht ik een spinnewiel om eens te kijken of dat iets voor mij was, spinnen. Het bleek dat ik spinnen heel leuk en ontspannend vind om te doen, maar het spinnewiel dat ik had was voor mijn situatie niet ideaal. Het is een Louet S10, een superdegelijk spinnewiel, met een enkele trapper om het wiel aan te drijven.
Die enkele trapper staat alleen precies horizontaal, dus om te trappen moet je hem als het ware voorover duwen. Na mijn knieblessure voelde dat niet meer zo prettig, en het wiel maakte ook nog eens erg veel lawaai. Stiekem zat ik dus al een tijdje te dromen van een nieuw spinnewiel.
Afgelopen vrijdag zat ik in de trein naar de Brei- en Haakdagen in Groningen, en keek ik op Ravelry of er nog nieuws was. Dat was er, Judith had namelijk een nieuw spinnewiel gekocht, een Schacht Sidekick, en in haar berichtje schreef ze ook dat binnenkort haar Joy dan waarschijnlijk wel in het Te Koop-draadje te vinden zou zijn.
Mijn reactie was "CLAIM!", natuurlijk nuanceerde ik dat daarna nog een beetje, ik stuurde haar een bericht of ze haar spinnewiel al aan iemand had toegezegd, en zo nee, dat ik dan serieus belangstelling had. Ik bleek niet de enige te zijn, want de Ashford Joy is een zeer gewild en geliefd spinnewiel. Het is klein, licht (5 kilo), inklapbaar, en deze versie had twee trappers. Ook zit er een tas bij om hem mee te nemen.
's Avonds kreeg ik een berichtje terug van Judith, dat haar mailbox wel ontploft leek die ochtend, maar dat ik de eerste was, en ze stelde een prijs voor. Ook gaf ze aan dat ze nog een Freedom Flyer (voor dikke garens) erbij te koop had, en of ik daar ook belangstelling voor had. Ik kon mijn geluk niet op en een deal was al snel gesloten.
Nu moest het wiel nog van Judith (Ameland) naar mij (Den Haag) komen. Judith zou zaterdag naar de Breidagen in Groningen gaan, ik helaas niet. Er moest dus een karma-estafette geregeld worden. En dat lukte! Joy zou van zaterdag op zondag bij Karin gaan overnachten in Assen, en dan zondag worden opgehaald door Tommy, Ruths zoon die toevallig in Assen was, en meegenomen worden naar Zoetermeer, waar ik het wiel dan weer zou kunnen ophalen.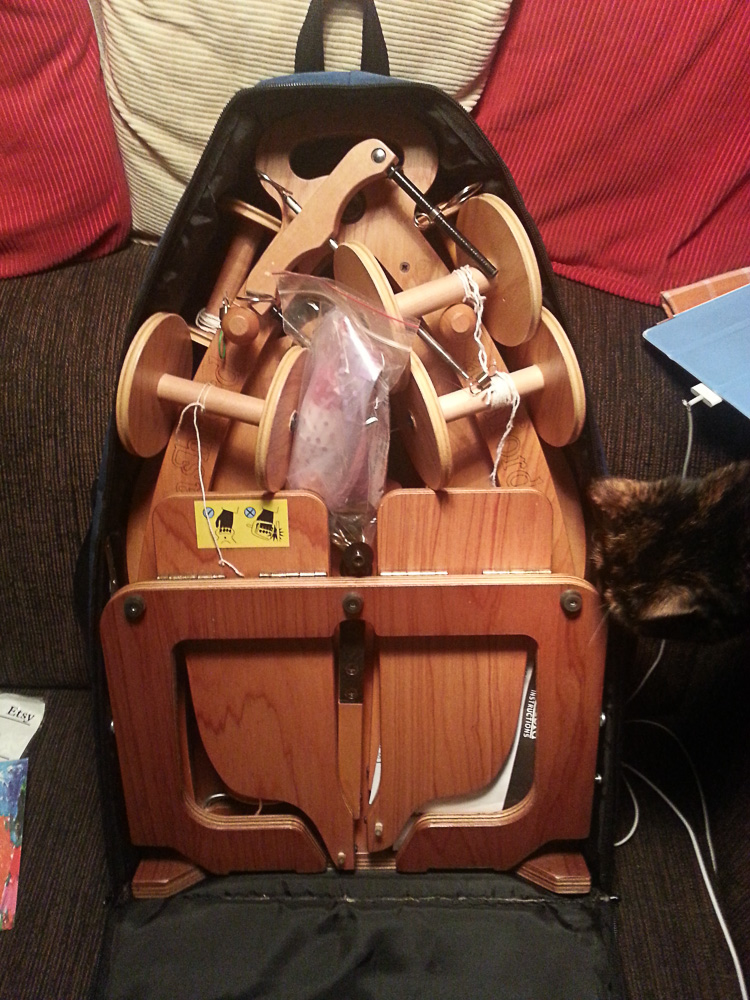 Zo gezegd, zo gedaan, en zondagavond kwam Joy thuis! Ik heb haar meteen even uitgepakt en uitgeklapt, en vandaag heb ik mijn eerste draad gesponnen. Ze spint als een zonnetje en ik ben werkelijk vreselijk blij met mijn nieuwe Joy!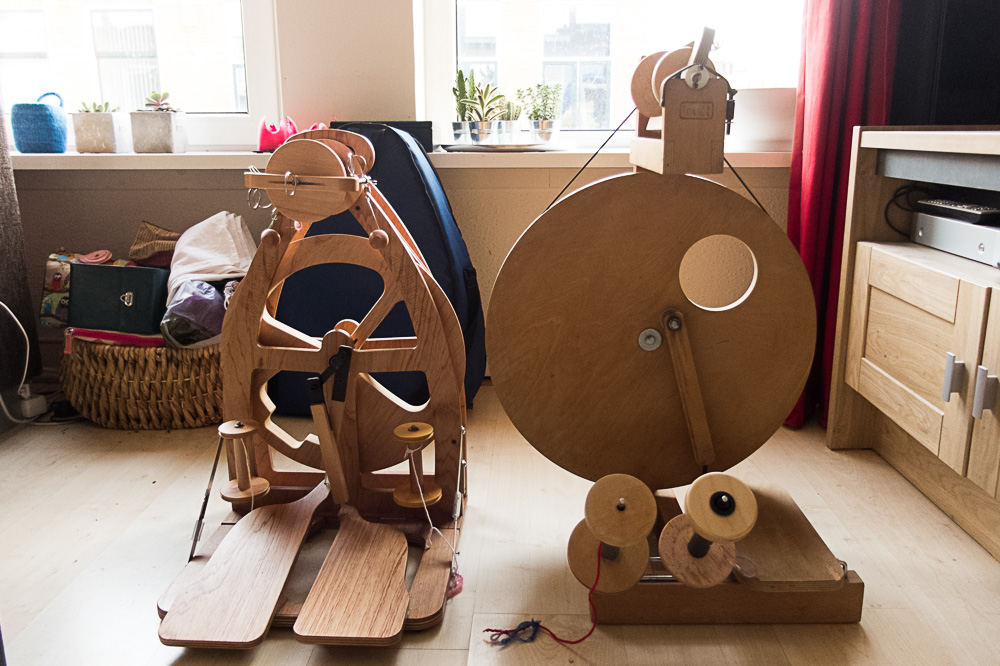 Links Ashford Joy, rechts Louet S10