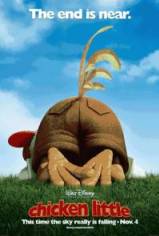 Regie: Mark Dindal Stemmen: Zach Braff, Garry Marshall, Don Knotts, Patrick Stewart, Steve Zahn, Joan Cusack e.a.
Chicken Little gaat over een kuiken dat op een dag een stukje uit de hemel ziet vallen. Hij slaat alarm maar niemand gelooft hem, iedereen denkt dat hij gewoon een eikel op zijn hoofd heeft gekregen. Een jaar later is nog steeds niemand het voorval vergeten en draait er zelfs een film over het incident. Chicken Little staat bekend als de dorpsidioot. Natuurlijk blijkt dat het kuiken eigenlijk gewoon gelijk had, het "stukje hemel" hoorde bij een ruimteschip, dat na een jaar opnieuw langskomt in het dorp.Wat volgt is een "War of the worlds"-achtige scène met zappende aliens op hoge poten en Chicken Little die uiteindelijk de held van de dag is en ook nog eens weer op goede voet komt met zijn vader. Tja.
De film is ronduit zwak, het verhaal is te oppervlakkig en te kort, de animaties zijn wat te kleurig, waardoor het geheel nogal druk aandoet, en het melodrama tussen Chicken Little en zijn vader, nou, daar kan je haast niet naar kijken zonder er wee van te worden. Het is jammer dat de verhaallijn niet meer is uitgediept, dan had het best een leuke film kunnen zijn, maar nu doet het gehaast, moralistisch en klef aan. Ook wordt er wat mij betreft teveel geleund op verwijzingen naar andere films. Zelfs de muziek is niet zoals in eerdere films van Disney speciaal voor de film geschreven, maar nummers als "If you wanna be my lover" van de Spice Girls maken de dienst uit.
Gelukkig is er wel een grappig karakter: Fish, een vis met een helm op waar water inzit, en die dus op het droge rondloopt. Waar op dit moment de meeste computergeanimeerde films ook bedoeld zijn voor volwassenen en niet alleen voor kinderen, is deze film duidelijk alleen echt leuk voor kinderen. De gemiddelde volwassene zal teleurgesteld de bioscoop verlaten na het zien van deze magere film. Maar eigenlijk is de tweede helft van de film, waarin dorpsmensen worden verdampt door de aliens, veel te eng voor jonge kinderen. Wie wilde Disney hiermee een plezier doen?