After my previous post about Ravelry and accessibility, more has happened, so here's an update.
Ravelry users are still being silenced on the For the love of Ravelry forum, so they have moved to other spaces to express their frustration with the current situation, and to discuss strategies on how to approach Ravelry and get them to listen. One of these spaces is the Ravelry Accessibility Discussions group on Ravelry itself. There is also a lot of talk about this on Instagram. For instance, the designer Sarah M Goodwin has created an open letter to Ravelry that designers can cosign. This letter will be finalised tomorrow evening and will be shared with the Ravelry team after that. If you are a designer and care about accessibility, please consider signing it here.
Another Instagram user, KatieBea, who was featured as a Human of Ravelry in February this year, collected the stories of users who have experienced health concerns because of the new Ravelry design, and shared them in her stories. Note that those people were not able to use Ravelry without endangering their health again, and they could not participate in the surveys that were all in the new design. She basically validated their experiences by showing them that they were not alone, and gave them a voice that could not be as easily ignored as an e-mail to Ravelry support (the only avenue of communication still open at that point).
Katie also added a poll to her stories, asking designers whether they had seen a drop in their sales on Ravelry lately. The majority of the about 100 designers who responded answered "Yes".
Meanwhile, Ravelry was quiet, except for the overly cheery frontpage posts by Mary Heather, that, despite people asking her not to repeatedly, kept using the new icons as bullet points. It may sound innocent enough, but not using the proper elements for creating structure confuses screen readers, making the posts much less readable for people depending on those. Another slap in the face for people with disabilities. She also included screenshots of NuRav without putting them in spoiler tags, so it was quite risky to read the front page if you were one of those affected, even if you were on Classic Ravelry.
And then this happened a week ago: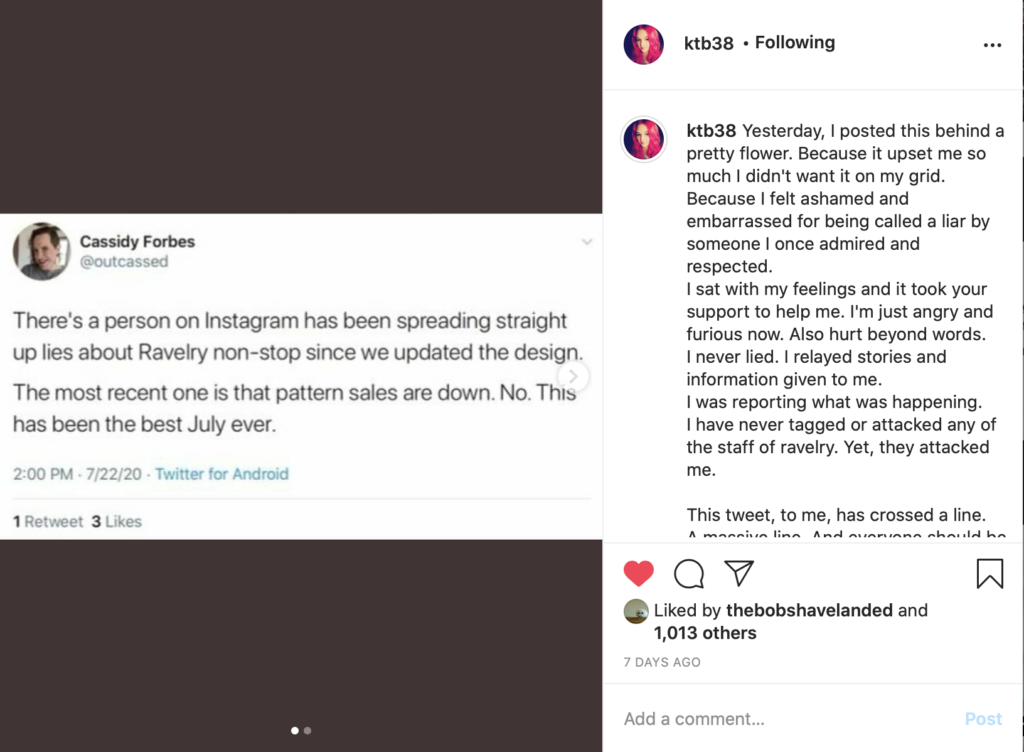 Cassidy Forbes is one of the founders of Ravelry. She deleted this tweet and her whole twitter account shortly after this, but the screenshot had already been made. It was clear who Cassidy was talking about: KatieBea. Her second sentence refers to the poll that Katie placed in her stories.
There's a lot to unpack in this tweet. Katie has been sharing stories from people who have experienced health issues because of the Ravelry redesign. Cassidy is saying that she's lying, and that means that Cassidy thinks that all those people who shared their stories with Katie are making it up too. Secondly, Cassidy is insisting that the sales are up this July, so that's supposedly more proof that Katie is lying. Cassidy does not realise that sales being up on average does not mean that everybody's sales are up. Katie got 100 replies to her casual poll, just a fraction of the designers on Ravelry (which she also stated in her stories). Katie is not lying, and she's clear about what her poll and numbers mean.
More people started to become involved and some of them started to take real life action. Designers pulled their patterns from the site, and regular members started closing their accounts.
Things were escalating quickly and then this bomb dropped: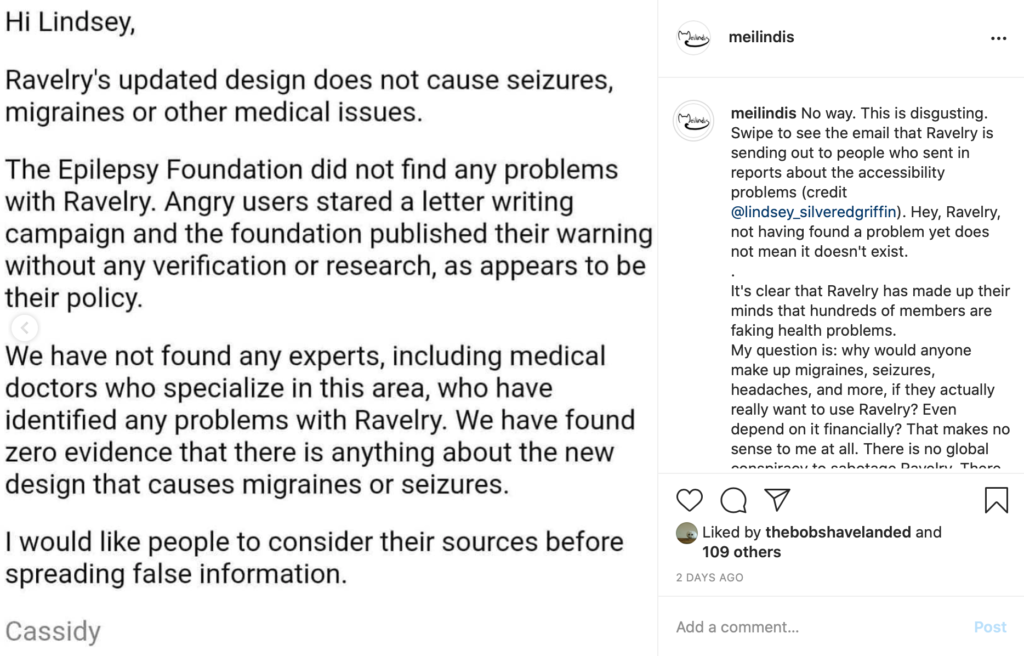 People who had sent e-mails to Ravelry Support weeks ago about the accessibility issues started receiving this form e-mail from Cassidy herself. It was clear: Ravelry did not believe the people experiencing issues at all, and their silence meant that they were waiting for the problem to just go away already.
This e-mail is a form of gaslighting (trying to convince someone else that what they are experiencing is not real). If you were not aware that there were hundreds of others experiencing the same problems as you were, would you start doubting yourself after receiving this e-mail?
And I ask you this: why would so many people who LOVE Ravelry, who visited the website daily, who depend on it for its community, for meeting their online friends, and also financially – why would they start a campaign against Ravelry? They desperately want to be there, to use it, to enjoy it. Of course they're not imagining things, why would they?
Add to that the experience that many people (especially women) have with the medical system: if the doctor cannot immediately find a physical problem, their complaints are often discredited as being "psychosomatic" (aka you're just imagining things), and no real help is given. This reminds me of that feeling.
The outrage after this e-mail was great. Many more people started to close their accounts, and the e-mail was being shared all over the place. This was the nail in the coffin for many who were still hoping that Ravelry would come around. They were done.
And then there was a new voice. Jessica, the other Ravelry founder, published a letter on the Ravelry frontpage and blog on behalf of the Ravelry team. It contained an apology of sorts and a lot of justifying what they had been doing in the last six weeks. I'll try and unpack here why I think that this letter is just damage control and performative.
It started with this apology:
I first would like to apologize for any stress and uncertainty that the Ravelry site redesign has caused in what is already a difficult year. I am so sorry that our actions, or inactions, have made anyone in the community feel unheard. We acknowledge that our responses up to this point have been insufficient.

It pains the whole team and myself that Ravelry, which we know is a source of comfort to many, caused any additional anxiety to anyone at all. I hope that people will find joy on Ravelry again and please know we are working hard toward this goal.
Sounds good? At first sight, yes, this is an apology. But what are they apologising for exactly? "Stress", "uncertainty", "making people feel unheard", and "anxiety". But not for the seizures, migraines, headaches, and other health issues that Ravelry caused. So either they think that those are not real (and "just" part of people's anxiety problems, minimising the harm done. That's a more subtle version of gaslighting, by the way), or they don't want to acknowledge that the site caused those symptoms (making those people feel "unheard" even more). They are also not apologising to the people who were harassed by Cassidy. Not the best start.
Jess continues with an explanation of their silence: they thought that the posts on the front page would suffice, but since the front page is not accessible to everybody, they will also publish the posts on their separate blog. Note that they do implicitly acknowledge here that the website as it is is not accessible to everybody.
She then goes on to explain that they can't keep track of all the complaints and suggestions that come in through the forums and social media, so that's why they only want to receive feedback via e-mail. And they will add a beta testing feature to the website. I think that making the website that they have now accessible is more important than adding new features, but hey.
Then there's this paragraph:
With regard to tweets and emails sent by Cassidy, we would like to make clear they do not reflect the opinions and professional intentions of the Ravelry team, or the way we think about what people are experiencing. We have not been as aware as we should be that these messages were being sent. Cassidy was not in a state to be talking with people, though she does understand that this is no excuse and that the emails that she wrote were hurtful. She is ashamed and sincerely sorry. It will take a period of adjustment, but in the future Cassidy's role will be focused on technical work. She no longer has access to the customer service emails and her Ravelry mail is disabled.
The first time that I read this I felt really icky, and now, a few days later, I'm realising why that is. They're basically putting all the blame on Cassidy (so they've done nothing wrong), and then they blame Cassidy's actions on her mental health problems (so she can't really help it either).
In my opinion, they're a (small) team, so how is it only Cassidy's fault how they've handled this in the past six weeks, well, the past 18 months if you take into account that that is when they started working on the redesign? Yes, Cassidy has done some nasty things in the last week, and she should apologise for that, and by the way, I really wish her well, but it's not fair to put all the blame on her. Cassidy represents the team, as does Jess in this e-mail, and they should all be accountable for how Ravelry is being run.
We hear, understand, and believe that the New site is still not working for some. In addition to the updates and customization options that we've already shared, we are in the process of creating more with the goal of making the new Ravelry site work well for everyone. I want to stress that the updates that Mary Heather has posted are not the only things we are working on. We have also been searching for a consultant with a specialization in visual web accessibility that we can work with on an ongoing basis, as the people we have spoken with so far were only available temporarily. We are continuing to research, and this is a priority for us.
The site is not "not working" for some. That implies that there's just a technical problem, like an incompatibility with a certain browser or something like that. The site is actively harming some, meaning that they can't risk to use it unless they want to take the chance that they will experience another seizure or migraine. Calling that "not working" is really minimising the problem.
If you cannot use the new design right now, Classic Ravelry is still available to you, and you can switch your account to the Classic site through a toggle in your Profile drop-down menu. We have made no changes to Classic Ravelry (which you can verify by comparing the CSS files as they appeared on June 15: part 1 and part 2), and will not be adding new features or making changes to it, so it will remain the familiar site that you are used to.
Interesting how they think that someone who cannot use Ravelry right now is somehow magically able to use it anyway to access that menu. Disability is not a preference.
By the way, having the same css says nothing. There are many technologies that websites use, and css is only about how the underlying content is presented (formatting, spacing). If you change the way that your website loads (for example, pre-loading all the images or not) or if you add animations, those can cause issues. If these technologies are shared between Classic and NuRav, it is possible to encounter NuRav problems in Classic.
Hiring an accessibility expert is a priority, but they're still not reverting back to Classic Ravelry as the default in the mean time. Why?
Naturally, some people have wondered why we didn't roll back to using the Classic site as the default, and of course we seriously considered this option.

Over the years, we had heard from many people who had trouble using the Classic version of Ravelry. Since June, many reactions that we have received about the redesign have let us know that the new design is much more usable for many of these Ravelers, including a large number of people with disabilities and folks with vision issues.

For example: we know that the new mobile site—which is many people's only way to access Ravelry—is proving to be much more accessible to many Ravelers with disabilities. We are also finding that specific elements of the new design that some folks say affect them negatively are, to others, improvements compared to the old site.

After taking in the breadth of initial feedback, we came to the conclusion that switching back to Classic Ravelry would not serve the greatest number of Ravelers. It was not an easy decision to make, as we want the site to be the best it can be for everyone, but we feel confident that keeping the new design of Ravelry, with the customization options we now have available at ravelry.com/preferences (and more coming with accessibility forefront in our minds!) is the best solution for the most people.
This is the first that I've heard about problems using the old version of the website. I wonder what those problems were. Jess does not elaborate, except to say that the mobile site is more accessible. But what does that mean? What does she mean when she says 'accessible'? Because there is no such thing as more accessible. It's either accessible or it isn't. When reading this, I get the impression that she's talking about usability instead, which is not the same thing as making something accessible. She uses the words interchangeably (in the first paragraph she mentions 'usable' and after that it's 'accessible').
This answer creates even more questions. If Classic Ravelry was already not accessible, and they were aware of that, why was accessibility not front and centre when creating and implementing the redesign? Why was there no proper accessibility testing before the website went live? Why are the very real accessibility problems still being ignored and downplayed in Ravelry's actions?
And the shocking conclusion to the last paragraph is that they can roll back the site to Classic, but they choose not to. They claim to be inclusive, but they actively exclude the people who cannot use NuRav because of visual or neurological disabilities. They choose to go with numbers here, but not from an accessibility perspective if I read it correctly. It's just the version that most Ravelers prefer. Disability is not a preference.
Their proposed solution (putting accessibility options in a Preferences menu) is laughable. That's like telling someone in a wheelchair that the wheelchair ramp is over there, down those stairs. They can't get to it. Which is why we're all asking for Classic to become the default (assuming the people who had problems with Classic Ravelry are able to access those menus).
Jessica then explains why they don't hire more people. Money is tight. Of course that is reasonable. But I think that if there were a small, optional fee to use Ravelry (similar to the photos subscription), many people would gladly pay some money for this awesome website, and those who can't won't have to. But that's something to tackle after solving the accessibility issues.
We are working on more customizations based on survey results and the input we've received. We are confident that the forthcoming updates based on this data will be truly helpful to people who are having issues with high contrast aspects of the site design. Also, the new behind-the-scenes design system will allow for increased modern accessibility as we redo areas of the site and build new features. We will continue to consult outside accessibility experts as well.
This is what they are going to do. Remember those surveys? One of them was tied to your Ravelry account (against GDPR regulations) and was only about readability and whether you like the icons, the other one was 30+ pages full of screenshots of NuRav (so not accessible to those who have problems with the site)? If they base their actions on the results of those flawed, biased surveys, they won't solve the accessibility problems.
Additionally, I don't trust them to fix things without the help of a true accessibility expert. Right now, they're not even sure what accessibility means, the person coding doesn't believe that Ravelry has an accessibility problem, and they're keeping up the new version of the website despite knowing that it has caused seizures, migraines, and other health issues. How can I trust them to know what to fix, or not to make it worse? Right now, I can't.
Meanwhile, it's still Verboten to talk about this stuff on For the love of Ravelry. Ravelry's social media are still closed for comments. NuRav is still the default. Nothing has changed.
While I'm glad to see that they're finally coming out to talk, nothing has changed yet.
These are the things that need to be done before I will consider putting my patterns back up and giving them another chance:
Apologise to all people who have had their health affected by the website.
Revert to Classic Ravelry until the website has been fixed.
Hire an accessibility expert to make sure that the website is safe to use for all.
Nothing on my list has been done yet. While the letter from Jess may be pretty and while we all want it to be more than it is, only time and actions will tell if they really want to make these changes, and if they really are hearing us.
While I probably sound very negative in this blog post, I really do want them to succeed. I have really enjoyed using Ravelry over the past 10+ years, and I have made some good friends there. Of course I want this to be solved! That's why I put in all this energy. If it meant nothing to me, I would just close my account and walk away.
Update: Some things have happened in the last few days that put this post in a slightly different perspective. While my opinion on the letter from Jess and the current inaccessibility of Ravelry still stand, my opinion on what has happened around KatieBea has changed.
I did miss this when it was happening because it was spread over multiple Social Media platforms, but apparently Katie retweeted alt-right content on Twitter, was corrected by a BiPOC, and showed white fragility by tone policing her, making excuses, playing the victim, comparing the accessibility discussion to Black Lives Matter, and then doing some dirty deletes under the guise of taking care of her mental health. Apparently, the people 'harassing' here were actually at least partially BiPOC calling her out.
I do not condone that kind of behaviour and I'm sincerely sorry that I have amplified her voice both here and on Instagram. I do hope that she chooses to learn from this experience, and I have learned a valuable lesson too: be more aware of the voices that I amplify and keep my eye on the goal (accessibility) instead of an individual.
Update 2: Meanwhile, the designers' open letter has been sent to Ravelry, and it got a short reply.
Thank you for writing with your concerns and care. I shared your letter with Jessica and we discussed it this morning. We hope that Jessicas letter last week addressed these concerns and helped share our thoughts behind our decisions and our next steps. We will be following up with continued updates on our blog and look forward to continuing this work.

Best regards, Mary Heather (and Jessica)
Four lines in response to 400 designers pouring their hearts out about the new Ravelry design. No empathy or compassion for their experiences whatsoever. A reference to Jessica's blog post that was so sadly lacking. If that blog post would have answered those questions, we would not have sent the letter.
At this point, I'm sure that Ravelry has no intention to acknowledge the hurt they are causing with the redesign. I'm going to look for a new place to share my designs, and I'm going to try and create an offline knitting/spinning notebook application that can read my downloaded Ravelry data. After that, my profile there will be empty.