It's been a while (again) since my last post. I've been wanting to write something, but didn't manage to for whatever reason. As you all know, these are surrealistic times with the pandemic and the quarantine and all. It's eating up a lot of my energy in the background. I don't produce much. I hardly spin, don't knit, don't have the focus or inclination to write music. I guess that my mind is on hyper alert again. I'm not actively worrying, but it's subconsciously keeping me occupied, I guess. That, combined with all the pollen in the air makes that I have little room for anything else than the regular day-to-day things. I've neglected my social contacts a bit, and find it hard to push myself to read a book instead of the news, or other activities that I see as beneficial to my mental health. I try to not get frustrated with myself and accept the reality of it.
But I did manage to create something recently. I used a free online pattern to sew some face masks. The Dutch government doesn't advise wearing masks, but it's obvious that they do help prevent the spread at least a bit (see Czechia and Asian countries). I decided to do this because both my husband and I have allergies and we don't want to go to the grocery store sneezing everywhere.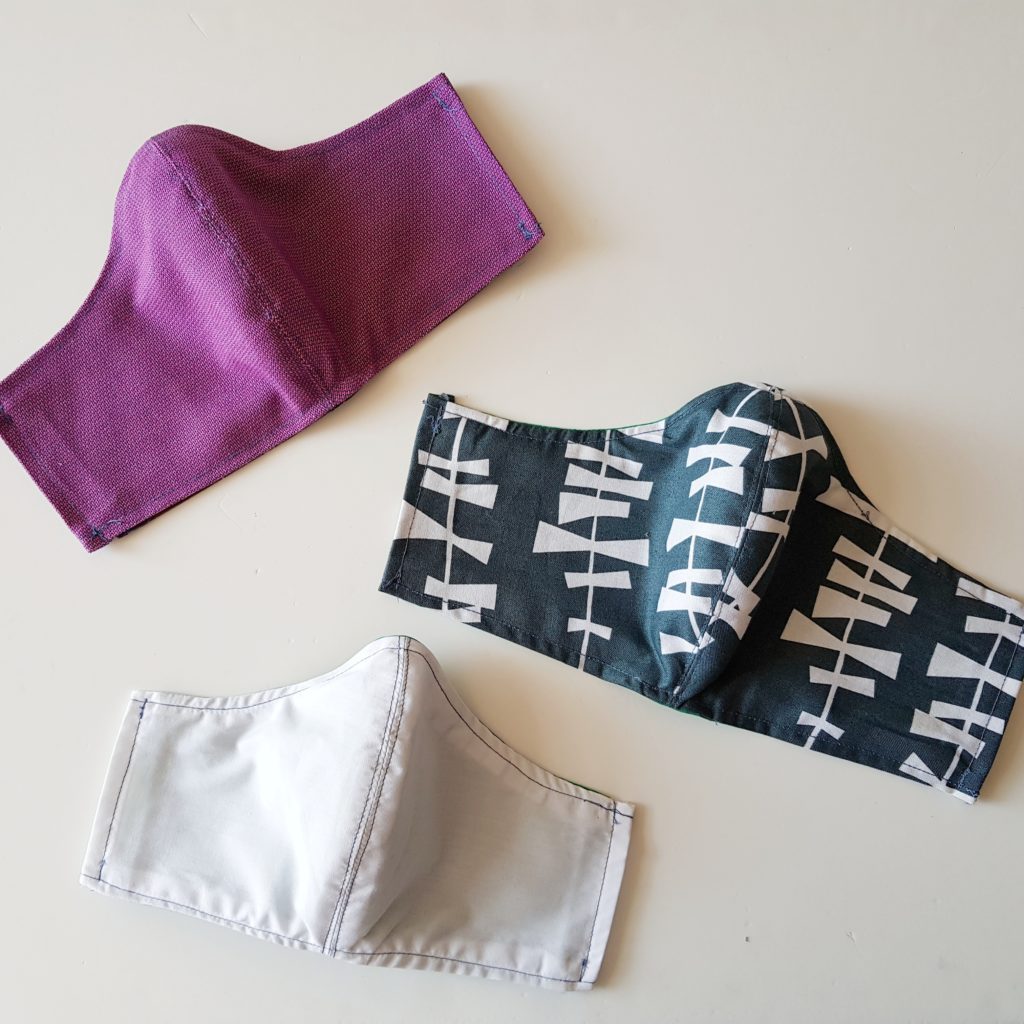 The masks fit quite snugly, and they have a pocket where you can insert a filter, for example, a piece of vacuum cleaner bag. I used paperclips to shape the top of the nose. Of course they are not medical grade masks at all, but even if they help a bit, it's better than nothing.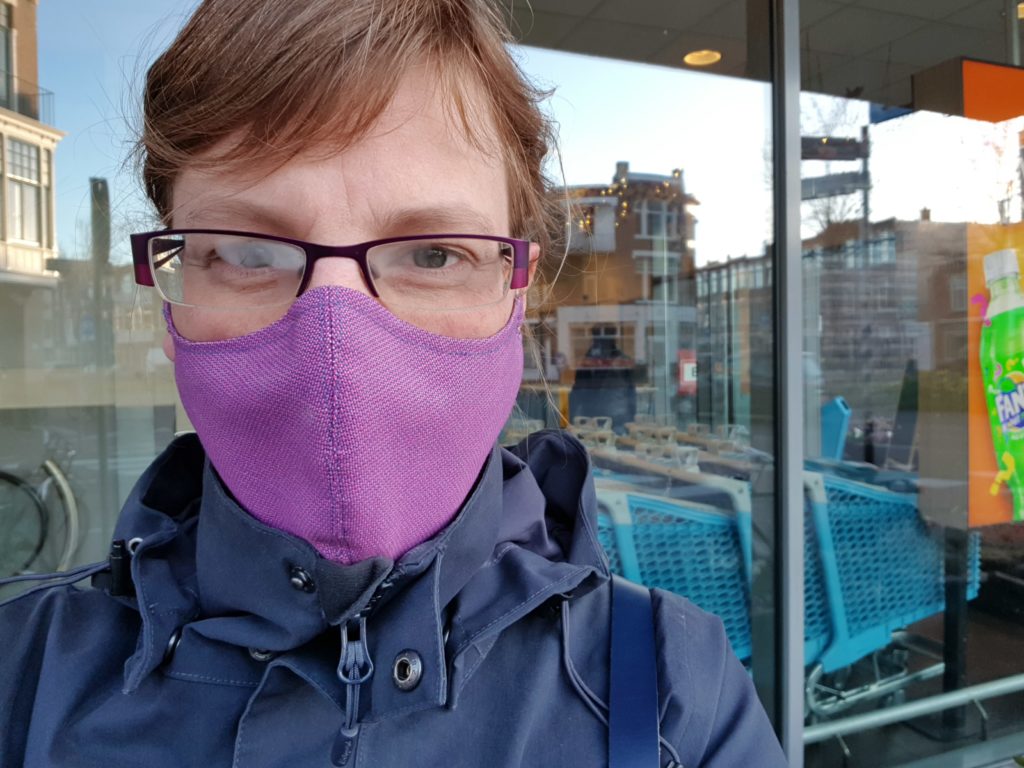 I've found another time sucker: Animal Crossing New Horizons. Previously I've played Wild World, New Leaf, and Happy Home Designer, so I was anxiously awaiting the newest addition to the series. It does not disappoint. the Animal Crossing vibe is there, and the developers have improved and added so many lovely details! The resolution of the Switch is, of course, much higher than that of the 3DS, so textures and details that you could not distinguish previously are a feast to the eyes now. The game came out on March 20th, when many people were already in lockdown. Perfect timing. I got a Switch Lite especially for playing this game…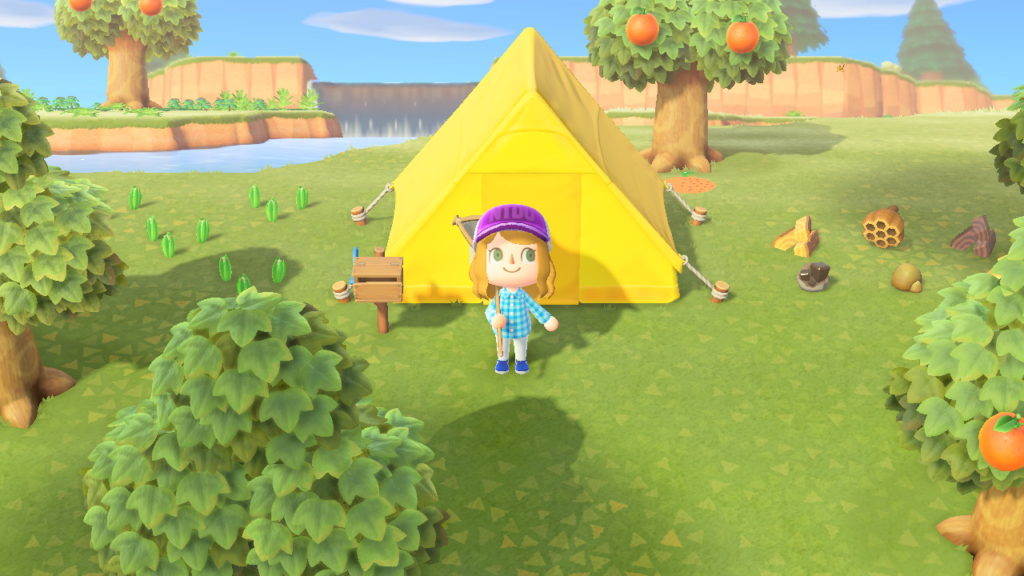 In Animal Crossing, you are a human, living with a number of cute animals with different personalities. In New Horizons, this takes place on a deserted island. You start with a tent and no neighbours, and you gradually build up a community on the island. With no pressure.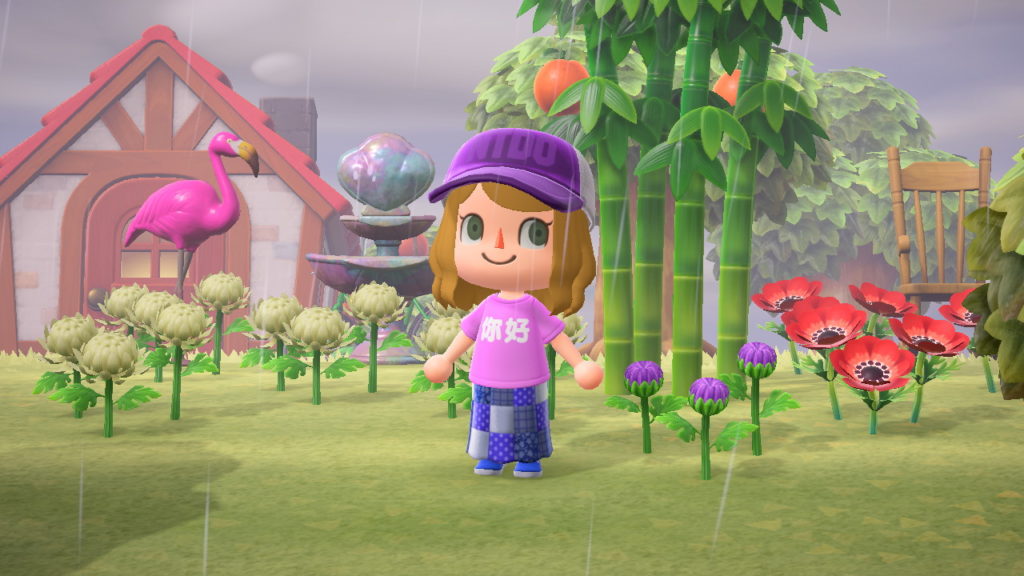 This game is meant to be played at a slow pace, enjoying trivial things like catching bugs and fish, finding fossils, filling up a museum, decorating your house, designing clothes, and, new in this instance, crafting. Take time to smell the roses, so to speak. Although on my island, they're mums.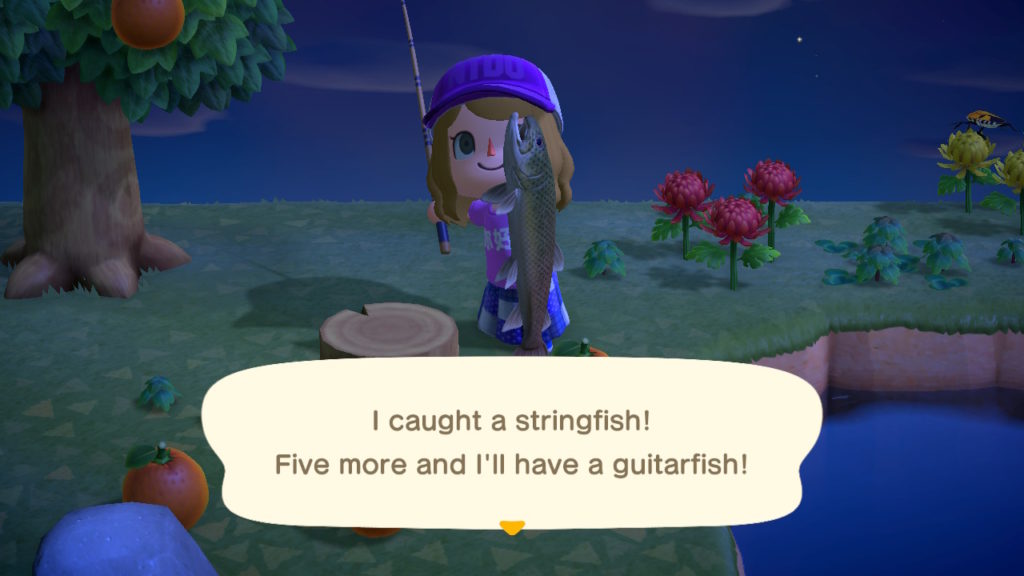 You grow can fruit trees and even money trees are part of the game! And in New Horizons you can move your trees to different locations.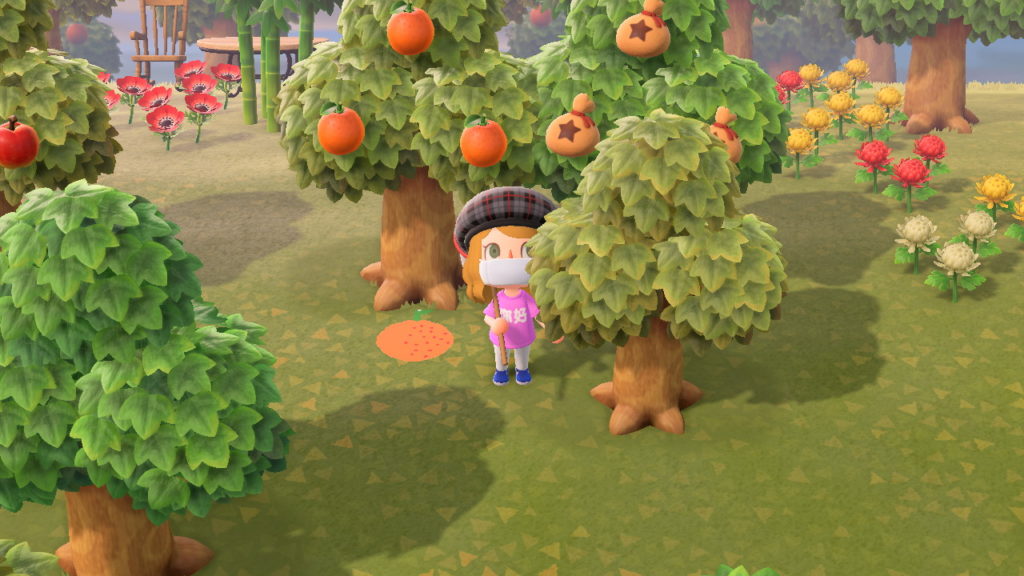 It's a welcome change of pace compared to daily life right now. No wonder that it's incredibly popular, especially with people who struggle with mental illness in normal times already. It's an escape to a simpler, slower environment. Even though you may want to have all the cool furniture and all the cute clothes, and all the tools and shops, it's important to take your time. There's so much to enjoy.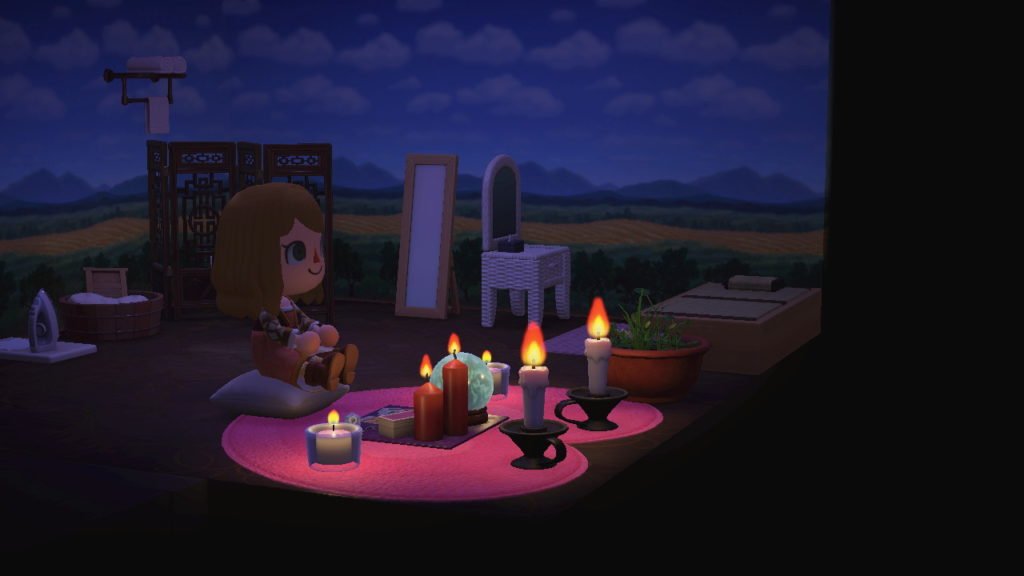 Meanwhile I've upgraded my tent to a house, added a new room, built some houses for new villagers, added shops… my little island is starting to flourish.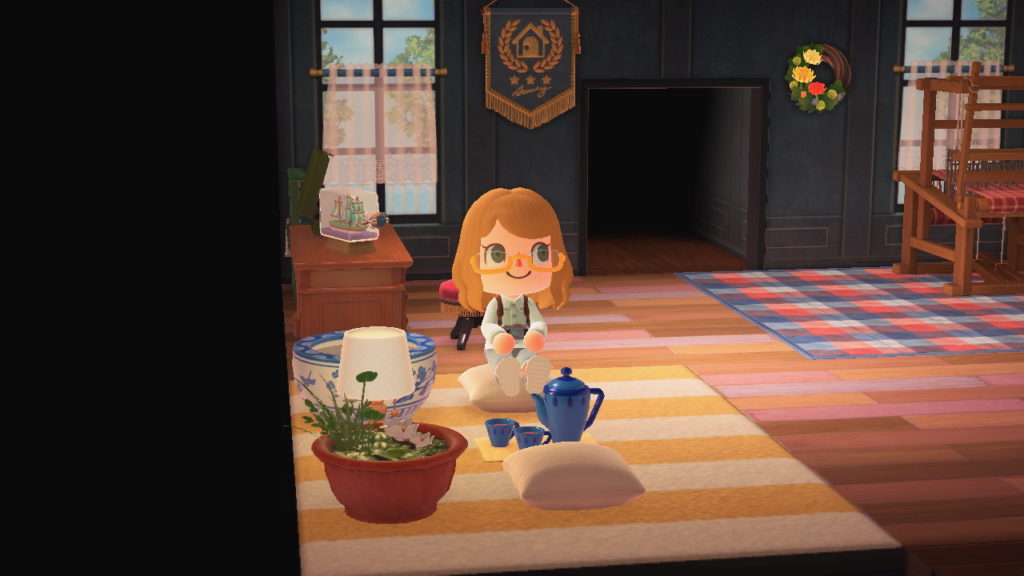 I even invited a villager who also lived in my town in New Leaf! Sidney is my favourite villager, together with Tom. I'll invite him next.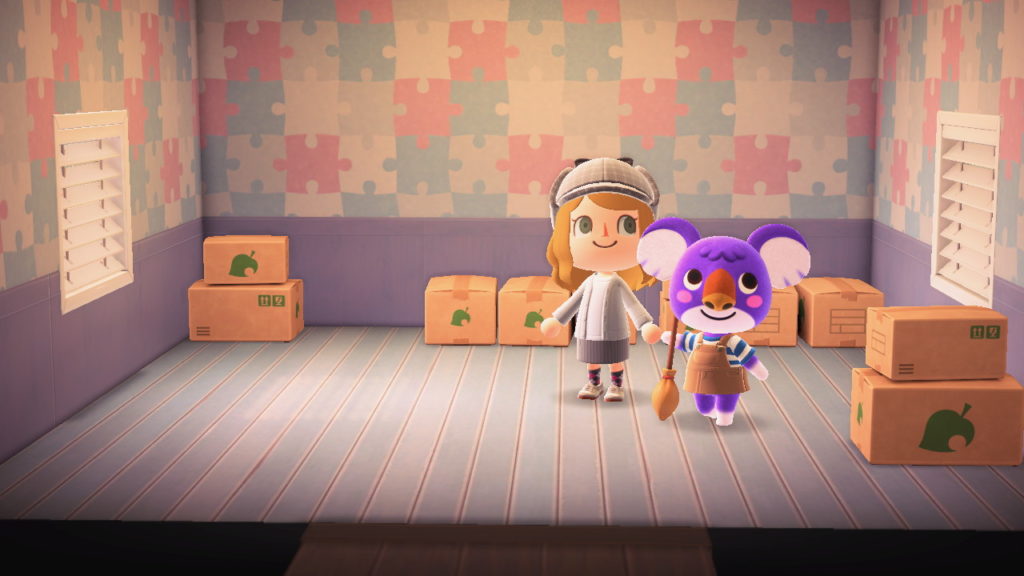 You can really use you creativity in this game. Of course you decorate your house as well as your island (yay for furniture that can now be placed outside!), but you can also do more extreme landscaping later in the game. And there's the custom designs part where you can design clothes and patterns. I've updated the island flag already, and I've created some clothes as well.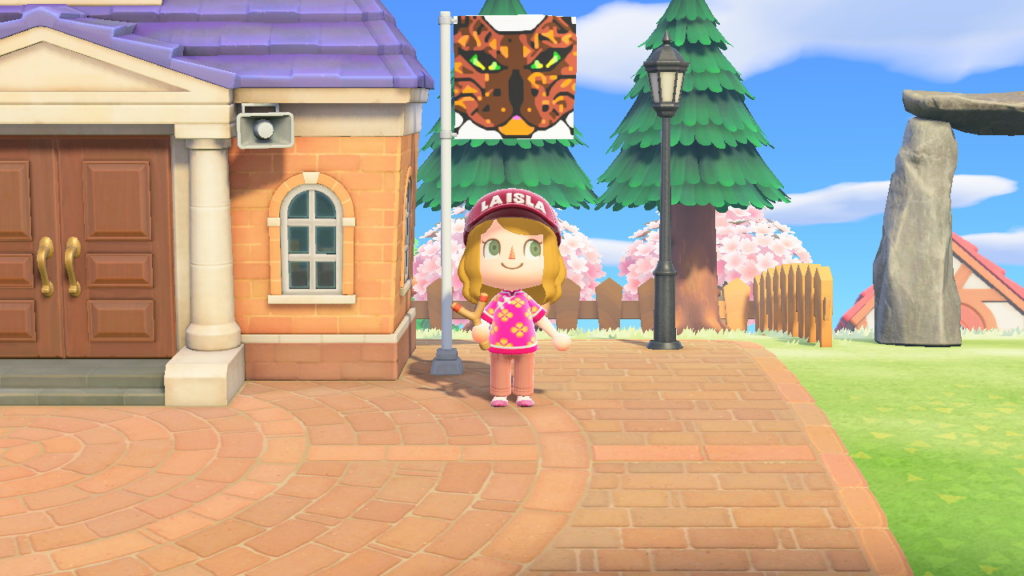 So even though I'm not actually making tangible things, I'm still using my creative spark.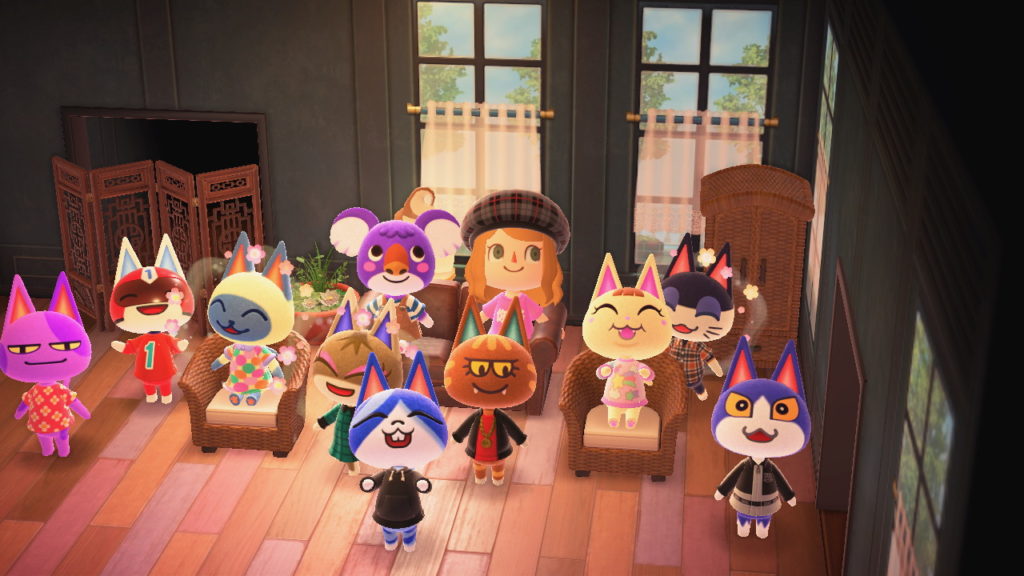 I did a photoshoot with my old New Leaf neighbours using their Amiibos. That was fun! I'm hoping that some of them will move to my island at some point. By the way, if you play New Horizons too, I'd love to become friends and visit each other's islands!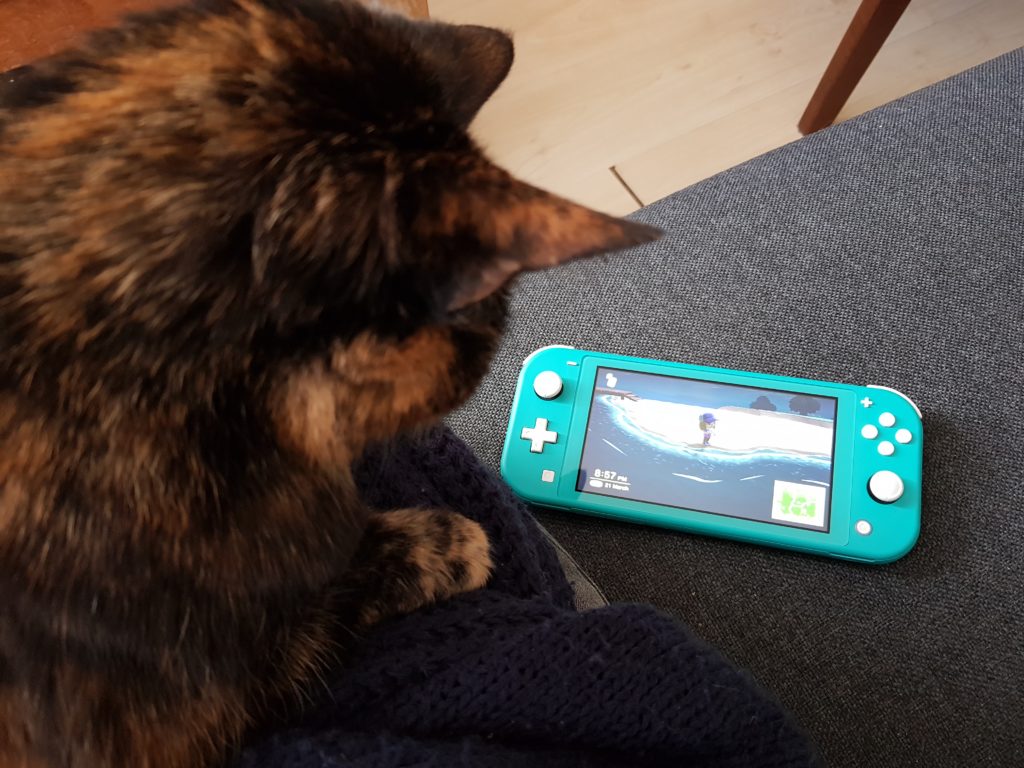 By the way, I do have some more tangible creative plans. I'll try and sew the Brooklyn handbag next weekend! I have some gorgeous purple Harris tweed from Christina's Harris Tweed and faux leather for the outside, and a floral cotton for the inside. Of course I'll keep you posted!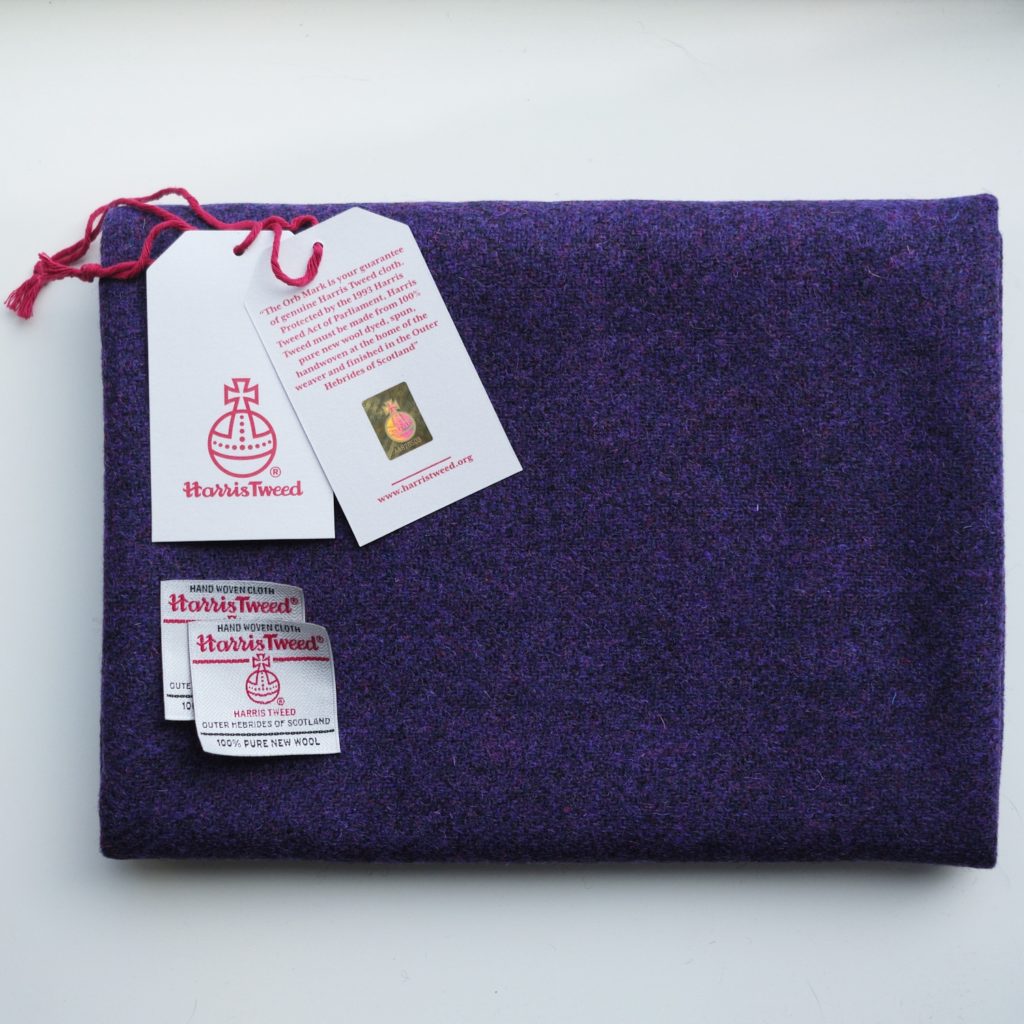 As for other news, Freya is still doing fine. She did have a few off-days about two weeks ago, and last week we went to the vet for a checkup. Her blood pressure was a higher than before (168 vs. 145), so we increased her blood pressure medicine dose. Apart from that she's doing well and she was really brave at the vet.
Freya is very cuddly and happy that we're both home all the time. She follows me around everywhere. She sleeps between our desks when we're working, or she snuggles up to me between me and my keyboard. And she has discovered sleeping under the blankets. She used to hate feeling the weight of it, but she is appreciating it now.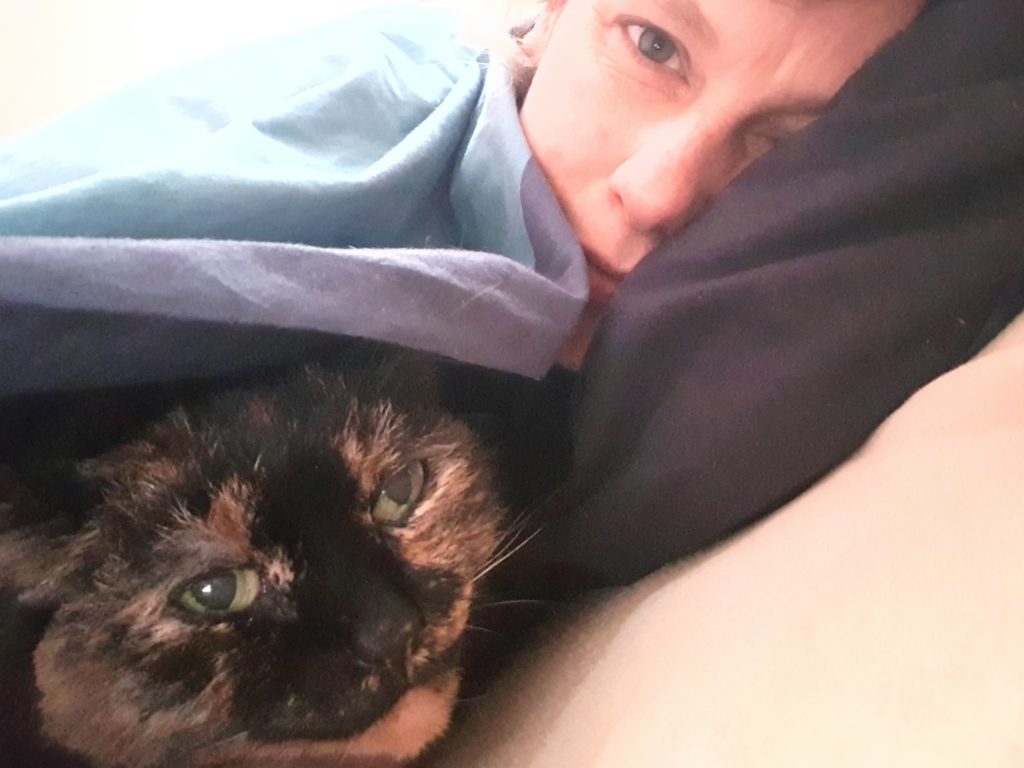 With this quarantine, I've noticed that the thing that I miss most is going outside. I can still go for walks, but it just doesn't feel as relaxed if you have to zig zag around people to keep your 1.5 metres distance. The streets of The Hague are still not that quiet, especially with the great weather that we've been having lately. It's sunny and 20 degrees Celsius! And I don't want to unnecessarily risk exposing myself and my husband to the virus.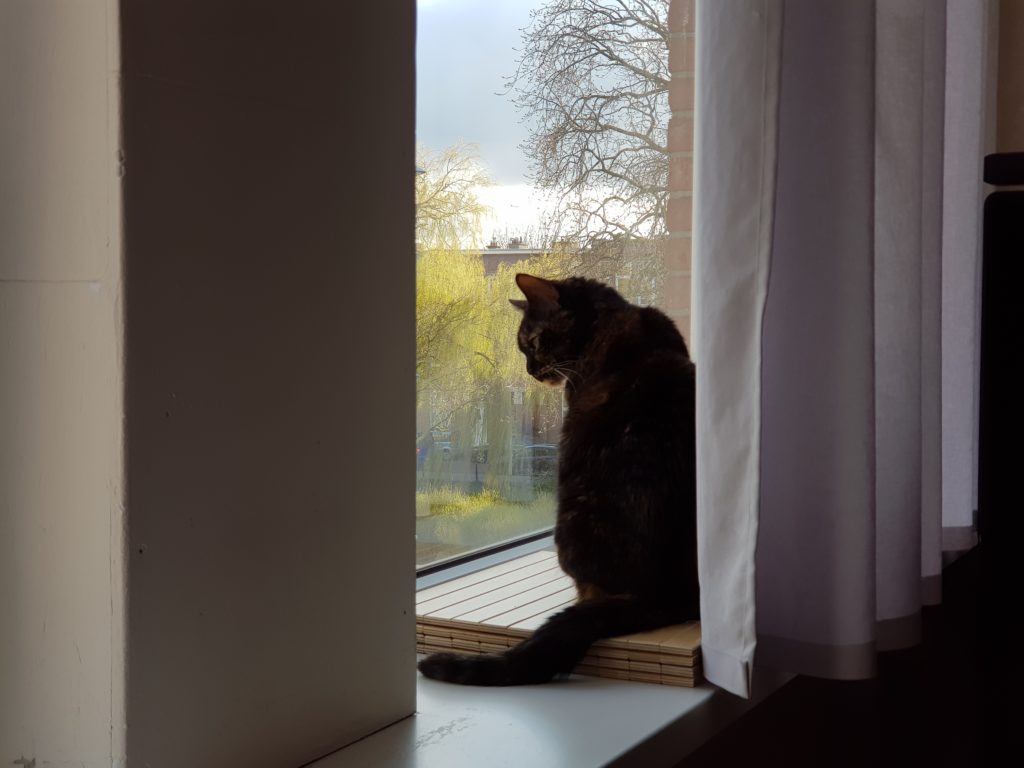 I love working from home and I enjoy being around my husband more, but I miss my photo walks and observing my favourite time of the year in nature. Last Monday I finally escaped the house for a bit. I noticed that it was raining, so I assumed that most people would go inside. I was right! And I saw the beautiful blossoms that amaze me every year. The petrichor smell was strong and I felt very alive. I'm already looking forward to my next walk. When will it rain again?