It has become a tradition: every year Stephen West designs a shawl pattern that is published one clue at a time. A so-called mystery knit-a-long (MKAL). Upfront, you only know some generic things about the pattern: the fact that it's a shawl, the amount of yarn(s) needed, the needle size/gauge. But you have no idea about the shape of the end result. Stephen's designs can be quite wild and out there, so that's a risk you take if you participate.
In the first years, Stephen experimented with his signature combination of garter stitch, i-cords and holes. The designs were always graphical and required at least two yarn colours. The first time I joined was in 2012 when his Rockefeller design came out. I even knitted it again in 2013 because I liked it so much.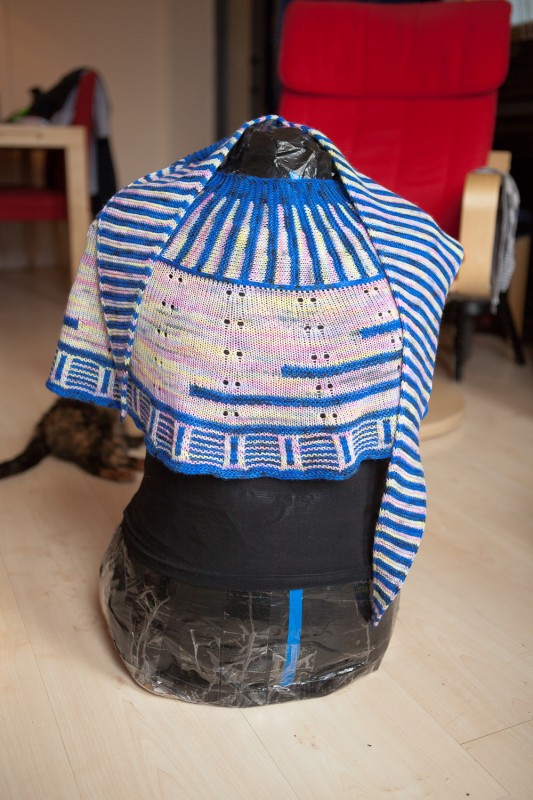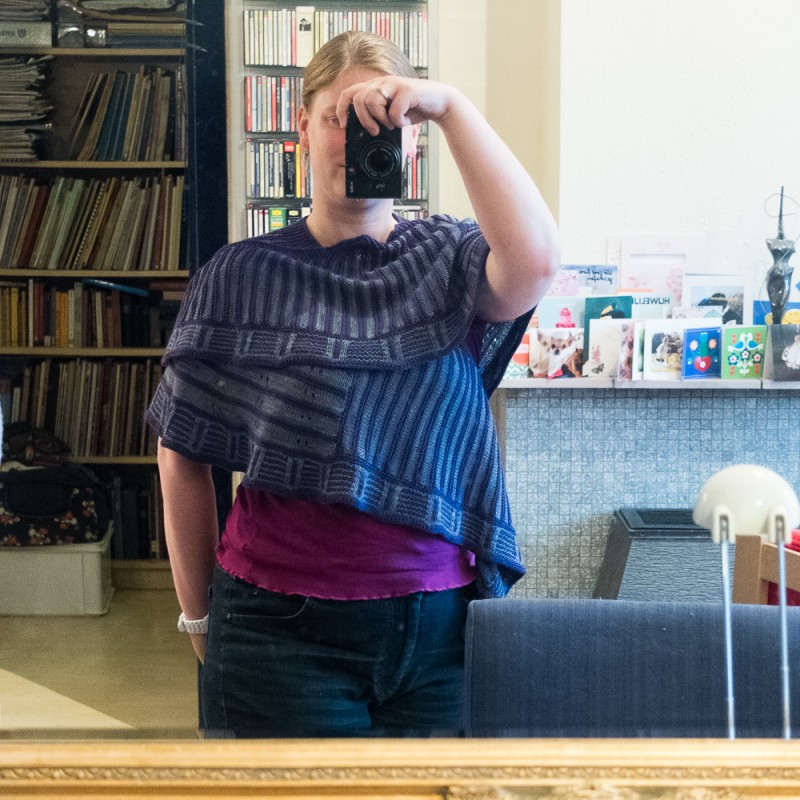 In 2014 I participated again, this time the pattern was the Exploration Station shawl. I loved knitting this one and I also really loved the yarn/colour combination. Unfortunately, there's a hole in the brioche section now, which I still need to fix, so it's not being worn at the moment.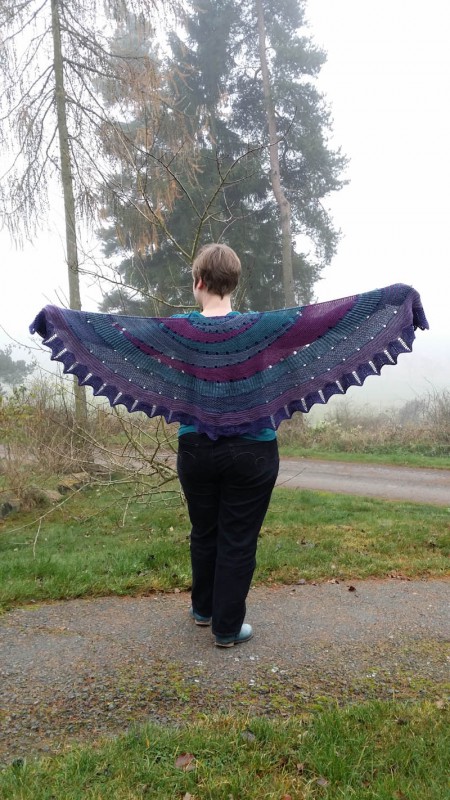 Every year I made sure to keep an eye on the mystery shawls. I like mysteries, but I also like to have a satisfying finished object. Sometimes, it makes sense to wait a little bit before committing to an MKAL. I usually take a look at the results of the first clue to see if I want to knit it. Some of the later MKALs have involved knitting with four or five colours, and I find it hard to choose a colour combination without proper context. So I didn't participate for a while. Until this year.
This year was the tenth edition of Stephen's MKAL. By now, he not only publishes a pattern, but he also creates yarn kits to knit the pattern with, to ensure a good match. This year's Starflake MKAL asked for sock yarn in two contrasting colours, 200 grams of each. The first clue came out right the day before I went on holiday. In Germany, I checked out the first clue and it looked intriguing. So much so that I decided to cast on! But with what? I know, supermarket yarn!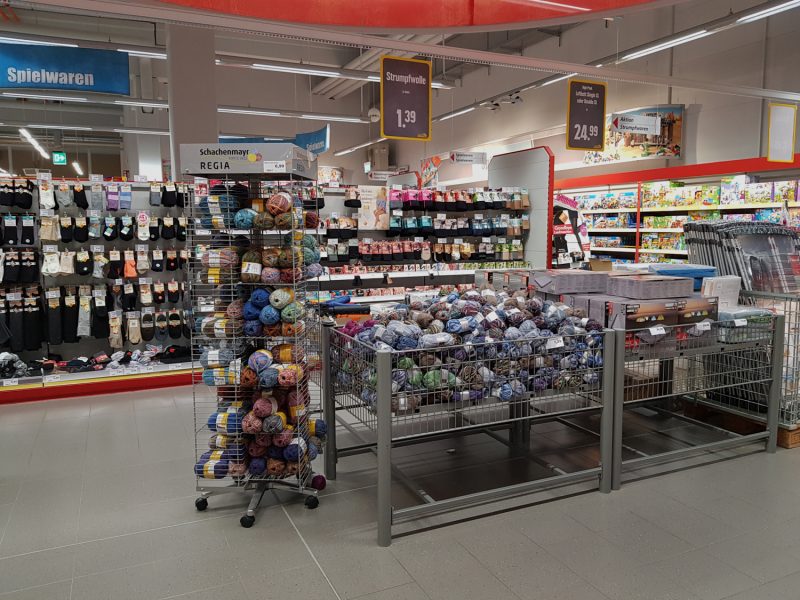 I checked out the yarn in the sale (€1.39 per 50g skein) and found a lovely green. I decided to combine it with fuchsia to get a good contrast. The fuchsia yarn did contain some small splotches of the green as well, so they looked good together.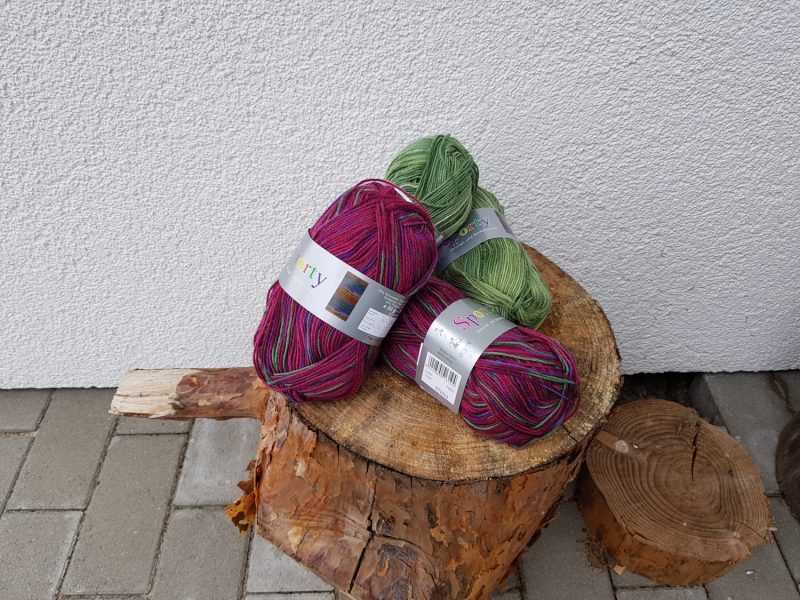 I cast on the first clue and enjoyed knitting the star.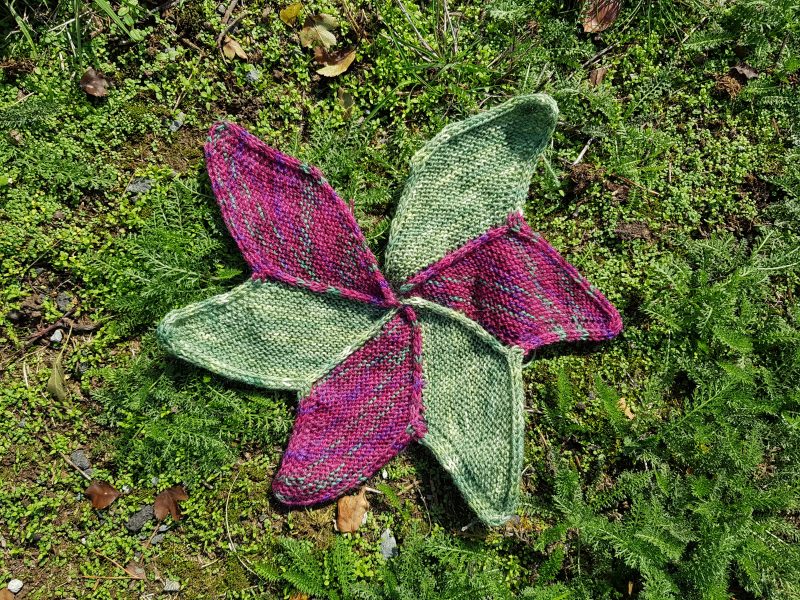 Such a start makes you wonder what's next. Could it become a shooting star? Would it become a snowflake-shaped shawl? Who knows! We had to wait a week for the second clue to come out.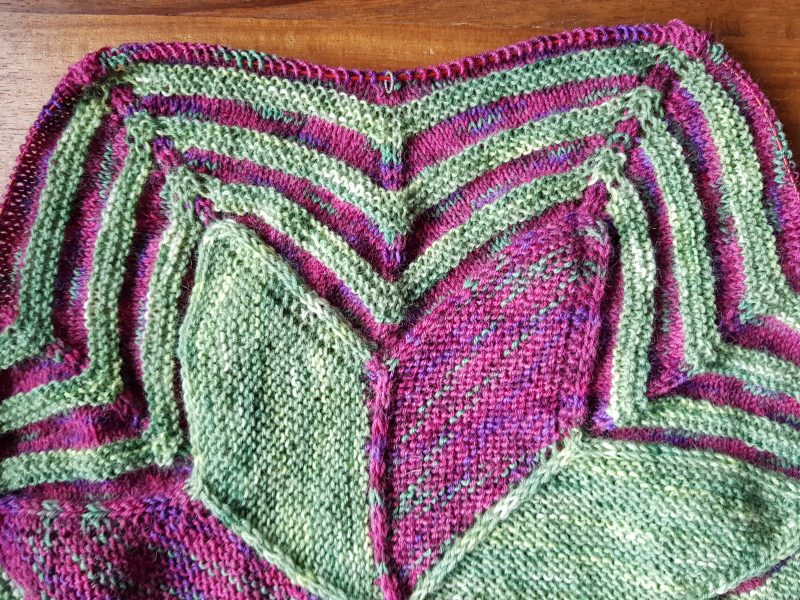 Clue 2 added stripes around the star in garter stitch and stockinette.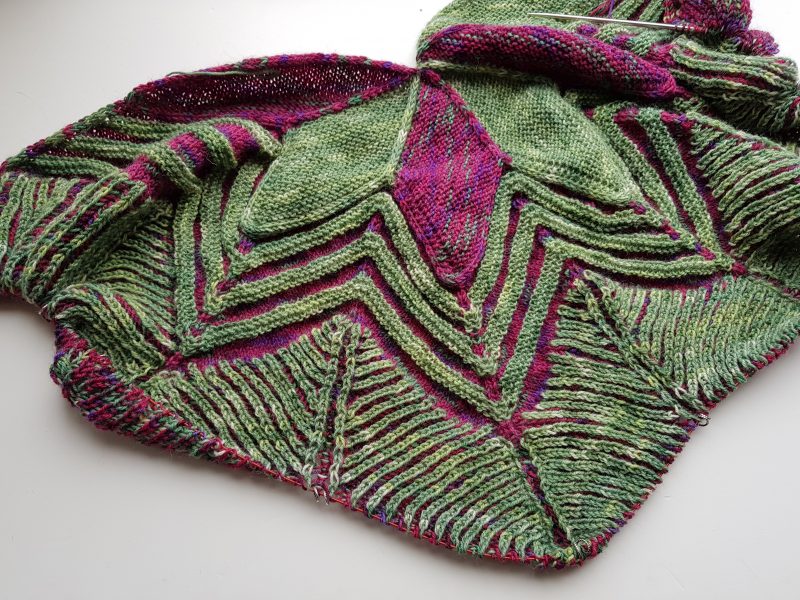 Clue 3 involved a brioche knitting section that I particularly enjoyed. The fabric becomes so nice! The shawl was already way too large to spread it out with the needle in it.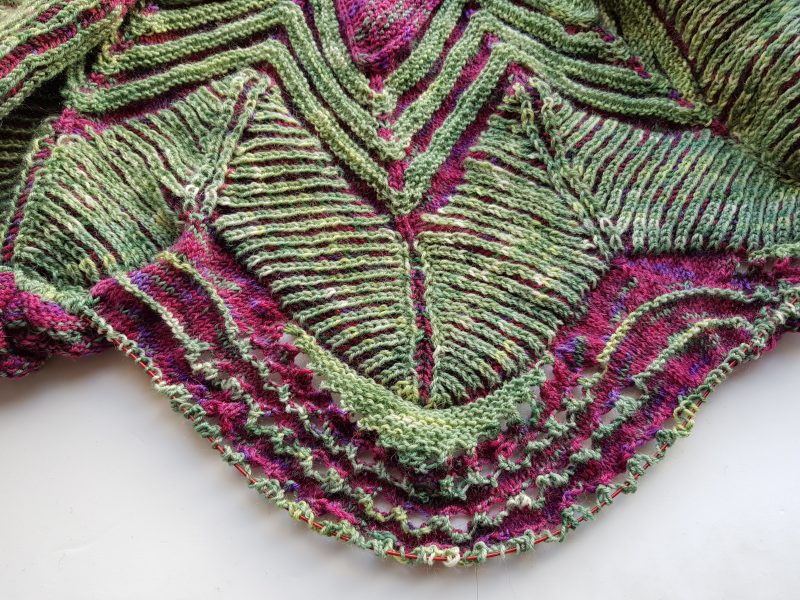 Back home, I knitted clue 4, which added wavy lines to each star point. I decided to do the short edging and bound off with a two-colour i-cord. That took a looooong time. But the result is very nice, I think! Blocking time…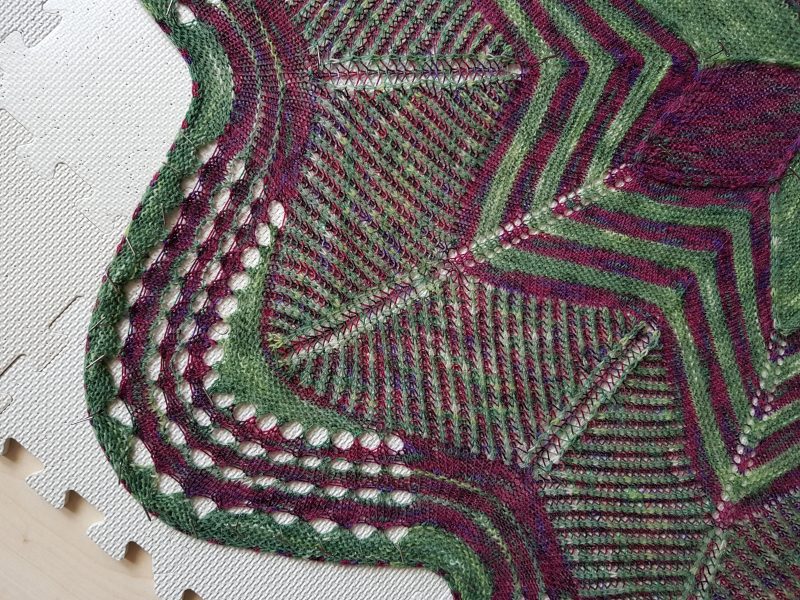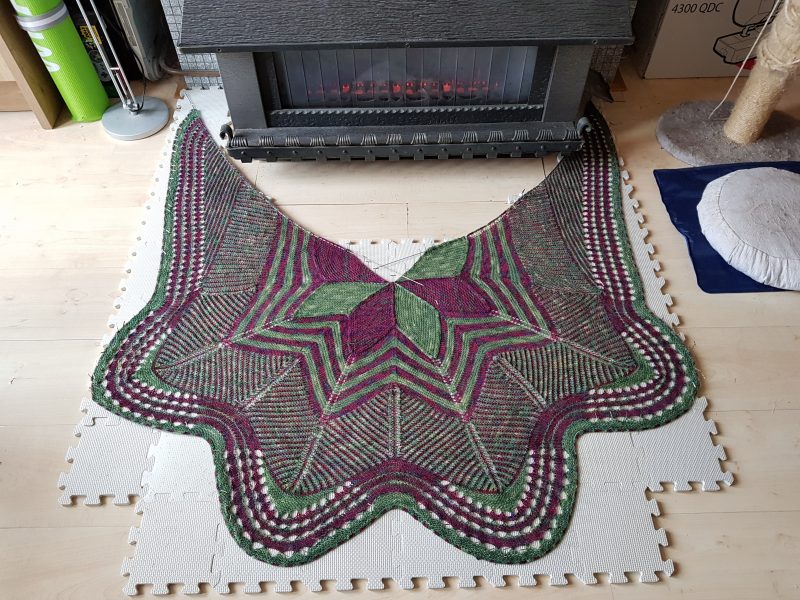 Of course, I got some help from Freya!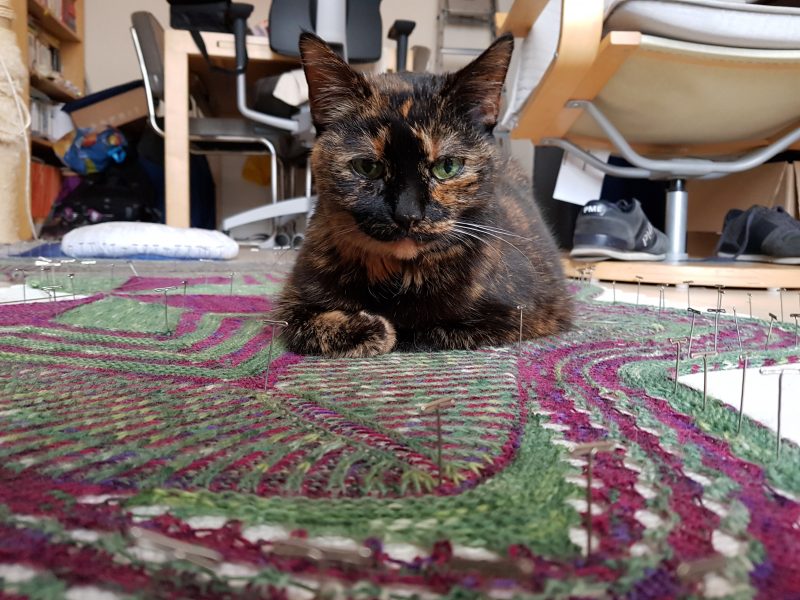 She had a lot of work to do because the shawl is quite large. And it looks great after blocking!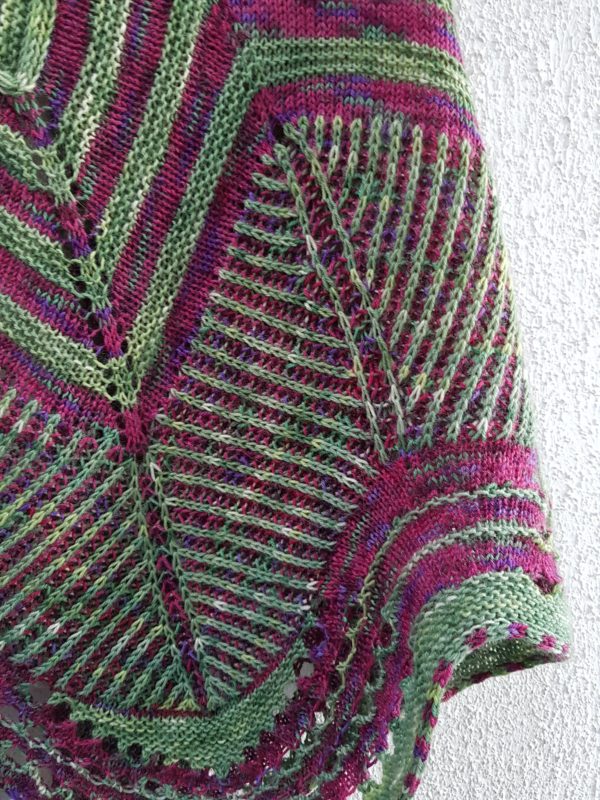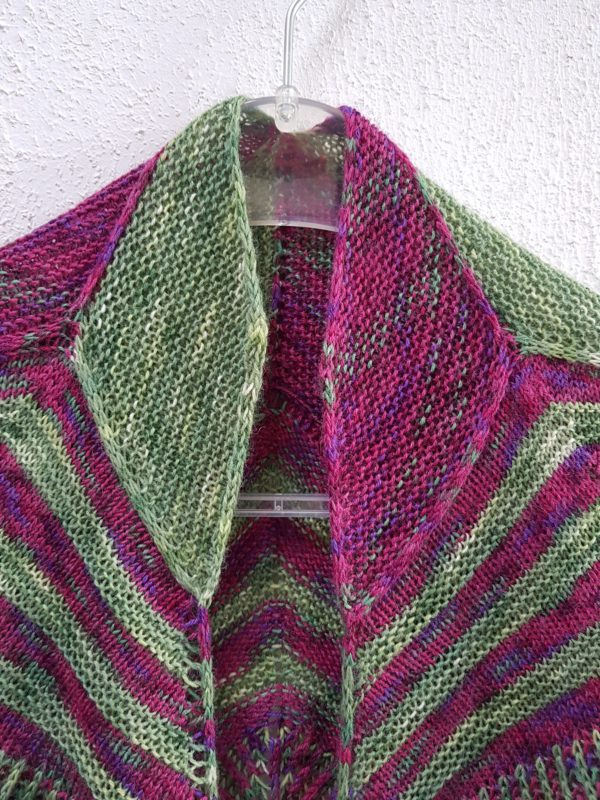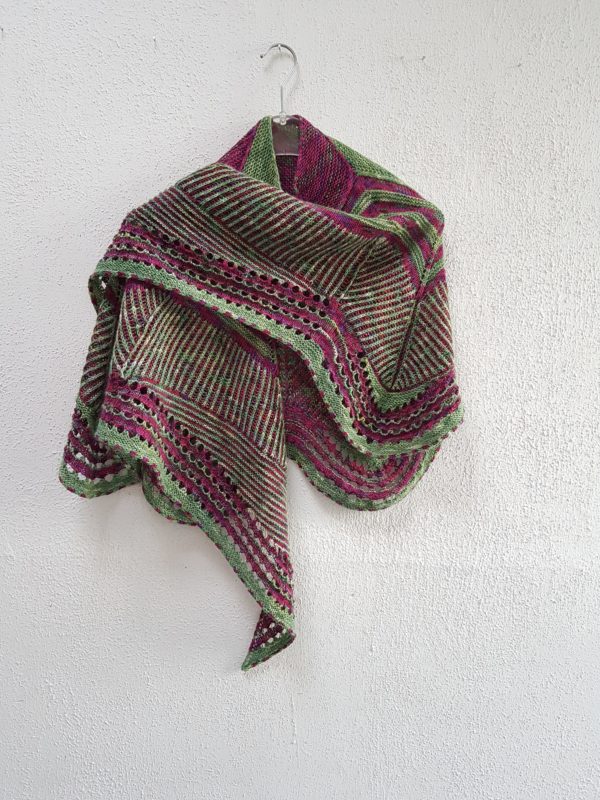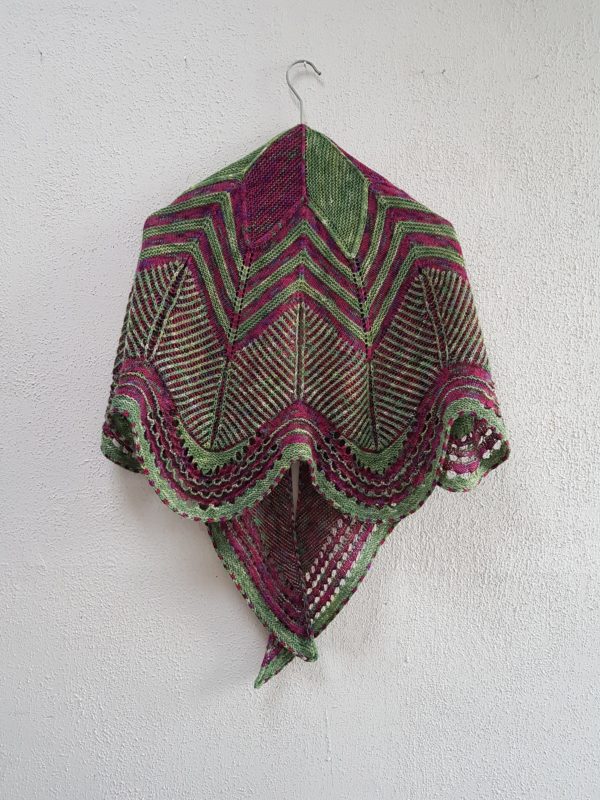 I love the design! I like the colours too. But the yarn is not great against my skin. Plus, I'd like to see how this design looks if I would use yarns that have less contrast. So I may be knitting another one someday!