The second part of the MirkwoodArts spin-a-long is at its halfway point, and I have just finished spinning my Hobbit-inspired green project. For this project, I opted to combine about 400 grams of different, mostly green fibres into rolags on my blending board.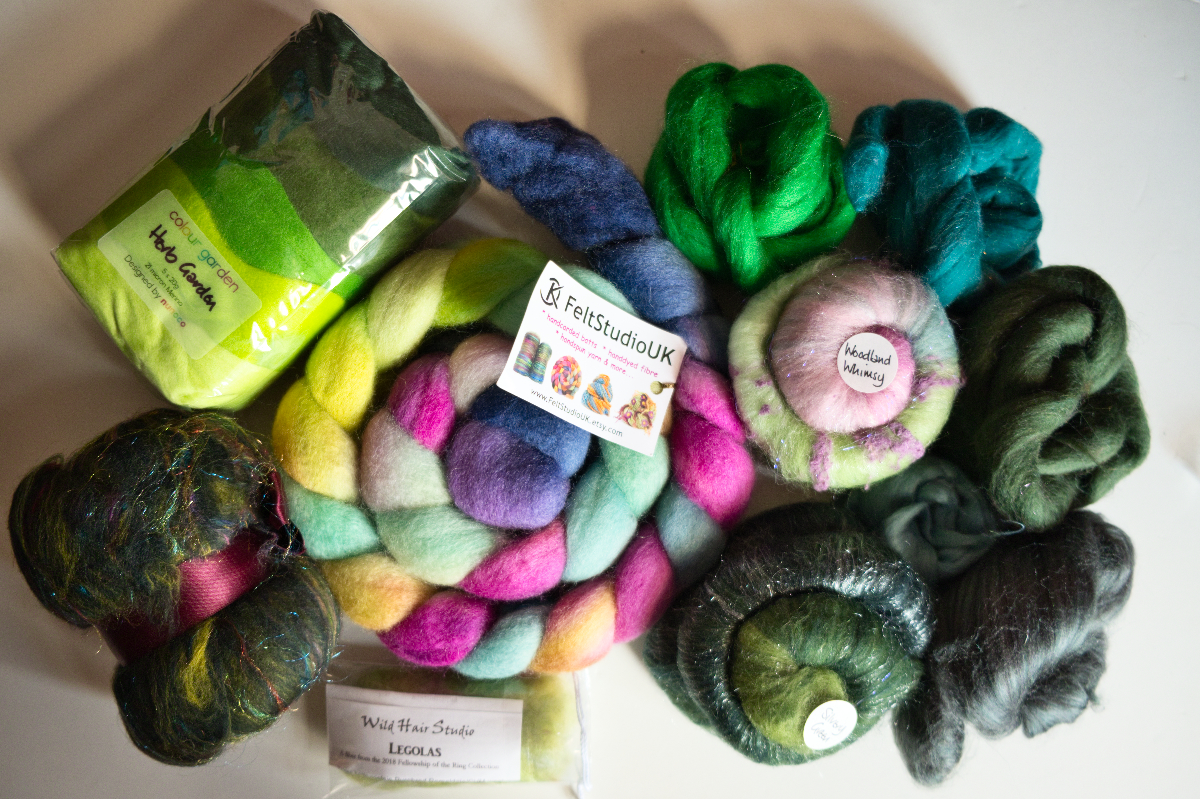 The multicoloured braid is BFL from FeltStudioUK, the batts and the green gradient pack are Nunoco fibres, and the five odds and ends on the right are mystery fibres of which I don't remember where I got them The grey may even be alpaca, the others seem to be merino.
Anyway, as usual, I divided each ingredient into an equal number of parts, and then picked one of each to combine them.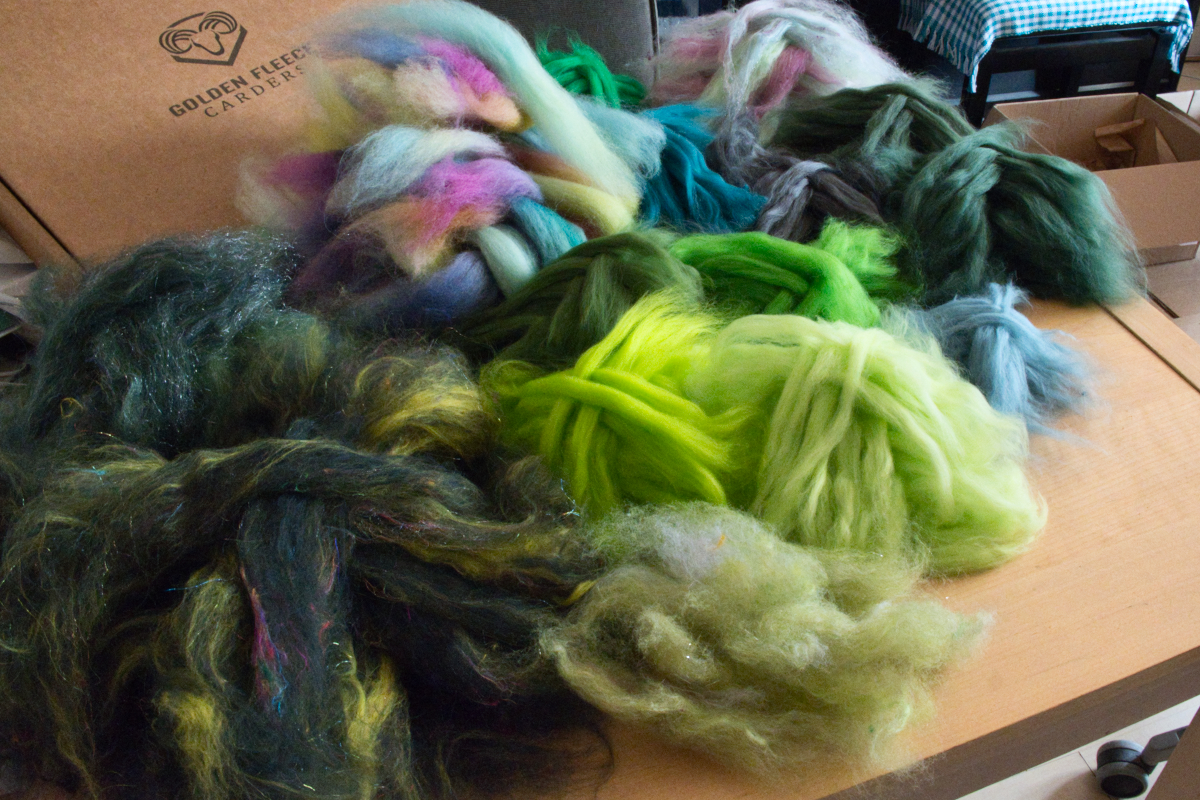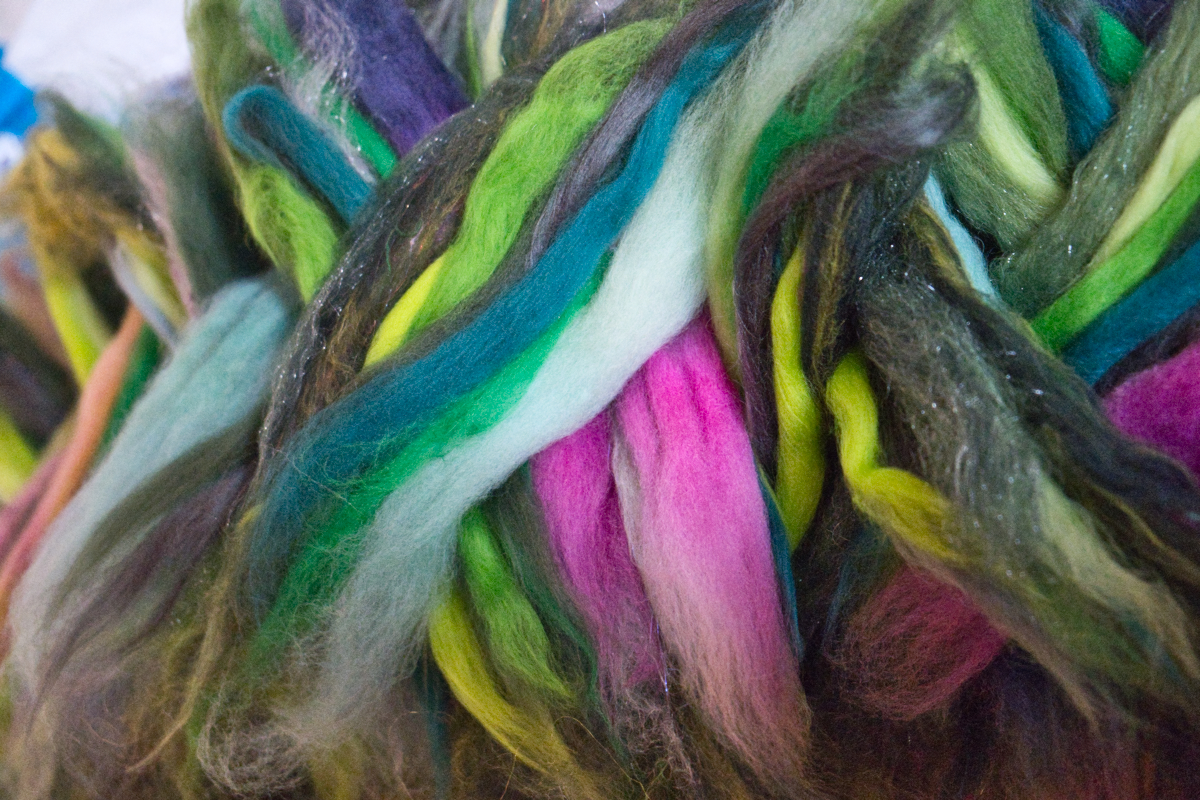 Then I started blending every combination. I tried to make the rolags as random as possible, sometimes blending a bit more, sometimes less, to keep them interesting.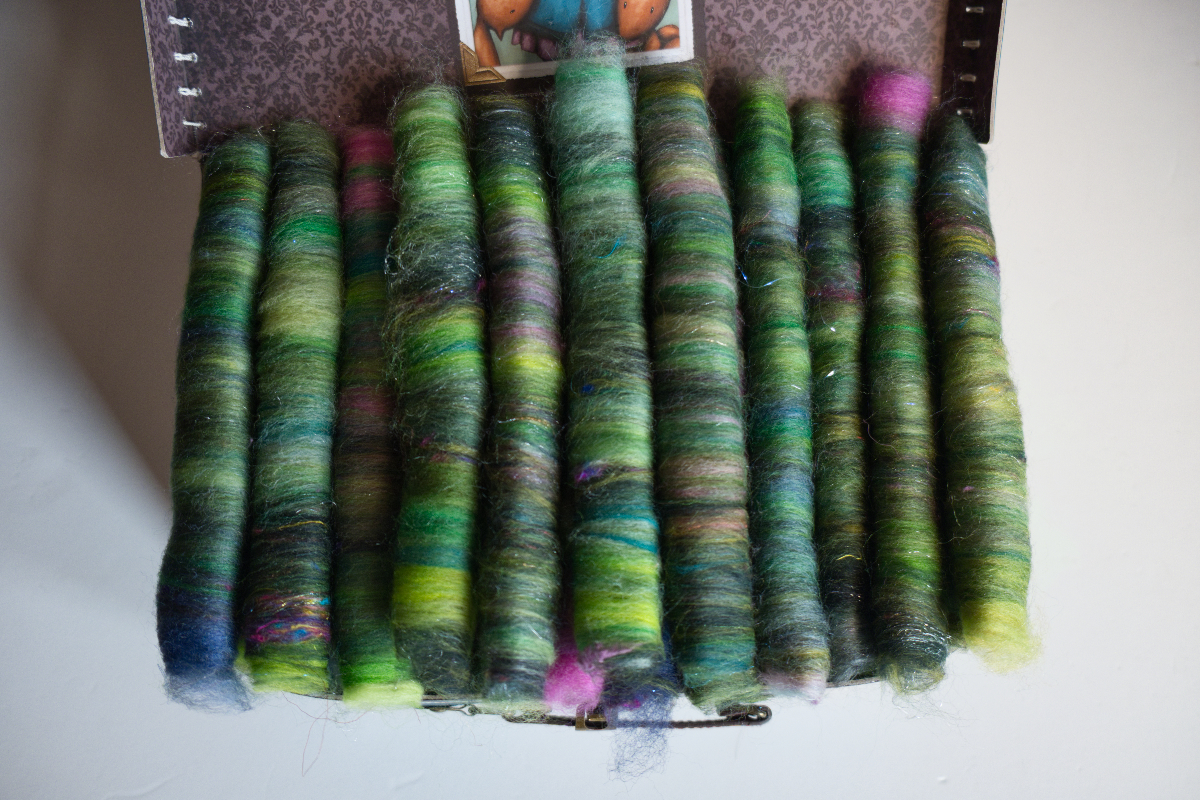 The rolags didn't entirely fit into my suitcase, so I started spinning them right away. Of course, I started on my MirkwoodArts spindles. I have seven of them, some a bit lighter and faster (Nimrodel, Eowyn, Smaug), some a bit bigger and slower (Luthien).
I decided to spin thick this time, and hopefully create at least a sport weight, but preferably even a DK weight yarn. My default thickness results in a 3-ply light fingering to fingering weight yarn, which is nice, but not all the time. This fibre called for a more rustic final yarn, possibly a bit thick-and-thin even, to later on create a nice cozy dryad cardigan, or a big shawl to live in.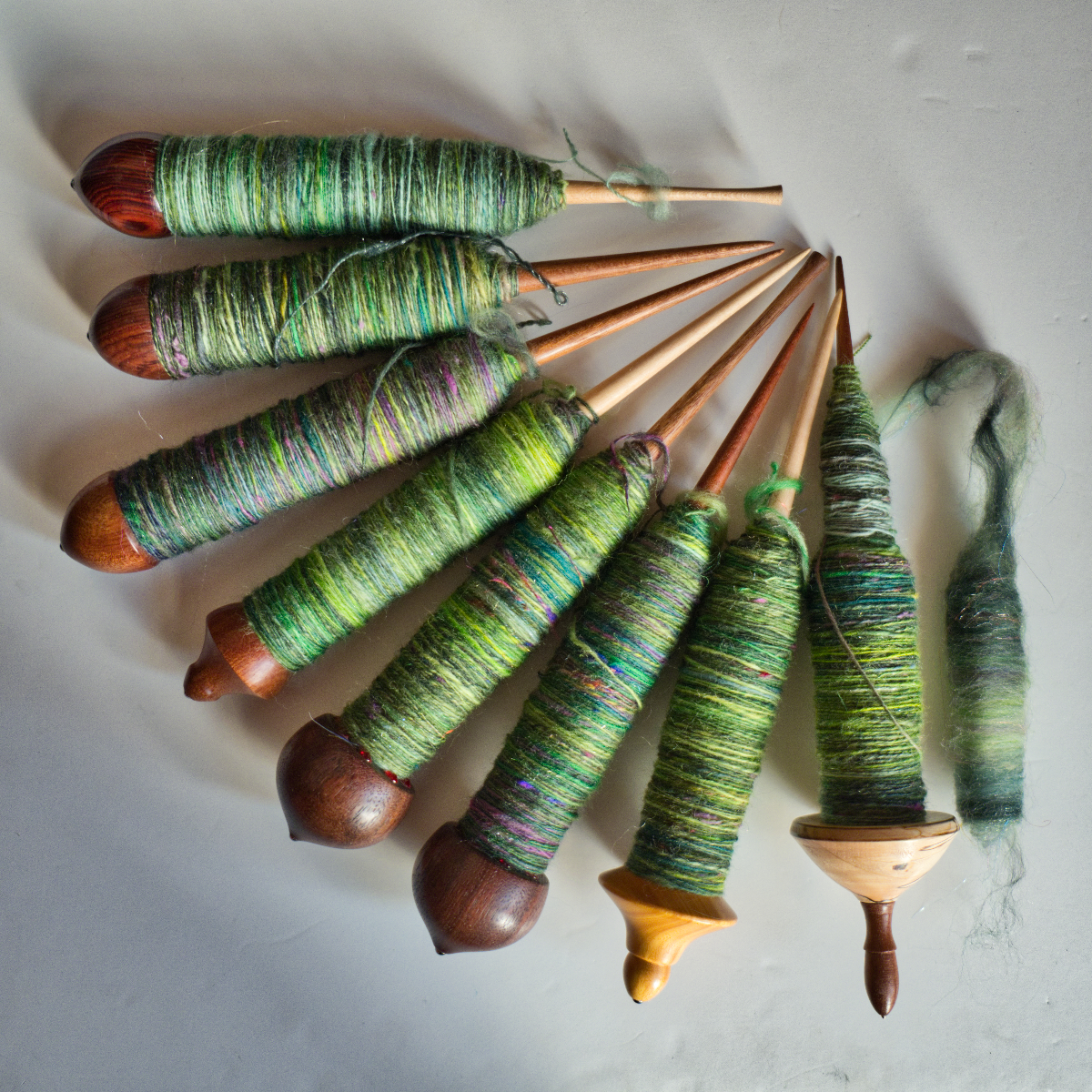 Spinning a bit thicker was not as hard as I expected, possibly because of the BFL in the mix. I tend to spin thicker when spinning BFL, perhaps because of the thickness of the fibres themselves. The other thing helping me to spin thicker was letting go of the need for the singles to be even. When I spin thin, my singles are usually quite even. However, when you spin thicker, you need to let go of some of that control, especially when you spin long draw. I actually started enjoying the bits and bobs that appeared from time to time.
Yesterday I finished spinning the singles! That went much faster than I expected. I usually spin about 100 grams a week (in my default thickness), but spinning thicker really is faster. I really like the look of the green: there are subtle different shades and even different colours there when you come closer, but from a bit of a distance it is very distinctly green, and not a diluted green. It reminds me of flowery meadows, ancient forests, and, of course, Hobbits!
So today I brought out my spinning wheel, and I started chain plying the singles. Of course, that also went faster than I'm used to because of the thicker yarn. It already looked nice and fluffy on the bobbin. Then I wound it onto a niddy noddy to measure the final meterage. It turned out to be 858 metres (400 grams), which means that I did indeed spin a DK weight! I'm very happy with the result, and I'm browsing Ravelry's database for suitable patterns.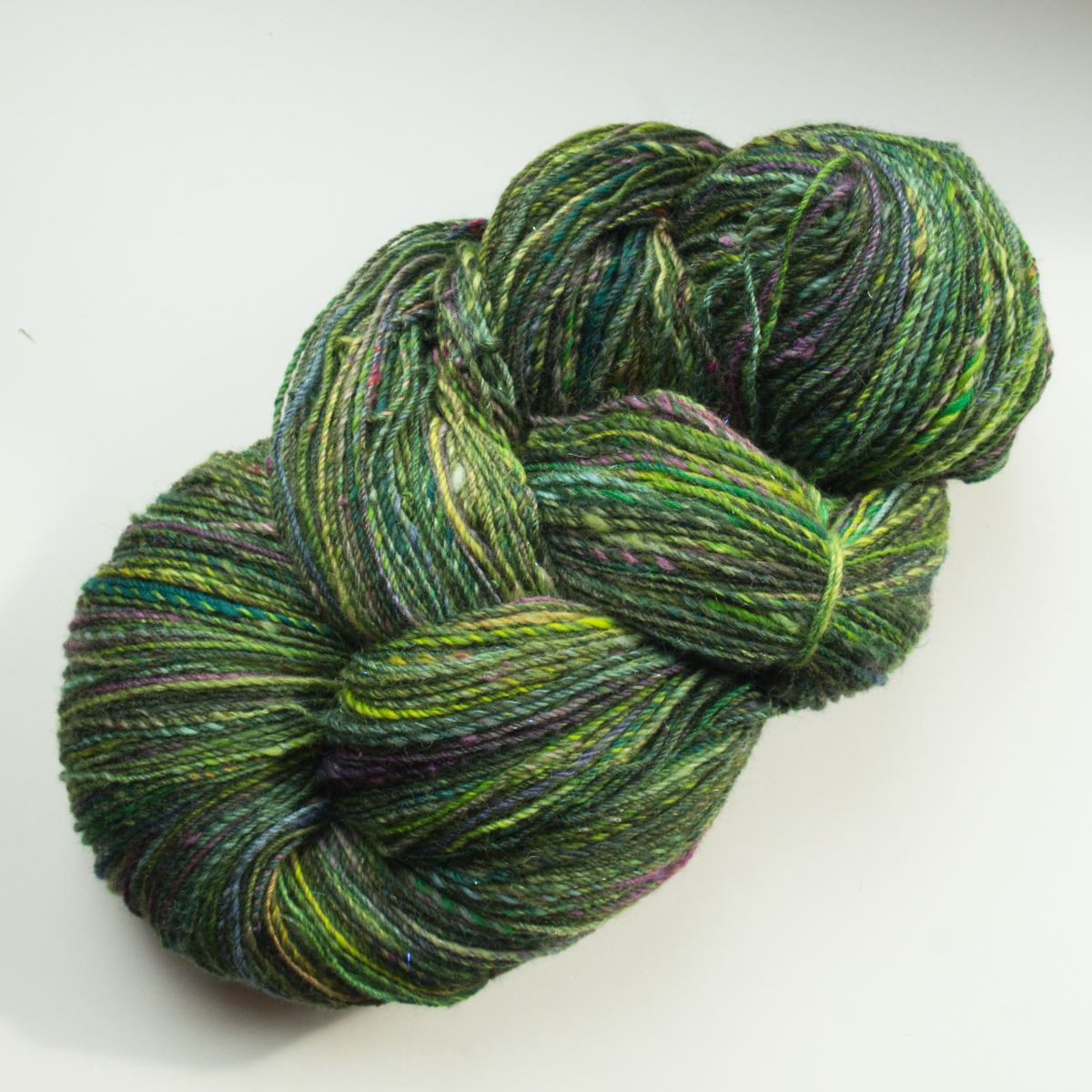 The second stage of the Thriathlon is not over yet, it goes on for two more weeks, so this weekend I will stash dive and start a new project for the remainder of the Hobbits stage. Perhaps something in fall colours?