Last year a new pair of spindle makers entered the market for supported spindles: Mingo and Asho, two artists living in California. They started making Glasspins, which are basically Russian spindles with glass whorls. The Glasspins were a hit. There is one other spindle maker that works with glass, and his spindles are very hard to come by. Many spindlers jumped at the chance and built up a collection.
I bought my first Glasspin last December after drooling over them for quite a while. They are quite expensive and come from another continent, so I was a bit hesitant to just order one without having a chance to try it first. Fortunately I was able to spin a bit on RandomGwen's Glasspin at a wool party, and it spun so nicely that I decided to take the plunge and order one.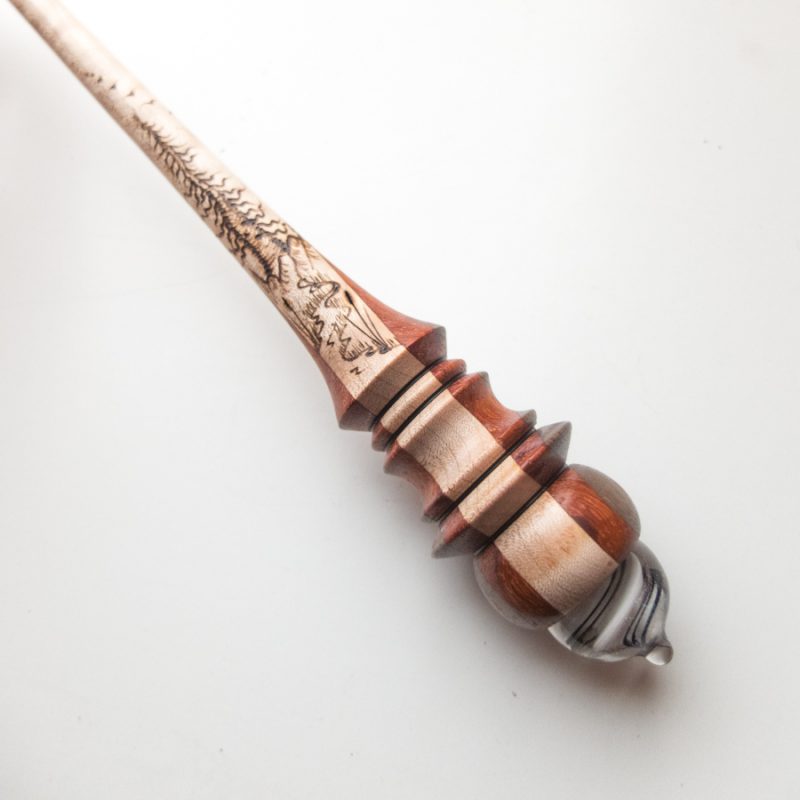 My first Glasspin was extremely lovely. It has a black and white focal, and the pyrography covers quite a bit of the shaft. It spins great! Very stable and true. I have used it to spin lots of yarn already.
Glasspins are usually made out of two or three types of wood. The bulk of the shaft is one wood, but where it gets thicker towards the whorl layers of additional woods are added as accents. The Glasspin is signed by either Mingo or Asho.
Of course this positive experience encouraged me to get more Glasspins. I have not regretted that. At the moment this is my collection: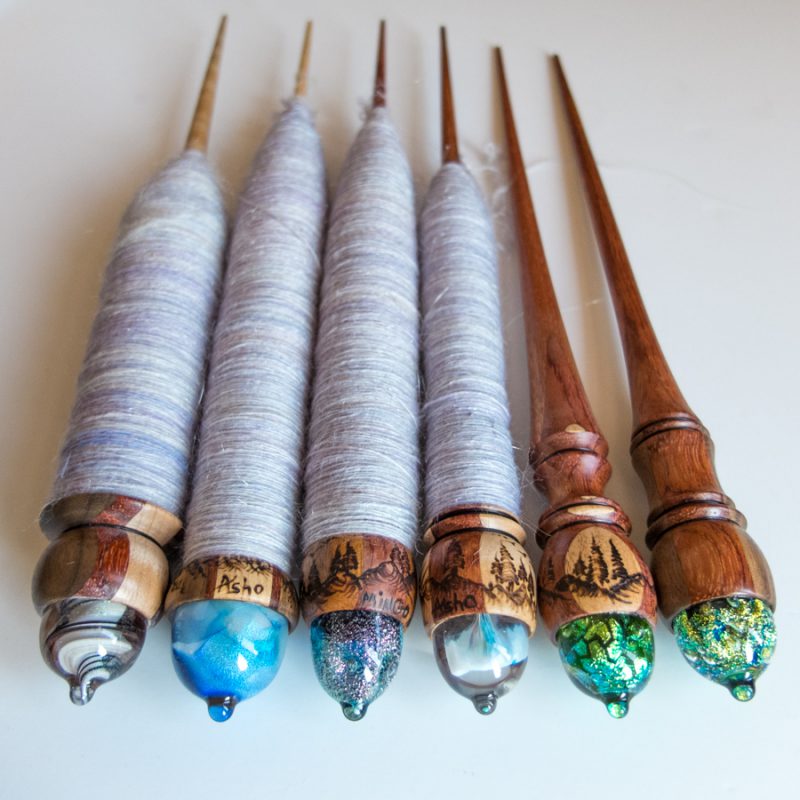 The styles of the focals are all a bit different. The first one has a swirl, the second is kind of hazy. The third has pink sparkles and the fourth has a blooming flower with a drop in it. The first of its kind. The last one contains shards.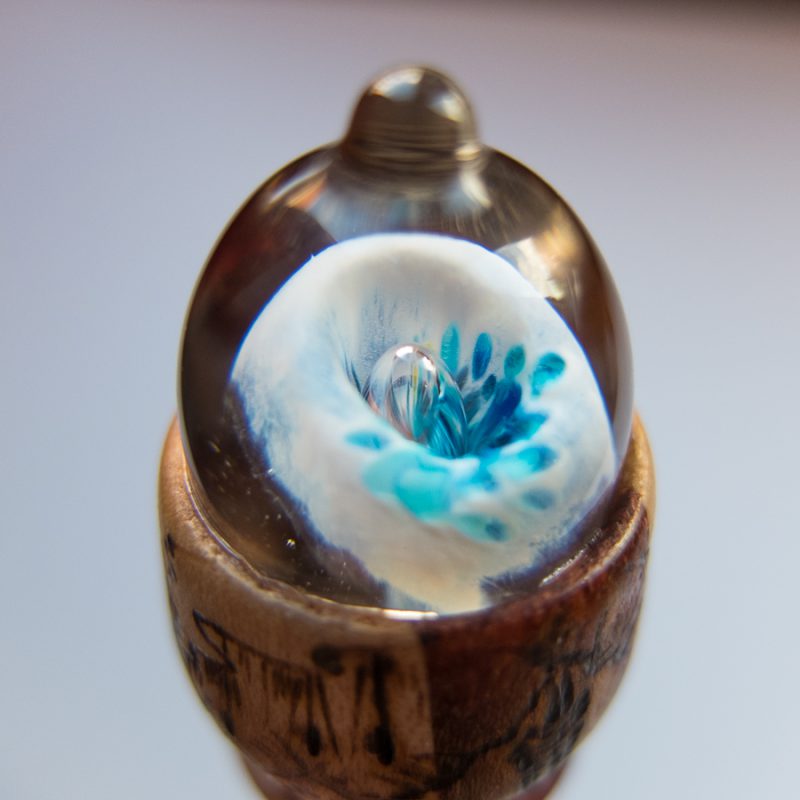 The later Glasspins have less pyrography: only around the whorl. They are sketches from nature: fir trees, birds, mountains, the rising sun… And every Glasspin comes with a poetic sentence from Mingo and a handmade bag from Asho.
The Glasspins seem a bit heavy if you only look at the weight. However, the weight is mostly in the focal, and because it is a Russian spindle it is not that hard to get it to spin. I find it heavier to spin a 23 grams pu yok (with a wide whorl) than a 40 grams Glasspin (with a narrow whorl) because there is so little resistance.
The two Glasspins on the right look a lot alike. The Shamrocks Glasspin had a wobble when it arrived, unfortunately, but the aftersales of Mingo and Asho is excellent and I got a replacement within a week! This one spins great, like I'm used to from the rest. It doesn't have pyrography, which also makes it special.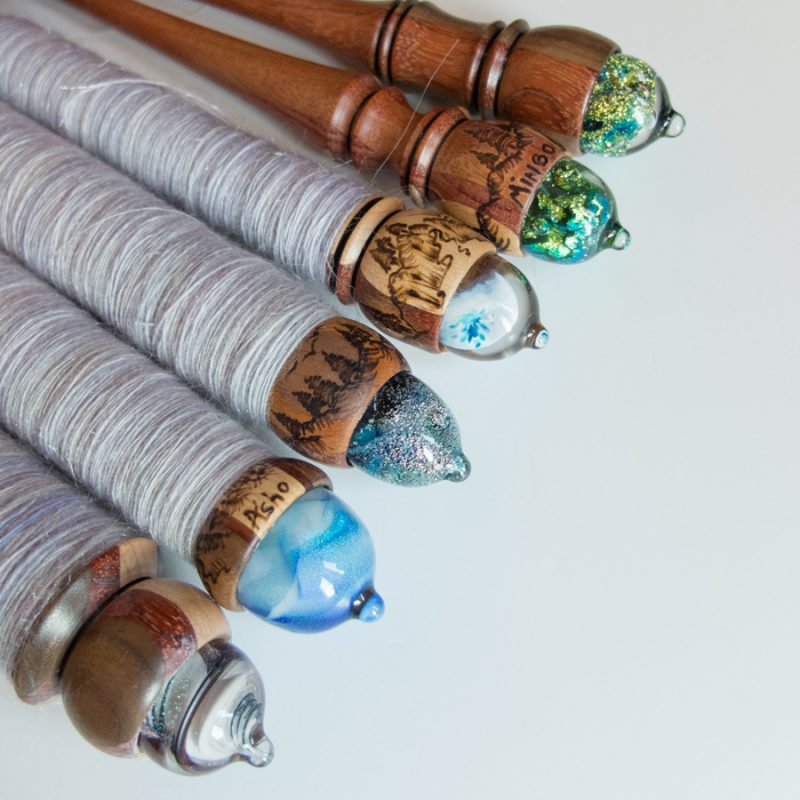 I'm very happy with the Glasspins I have. They are quite fast and stable spinners and they look gorgeous. You can get lost looking into the focals… Malcolm Fielding's spindles are even more stable (you can hardly see them move), but these Glasspins get pretty close. I highly recommend them!
Mingo an Asho also make spinning bowls, both glass and wood, and spindle displays, spindle kates, yarn holders, ring holders… I only have experience with the wooden bowls and the one I have is great. It works well with the spindles. The glass does not scratch the wood or the other way around.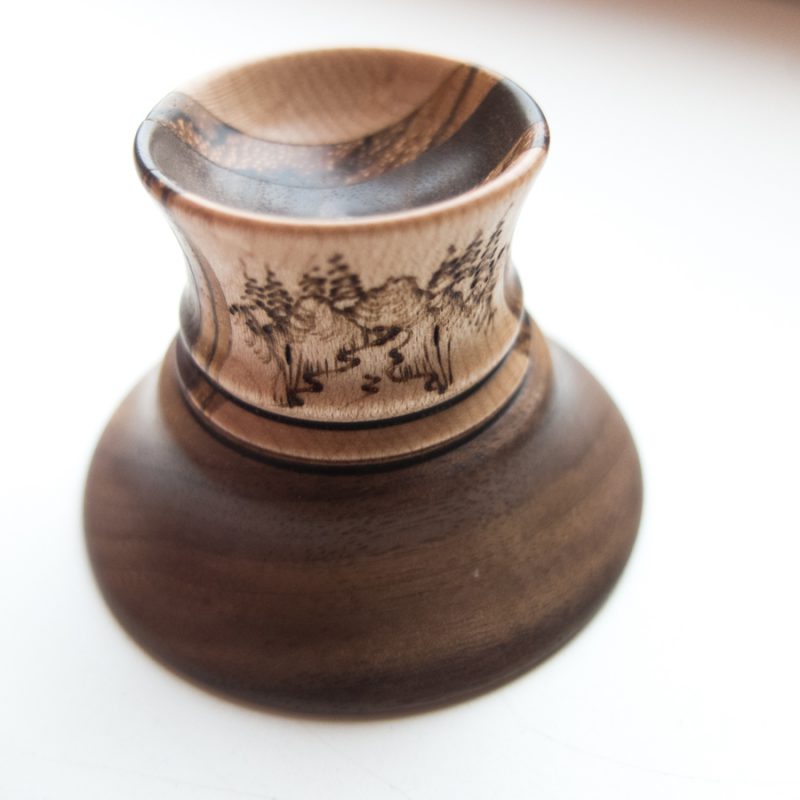 If you are considering buying a Glasspin, now is good time. Mingo and Asho are offering 15% off in their Etsy shop to celebrate their first successful year as spindle makers. Just use the code 1STANNIVERSARY in your cart to get the discount.