In the past week or so I have been drawing or painting with my watercolor sets every day. I have used the Pentel Aquash set (with the set of crayons and the waterbrush) and I have used my Sakura Koi set (also with waterbrush, but with 24 colour pans). Both sets work very well. The Pentel Aquash set has very small mixing areas, as opposed to the very large ones of the Sakura Koi set. But using the sharpener to get some pigment from multiple crayons and put them together to blend them is a bit more easy than taking the right amount of pigment from a couple of pans. I do really enjoy working with the water brush, I think it's a brilliant invention!
Today I chose a kingfisher as a subject. I did not literally copy a photo, but instead combined a couple of photos and my imagination to create something new. It was a very nice subject to paint. I started with the background and used lots of water to make sure that there were no hard edges. I tried to suggest an out-of-focus field of grass and yellow flowers. In hindsight I should have made the green darker in the foreground, because now the flowers are floating, but I could add that still.
Next up was the branch. I used a mix of browns, greens and some red and grey to create an interesting surface. To suggest a light source, I made sure that the lower edge of the branch was darker than the part above it.
Finally, it was time for the bird. First I painted the general areas with a light version of the final colours. Then I started adding details, and I tried to make sure that I waited long enough before adding a new layer – to avoid accidental blending of things I did not want to blend. The hardest part was to suggest the fine hairs/feathers of the kingfisher. My brush (size M) is just not fine enough to reliably make very thin strokes. I guess I will have to look for a thinner brush for that if I continue painting small paintings. But I finally was able to predict what would happen if I would put a new colour on top of the old one. Watercolour mixes much more than pastel, so the previous layer will always shine through.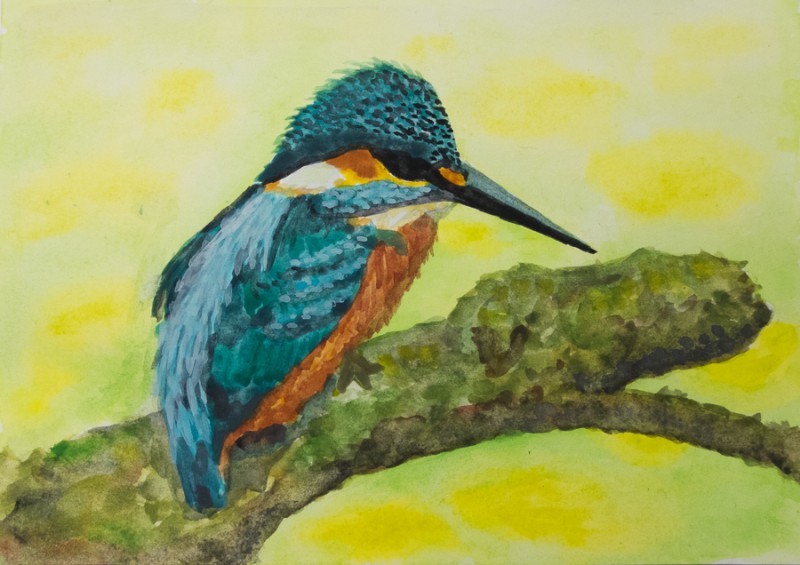 I have been reading a bit about painting with watercolour too. The first book I read was Mastering Watercolors: A Practical Guide by Joe Cartwright. This was a very nice book. Joe explained the basics, and there were also lots of example paintings, showing the way he builds them up. He gives great tips and advice, and it was also quite inspiring to read.
Next I read Anyone Can Learn Watercolor Journaling – Yes, You! by Jolyn Parker. It is a nice little book about illustrated journaling, but it is mostly a peptalk to get you to just start and not listen to your inner critic. She also shows the paintings she made with her method when she visited New York. It's a short book, you can finish it in an evening, and I was a little disappointed because I had expected a bit more depth. But other people really love it, so it may just be for a different audience.
Now I'm reading Daily Painting by Carol Marine. This is a very good book! It's a funny coincidence that just before I started reading it, I had already decided to paint a small painting every day, because it seems to work for me. The author also advices it, and it's actually a no-brainer. It goes for everything that you want to master: do it often, don't do things that are too big (so they become too personal and too important when they don't work out) and gradually you will improve a lot. You can practice different techniques and improvise, and every day you will feel like you have accomplished something (even if you have just found out that something did not work). I hope I can keep doing it, because I'm really enjoying painting again.
Another nice way to learn more about watercolour painting is the vast universe of YouTube. There are many videos there that show people creating a specific piece of art (a face, for example, or a landscape), while giving advice and explaining why they do things the way they do them. I like the videos by The Frugal Crafter, which show her process (accelerated) – you can watch them without sound, and you see how she builds up the painting.
I also discovered the Instagram art community. There are so many people who draw and paint, and they post their (progress and finished) photos of all kinds of subjects. Some do watercolour hand lettering, others create cute illustrations. Some paint very realistically while others paint entirely from imagination. Some have a loose style and others have loads of attention for small details. Some paint or draw daily, in their watercolour journal, and others only post once in a while. There are new landscapes and portraits and animals and more every day. Now my Instagram feed is filled with art, tortie cats, nature, and spinning and knitting pictures. Love love love!