The kusudama, meaning medicine ball in Japanese, is a sphere made of pyramidal units, and traditionally it contained incense or potpourri. It consisted of elegant shapes, like flowers, made of square sheets of paper, sewn or glued together to form a ball. It is a precursor to modular origami, where multiple paper units form a larger construction by folding them together, without using glue. Nowadays, the kusudama has made a comeback within the origami family, and modern origami artists have created beautiful kusudama patterns that don't require glue.
Kusudamas are usually created by folding a number of sonobes, which are basically parallellograms with two folds in them. The ends can be inserted into the centers of other sonobes, and three sonobes together form a pyramid. Using 6 sonobes, you can make a cube, with 12 you can make an octahedron, and 30 units can form an icosahedron.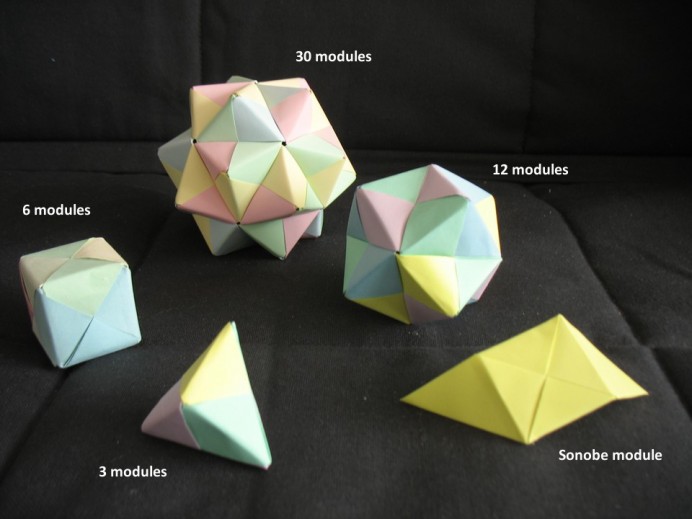 By changing the sonobe module, the resulting modular origami also changes. People like Tomoko Fuse, Maria Sinayskaya and Ekaterina Lukasheva have contributed quite a lot and the resulting kusudamas look spectacular. They mostly use the icosahedron shape.
I love making geometric shapes, so I tried my hand at kusudamas. I already made an octahedron some time ago, which worked as a teaser for me. I made another one for my father's birthday, and then I became curious about the more complex shapes.
I found the instructions for the Waltz sonobe kusudama (by Maria Sinayskaya) and started folding the sonobes. I used three different papers to make things more interesting. Then I came to the assembly part. Wow. That was hard. I managed to assemble the bottom part, but after that, adding one sonobe made a couple of others fall out of the shape. I tried and tried, but it took so long that I took some drastic action: in came the glue!
That did the trick, and I finished the model without further problems. It looks quite beautiful, and it is about 11 centimeters in diameter.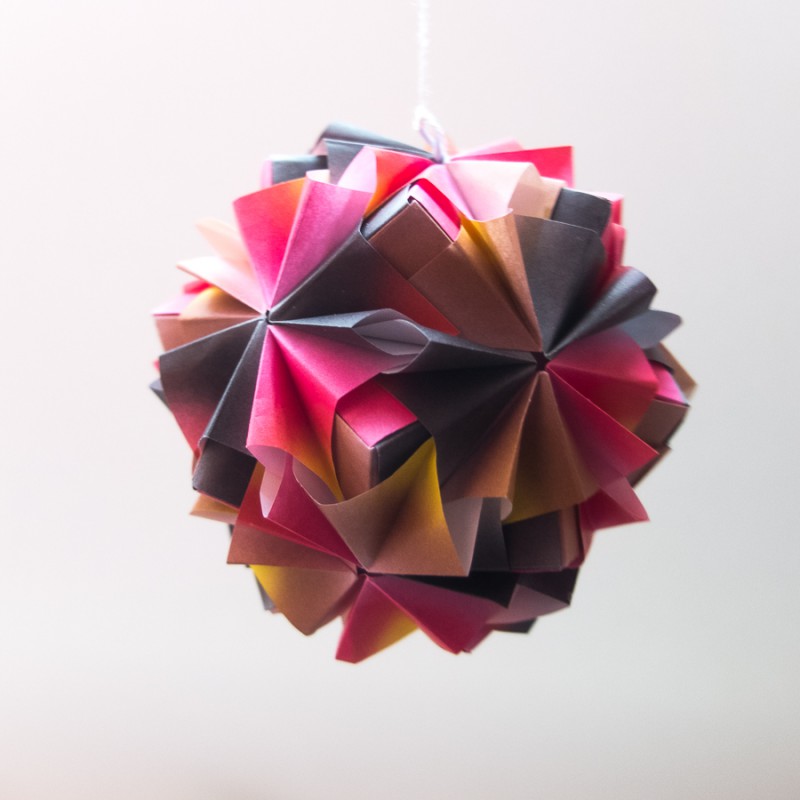 Although this was a hard one, it did whet my appetite. I looked for more instructions, and also bought the Kusudama origami book by Ekaterina Lukasheva. I collected some instructions on my Pinterest too.
I found the Seastar kusudama (by Tomoko Fuse) and decided to fold that one. I just got some 6x6cm Japanese papers (all with different patterns and colours), and I wanted to use those. However, it didn't turn out that nicely. Most of the coloured side was actually turned inward, because the star legs were supposed to be coloured. What to do?
First, I thought I could just reverse the sonobe pattern and put the colour on the outside (and have white stars). But then I thought that the kusudama would probably look better if I used the same origami paper throughout. So I decided to refold the sonobes and just fold a basic icosahedron instead, showcasing all the different paper patterns. Its diameter is only about 7 centimeters!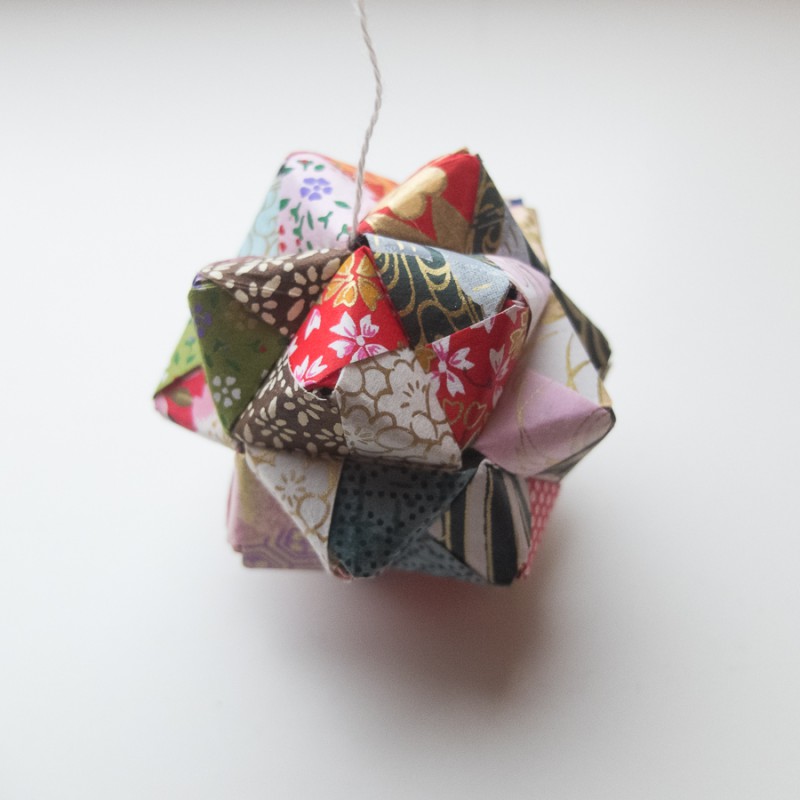 I did want to give the Seastar kusudama another try, though, and used simple memo sheets to fold it to see if I wanted to buy some paper for it to make a nice version. When working with the memo paper, I noticed the big difference with "real" origami paper. Especially the Japanese paper from my previous project in a way felt more like fabric than like paper. It must have something to do with the kind of fibers used, I think. The memo paper is also more fragile after folding, it tears more easily. It's a nice shape and I may make another one in smaller, real origami paper that is coloured on both sides. Or make little drawings in the backgrounds. That would look nice too.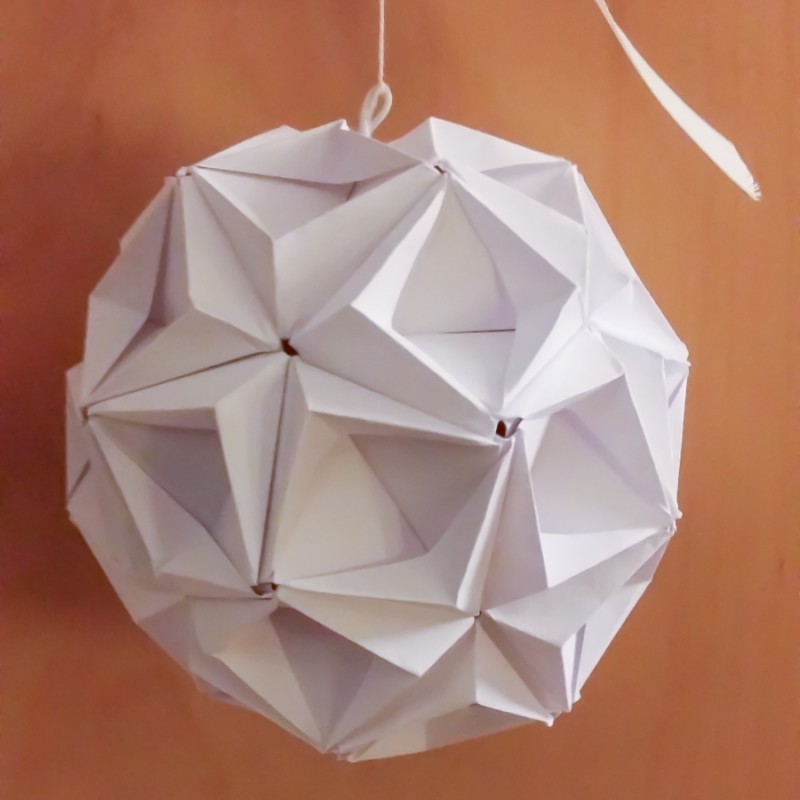 These projects take quite some time, as you have to fold 30 units and then assemble the final product. I also like to get some instant gratification, so I made some smaller projects in between as well. Last Thursday, a friend got married, and I made her and her husband a little modular box with built-in cranes on top, two golden cranes inside, a personal letter folded in a special way, and a little present.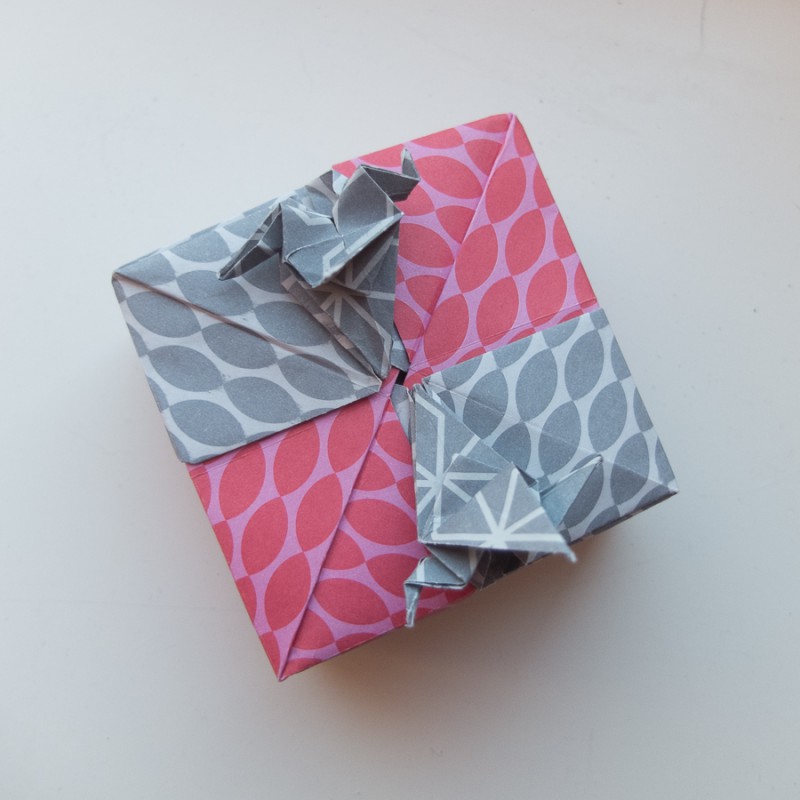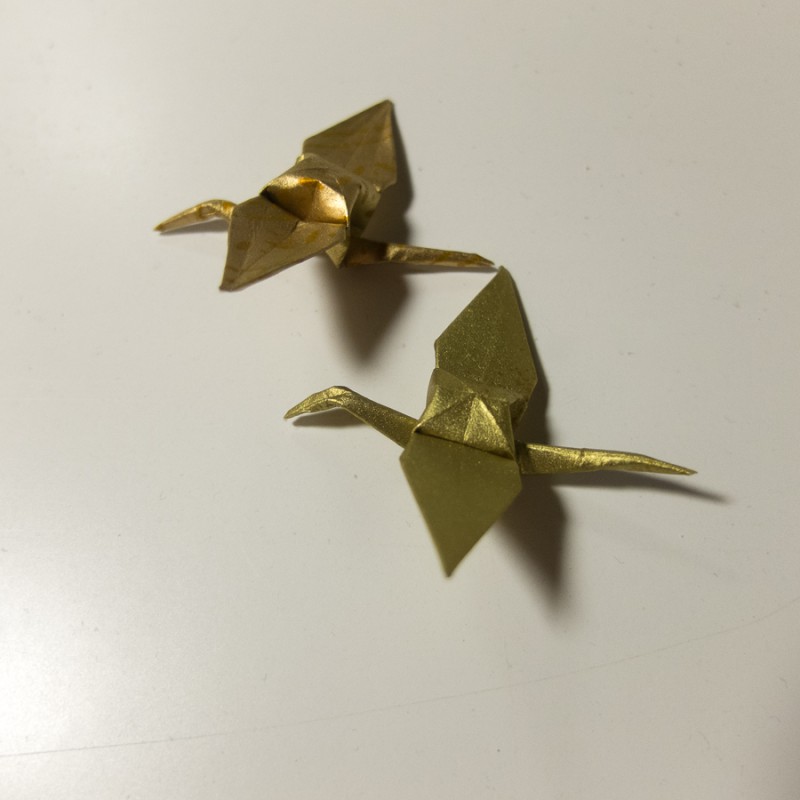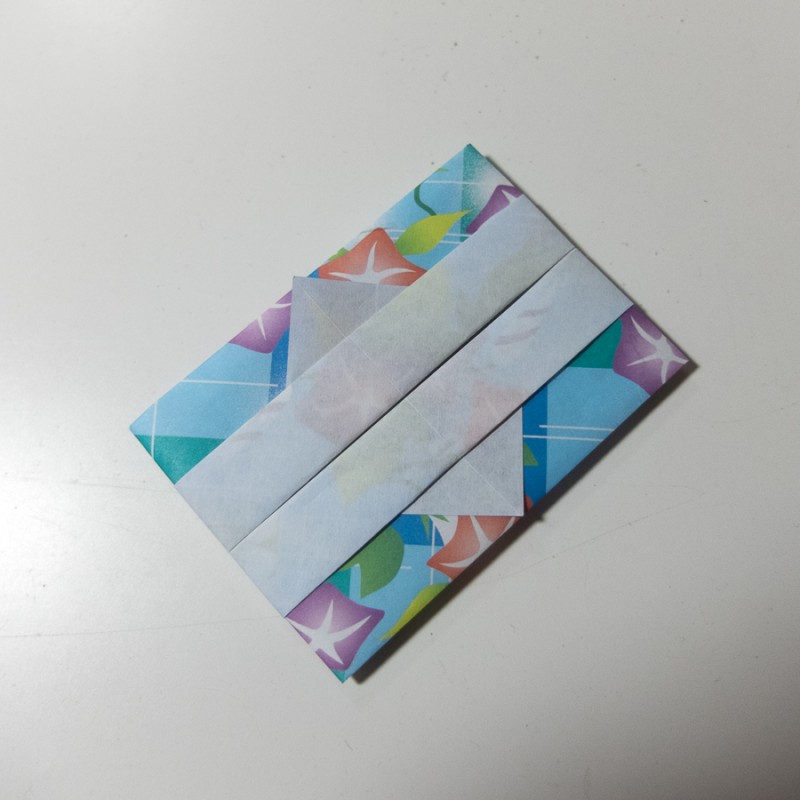 I also made another modular project that you could call a kusudama (even though it's a cube, not a sphere). I used 12 sheets of paper (15×15 cm) and it was quite a challenge to get the spirals right (especially the last one). But I like the result!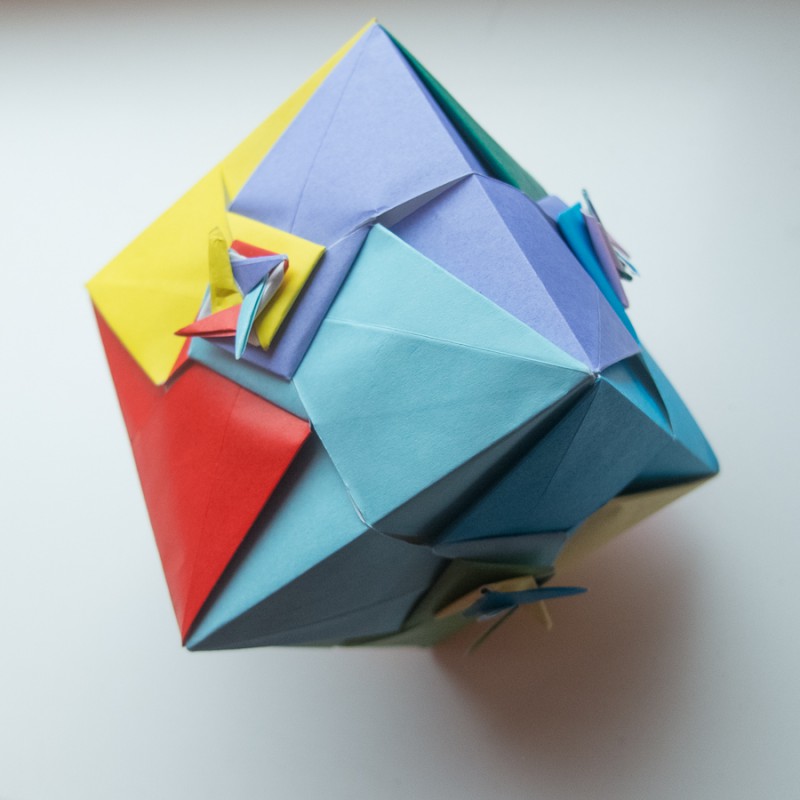 At the moment I'm folding the sonobes for the Alina kusudama by Ekaterina Lukasheva, another 30-unit kusudama, with flower petals!