We have just finished another swap in the NKS group on Ravelry. This time, the theme was "British Detectives", and this meant that the swapper had to put some clues as to her identity into her package, and the swappee had to investigate and deduce who the sender of the package was… A bit scary of course (what if we wouldn't be able to find out who it was?), but fortunately, we had two Watsons, who were in on who had who, and who could help you with the process.
My swappee was Vronica, a person who loves reds, blues and purples, who spins and knits, who loves animals (especially dogs), who is really into paper and notebooks and all kinds of nice designs, and I really liked putting together a package for her! Of course, as always, it was not really easy (I always doubt myself, and sometimes I do miss the mark, like with a previous swap in which I sent my swappee a batt in a colour that was really not what she wanted at that time), but I remembered that everybody experiences this, and I tried to enjoy the process anyway.
First, I needed some nice presents for her, but I also wanted to tie in the theme from the start, as opposed to sort of bending whatever I bought toward fitting into the theme. I also wanted to make sure that there were plenty of clues, but that it would not be too easy.
My first idea was to set things up as a sort of a puzzle, of which the answer would point toward a particular Ravelry post of mine (an old, insignificant one, of course) which I would edit, after sending out the package, to be a personal message to her. To that end, I first sent her a mysterious post card with a two-part code in it (the first was the thread number, and the second was the post number – the post was written by herself and contained the text "YESSSS!"). This really triggered the sleuthing instincts of both my swappee and the other swappers, but unfortunately, they didn't find out what the code meant… So, for the final package, I decided to change my puzzle.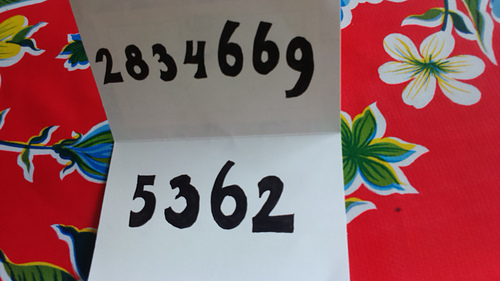 I went to the Dutch Knitting Days to get most of the presents for my swappee. I had already planned on what to get for her. I was basing my presents around the titles of Sherlock Holmes stories, so at the wool event I was looking for yarn that fit "A Study in Scarlet", for roving or buttons that would go with "The Adventure of the Blue Carbuncle", for a little dog-themed present to go with "The Hound of the Baskervilles", etcetera. I even saw my swappee and I carefully tried to find out if there was anything particular she was looking for/into at the moment…
I managed to find a pretty, jewel-red yarn at Wol met Verve, some bright blue roving at AdrianArt, a little dog embroidery set, and some beautiful fuchsia buttons. There were still some presents missing, but I would get those in the city. I got a Gorjuss tin, filled with memo note paper and a pen, and I also got an olive wood spinning bowl.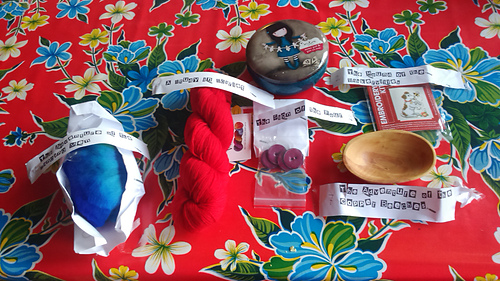 Of course, the presents that I gave her would easily give me away. The stuff at the Dutch Knitting Days was bought at the same stands as where I bought things for myself. I already disclosed in the swap thread that I love Sherlock Holmes. I have an olive wood spindle bowl myself. I use Gorjuss tins for storing and carrying my Turkish spindles. But that was all still subtle and circumstantial. I needed something to confirm the suspicions.
So first I made my own wrapping paper. I looked for a little magnifying glass picture on Google, and put that in a repeating pattern and printed it. That was step 1, which would get my swappee used to the magnifying glasses that were everywhere in the package. Then I looked for a ransom note-like font to print the story titles with. I carefully placed little magnifying glasses on each of the title slips, in seemingly innocuous places. However, some of them were strategically placed right on top of a letter. That was step 2.

I wrapped the presents, and then I added numbers to each of them. It would look like you needed to unwrap them in that order, but actually, this indicated the correct order of the magnified letters – they would form the name Meilindis. Step 3 was complete, the package was sent, and the nail biting began.
The swap thread was so much fun to read! The people in the swap clearly all loved mystery, puzzles, and confusing each other… I actually got a private message from YvonneP and one from SpaceInvaders, asking if I was their swap buddy! Tudbspinster also asked for extra clues from me because she suspected me to be her swap partner. No, I was not… so on they went, looking for the identity of their swap partner…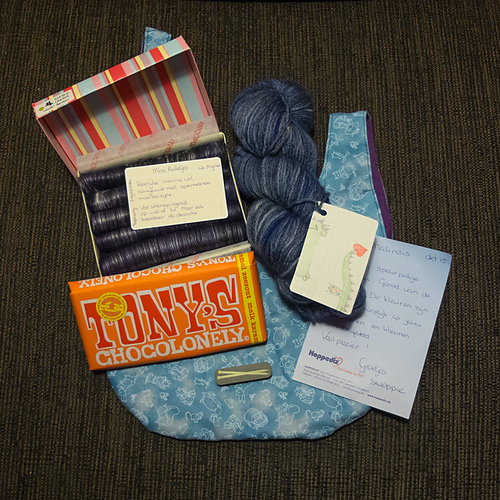 I was the first to get a package. A very nice package it was! There was a beautiful skein of blue-grey Blue Faced Leicester yarn, a box with purple blingy rolags, an eraser with a picture of knitting needles on it, a pretty project bag, and a bar of Tony's Chocolonely chocolate in the caramel-seasalt flavour. It was not easy to find out the sender, because I didn't know her in person, but reverse post stalking and the Ravelry search function were a big help. I found out that toxcat sent the package, and yes, that was correct.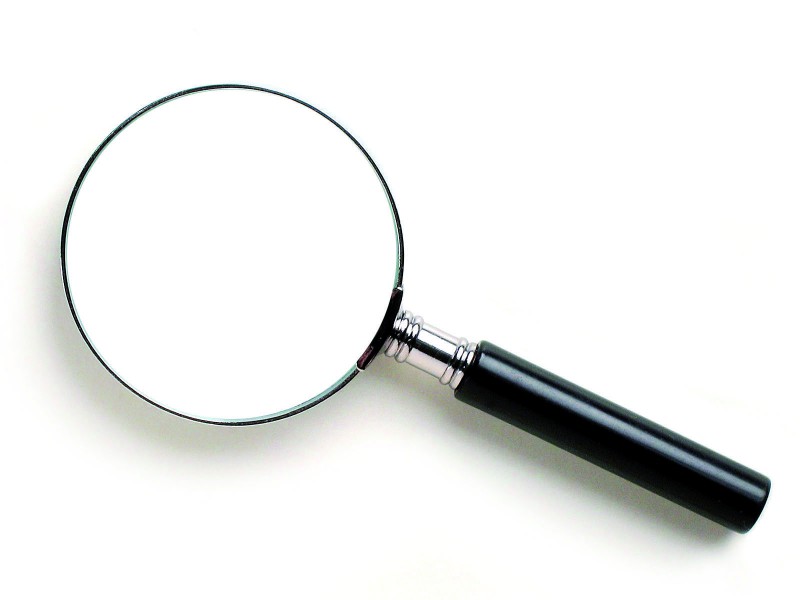 Vronica got her package a couple of days later. She was also happy with my package, fortunately, and she correctly guessed who it was from just by looking at the presents and the letter that I sent… but she was not 100% sure. So I instructed one of the Watsons to help her a little bit. She had not found one of the title sheets (the one on the inside of the box lid), so the puzzle was not complete. Watson posted in the swap thread that it would be interesting to take a look at photos of the clues, and she posted a picture of a magnifying glass with the message. The very same one that I used on my wrapping paper and clues! Watson did not know this, or the solution of the puzzle, so that was a funny coincidence, which also conveniently lead my swappee in the right direction. Now she was sure!
This swap was so much fun, it's a shame that it's over already!