Some time ago, I bought a Black Gaboon Ebony Russian spindle with a Moonstone gem from Phil Powell. The spindle arrived quite quickly, and immediately stole my heart with its beauty. So much so, that after a while I ordered another Russian from Phil, this time a Snakewood Russian with a Red Garnet gem, as a custom order. That second spindle arrived last week, and is just as gorgeous as the other one. I will combine the two for this review, as they are very similar, even though the wood, gem, weight and length are different.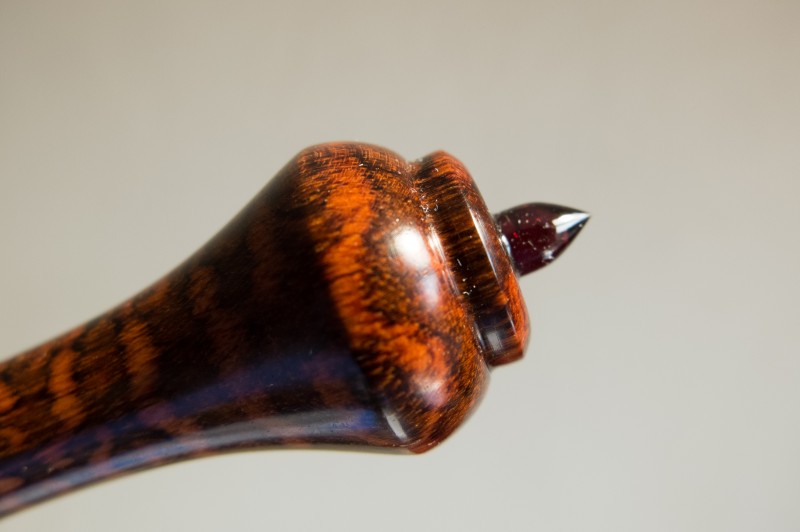 Specifications: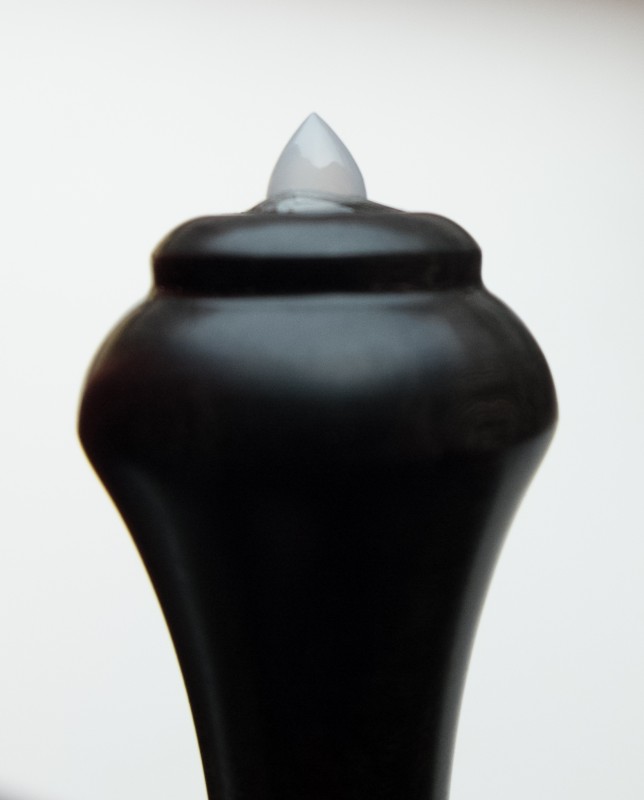 Phil Powell Russian
Wood: Gaboon Ebony
Tip: Moonstone gem
Length: 25.4 cm / 10 1/4″
Weight: 31 grams / 1.09 oz.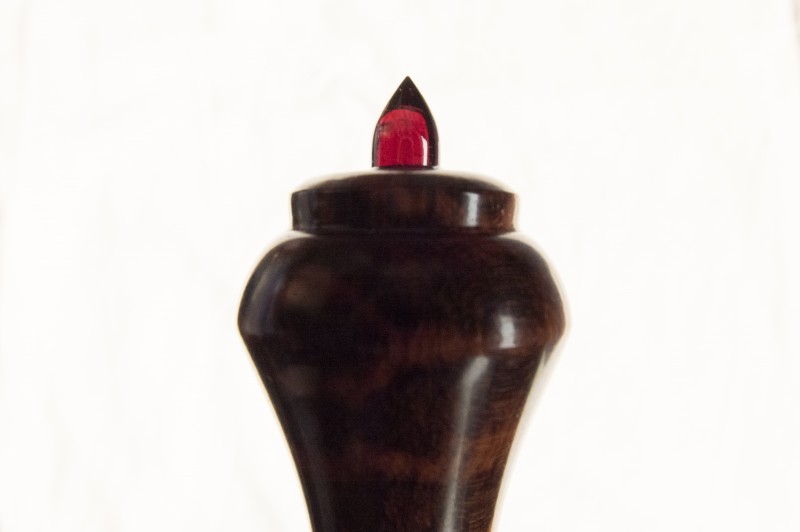 Phil Powell Russian
Wood: Snakewood
Tip: Red Garnet gem
Length: 28.5 cm / 11.22″
Weight: 44 grams / 1.55 oz.
These spindles are finished with a high gloss factor. So much so, that their surface is incredibly smooth, a bit like glass, so the wood has no grip on the fiber. This can be a little bit tricky when you get started, but just preparing a leader or prespinning a bit of the fiber should enable you to get started. After that, it's a smooth, smooth ride.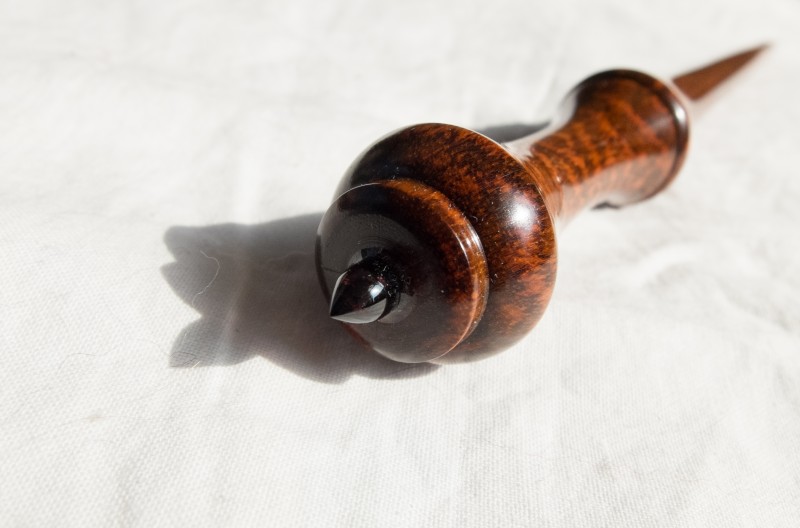 The spindles spin very fast, and a bit longer than you'd expect from a Russian (but not very long). They feel lively in your hand, like a musical instrument, with a bit of a will of its own, but eager to work with you. Spinning with them is very addictive. Within a couple of days I had filled the ebony spindle with fiber twice!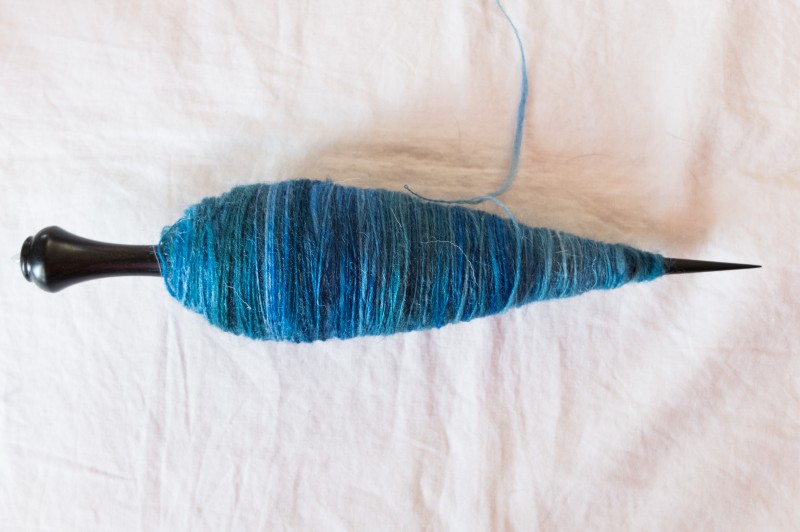 The spindles are quite long, especially the Snakewood one, and it really depends on your own size and the way you work with your spindle (in your lap, on the table) whether you will like that. I usually spin in my lap, but when sitting on the couch the bowl is usually more between my legs than on top of it, which of course makes a difference of 3-5 cm (1-2 inches). The length of the spindles doesn't bother me at all.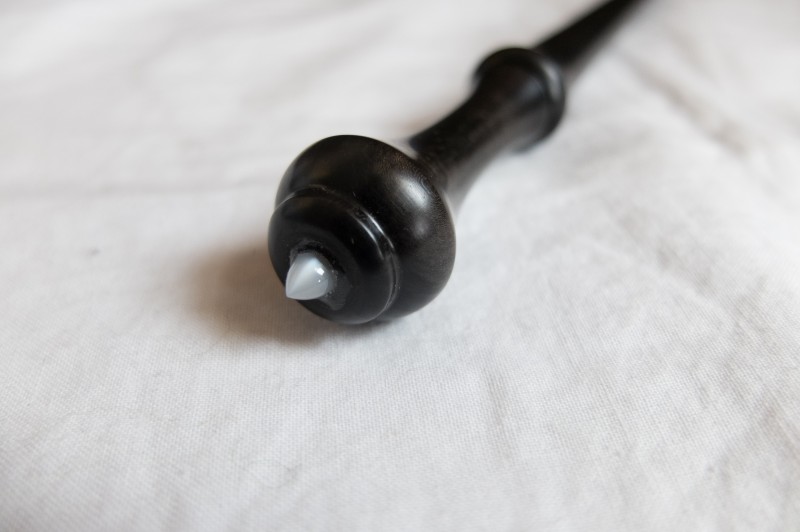 The spindles are very well-balanced. You hardly see the top of the shaft moving when you spin them. The ebony spindle is slightly more stable than the snakewood spindle. The bullet-shaped gems that make contact with your spinning surface make sure that the spin is very smooth and almost frictionless. I usually use a glass bowl with these spindles, which works very well.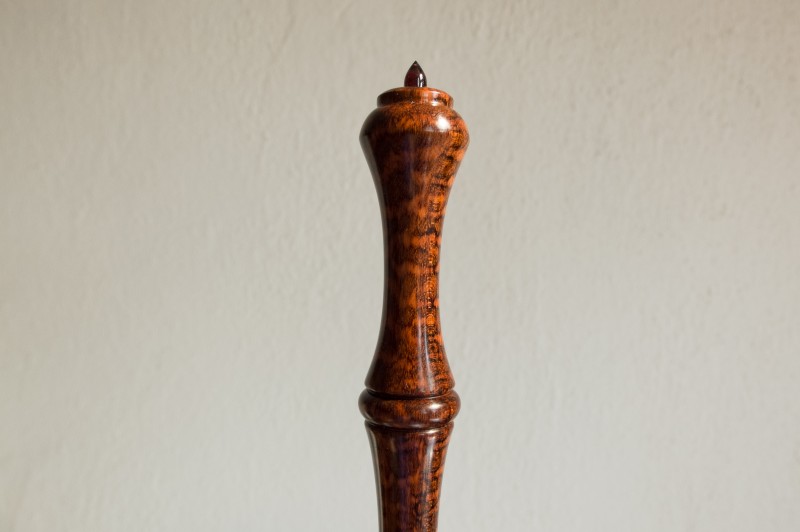 Conclusion:
 The spindles are very smoothly finished and well-polished, making them very, very smooth, almost glass-like, with little grip on fiber
The bulletstone gems work very well in creating a low-friction spin
The woods are excellent and the finishing really shows them off
The spindles spin very fast and not too short
The spindles feel very nice in your hand, having a vibe of quality and art