After spinning both fibers for the Jenkins Swap Challenge nr. 2, I decided to first make a plying ball, to make plying easier and avoid tangling. Of course, I didn't have exactly the same meterage, and I ran out of green before purple.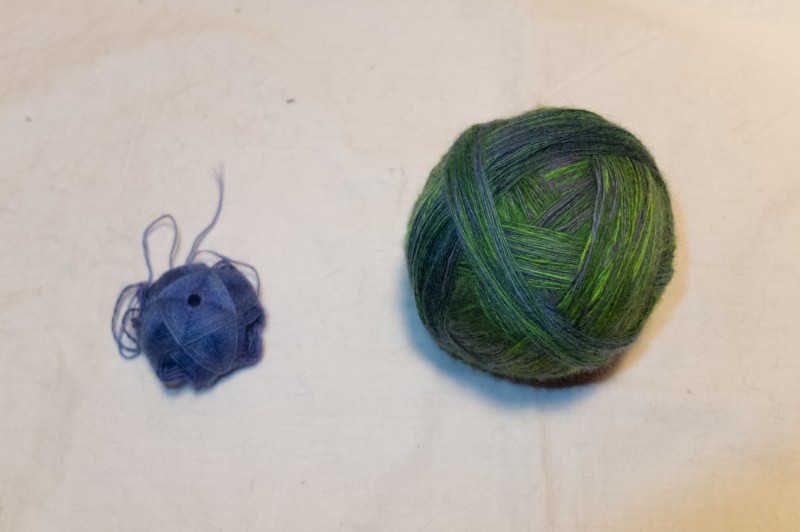 Then I plied the singles together on my wheel. The result looks quite good! It's about fingering weight, I managed to make 400 meters/100 grams.
As you can see, the skein looks way more green than purple, the purple seems to tone the green instead of taking its own place in the spotlight. After reading some colour theory (Johannes Itten), I found out why: colours all have different levels of "dominance", and green is twice as dominant as purple. To get a balanced result, I would need twice as much purple as green, and even more if I would want to stress the purple!
After making the skein, I spent quite some time looking for a good pattern. I had tried to make a long colour gradient in the skein (with a bit of randomness left in to give it more character), and that made my search narrower and more complex at the same time. Not all patterns look good in handspun, and my yarn is interesting enough not to require a lot of texture and fancy patterns. However, when I'm knitting I don't want to be bored either. I looked at the Hitchhiker and similar patterns, which would probably turn out nice, but wasn't really convinced. Then I found the Corrina pattern, a crescent shaped shawlette which had some interesting areas and dropped stitches, but still was a nice and simple pattern.
I decided to go for it, and had a devious plan as well: this would be a great present for my friend Ruth's birthday. I knitted it quite quickly, and managed to start blocking last Tuesday evening. The pattern opened up wonderfully, and the next time I see Ruth, I will give her the shawlette!