It has become a tradition that every year, the members of the NKS group on Ravelry meet somewhere, to collectively celebrate their birthdays. On November 23rd it was that time of year again, and this time we met in Rotterdam. Easy to reach with public transportation, and a nice, spacious room with a kitchen at our disposal! Marianne, Ruth and I had already visited the place a couple of weeks ago, and were very content with it.
Around 9 o'clock in the morning we arrived to prepare the hall. We brought bunting, balloons and more, to make it look festive. We made some funny pictures of ourselves and posted one on Ravelry as a teaser. The people who would come were on their way, but some of them were apparently glued to their smartphone and responded!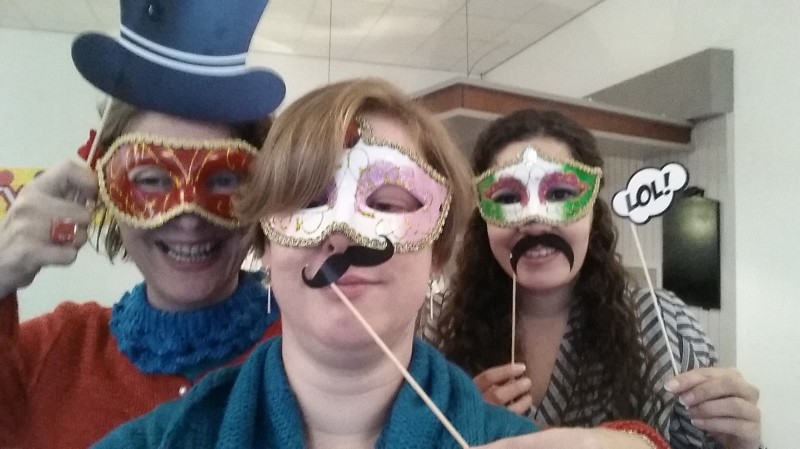 At eleven, the time the party would start, nobody showed up at first. Marianne, Ruth and I were standing outside, wearing masks, to welcome the guests, and it was a bit chilly. Fortunately, after about 10-15 minutes, the first ladies arrived and the party could start! More and more people arrived, until we were with more than 30 ladies of all ages.
Everybody had brought something to eat or drink, and a package for the lottery, and some of us also participated in the swap (theme: cozies). The swap exchange took place after lunch, and was a lot of fun! The cozies were both beautiful and creative (water bottle cozies, head cozies, hand cozies, etcetera) and we were all very happy. The packages were opened in small groups with funny names, consisting of 4-5 people. After opening the presents we took a look around to see what other people got. Lots of Oooohs and Aaaahs were heard!
My presents came from BreimuisLine, she had made me a keychain cozy (sewn) and knitted fingerless mitts. The recurring theme was owls, an animal I love! The mitts were made in Wollmeise Fliederbusch, my favourite Wollmeise colour, so she stalked me well! My downstream partner, Brigiet, got a bottle cozy from me (she really wanted one), a real karma project, since it was knitted out of handspun, the batt came from PlientjeB and I spun it and designed and knitted the cozy. I also knitted a pair of fingerless mitts (the cupcake pattern) for her.
Everybody was feeling warm and fuzzy, and then it was time for the lottery! Marianne, Ruth and I handed out the numbers and then we started calling out the numbers on the presents! Everybody got at least one present, and most even got two. The people in the group are so generous!
Some people left after that, and then we had dinner with the remaining karma sisters. The dishes were great – beet quiche, pumpkin soup, Mexican salad and more! After dinner we started cleaning up, and by eight o'clock it was over. It was a great day again!