Yesterday and today it was that time of the year again: the Dutch Knitting Days! Actually, this was already the second time this year that the event took place. The first was in Nieuwegein, and this one was in Groningen, in the north of the Netherlands. At first I didn't want to go, it was so far away, and I really didn't need anything, but last week I decided to go just one day and meet with my knitting friends, since that's ultimately the main reason that I'm going anyway!
I took the 8:04 train and arrived in Groningen at about 10.45. I wasn't the only one, I already met the first ten or so knitters at the station, and we walked to the Der Aa-Kerk together. I found out that one of them was a classical singer too! Sometimes, the world is so small…
This was the first time that the Knitting Days were held in a church, and it had both advantages and disadvantages. The church had way more atmosphere and character than the standard meeting district hall, and there was natural light! However, especially the choir end of the church had quite narrow pathways, not very convenient when you are in a wheelchair or if you brought a stroller or a hakkenrammertje (bag on wheels to put your loot into). Also, the door was open the whole time, so it was kind of chilly.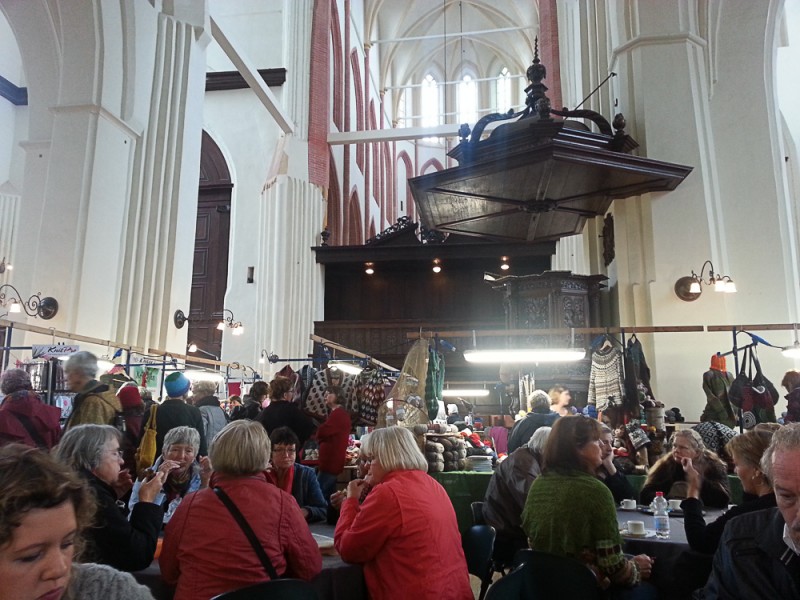 There were many stands, about 60, mostly with yarn and knitting/crocheting supplies, but also some with spinning or weaving materials, books, or stuff for cross stich or beading. There were workshops and there was an exhibit, and lectures were given. Lots to do! And lots of visitors!
I went to Bart and Francis first, the "Belgian Boys", who always bring loads of surprising and droolworthy stuff. I was immediately drawn towards their silk section. I love silk. It's warm in the winter and cool in the summer. It has a fabulous sheen, which makes the colours pop. It's soft… so soft…
And… I had a voucher. When I got married this summer, B&F sent me a voucher which I could spend at their store. This was the time to indulge!
There was so much to choose from, but I immediately fell for the very soft silk that even had a slight halo. It was made of short, very thin fibers and every skein was about 500 meters. I decided to combine some skeins for colourwork shawls (maybe a Petiole? Or a Sundry?). Then, there was that unbelievably silky silk, very smooth and shiny, in all kinds of amazing colours. For a moment, I was attracted to a brilliant fuchsia coloured skein, but I knew that it would be mainly about the colour, not the pattern, so I settled for a soft taupe instead. I found one more different, yet amazing skein of silk, and then I could bring it all with me! I felt so utterly spoiled!
Talking to Francis was a pleasure as always, he has so much knowledge about fibers and materials, and is very generous with sharing it. There are always pretty shawls in the stand, to show how the yarn knits up, which is very helpful for making a good decision. I'm looking forward to knitting my new yarn!
There also was a stand with the Landelijke Spingroep. I decided to become a member now, something I already wanted to do for some time, but always forget to take care of. I got a nice welcome present: three different fibers to spin. I had a nice chat with Feikje and the other people at the stand and admired the beautiful spinning wool that was there – Feikje is a very gifted yarn dyer!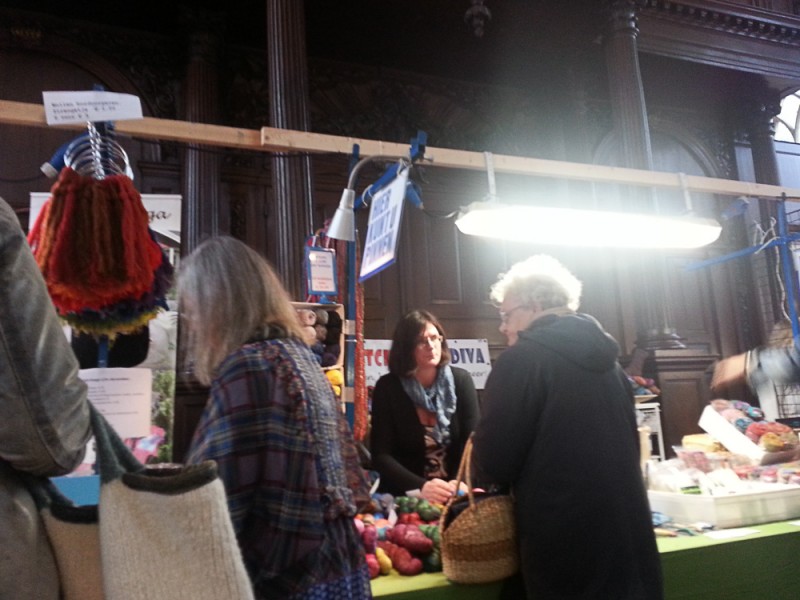 I dropped off some yarn for swaps (again – karma-relay!) and sat down with Dominique from Belgium to have a tea and a chat. Aal joined us a little bit and it was good to see some familiar faces and admire their knitting! Dominique had to go to a workshop, and I decided to make another round. I chatted with some stand holders (DutchWoolDiva, Dutch Knitting Design) and bought some adorable wooden buttons at the stand of Lowlands Legacy.
By then it was about two o'clock, and I felt quite drained. So many people, stimuli, noise and yarn… so I decided to take the train back home. I was home around dinner time, and had the whole evening to relax and to look back on a nice experience! And… dream about my new spinning wheel!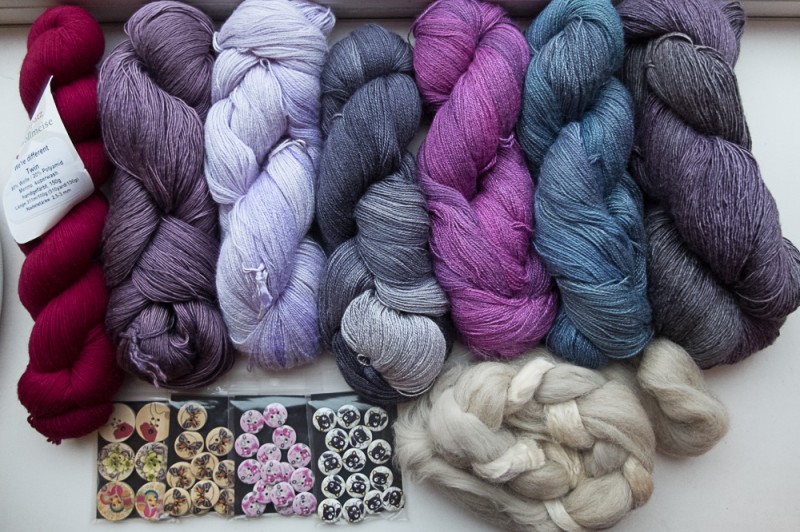 Top: Wollmeise Twin Dunkle Kirsche (swap), 1 skein of sleek silk (700m), 4 skeins of extra soft silk (500m) and 1 big skein of silk.
Bottom: 4 bags of buttons (flowers, butterflies, 2x cats), welcome present from the Landelijke Spingroep (3 kinds of fiber).