One of the things I wanted to do for quite some time already, is designing my own knitting projects. I already improvised a cardigan, but that was quite a simple knit. However, the last swap of the NKS got me inspired: I knitted a Sleeping Beauty Shawlette! The pattern stitches were inspired by the story of Sleeping Beauty, and it's quite a fast knit! I knit four shawlettes already, and they each look different.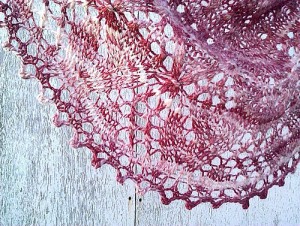 This is the first version of the Sleeping Beauty Shawlette, made with my own handspun.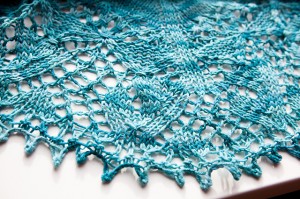 The second version looks quite different.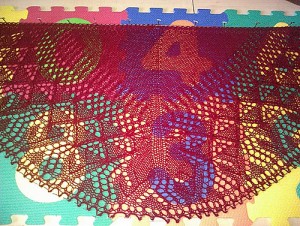 Number three is made out of thinner yarn, with more repeats.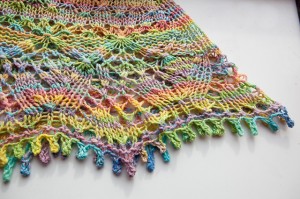 And the last one is made of my own handspun again. I love the candy colours!
As I rather liked the pattern and put quite some time into writing it down, I decided to make it available on Ravelry. Anyone can buy it and knit it themselves. It's even available in both Dutch and English!

Next, I improvised a hat for my father. He had asked for a coloured, pointy hat, maybe with a pompon on top. I took this all quite literally, and created this hat for him: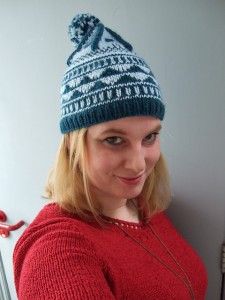 Well, someone had to pose, right?
This pattern is much simpler, so I made it available for free!
download now
Yesterday, I finished another design. Based on the stitch names, it's called Veiled Witches on the Stairs Cowl. The pattern contains instructions for making a cowl either in the round or flat, and even for a scarf version. You can adapt the pattern to your own taste as to height, width and length. Today, the pattern hit the Ravelry store.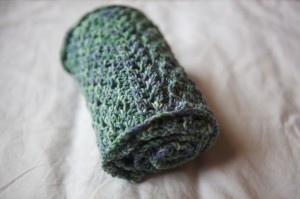 I'm sure that this won't be my last design, I have inspiration for more! It's a lot of fun to design your own patterns.