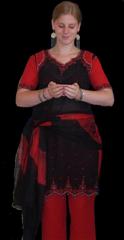 Aanstaande zaterdag (morgen dus!) zing ik met AeroDynamic op het Grachtenfestival in Amsterdam. Dit is een jaarlijks terugkerend evenement, waar ook het Prinsengrachtconcert bij hoort, jullie waarschijnlijk allen welbekend. Door de hele stad heen zijn allerlei concerten te beluisteren, vaak gratis en op interessante locaties. AeroDynamic doet mee aan de huis-, tuin-, boot-, en terrasconcerten, een concertserie waarin een stuk of tien jonge getalenteerde solisten of ensembles elk twee concerten geven op uiteenlopende plaatsen. Al deze musici hebben recent ergens een prijs gewonnen op een concours (zoals wij vorig jaar in Krakow).
Wij gaan een programma spelen dat bestaat uit zowel middeleeuwse als hedendaagse muziek. We spelen drie middeleeuwse ballades van Solage en Binchois, en daarnaast spelen we ook het moderne stuk van Manca en het Indiase stuk van Elizabeth Westerhof. Daarmee was nog een probleempje: Elizabeth is op vakantie en het kostuum lag bij haar thuis…
Gisteren ben ik dus op stap gegaan om ergens een Indiaas kostuum op de kop te tikken. Dat waren we sowieso al eens van plan zodat we niet meer zo afhankelijk zouden zijn van Elizabeth, je weet immers maar nooit.
Bij de Bollywoodfashion in de Weimarstraat vond ik een mooi kostuum, rood met zwart èn belletjes, en ik heb ook wat accessoires  erbij versierd. Het ziet er wel echt anders uit dan het andere kostuum, maar dat is niet erg, het zit goed en ik kan er ook goed in bewegen. Morgen dus de vuurdoop daarvan… De concerten zijn trouwens gewoon gratis toegankelijk, alleen moet je wel een kaartje hebben in verband met het beperkte aantal zitplaatsen op de locatie. Deze zijn vanaf 9 uur 's morgens te verkrijgen bij de festivalkassa in het Felix Meritis. De locatie van ons concert wordt dan ook aan het publiek bekendgemaakt (wij weten het lekker al!). Het wordt vast erg leuk, nu nog hopen dat het weer een beetje meewerkt!