Sinds een poosje hebben David en ik er (alweer) een nieuwe verslaving bij. Naast Travian spelen we nu ook trouw Age of Pirates . Dit is (van oorsprong) een Duits spel, al werken ze ook aan de Engelse versie. Het spel is nog in het bèta-stadium, dus er wordt nogal vaak aan gesleuteld, maar het is wel erg leuk. Je begint je carrière als piraat ergens op een eilandje in de Stille Zuidzee. Je kiest van welk volk je bent: de Britten, de Spanjaarden of de Fransen. Ieder volk heeft zijn eigen sterke en zwakke kanten. David en ik zijn beiden Britten, aangezien je alleen maar in een gilde kunt met mensen van hetzelfde volk.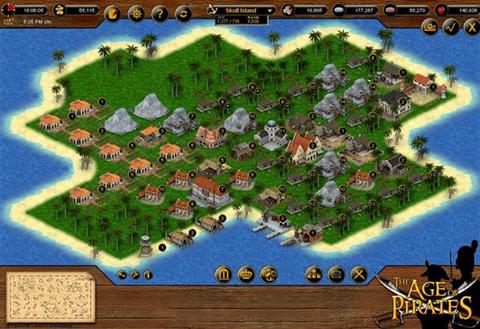 Vervolgens werkt het zoals Travian. Je bouwt woonhuizen, boerderijen, houthakkers, steengroeves, en met al het hout en steen dat binnenkomt kun je hogere gebouwen maken, zoals een opslagloods, een haven, een werf of een taveerne. Als je een eind gevorderd bent kun je, voor erg veel grondstoffen, een schip bouwen. Met je schip kun je vervolgens een eiland gaan koloniseren. Ook kun je later de kononiën van andere spelers aanvallen (je hoofdeiland blijft beschermd).
David en ik hebben allebei net een kolonie gesticht. Het spel gaat wat verder dan Travian, op je kolonie kun je bijvoorbeeld ook nieuwe grondstoffen vinden, zoals tabak of edelstenen, die je dan weer kunt verhandelen. Verder kun je ook allerlei wetenschappen onderzoeken. Ik heb het gevoel dat ik nog veel moet ontdekken bij dit spel en gelukkig volstaat het om 's morgens en 's avonds even een keertje in te loggen om weer wat dingen te bouwen. Als je Travian leuk vindt vind je dit zeker ook leuk. Harrrrrrrr!