Gisterochtend vond David een emailtje van zijn broer Peter, waarin die ons uitnodigde om die avond bij hem en Lilian te komen eten! Nou, dat leek ons wel wat, ook al moest David dan overdag werken, dus we stuurden een mailtje terug dat we graag kwamen. Ik wilde voor de zekerheid Lilian nog wel even bellen, want ik wist niet zeker of ze haar email nog zou checken. Dat bleek een goed idee, want ze had het mailtje inderdaad nog niet gevonden. Ze was al bijna boos op Peter dat hij ons niet had uitgenodigd, want ze had niet door dat hij dat via de mail had gedaan… gelukkig waren we nog wel van harte welkom.
Dus tegen een uurtje of kwart over vijf zaten we in de auto naar Amersfoort, waar we tegen half zeven aankwamen. Peter en Lilian hadden heerlijk voor ons gekookt: preisoep als voorafje en vervolgens aardappeltjes in de schil uit de oven met knapperige boontjes, biefstuk (well done) en een Tjechische salade met olijfjes, tomaat en komkommer. Ja, je hoort het goed, olijfjes. Laat dat nou net een van de weinige dingen zijn die ik niet lekker vind, en David ook niet. Ze deden het gewoon expres, of niet soms Peter?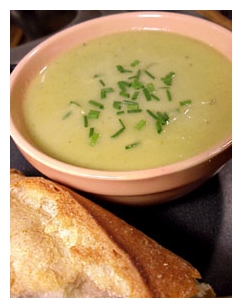 Maar het smaakte allemaal erg goed, je kon proeven dat het met liefde was klaargemaakt, ondanks dat ze de champignons vergeten hadden (waar hadden die bij in gemoeten, eigenlijk?)… ze kunnen erg goed koken! Tijdens het eten kwamen we toevallig op het onderwerp Travian, hadden we echt niet zo gepland hoor, Lil. Nu we in dezelfde alliantie zitten moeten we immers ook meer overleggen over plannen en strategieën…
Later bekeken Peter en David samen nog wat grappige video's vanaf mijn blog, terwijl Lilian en ik het opeens over klassieke mythen kregen… ik merkte dat er toch wel veel details waren weggezakt, al wist ik globaal nog wel hoe elke mythe ging. Wel een interessant onderwerp, met name als je de mythen van verschillende culturen gaat vergelijken, je komt veel archetypes tegen en ook hebben ze vaak veel bij de buren "geleend".
Al snel was het laat, dus besloten we tegen middernacht om maar eens terug te rijden naar Den Haag. Dat heet, ik ging rijden, want ik was de bob (eufemisme voor "ik was de l*l"). David had het ervan genomen, een paar biertjes, en dan nog een wodka-jus (met veel wodka), dus die sliep half onderweg. Ik reed ons veilig terug naar huis en tegen kwart over een waren we thuis. Volgende keer weer bij ons!