Ook afgelopen weekend hadden we weer ouders over de vloer, deze keer die van David. Vrijdagavond kwamen ze tegen een uurtje of half tien aan. 's Middags had David nog even gebeld of ze ook de foto- en videocamera mee zouden willen nemen, dan zouden wij namelijk alles van Portugal even op onze computers kunnen zetten… De fotocamera was er wel, alleen lagen de sticks nog thuis. Gelukkig waren de videobandjes wel meegekomen, dus hadden we meteen iets leuks om te kijken, aangezien Herman en Ria die zelf nog niet eens bekeken hadden. De hele vakantie kwam weer boven!
Zo rond middernacht gingen we het luchtbed maar oppompen, en de volgende ochtend hoorden we dat het prima sliep. Het was zelfs niet een beetje leeggelopen! Natuurlijk gingen we eerst uitgebreid ontbijten. Lekkere broodjes, eieren, enzovoorts. Alles lekker op ons gemak. Na een kopje koffie en nog wat stukjes video besloten we om maar eens richting stad te gaan, omdat het net even droog was. Met de tram reden we naar de Grote Markt. Onderweg kregen we eigenlijk allemaal honger, dus we besloten om eerst een broodje te gaan eten bij Bakker Bart, en daarna te gaan winkelen. En dat smaakte!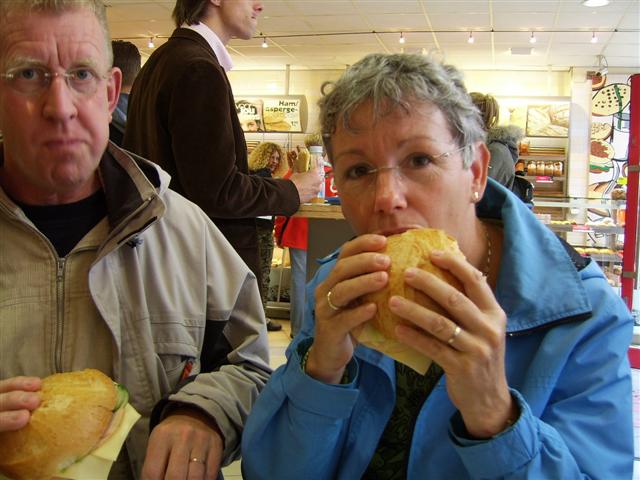 Van de Bakker Bart gingen we naar de Mediamarkt, want Herman wilde nog graag een nieuwe muis en een kuchblender hebben. Ria niet, die wilde dan liever een keukenmachine… Wij mengden ons er maar wijselijk niet in! Bij de Mediamarkt slaagden we helaas niet, dus gingen we naar de V&D. Daar waren wel muizen met oplaadstation. Ook stonden er mooie …kalenders…
We lieten nog even de stoelen zien die we vorige week gezien hadden en ik kocht toch nog een inklaptafel voor op het balkon, van lichtgewicht aluminium. Dat komt zeker nog van pas! Ondertussen hadden we er wel weer genoeg van en gingen we terug naar huis.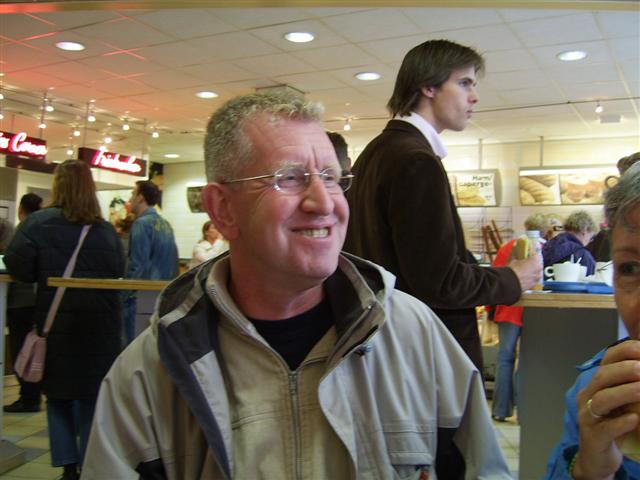 We willen al een poosje wat kabels anders leggen in huis, en daarvoor moeten twee gaten door twee muren geboord worden. Herman had de speciale (lange) boor meegenomen, dus dit leek een goed moment om even te gaan klussen. Na wat passen en meten en zelfs wat verkeerd schatten (dus een mislukt gat…) was het dan toch nog gelukt. David en ik moeten binnenkort maar eens bezig met het leggen van de kabels.
Ondertussen kregen we (natuurlijk) alweer honger, dus gingen David en ik aan het koken. We wilden het niet te ingewikkeld maken maar wel feestelijk, dus we maakten onze beroemde snelle nasi goreng met side dishes. De bijgerechten (saté, atjar tjampoer, gebakken uitjes, kroepoek) konden mooi in de schaaltjes die we vorige week hadden gekocht! Volgens mij vond iedereen het erg lekker.
Na het eten was het ook alweer half acht, dus na nog een kopje koffie vingen Herman en Ria de terugreis aan naar het verre Hoogeveen. Het was weer gezellig, hè?