A while ago, during a weaving party, I was able to test weave on the Louët Jane of a Ravelry friend. I liked it a lot! Jane is a very user-friendly loom, with a clean design and some nifty features. For example, the reed holder/beater is held away from the weaving area when not in use, and Jane has a raddle on top of the castle for dividing your yarn across the loom evenly.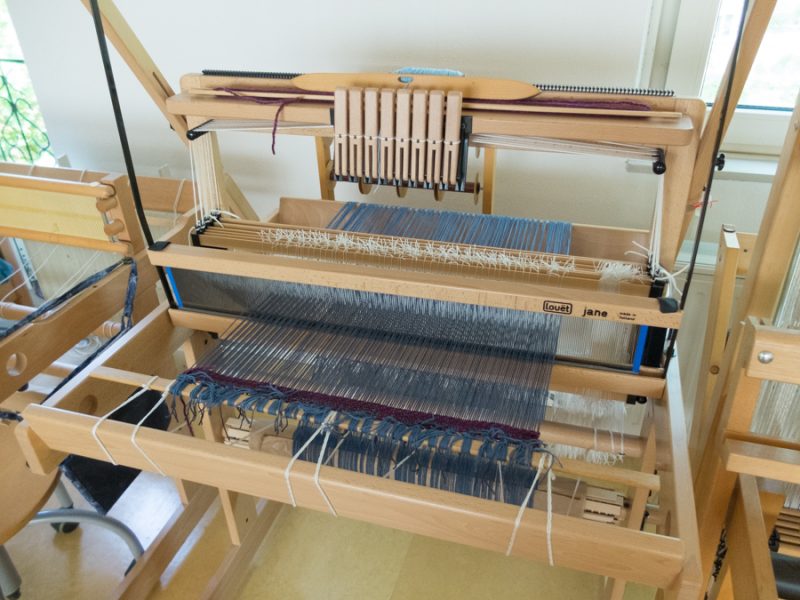 I still did not try an Ashford table loom, but I think I'm kind of sold on the Louët Jane. However, I'm not yet sure which width I want. Jane comes in a 40 and a 70 cm weaving width version. Both types are equally deep and high, they just have a different width. I thought I wanted the 40 cm version because I thought the 70 cm one would be too big. The Jane I tried at the party was 70 cm wide, and was not as huge as I had imagined. It might be a feasible width for my apartment, especially because you can fold the loom to be only 13 cm high. What to do?
Then I was lucky enough to get the opportunity to borrow a friend's Louët Jane 40 cm! I gladly accepted the offer, because if I would be weaving on 40 cm weaving width for a while, I would probably soon find out whether it was wide enough for my purpose or not. So the loom was sent to me with a courier, and it arrived last Wednesday.
We were in the middle of a heat wave here, and the heat in our apartment was intolerable. I live on the top floor of a house with a flat roof, in the middle of an urban heat island. I'm not good with high temperatures. My body has trouble sweating, so I have a hard time losing the excess heat, resulting in bad headaches and more. I picked up Jane from the courier shop and carried the package home while my head was throbbing. But I was so happy! It was just not a great day to assemble the loom, so I just admired the box from my couch.
On Friday the heat wave was over. I was lucky again, and my order of a weaving shuttle and spool winder arrived that morning. Now all I needed was a loom…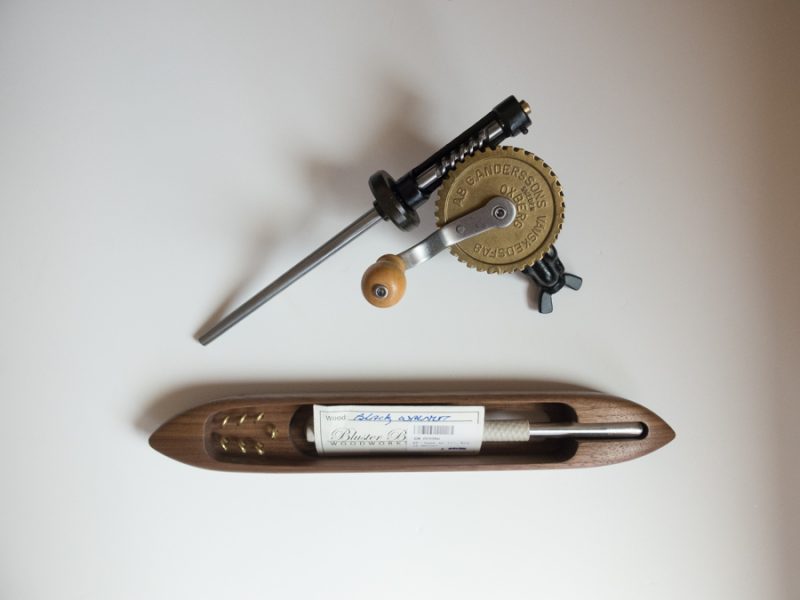 I could finally put Jane together. It was not hard, but it did take me a while to attach the shafts correctly. Then I had to go to my vocal coach (more on that another time).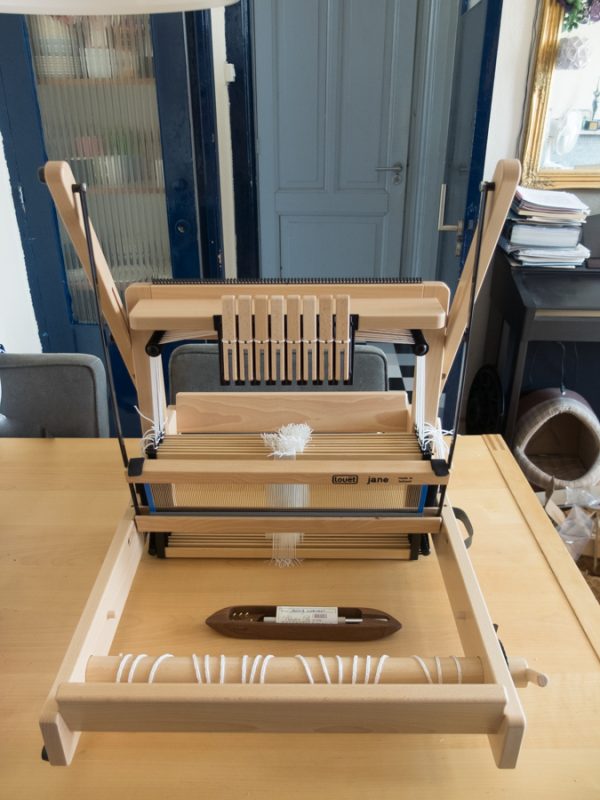 That evening I decided to make a warp. I used some yarn from the cones that Rolina gave to me at the weaving party. It's kind of an experiment to get to know the loom. I chose four colours, attached my warping pins, and used an oil and a vinegar bottle to make the cross…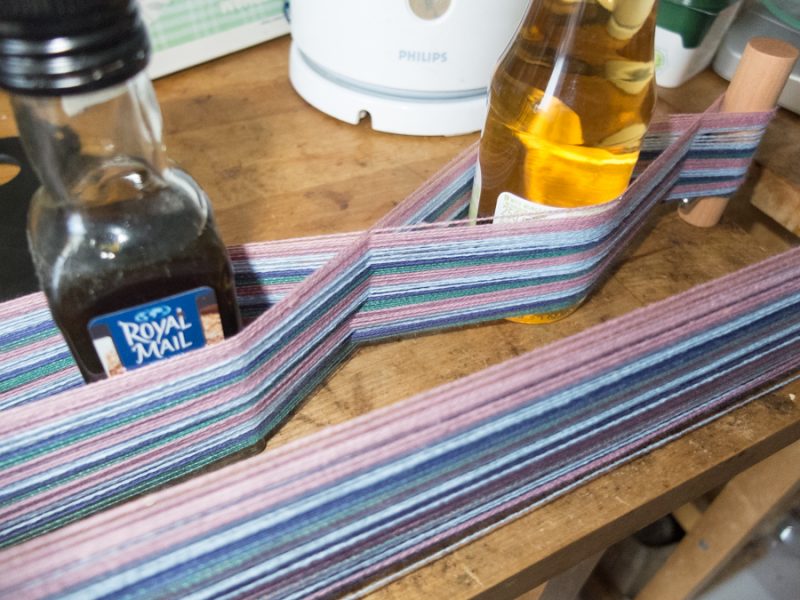 I tied some scrap yarn across the warp in several places to maintain the cross and keep everything together. Then I called it a night.
On Saturday I warped the loom. It took me a while, but I managed to get it on!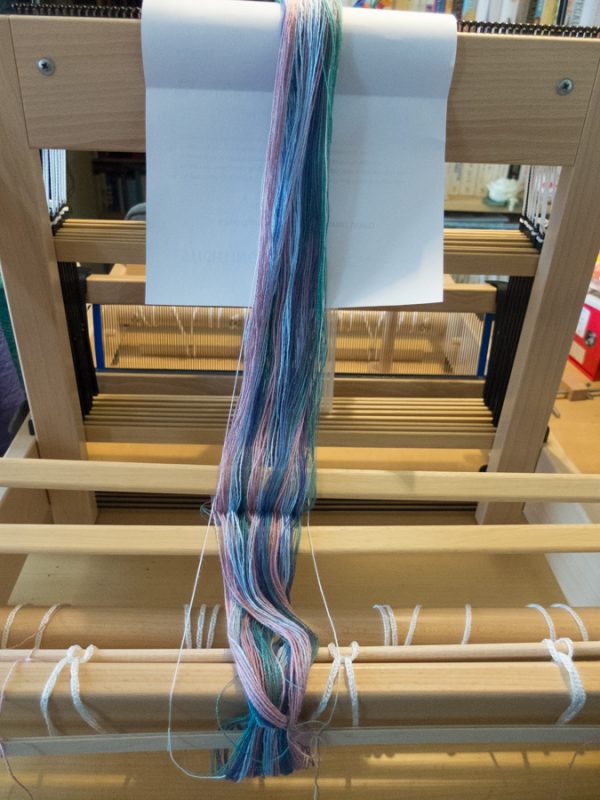 I then divided the warp into sets of three threads and put it over the raddle. Then I wound the warp unto the back beam.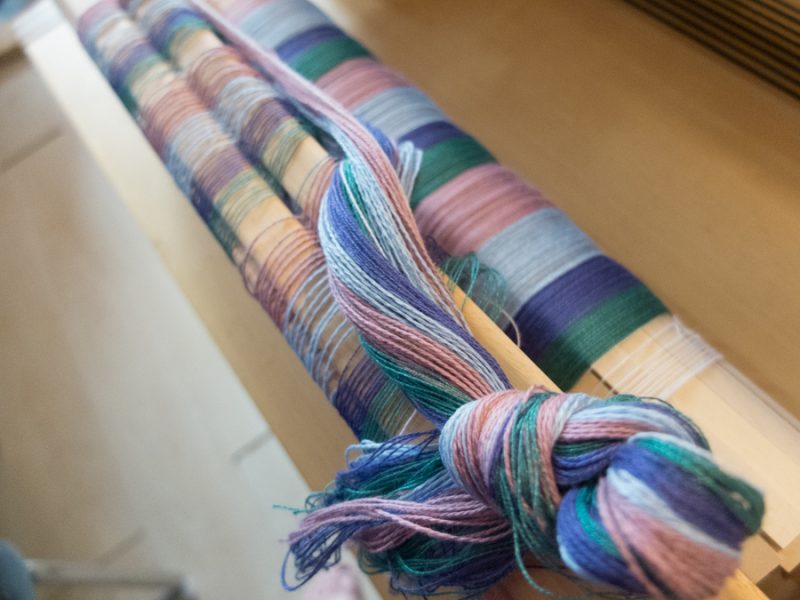 The next step was threading the yarn through the heddles. I threaded the same pattern as during the weaving party: 1 2 3 4 1 2 3 4 5 6 7 8 5 6 7 8. It's a simple sequence, and every sequence of 16 threads completed one colour stripe. That made it easy to keep track of everything.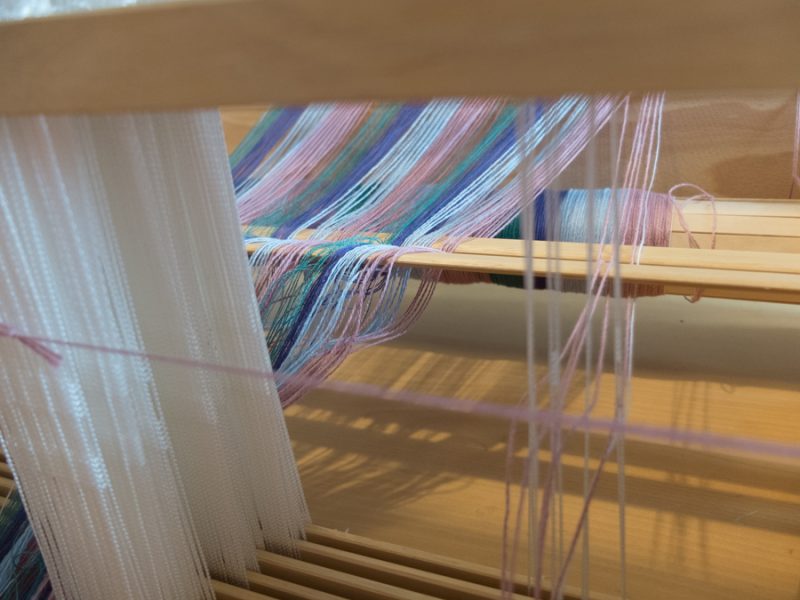 The cross is something that I did not have experience with yet, as I only did direct warping on my rigid heddle loom, and didn't need it. But now I'm convinced of how handy it is. The cross basically makes sure that the threads stay in the same order.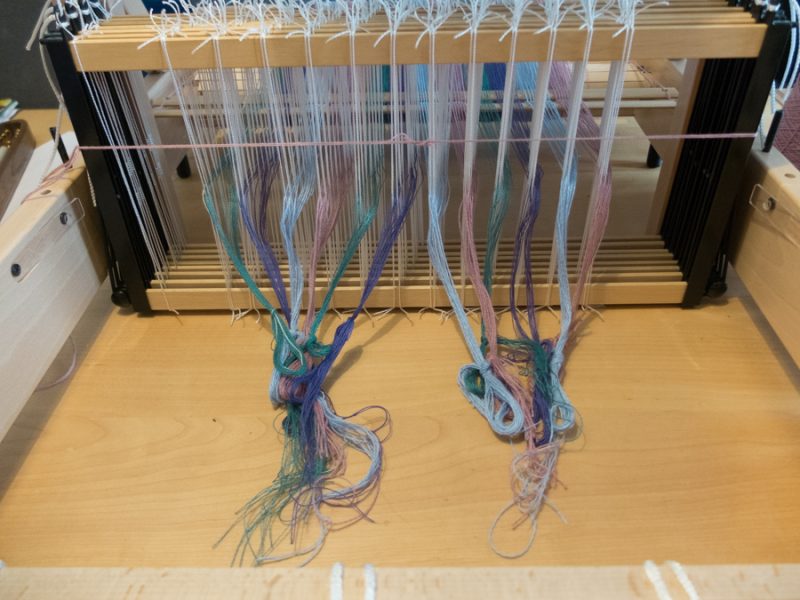 Time to sley the reed! I had 192 (194 including selvedge threads) threads, and had to divide them over about 120 slots. I decided to alternate 1 and 2 threads through each slot, which gave me an epi of approximately 18. This may be a bit too loose for the thin yarn, but I don't mind an airy fabric.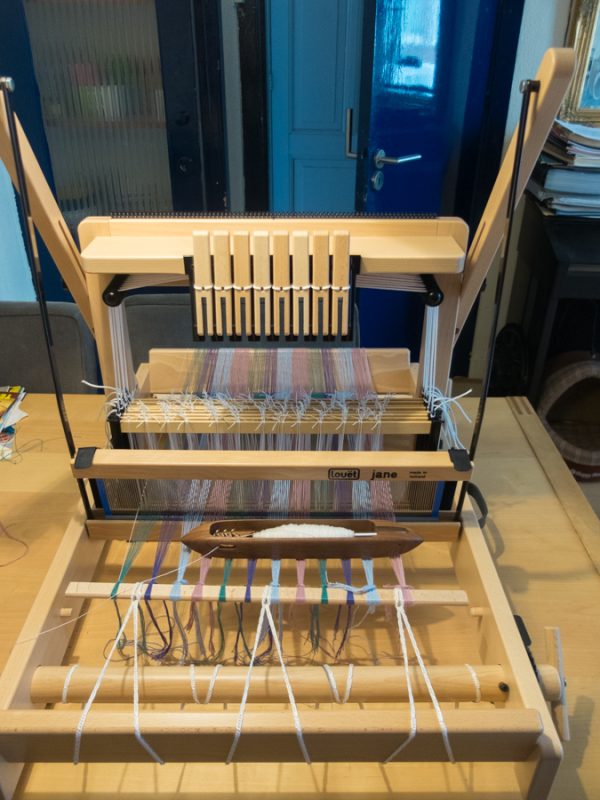 I took out the cross bars, and then I was ready to weave! It took me quite some time to do all this, partly because it was my first time, and also because it just takes quite some time to warp a loom. I did weave a little bit before calling it a day. I think there were no mistakes in the threading, which I'm really proud of!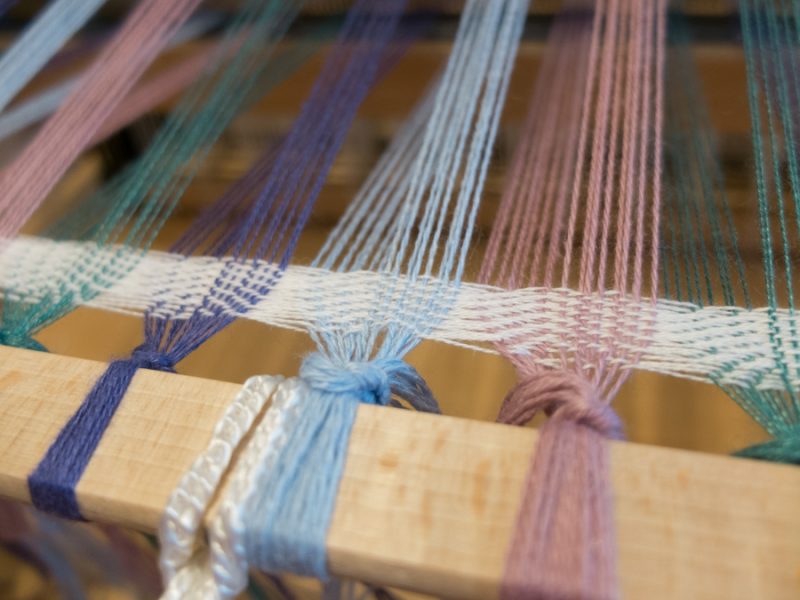 I have to get used to the boat shuttle a bit. Find the right amount of tension. But I like it! The walnut wood is so nice and smooth and light!
Meanwhile, I'm also working on a pretty scarf for a friend on my Ashford SampleIt. I'm weaving stripes of different colours, and it's fun to play with combinations of pattern and colour! It's proceeding slowly, because changing heddles is much more work than lifting or lowering a handle. And I get this weird curve in the weaving, and I'm not really sure why. I hope it will go away when I wash and stretch the scarf later on. Still, it's a nice project and I will post about it in another blog post soon.