There are so many sheep in England! Well, in the area where we went on holiday, at least. They were everywhere, not just in the dales, but also up in the hills, where it is cold, steep, and hauntingly beautiful. One sheep breed was found almost everywhere: the Swaledale.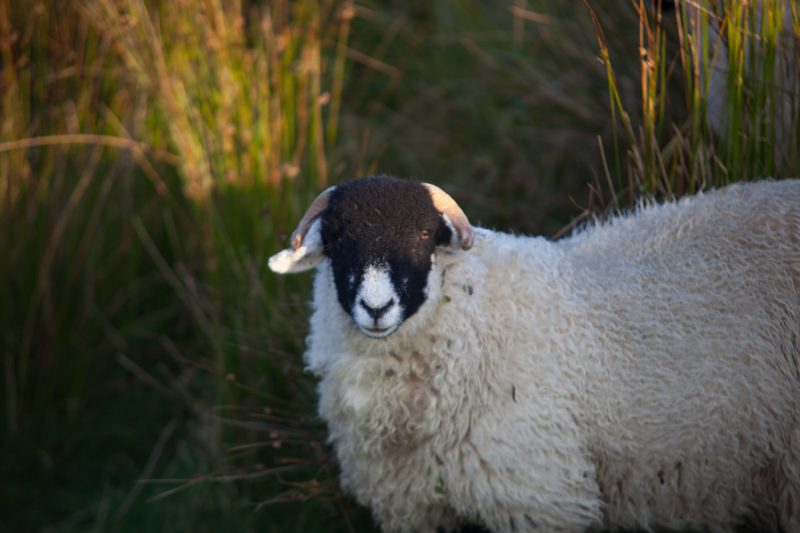 Native to the Northern Pennines, it's a tough sheep, with lots of soft, warm wool, a black and white face, and curly horns. They roamed the fields freely, and seemed to live happy lives.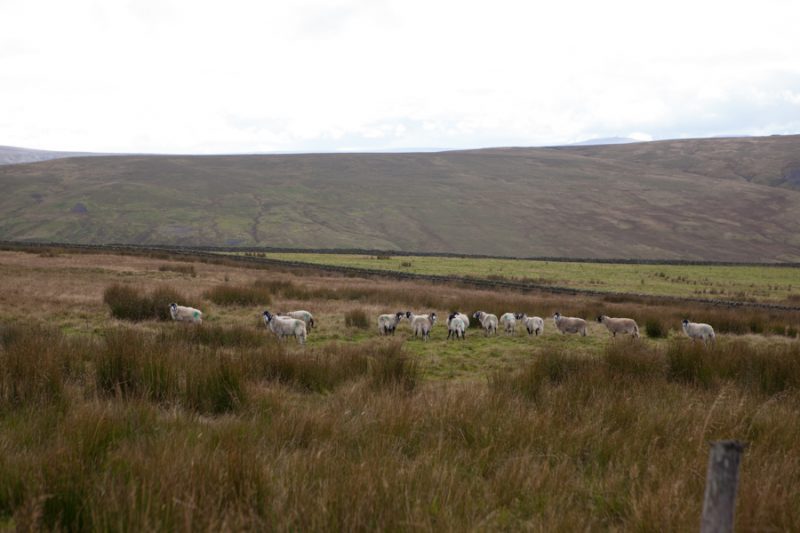 After resting and relaxing a lot during the first days of our stay, we started visiting places of interest. We walked around Hexham a couple of times, and I visited its local woolly shop: Woolaballoo.
It was a pretty little shop almost next to the Cathedral, and it carried a number of woolly products. Most of the things they sold were handmade accessories like socks, hats, wrist warmers, and tea cozies. They did not really carry yarn anymore. The owner moved to Durham, apparently, and now they mostly offered handmade products. I liked the shop and found myself some nice machine knitted socks from West Yorkshire Spinners in fresh, happy colours.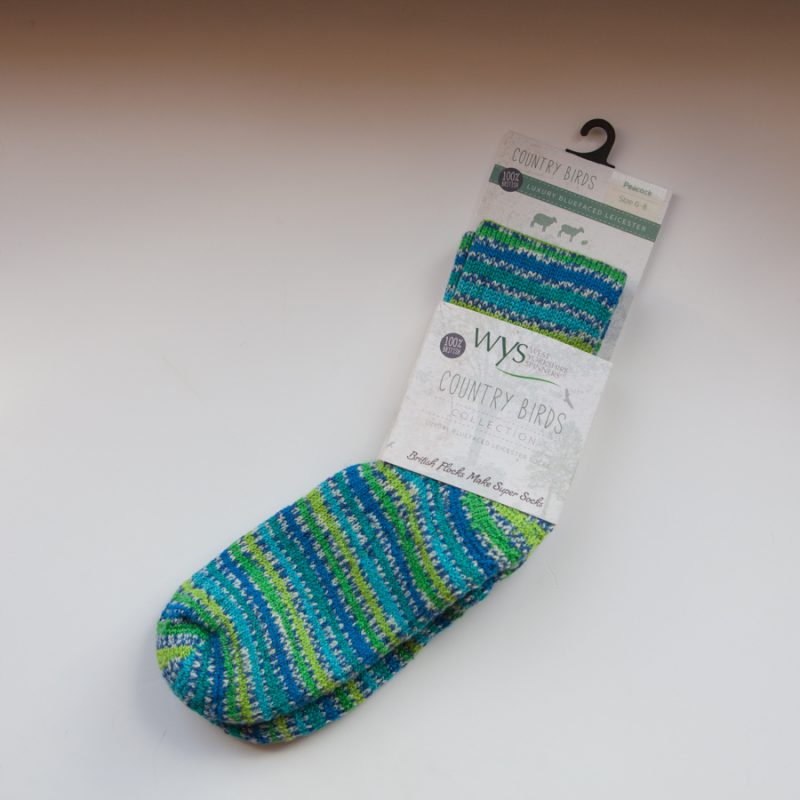 We drove to Carlisle on another day. Carlisle is a beautiful city, and we enjoyed taking a walk through the town centre. We also visited Carlisle Cathedral, which had a wonderful, reflective atmosphere.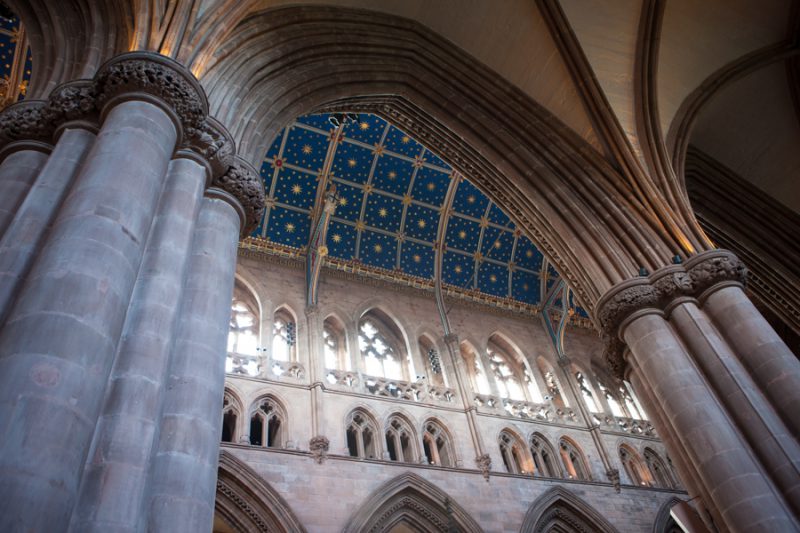 The starry ceiling of the cathedral was very special, and I really enjoyed the visit. This cathedral is almost 900 years old. It has that special peace where you can pick up on the positive, benevolent history of the place, just like the age-old chapel in Germany I visited earlier this year.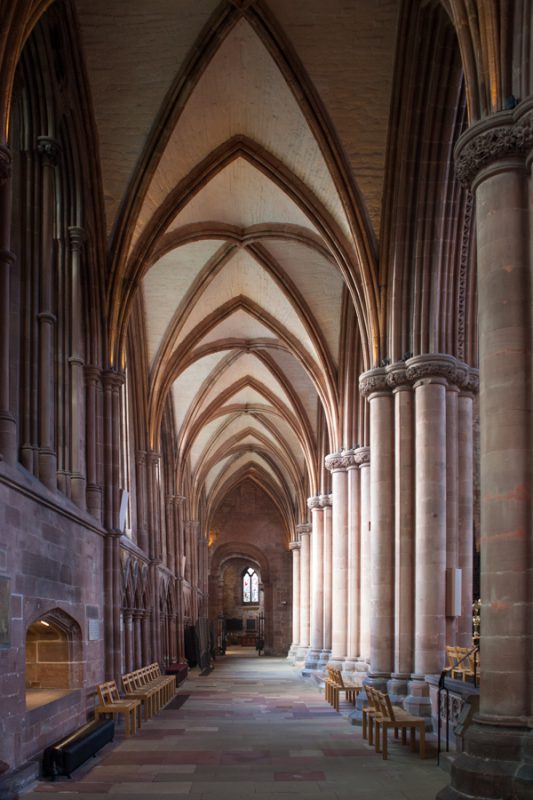 The Cathedral in Hexham, which we visited later as well, does not have that same serenity. It is beautiful, though, with some gorgeous stained glass windows.
The other town nearby was Penrith. We drove there across the A686, passing the Hartside Cafe at 1904 feet high. This cafe has a stunning view, but we were there on a cloudy day, so we didn't see it very well.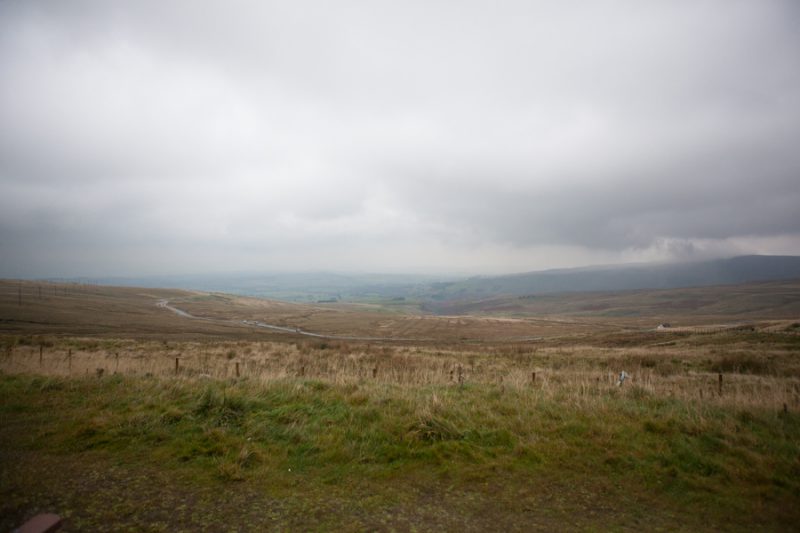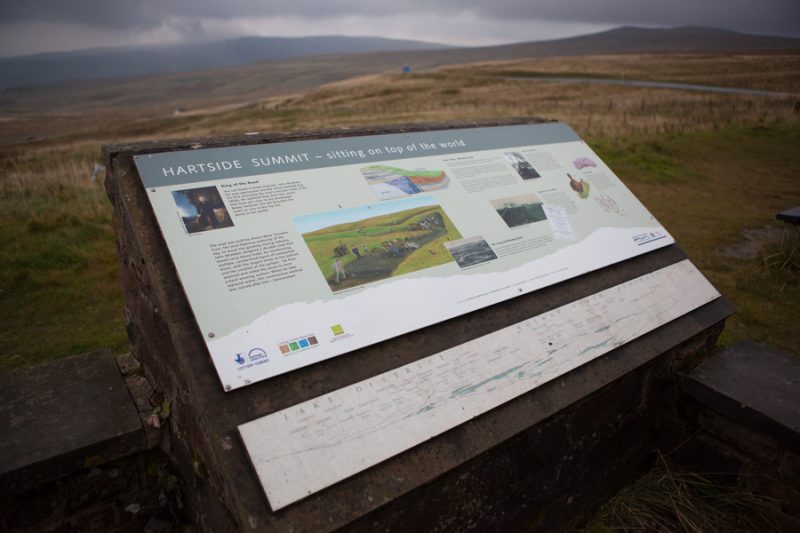 We did drink some nice hot chocolate there before starting to go back downhill. That road made me quite carsick, with all its bends and steep bits.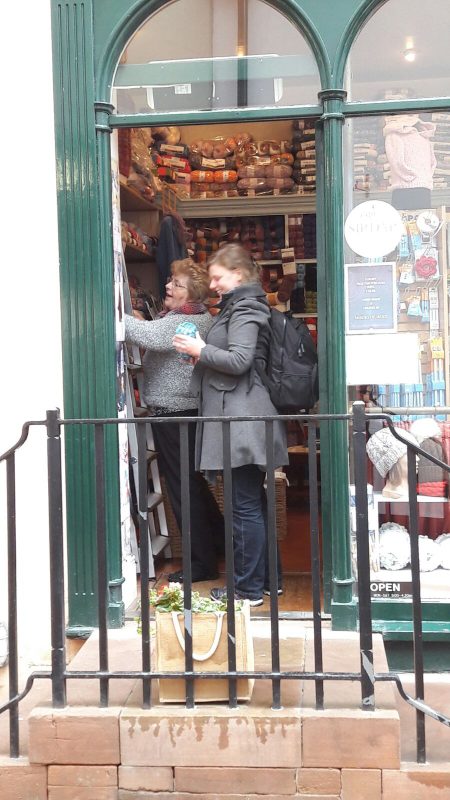 In Penrith I visited Shades of Wool, a tiny yarn shop. The yarn was stored in cupboards against the walls, all the way up to the ceiling. It was quite hard to browse the yarn, but the owner was friendly and we chatted a bit about local wool. I was looking for some yarn from the area, and she had some aran BFL from the West Yorkshire Spinners.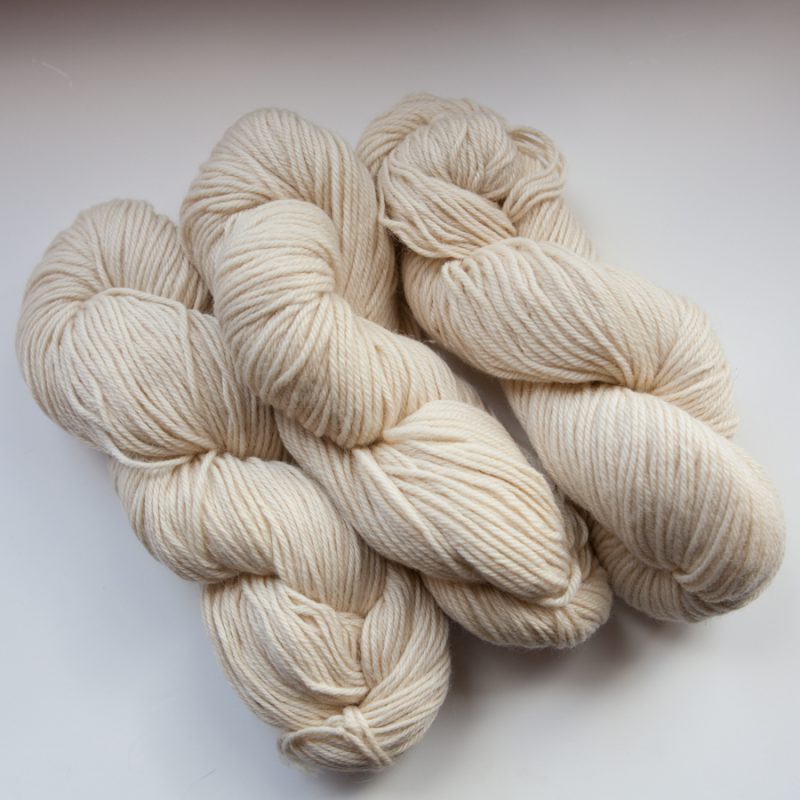 It didn't have a label and it smelled strongly of sheep, but it felt amazingly soft. The owner offered to send me some more in case I did not buy enough, which was very nice of her. I also bought a skein of sock yarn, just because I loved the colour.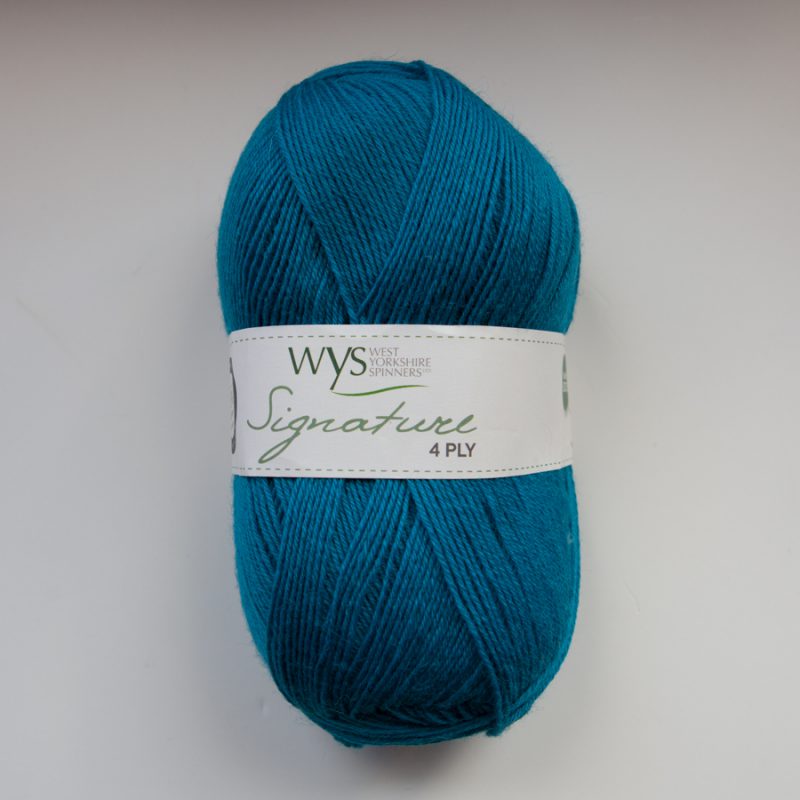 During my online browsing I had discovered the Wool Clip, a wool shop in Caldbeck, between Penrith and Carlisle. It was a bit out of our way, but Mr. Meilindis was okay with driving us there and checking it out. That was a good choice!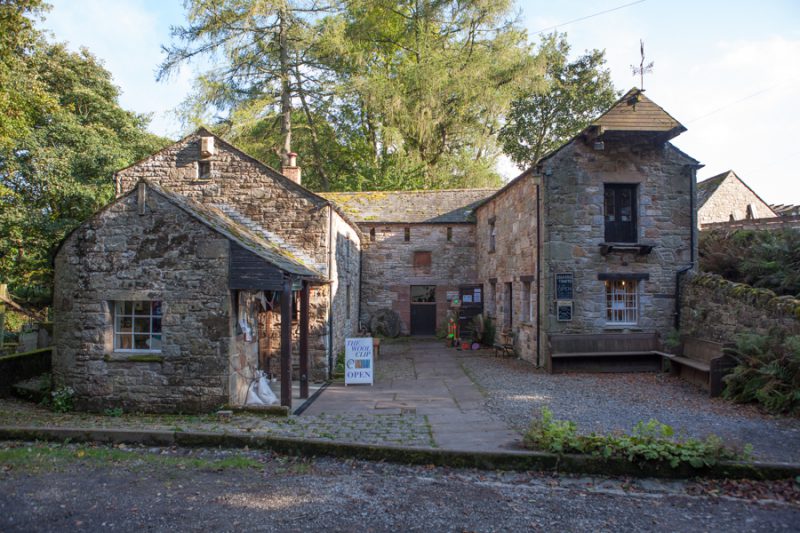 Right next to the church in Caldbeck you can follow the road to Priest's Mill, where a community of arts and crafts people sell their wares. There is also a cozy cafe where you can eat and drink something. I visited the Wool Clip (on the left) and was in awe.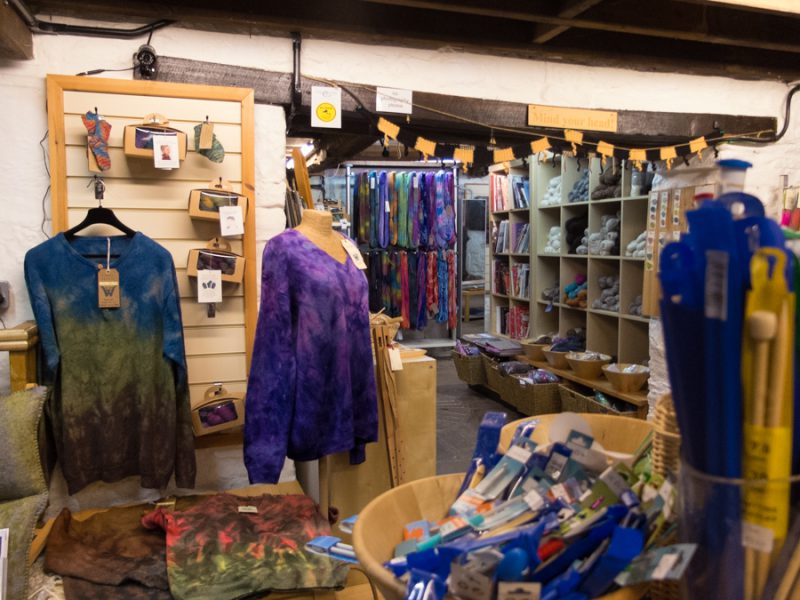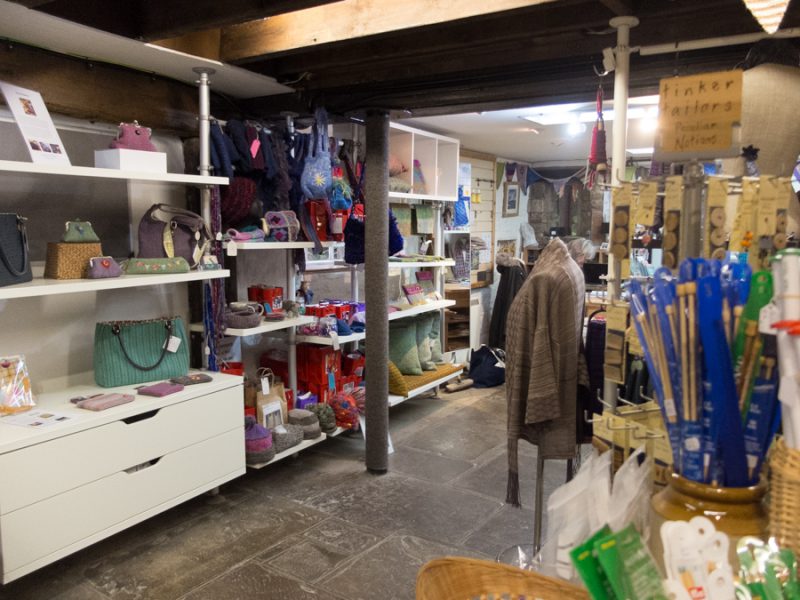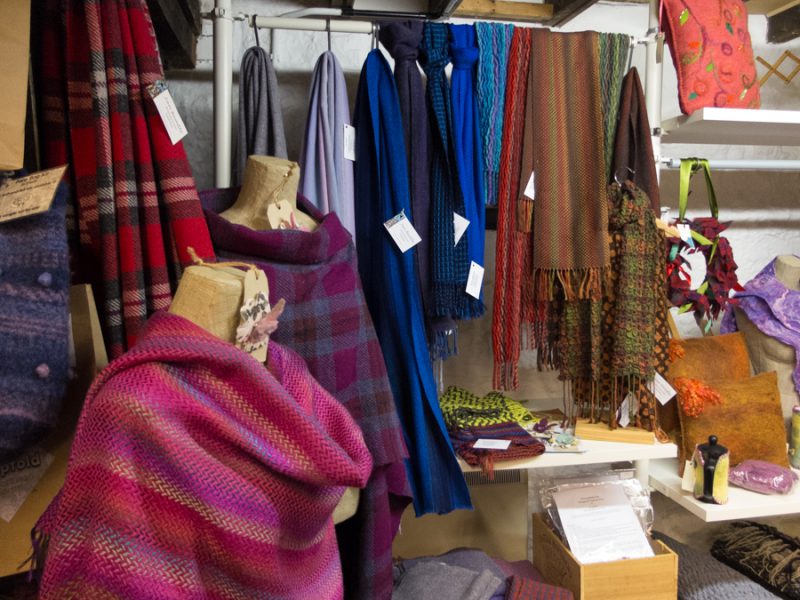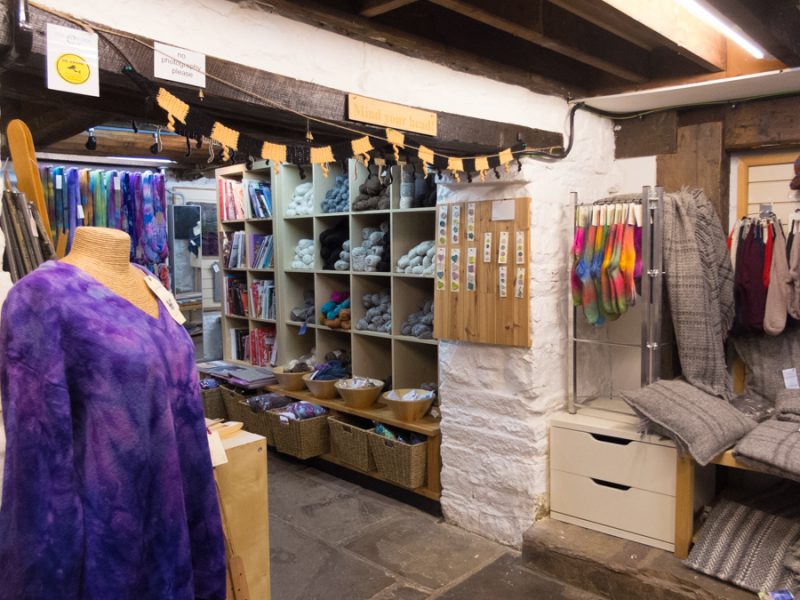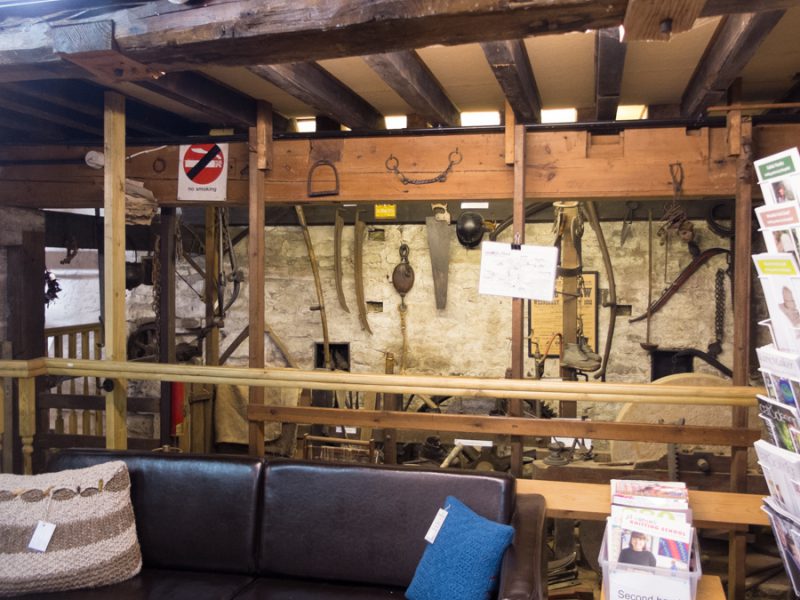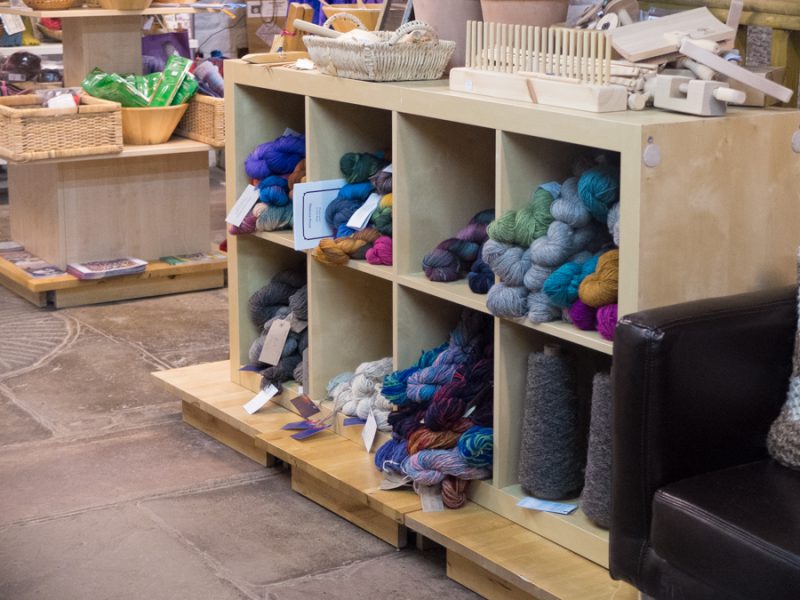 The Wool Clip is a co-operative of 14 local wool workers, who share the use of the shop and sell their own creations there. Each of them manages the shop two days a month. They also organise Woolfest every year.
There was so much to see! If you're a crafter yourself, you can easily see the skill level that goes into making these lovelies. It was all so well done! I especially loved the hand-woven shawls by Jan Beadle. Two of them kept tugging at my heart strings.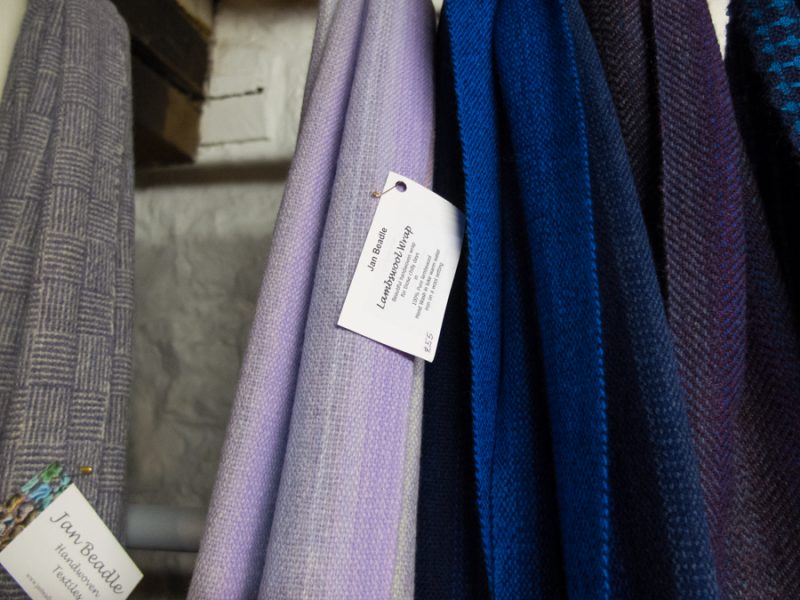 The lilac one was super soft, and was made of lambswool. The dark blue one was similarly soft, and the colour was so intense! I didn't know what to do, so I didn't buy either of them. But I did buy something: two bags of spinning wool from Wild Wood Wool. One was pure BFL, the other BFL + silk.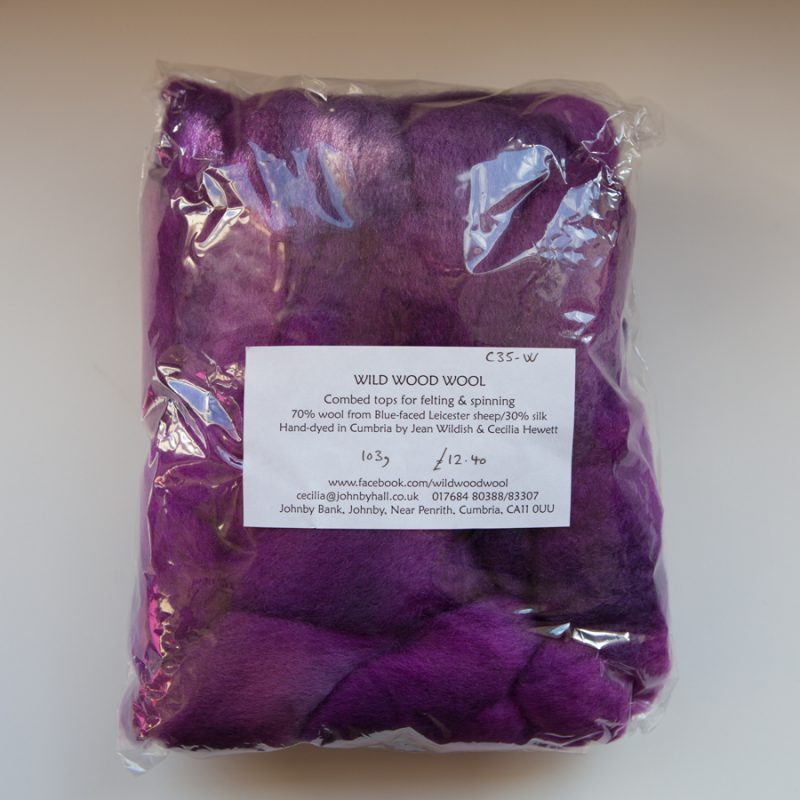 I also bought a little wooden needle from Tinker Tailors. I fell in love with it and also with how it was presented (in a little patch of knitting).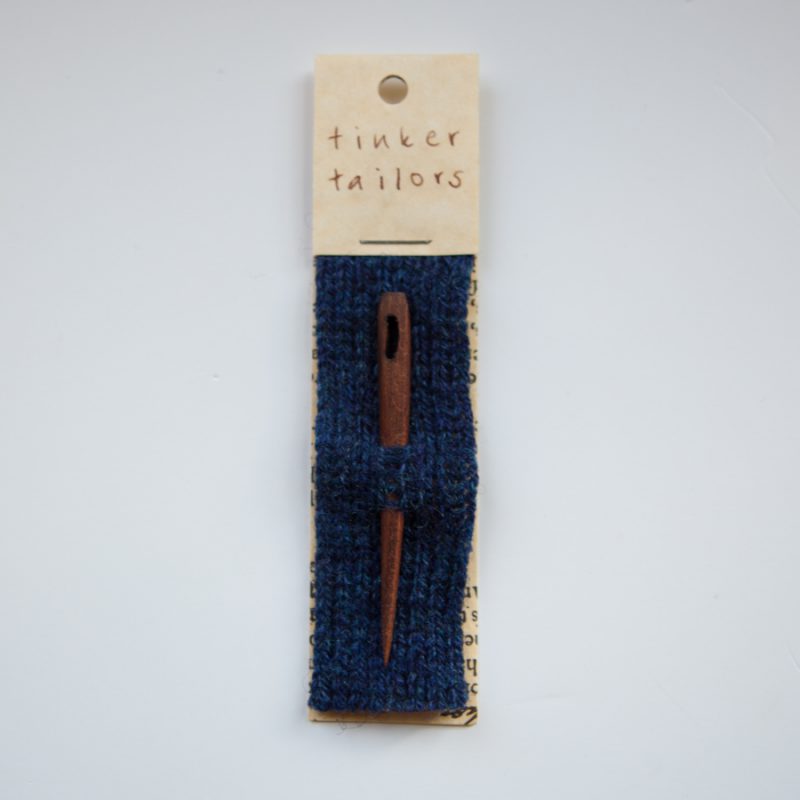 I didn't want to keep my husband waiting any longer, and it was almost closing time (we arrived late), so I left the shop. With two woven shawls still in my head, and my heart full of love for the way these people live and work.
During the holidays I really opened my eyes to the sheep around me. The sheep that lived opposite of the barn were unknown to me, so I looked them up via the internet. I was delighted to find out that they were Bluefaced Leicesters! Yes, I had to restrain myself from getting some shaving equipment and paying them a visit.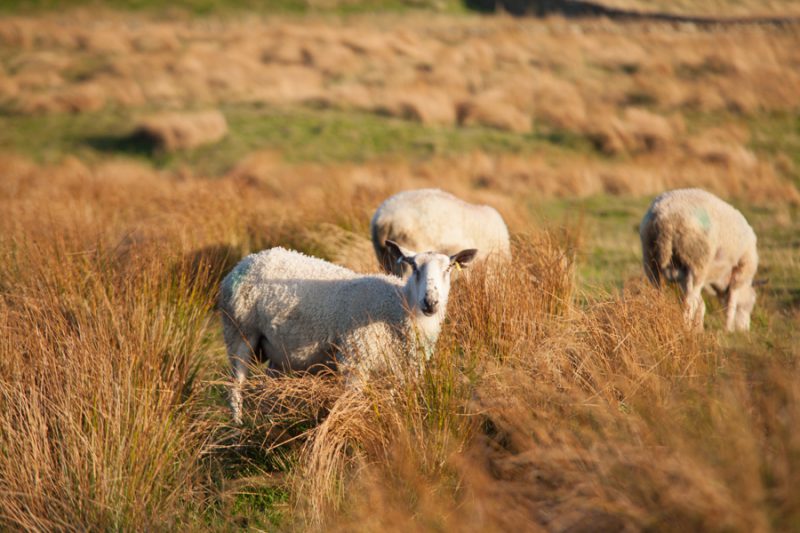 They were not as shy as most of the Swaledales I saw, and they even came to me when I tried to lure them to the fence. They wanted food, though, not attention, so they left soon after. They have cute, tiny curls, and their fleece glows in the sunlight.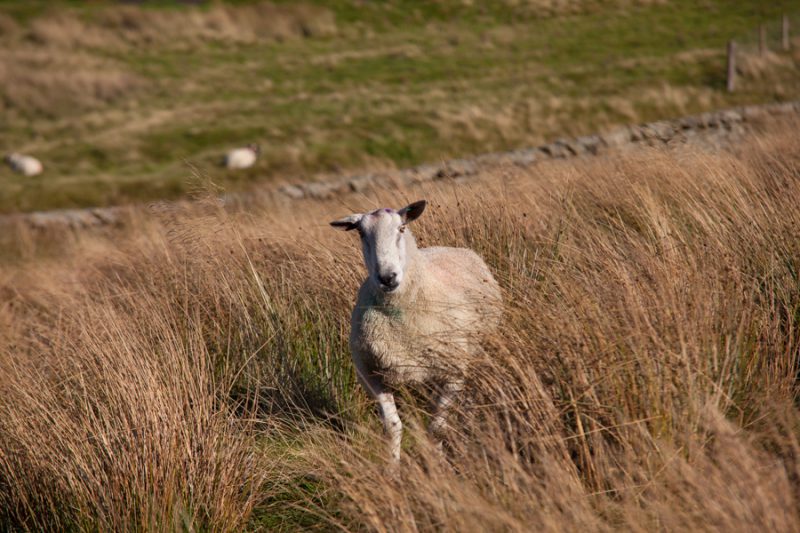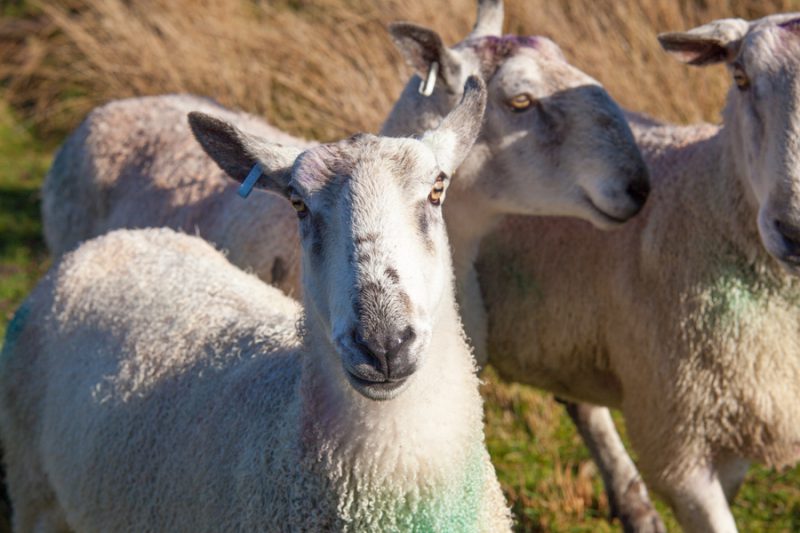 The Swaledales were quite jittery. On our walks through the hills they usually ran away when they heard us coming. Then, one morning, we looked out of the barn window and saw this: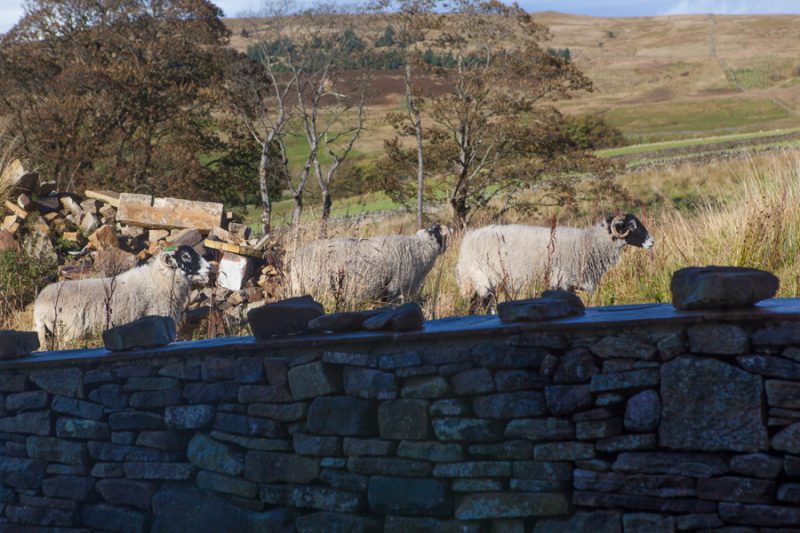 Swaledales next door! We didn't know where they came from, but a small group of five Swaledales was walking around the area, looking for a nice field, I suppose. They liked the area around the ruins next door, and settled under the trees for a while.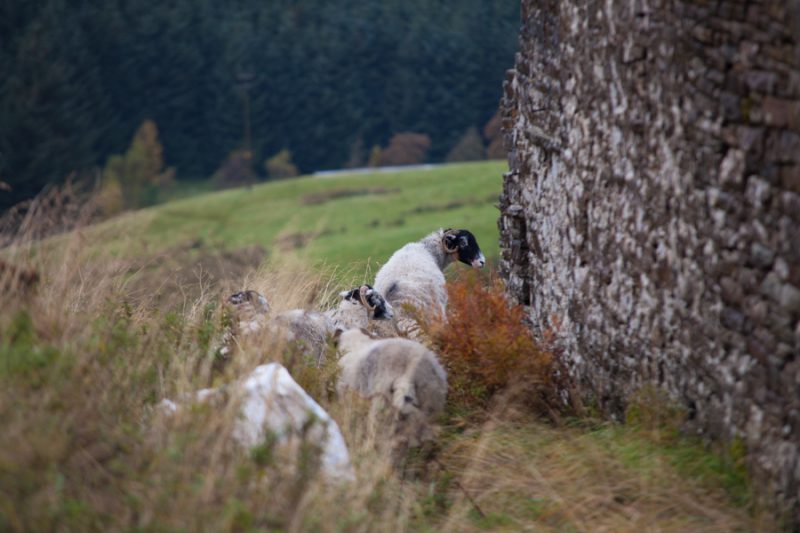 After a while they left again and walked down the road. I decided to follow them and see where they would go. At the next gate, they checked if it was open, and then continued.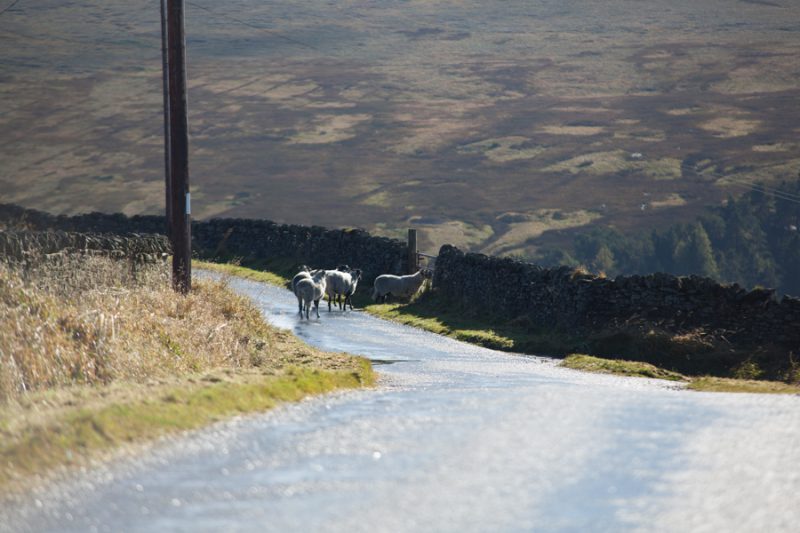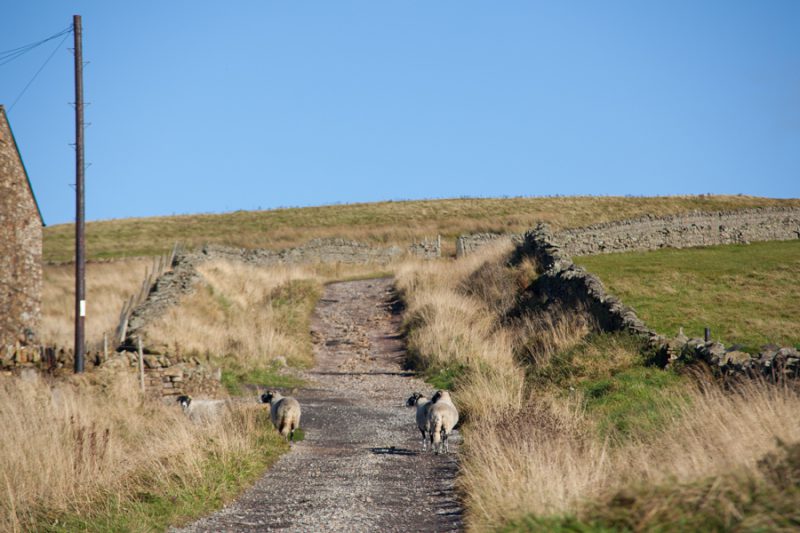 Then they went uphill, and found an open field. So, in a row, they went in and claimed it.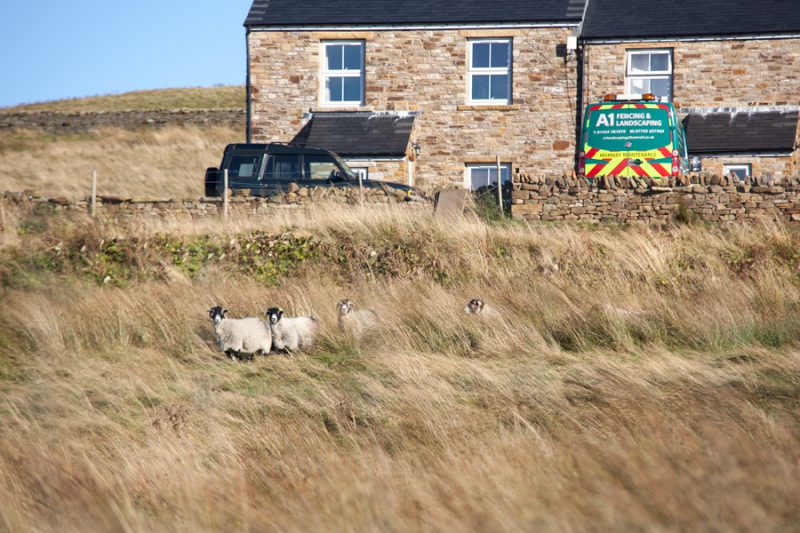 They were really shy. I couldn't get within 50 metres of them, or they would move. Even in the field they still gave me the stink eye when I was standing on the road, looking at them. Silly lost sheep.
On my way back home I saw a rabbit!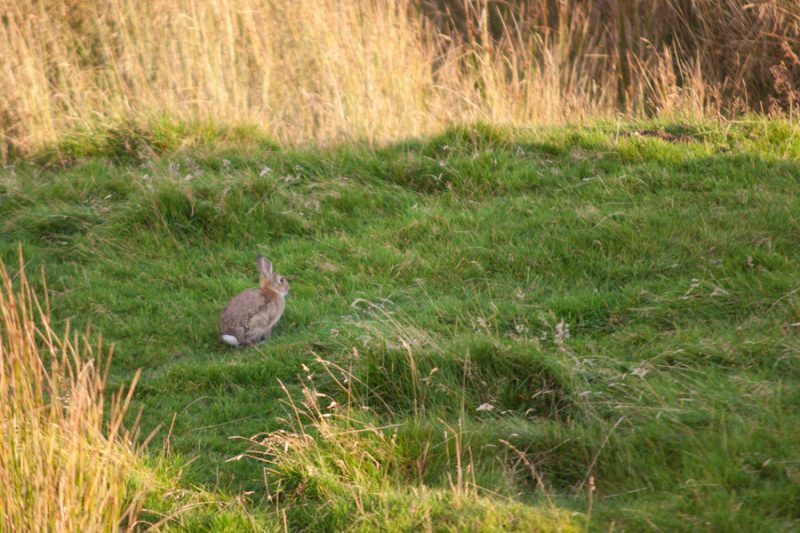 The north of England was also the northern border of the Roman empire once. Emperor Hadrian built his Hadrian's Wall to keep the Scottish clans out. I had already seen Hadrian's Wall almost twenty years ago when I went on a school trip to York (where I met my current husband as well – long story). There were also other remains from the Roman occupation.
We visited Vindolanda, which is an old Roman fort excavation site. The foundations of this fort have been dug up systematically over the past decades, and a museum has been built next to it. The museum was quite nice! It displayed many excavated items, from weaponry to clothing to locks and the famous writing tablets.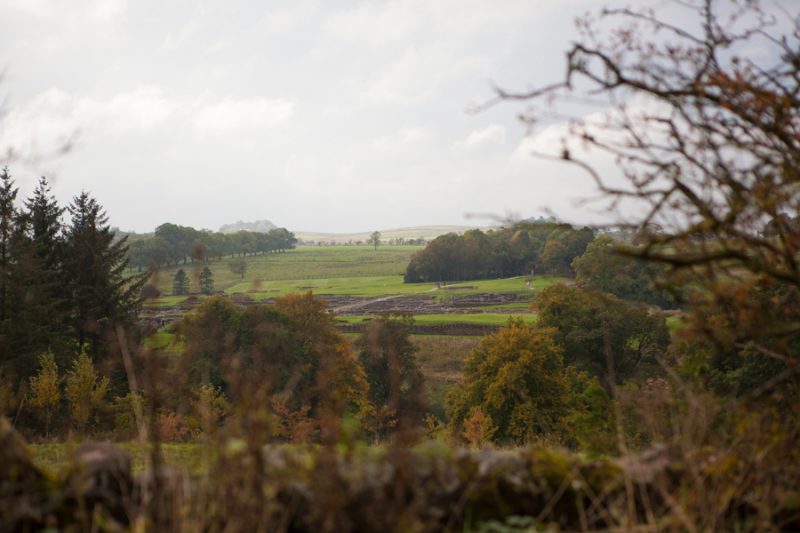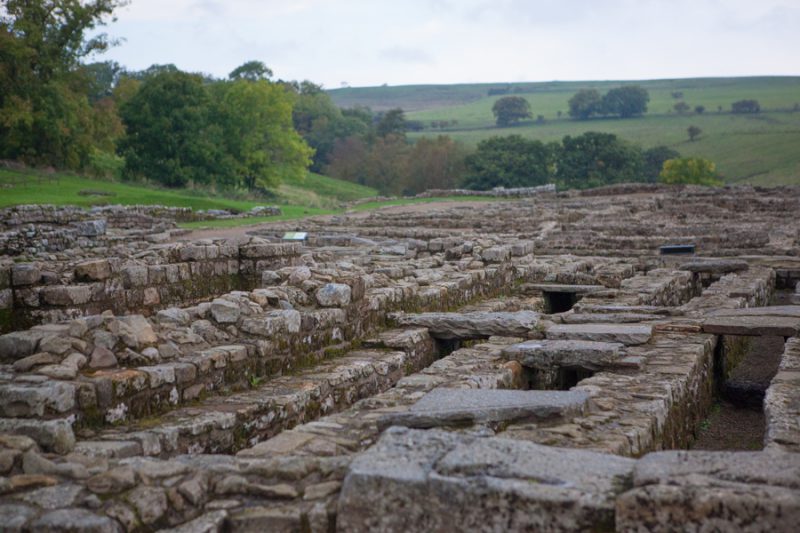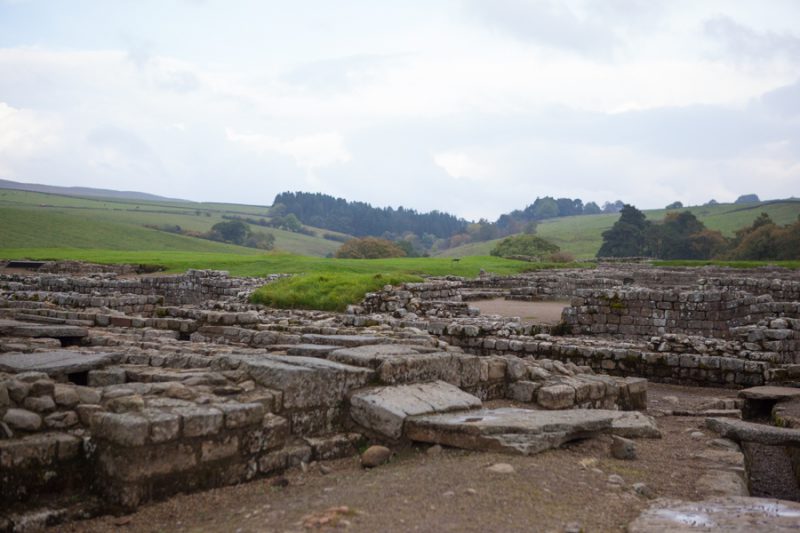 On our way to Vindolanda (which was the fort's actual name, according to the writing on the tablets found there!) we took the scenic route because TomTom decided that extremely narrow and steep roads were perfectly acceptable. That was exciting. It felt as if we were on a rollercoaster ride… with oncoming traffic!
A few days later we decided to visit Caldbeck another time, but this time a bit longer. The atmosphere in the village was so lovely, and we only saw the Wool Clip, not the other craft shops the first time. And the woven shawls were still calling me.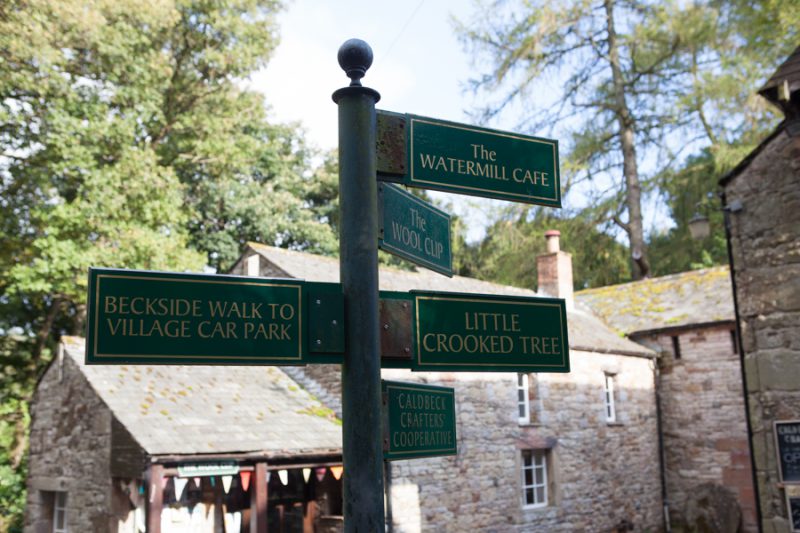 We had a lovely little lunch at the Watermill Cafe (zucchini-carrot soup with a cheese scone), and then Mr. Meilindis stayed there while I went exploring again.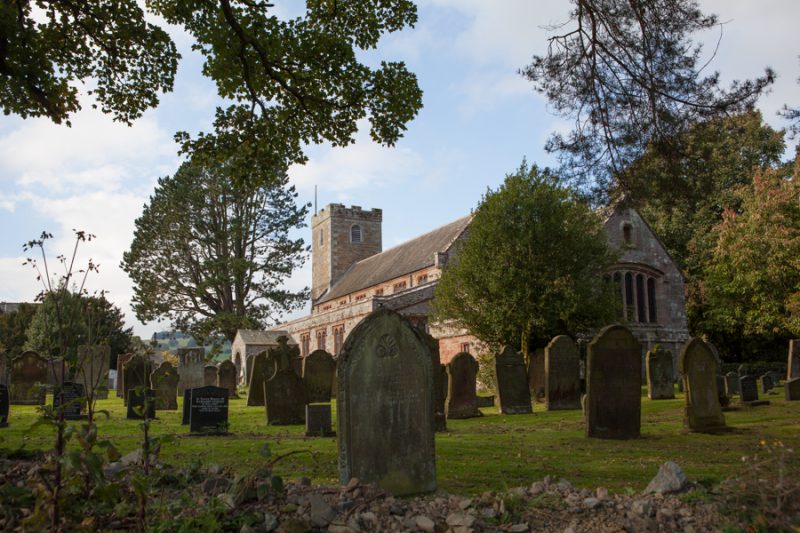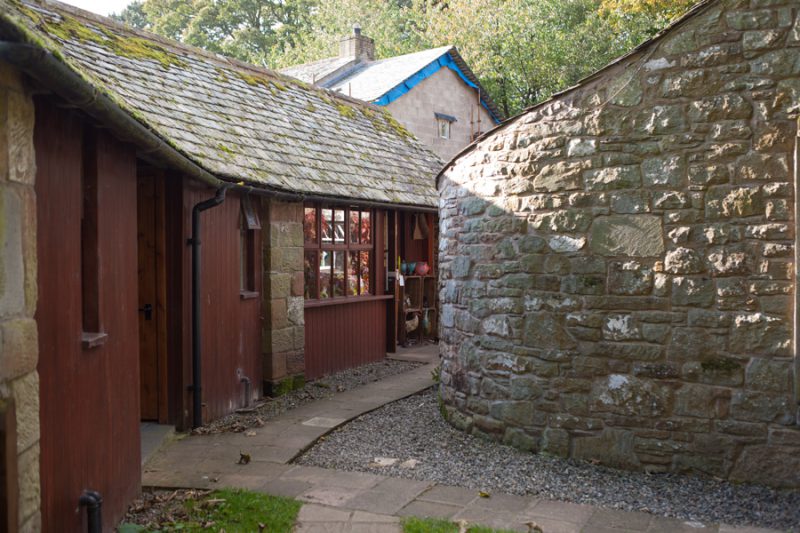 Little Crooked Tree had some very nice handmade things. They sold woodworking and had very pretty bowls made out of burls, polished until the wood seemed to shine from within. They also sold books about walking and meditation, post cards, and other interesting things.
I visited the Wool Clip again, and tried on the woven shawls. Unfortunately, neither was the right colour for me – the blue one was too intense, and the lilac one was too light and contained some yellow (which makes my skin look slightly green). Such a shame, because Jan Beadle doesn't seem to sell online… oh well, a good reason to return someday! Or start weaving myself…
I did buy a bag of Swaledale tops. The wool is surprisingly soft. I expected it to be rough and thick and durable, because of the conditions the sheep live in. Nope. It's not Bluefaced Leicester, but it's nice.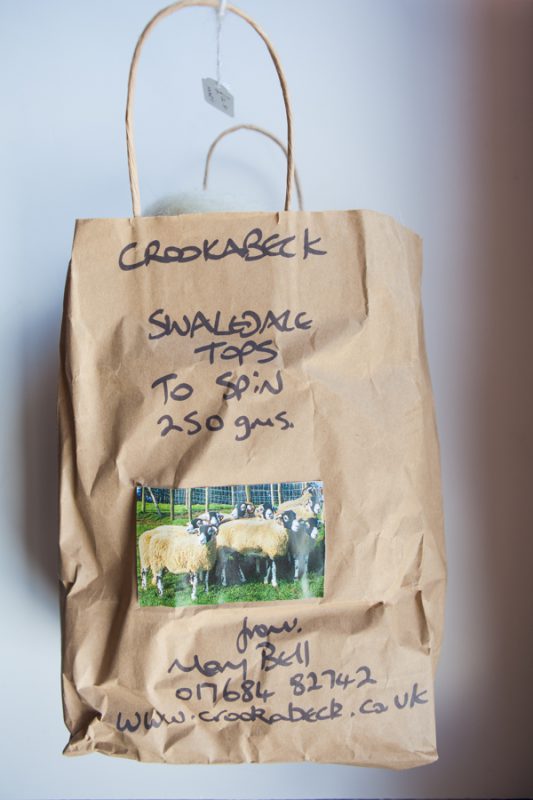 There were so many beautiful things there. I was tempted by one of the bags made by Emma Redfern, but they were out of my price range for now. Perhaps I will order one online in the future, because they look very nice! Emma was managing the shop that day and we had a nice chat about crafting and about how woolly pastimes seem to multiply. Every hobby is another deep rabbit hole!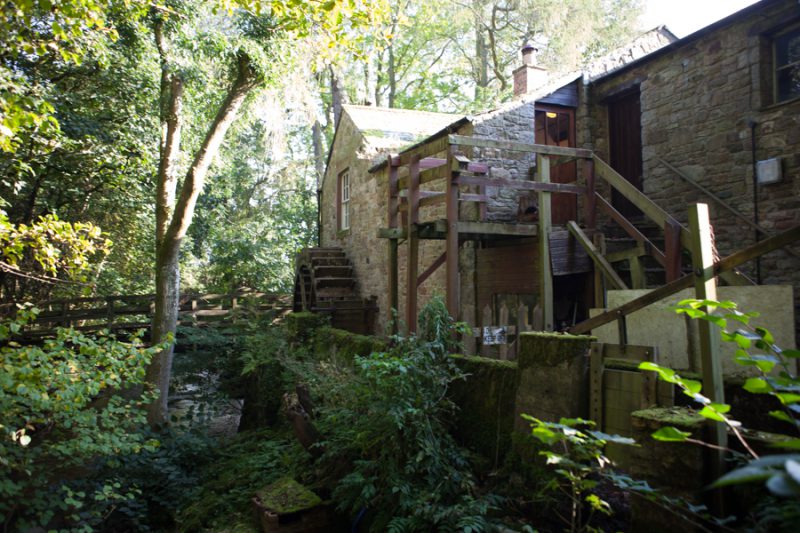 On our last day before going home we went to Durham, which turned out to be a great choice! First we took a breathtaking drive across the Northern Pennines where the sheep walk freely, the skies are big, and the moors are plenty.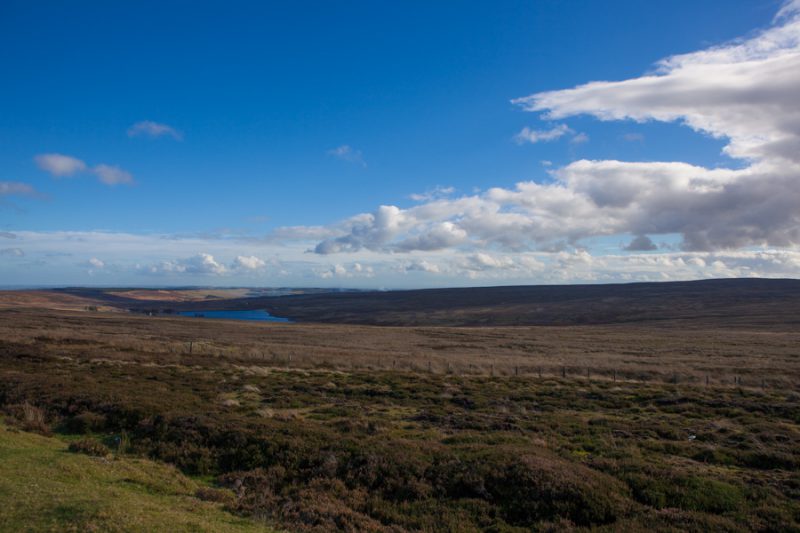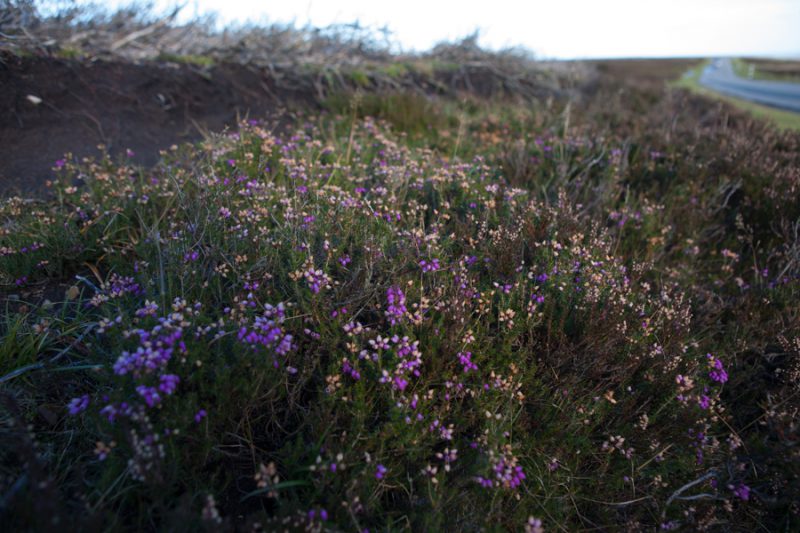 We did however witness an accident with a Swaledale sheep on our way there. The sheep can roam freely there, there are no fences. One sheep was standing on the road, and a car came from the other side. The sheep moved away, the car sped up again, and another sheep, out of the blue, decided that it had to follow the first sheep, and it jumped right in front of the car. The car couldn't swerve or brake quickly enough, and it hit the sheep on its right backside. The sheep fell down, crawled back up, and ran off. We were both shocked. We couldn't really do anything, so on we went, but we still had the jitters and we drove really slowly whenever a sheep was in sight. I really hope the sheep is okay.
Then we arrived at a gorgeous medieval city. Durham has a cathedral and a castle, and also a very friendly atmosphere. We visited the cathedral, which was lovely.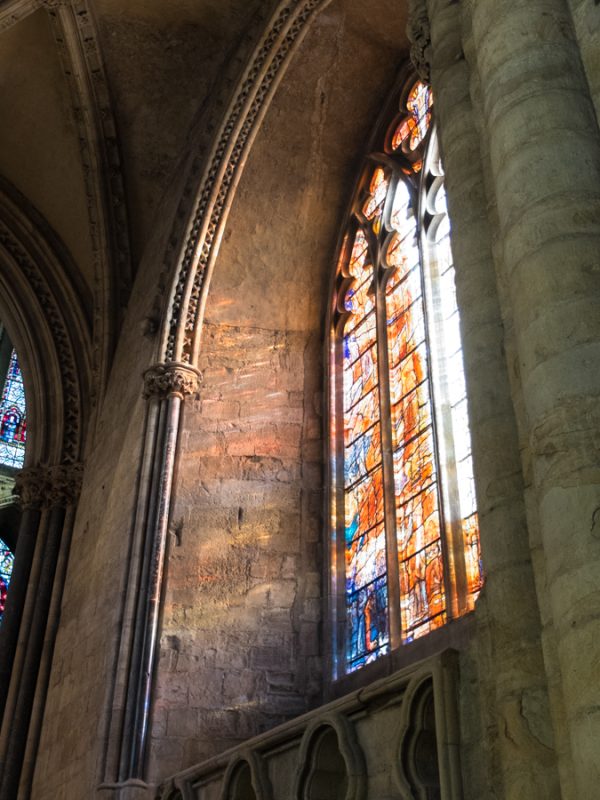 There was a very special Pietà in this cathedral. Usually, a Pietà is a statue of the mother Mary holding the body of her son Jesus. This wooden statue started out that way, but when it was still in the York Minster, there was a fire, and Jesus fell on the ground, damaging his face. The artist, Fenwick Lawson, found this to be the perfect finishing touch for the piece, which is why it's now presented like this. I was especially intrigued by the face of Mary.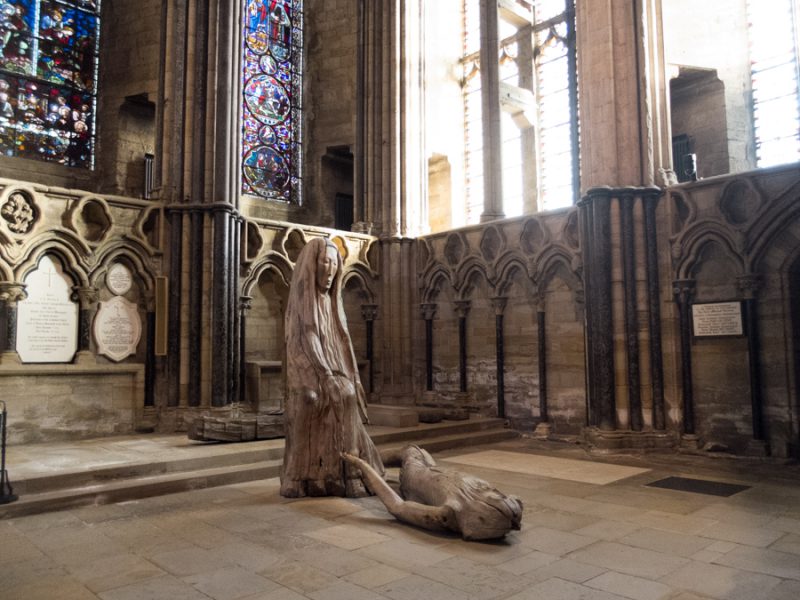 Next to the cathedral is a cloister. It is beautiful and it seemed oddly familiar. Then I found out that it had been a filming location for Harry Potter!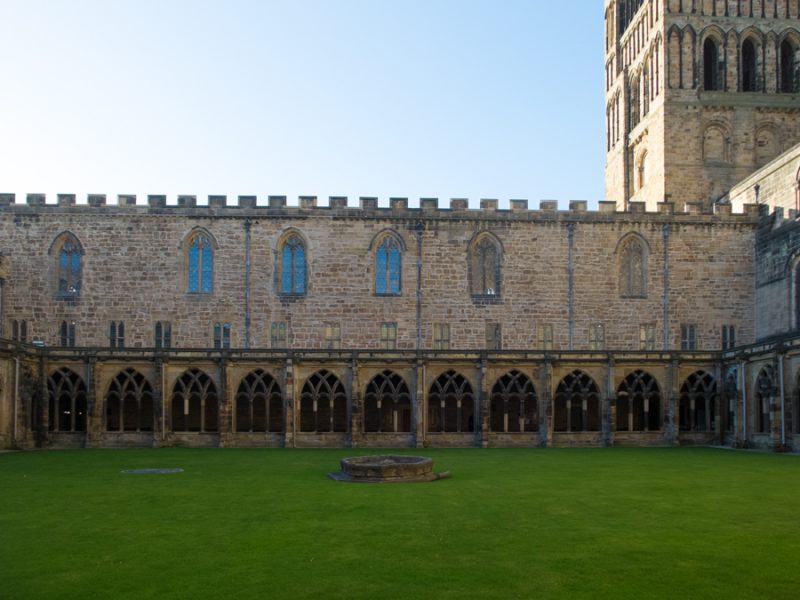 We didn't have time to visit the Durham castle anymore, but we did have tea at Bill's, a very friendly cafe. Yay for warm pecan pie, and scones with cream and jam! We went home, and that evening, for the first time, the sky was rather clear and we could see the stars. Such a big sky, such a small earth…
When we left Nenthead the next morning to go back to the ferry, it started snowing. That was special!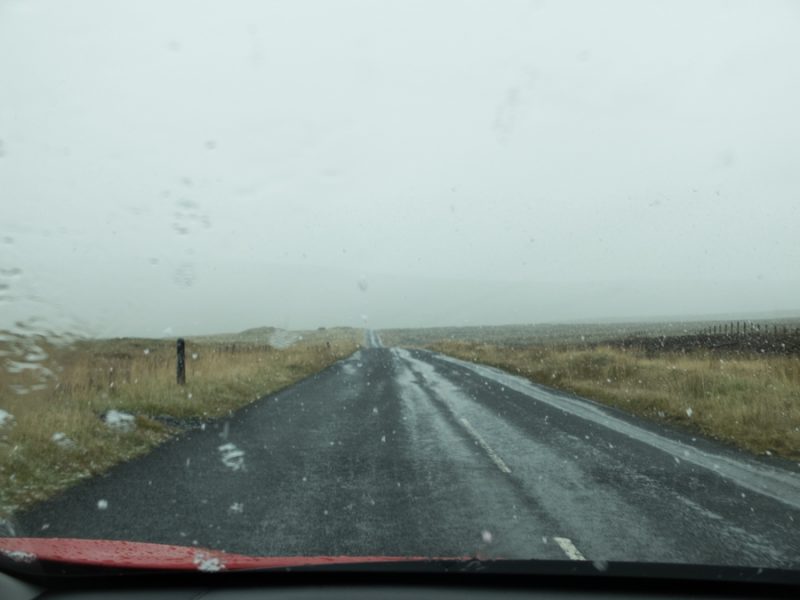 But when we arrived in Newcastle, the sun was shining and it was not cold at all. Amazing, such a big difference between the weather up in the hills and next to the sea… When the ferry left the harbour, the sea was friendly. People were waving from the beach and we waved back. I said goodbye to England (for now) with a tight throat.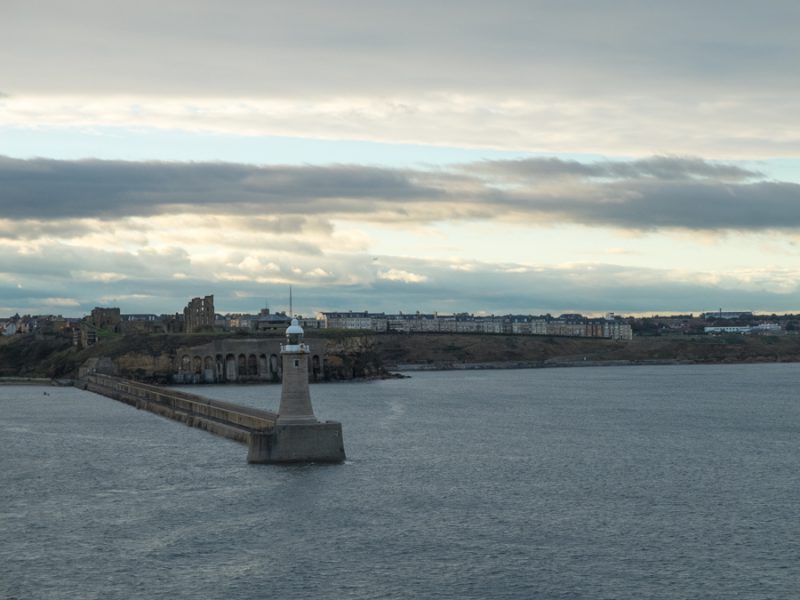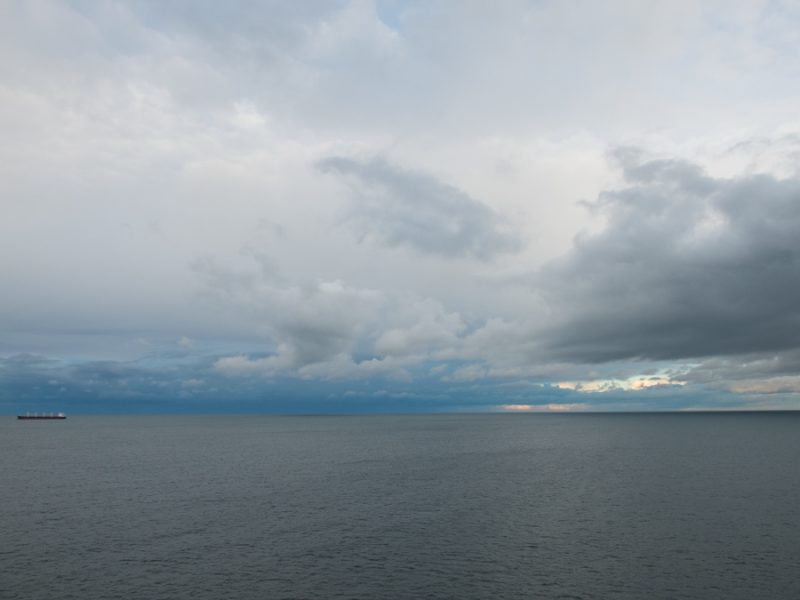 During the night, the wind got stronger. It was stormy when we crossed the North Sea this time. Mr. Meilindis felt a bit sick, so after breakfast we went outside to get fresh air. It helped a little.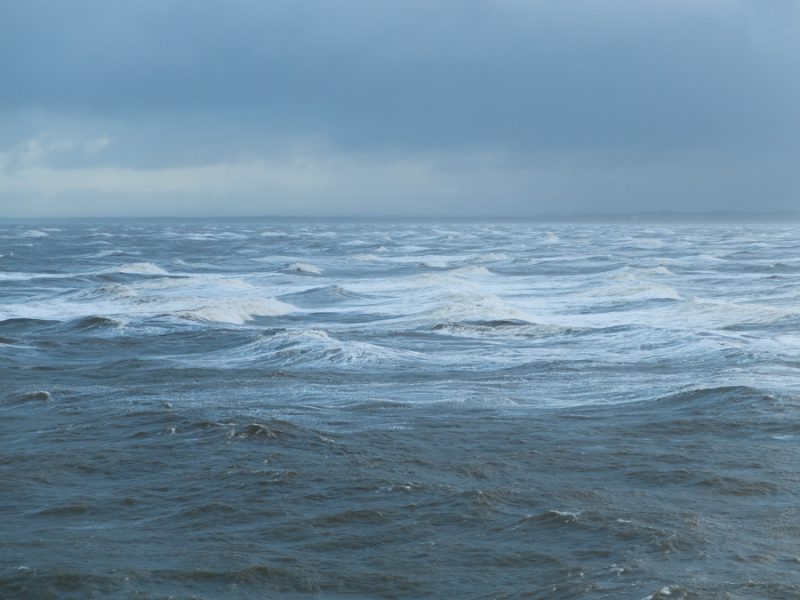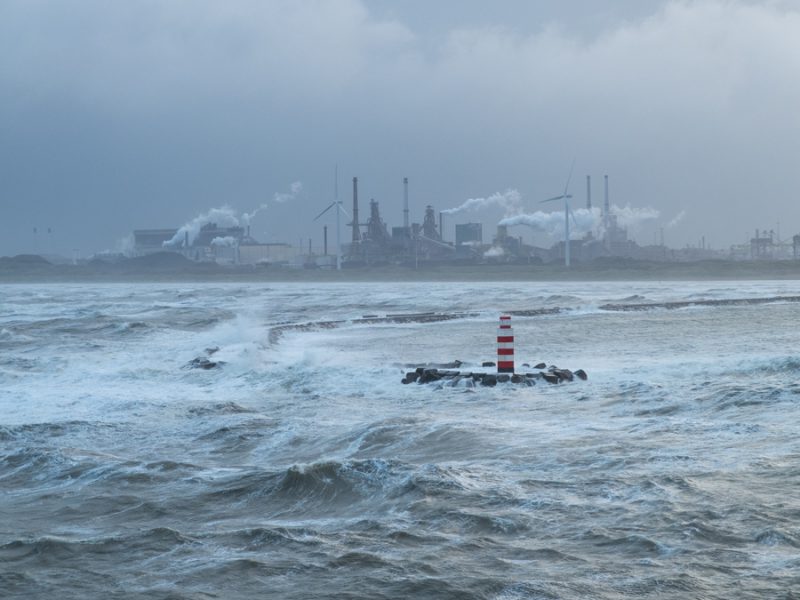 This was a wonderful holiday. I want to go there again!
When we came home, there was something, or rather, someone to look forward to. Freya had been home alone, and she was extremely happy to see us. She kept meowing to us, telling us what she experienced during the two weeks we were away, and how we were such bad hunters for not catching anything worth eating in two weeks time. She cuddled up beside me whenever she could. She really missed us (and we her).
Then I took out the woolly loot. That piqued her interest!