The Bahija wristlets are done! I made these for a friend with whom I was doing a swap. She provided the yarn, and I would knit these cute little wrist warmers. The lime green yarn is a Wollmeise Mini, and the grey yarn is Phildar Cotton.
I first made the green wristlet. It was a little bit tricky to get started, because there was an error in the pattern. Fortunately I realised that quickly, and I checked the German version – there the error was not there, confirming my suspicion. After finishing the first wristlet, I started the second one, but I soon found out that I did not have enough lime green left to make another wristlet like the first one. So, after checking with my friend, I knitted the other wristlet with the colours reversed. I still have to block them, but the knitting is done now!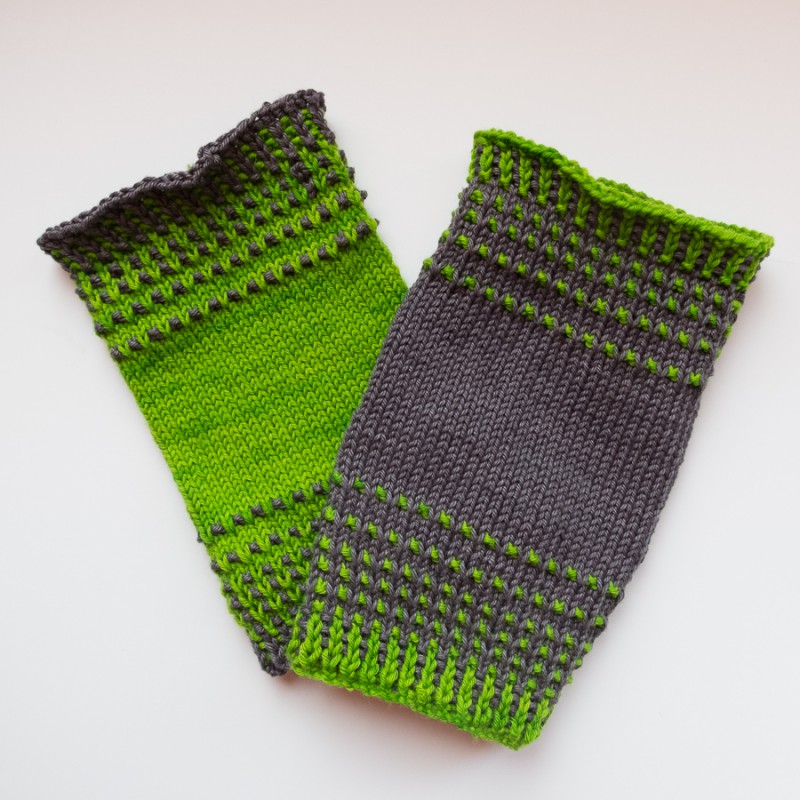 I love the colour combination and the way the colours interact differently in different ratios. The grey wristlet is slightly larger, because the cotton is not as elastic as the wool. I want my friend to be able to put these on… Also, I did the bind off looser than the cast on, because one end of the wristlet will be around the thicker part of the forearm, and the other end will just be a cuff, so that should not be too loose. I hope my friend will like them! She already spotted them on my Instagram, and I will give these to her in two weeks when we will be having a late Sinterklaas celebration with a small group of friends.